Tswalu Kalahari
Northern Cape, South Africa - Premier 5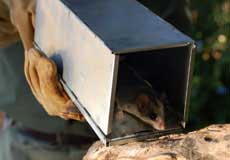 The word "Tswalu" means "a new beginning" and Tswalu Kalahari is driven by two ambitions; to create an inspirational experience for its guests, and a conservation vision, to restore the Kalahari to itself. These two goals sit in perfect equilibrium; each guest contributes directly to the sustainability of the reserve in a true model of eco-tourism.
"Mother Nature is a great healer. All she needs is time and space. Fortunately there are plenty of both on Tswalu." - Gus van Dyk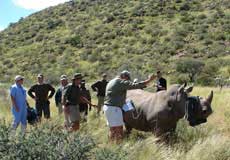 Tswalu Kalahari is primarily a conservation area. It aims to restore the area of approximately 1000km2 of Kalahari savannah to a pristine state. Such a vast area offers a safe haven for many endangered and rare species while protecting an area of unique diversity and beauty. Hospitality operations serve as a means towards ensuring that the conservation objectives of the property are sustainable while at the same time ensuring that the people of the area benefit from the work opportunities and training that tourism development offers. Conservation, socio-economic development, tourism and responsible environmental management are the four legs upon which Tswalu has been developed.
Tswalu Kalahari aims to make a contribution to conservation through three main conservation goals, i.e. the restoration of the natural environment to a pristine condition, the re-establishment and protection of biological diversity and the maintenance of the natural ecological processes characteristics of the Kalahari environment. This entails the management of the entire ecological system, including the vegetation and the available water resources to restore vital ecological processes which have disappeared in other parts of the Kalahari, thereby maximizing the diversity of life found in the region.
What Makes Us Unique
Malaria-free, so perfect for families!
South Africa's largest private game reserve
Guaranteed private guiding for every booking (min 3 night stay)
Unique animal viewing such as pangolin, aardvark, aardwolf, desert black rhino, black-mane lion, 240 species of birds, myriad antelope, and the adorable habituated meerkats
An award-winning emphasis on conservation tourism
Near endless activities such as walking, night safaris, horse riding, participation in conservation projects, and so much more ...

Accommodation
The Motse - An Island of Calm
The Motse accommodates up to 18 adults in nine individual legae (suites) made from desert sand, rock and thatch.
Each legae has an en-suite bathroom with walk-in shower, outside shower with views of the surrounding bush and wildlife, an open fireplace, separate dressing and study area, telephone, safe, wireless internet, and private sun deck with stunning views of the Kalahari.
Three of the nine legae have been designed especially for families and comprise two separate bedrooms with en-suite bathrooms, and a spacious, shared living area.
The main lodge at The Motse has elevated decks, a spacious lounge and dining area, a library, a fullyequipped gym and adjacent spa, an impressive wine cellar and traditional Boma.
There is also a large, outdoor pool, and a smaller solar heated pool with views of a waterhole and the game it attracts.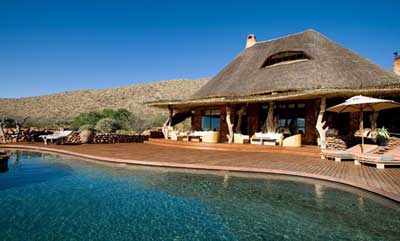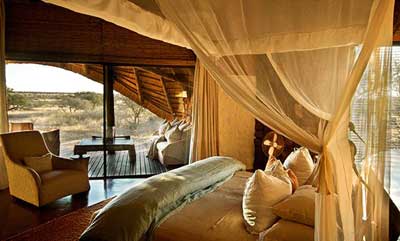 Tarkuni - A World Apart
Set amid two rolling mountain ranges, Tarkuni was originally built as the Oppenheimer's private villa.
It was recently redesigned to uncompromising standards of comfort and elegance.
Ideal for smaller groups, from family parties to close friends, the homestead accommodates a maximum of 10 guests in five luxurious bedrooms, each with en-suite bathroom and outdoor star bed.
The homestead has a vast open-plan lounge and dining room, and a cosy library and games room.
Acovered deck leads to a private tsala and swimming pool.
Tarkuni comes complete with a private vehicle, dedicated guide and tracker.
Apersonal chef creates the luxury of completely flexible dining.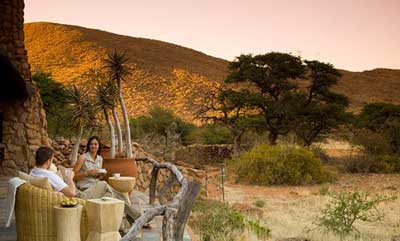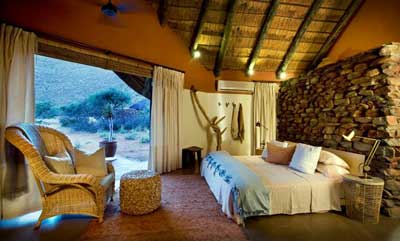 Malori Sleep-Outdeck
Guests at Tswalu have the option of booking a safari sleep-out at The Malori where you can spend the night surrounded by the calls of nocturnal animals, with nothing between you and the brilliant stars of the Kalahari night sky...
There is no compromise on luxury - a king-size bed is provided with Aldona linen; luxury towelling robes and slippers are provided.
An adjacent outdoor toilet, basin and shower are just a short distance away along a lighted walkway.
On arrival, the guide sets up drinks and snacks while guests enjoy the spectacular views.
Enjoy sundowners followed by a delicious meal.
Wake at sunrise to birdsong and the sounds of the early morning in the Kalahari.
Children's camping beds are available, so the whole family can enjoy a Kalahari sleep-out.