Lake Manyara Wildlife Lodge
Lake Manyara National Park, Tanzania - Classic 4


Let us invite you to discover one of Tanzania's best kept secrets. Lake Manyara, a small breathtaking National Park with an immense natural richness - home of over 380 bird species, including the thousands of flamingos that tint the soda waters of the Lake pink and the famous tree-climbing lions, which for reasons unknown sleep in the branches of acacia trees.
Lake Manyara Wildlife Lodge is strategically located on the very edge of the vertiginous western escarpment of the Rift Valley, affording magnificent views down across the whole Lake.
Lake Manyara Wildlife Lodge invites you to an unforgettable safari experience from its privileged location, unrivalled by any other, both for game viewing and scenery. Elegantly designed as a two-level ensemble of buildings, its authentic traditional African style decorations create a unique atmosphere that perfectly combines extreme tranquility with the best of adventure-packed safari experiences. From its privileged position, all the Lodges's 100 guestrooms have stunning views across the tranquil and beautiful waters of the Lake.
The spectacular swimming pool, situated in a panoramic setting, is a privileged location to enjoy the invigorating fresh air and the breathtaking views of the Pink Lake.

Accommodation
Lake Manyara Wildlife Lodge has 100 spacious guestrooms, each of them with a private verandah boasting a panoramic view of the National Park and the flamingo-coloured Lake below.
Tastefully finished and decorated in authentic African style, the spacious rooms and suites are all ensuite and have mosquito netting over the air vents.
Among the 100 rooms are suites, communicating rooms (specially designed for families) and deluxe rooms. There is a mix of both twin rooms and double rooms (with one double bed).
Wake–up calls can be made on request.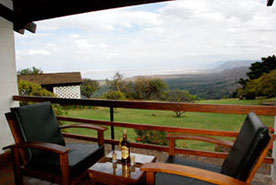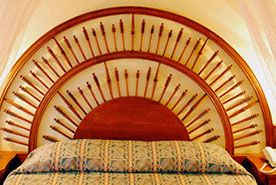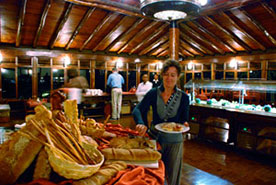 Activities
Lake Manyara Wildlife Lodge, set high on the western escarpment of the Great Rift Valley, offers you adventure–packed and unforgettable safari experiences!
Nature lovers will enjoy endless activities such as:
Game drives around the Lake
Bird-walks with our resident naturalist
Canoeing safaris on the tranquil waters of the Lake
Boating trips around the Lake and its ecosystems
Mountain biking around the Park and adjacent landscapes
Ornithological safaris (the Park is home to over 380 different bird species)
Horse riding around the Park
For those anxious to know the amazing culture and history of local tribes, visits can be made to the Mbu Cultural Tourism Programme where village walks and bicycle tours are arranged. Wildlife talks, audiovisual presentations and lectures on the heritage and traditions of the local tribes are held in the evenings at the Lodge.