Lupita Island Lodge
Lake Tanganyika, Tanzania - Premier 5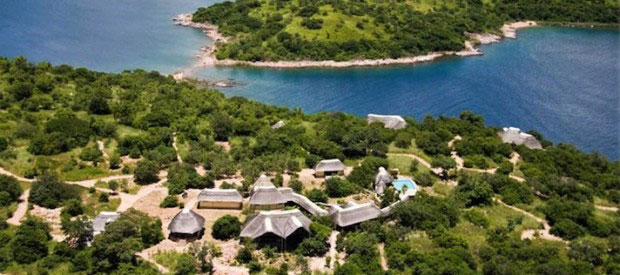 Lupita Island, a remote unspoiled romantic island. 130 acres of uninhabited space with only Lupita Lodge as its inhabitant. Surrounded by water and not a tourist in site. Nearest other lodge at least 170kms away. Our gym overlooks the far horizon and miles of crystal clear water. Nearby the wellness studio is available for massages and treatments to relax both the mind and body. Enjoy our water sports.
One of the least polluted bodies of water in the world, holding 8% of the worlds fresh water.
Fish with local fisherman, with a handline, an experience that will not be soon forgotten. Visit local fishing villages, unchanged for centuries.
Accommodation
Lupita Island has 13 exquisitely crafted cottages with breathtaking lake and mountain views. The individual cottages are all open which ensures balmy breezes and memorable sunsets that will last a lifetime. They are all designed to be as comfortable and private as possible. They all have gracious living areas with bar, separate and spacious bedchambers, and large open verandas.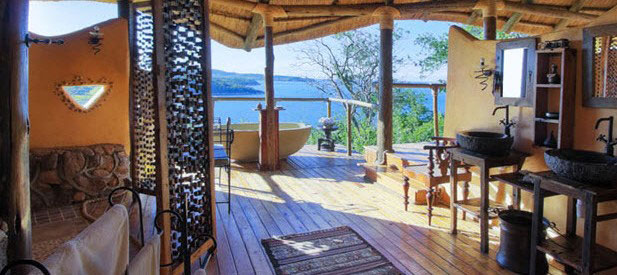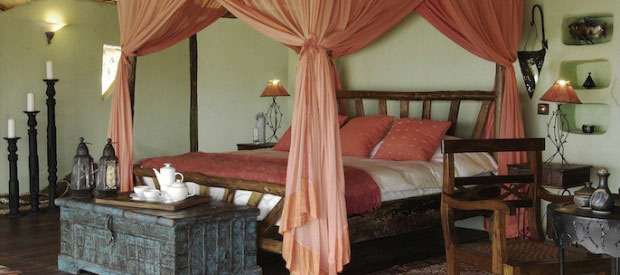 All cottages have their own private plunge pool and sunning deck, hot waterfall showers and large outside baths. Two of the 13 cottages are the family cottages. The Livingstone and Stanley suites, these both have an additional sleeping area and bathroom, and the option of private dining. Plus, of course, the plunge pool.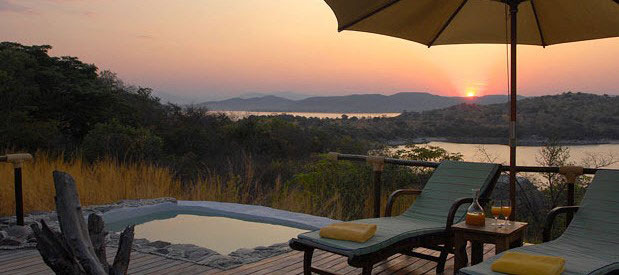 Facilities
Lupita Island Resort maintains a fullyequipped gymnasium, perfect for those wanting a casual tone-up or an energizing fullbody workout. Top off exercise with a private massage with our wonderfully experienced therapist.
Lie and relax by the main pool situated away from the main areas. Or just lie by your own pool in your cottage and leave the world behind. A butler is on hand to see to all your needs.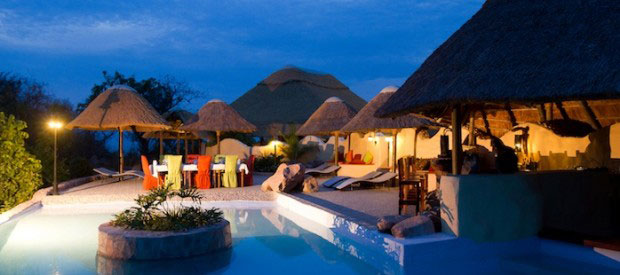 Activities
Besides the above mentioned swimming pool, gym and spa there are many more activities to experience while on Lupita. Hiking with our local guide, visiting local fishing villages, or the ancient monastery on the mainland built in the 18tth century by the Christian fathers. Pack a picnic lunch and go for a swim in the waters of beautiful Lake Tanganyika, go snorkeling at one of the Island's many hidden coves or just simply relax.
Island guides are available to escort you on a refreshing kayaking trip, for the more experienced we have small sailing boats available for use. Take a diving course with a highly experienced instructor. Enjoy a romantic sundowner on our grand old lady the "Winsor Rose." Or go fishing on one of our speedboats fitted with all the up to date fishing gear or with a local fishermen with no technology except an oar and a hand line as they have done for centuries.
Of course, relaxing with a good book and a cocktail is a wonderful option as well.