Kungwe Beach Lodge
Mahale Mountains National Park, Lake Tanganyika, Tanzania - Classic 4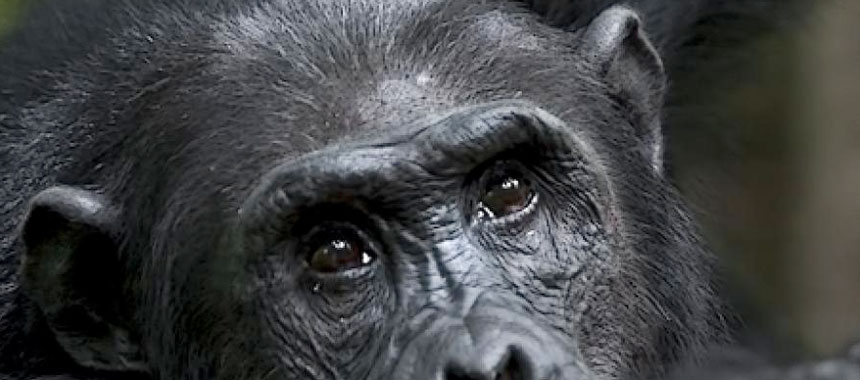 Set deep in the heart of the African interior on a stretch of secluded golden beach, Kungwe Beach Lodge is the perfect blend of comfort and luxury in a romantic setting.
With the chain of wild, jungle-draped Mountians rising high up behind, the lodge is ideally positioned along the beach under the tropical shade of the Mahale forest with breathtaking views over the crystal clear waters of Lake Tanganyika.
The raised thatched mess, built in the shape of a Dhouw boat, is where most meals are served and also offers a cozy lounge area, with a small selection of books and board games for lazy afternoons.
Guests enjoy sundowners and share their adventures of the day around a crackling fire whilst the sun slowly slips over the mountians of Congo.
Barbeque candlelit dinners are served on the beach, to the unique sounds of Africa - beetles, crickets and the night calls of chimpanzees, the only way to relax after a perfect day!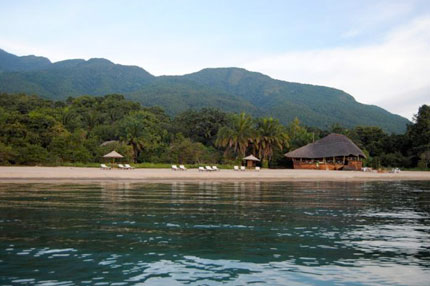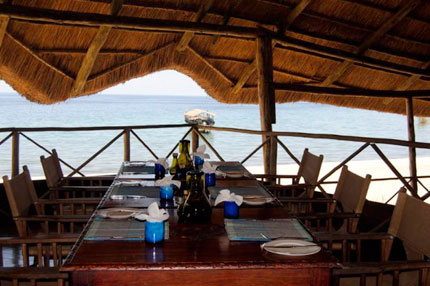 Accommodation
The light, airy and spacious tents, scattered along the beach are furnished in the traditional 'safari' style and the secluded patio's offers wide views extending over the Lake. Each tent features an en-suite bathroom with an open-feel shower and a full range of guest amenities.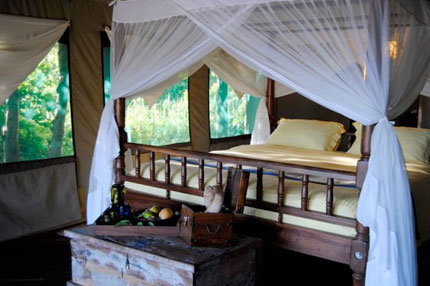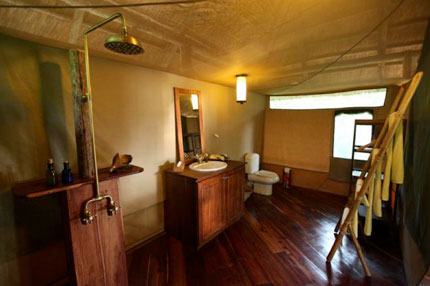 Mahale Mountains National Park
Accessible only by boat or by air, Mahale Mountains National Park is known to be among the most isolated and beautiful parks on the African continent. With dots of isolated, golden sandy beaches framed by jungle-covered peaks, Mahale covers 1613 square kilometres of rugged terrain along the eastern shores of Lake Tanganyika.
Famous for containing some of the last remaining wild chimpanzees in Africa, Mahale is home to a population of approximately 800 to 1000 chimpanzees. Successive teams of Japanese researchers have quietly conducted some of the most important scientific work on these primates from as early as 1961, habituating what is known as the 'M' group, thus allowing for excellent encounters with this group of about 60 individuals.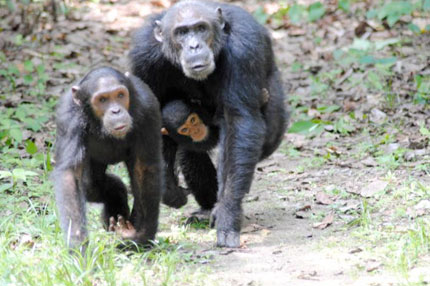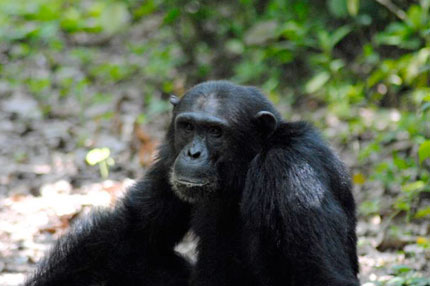 Activities
Mahale is a pristine, natural experience open to those willing to walk its trails. The birds, primates, monkeys, small predators and butterflies - all signs of life are everywhere and there is little to beat an amble through the forest.
Each day you can venture out into this wonderland to observe the habituated 'M' Group as they groom, squabble noisily, or bound into the trees to swing effortlessly between the vines.
As if a day's chimp trekking wasn't enough, Boat Safaris, Kayaking, Snorkeling in the shallows along the shore and Fishing excursions are also on offer - this part of Lake Tanganyika offers some of the best fresh water fishing in Tanzania. Here you can catch 'Sangara' (Nile Perch), 'Kuhe' (Yellow Belly) to name just a few.