Ngorongoro Crater Lodge
Ngorongoro Conservation Area, Tanzania - Premier 5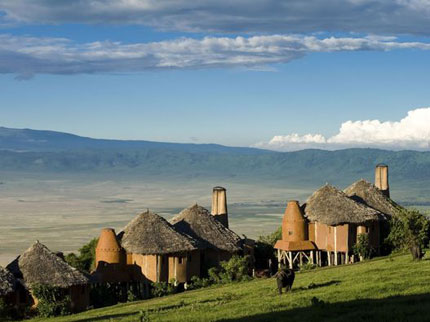 Once the site of the British Governor's private hunting lodge, Ngorongoro Crater Lodge perches on the rim of the ancient volcanic crater, one of the wonders of the natural world. Designed to be all but invisible from the crater itself, the lodge is perfect post-modern architecture, referring to past styles yet adapting them to its own purpose. Externally it is a wonderfully stylized Masai village sitting handsomely, yet unobtrusively, within the landscape. Within, a gloriously baroque decorative style forms an opulent and entirely delightful interior, featuring antiques, African art and English country house furnishings in perfect harmony.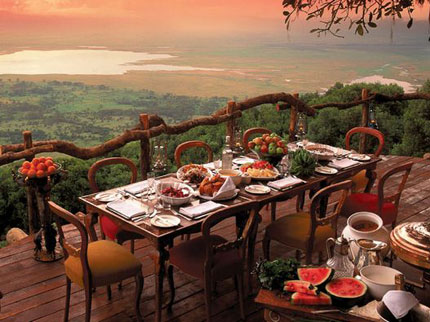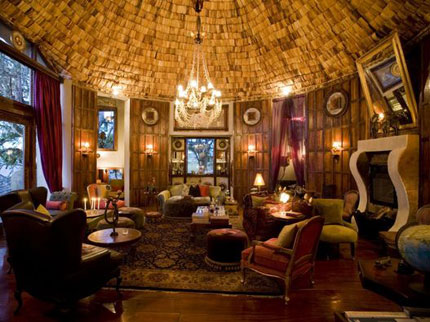 There are three separate Camps - North, South and Tree Camp. The latter is smaller and more intimate in feel. All have their own drawing rooms, and dining rooms which, in the evenings, are transformed into sets from a fairytale. Wooden paneling shines softly and fabulous silver screens, constructed like scaled-up armor flank the log fire. Bright white napery and glittering crystal entice, copper chafing dishes on the console table glow pinkly by the light of many candles. Overhead, gilded roundels reflect the lustre of the chandeliers.
The suites are absolutely superb. Romantic, intimate, even secretive, they have vast bowls of red roses, shimmering silks, polished woods and views over the crater that will make you swoon. They are tended by a personal butler, who will bring you tea in bed, stoke your fire and even draw your bath, scattering the water with rose petals, ready for your return from safari and lavish picnic. You may even lie in your bath and gaze through the floor-to-ceiling window at the crater below, where some of the last black rhino are protected, black-maned lions stalk the grasslands, and the greatest permanent concentration of game in Africa lies waiting for you. Ngorongoro Crater Lodge is supremely glamorous, wonderfully stylish and makes a dreamily luxurious break in your safari tour.