Kimondo Camp
Serengeti National Park, Tanzania - Adventure 3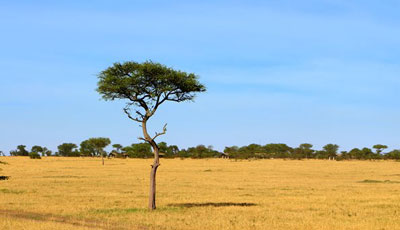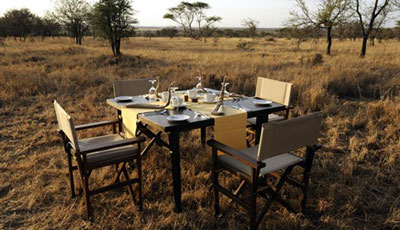 Like the herds of antelope that have made the Serengeti the most famous wilderness region on earth, Kimondo is a traveller. As the seasons wax and wane so this migration camp crafted of wood and canvas follows the herds on their never-ending journey across the grasslands of East Africa.
From July to October home for Kimondo is near the sinuous Mara River on the famous Lamai Wedge, where massive herds brave the jaws of hungry Nile crocodiles. As winter eases and summer warms the land, the herds move south to calve in the lush grasslands of the southern Serengeti. As the herds move, so does Kimondo, to ensure you're never far from the heart of the migration.
But unlike the thundering wildebeest, Kimondo leaves no footprint behind. Entirely solar-powered, it's a migration camp that touches the earth lightly while providing authentic luxury on the Serengeti plains. With just eight comfortable tents Kimondo offers an intimate safari experience; a sumptuous taste of how the early explorers discovered the wonders of East Africa.
From rich hand-woven rugs to burnished copper lanterns a sultry mix of Moroccan exoticism and East African safari romance resonates at Kimondo, where king-size cast-iron beds rest under canvas ceilings as the rustle of the savannah lulls you to sleep. Or leave sleep for a while and linger at the fireside, swopping tales of your day in Africa as the embers crackle up towards the Milky Way. Kimondo translates as 'shooting star' and in Tanzania's crystal-clear skies you'll be sure to see more than a few.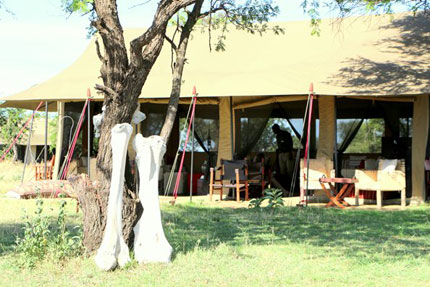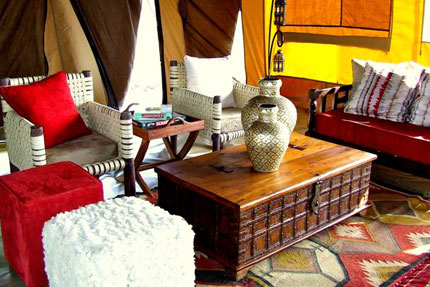 Accommodation
Kimondo is a mobile camp which moves with the migration, splitting the year between the north and south of the Serengeti, just like the millions of wildebeest which move with it. But this is certainly not camping as you know it.
The traditional safari tents are spacious, with either king size or twin beds and large verandahs for afternoon naps. The en-suite bathrooms have flush loos, hot and cold running water and the traditional safari bucket shower. Meals are either taken outside, under the stars or in the dining tent. The mess tent is full of comfy places to relax and books to browse.