Kirawira Tented Camp
Serengeti National Park, Tanzania - Classic 4


This luxury tented camp is a stylish evocation of the Victorian colonial period. Guests have all the comforts that colonial travellers would have taken on safari, supplemented by more modern luxuries. Located on one of the Kirawira range of hills in the western corridor of the Serengeti, the camp overlooks, in the near distance, the famous Grumeti River with its giant crocodiles and, some distance beyond, Speke's Bay, a part of Lake Victoria.
The camp is all canvas and is almost invisible from afar. It is designed and sited to harmonise with the natural surroundings whilst offering the highest standards of comfort and service. Twenty-five double tents on platforms have either twin or king-sized beds, mosquito netted and covered in bright patchwork covers. The en-suite bathroom contains a generous selection of Floris goodies including blissful aromatherapy oils, a robe and large, soft white towels. The wardrobe is leather cornered and studded just like a colonial travelling trunk. A dish of delicious treats awaits the weary traveller - fresh fruit, chocolate, sweetmeats and nuts tempt the palate. A large tented verandah allows you to gaze at the lovely views as you sip your drink and think about the Empire!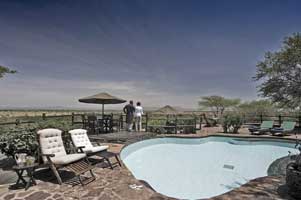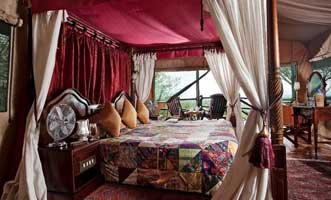 A covered terrace flanks the main lounge and frames vistas across the plains to the misty-blue Bunda Hills rising in the distance. A thoughtfully placed telescope allows you to pick out minute detail. Here you may take afternoon tea, served from a silver teapot. This is also a favourite spot in which to take a sundowner. Kirawira serves a potent cocktail called the "paralytic weaver". The second part of the name refers to the little birds that weave their straw nests in the trees around the camp, the first part is self-explanatory! Dinner is served in the dining tent, where white napery, crystal and porcelain recalls colonial dinner parties. Waiters wearing the khanzu - a long white tunic - will serve the high quality cuisine in which East African flavours predominate yet are never overpowering.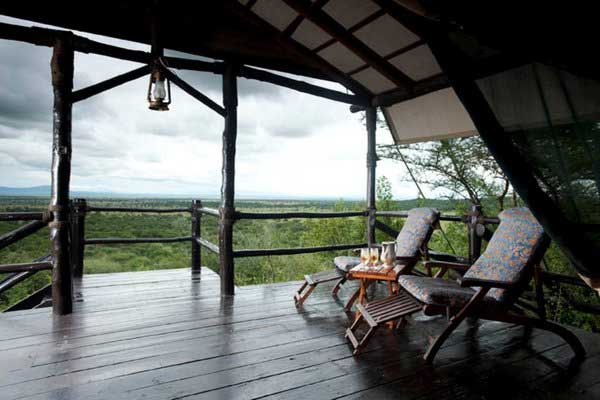 Local guides have expert knowledge of tracking and game movement and, if you are there at the right time, will show you the magnificent and inspirational migration of well over a million wildebeest and zebra as they move towards the Masai Mara in search of fresh grazing and water. The Serengeti is also deservedly famous for its lions and boasts over five hundred species of birds. The camp has strategically placed birdbaths dotted around which were, in earlier times, grindstones once used by local inhabitants. Kirawira provides a tranquil environment from which to enjoy the African scenery and wildlife.