Roving Bushtops Camp
Serengeti National Park, Tanzania - Premier 5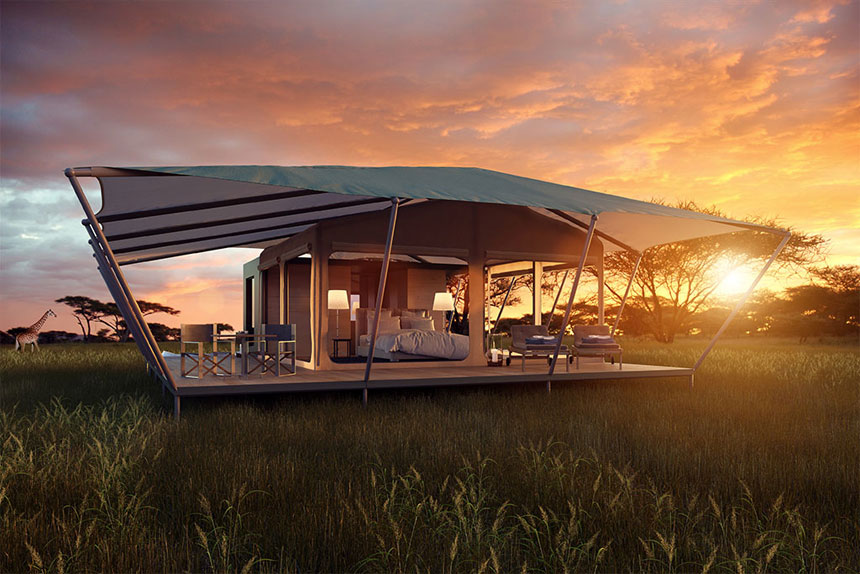 Roving Bushtops is inspired by the success of Mara Bushtops in Kenya and its sister Serengeti Bushtops in Tanzania. Located an hour's flight from the latter, Roving Bushtops sits proudly in the heart of the central Serengeti, at Seronera. Not only does this superb location provide exceptional year-round game viewing for our guests, it means that for half the year (usually from November to May) we are within reach of the migrating wildebeest and zebra herds - and their attendant predators.
The camp itself is semi-permanent, which means that although it is able to move from one location to another, we will only do so if changing wildlife patterns or park regulations dictate a better place to be. It is hard to imagine where that might be: we have been hugely fortunate to be granted our current magnificent home.
Roving Bushtops can be visited as a one-off destination, combined with Serengeti Bushtops to create a Tanzanian dream, or you could visit both plus Mara Bushtops to get the full set! Either way, flights are regular, from Nairobi (JKIA or Wilson), Kogatende, Lake Manyara, Arusha, Kilimanjaro, Dar es Salaam and Zanzibar
Although half the size of its Mara Bushtops and Serengeti Bushtops siblings, with six tents rather than twelve, Roving Bushtops mirrors their exceptional standards, service and facilities. 24 hour personal butler service in a stunningly appointed private tent is complemented by fine dining in the midst of a wildlife cornucopia, with ach lavishly-equipped game drives being accompanied by a sharp-eyed ranger and spotter. Because tents are on wheels, they can be combined to create family units, whilst two are dedicated to honeymooning couples.
What makes Roving Bushtops particularly special is the fact that every booking has its own private vehicle, giving guests privacy and total control of where and when they want to head out on safari. It's an example of a determination to aim higher, providing a truly luxurious mobile safari option.
It's also another example of Wild Luxury, our defining promise – and two-word summary of the exceptional, indefinable, unforgettable Bushtops experience.