Serengeti Bushtops Camp
Serengeti National Park, Tanzania - Premier 5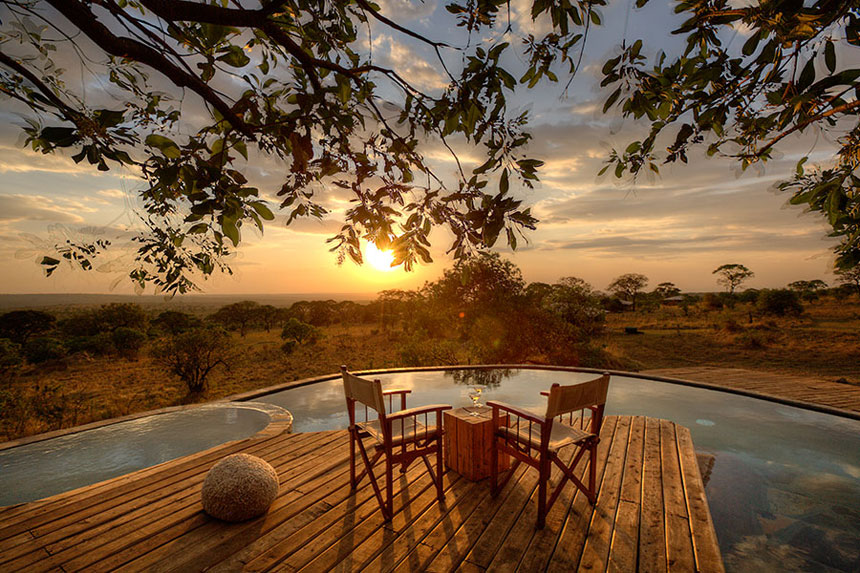 Though amply proportioned and superbly equipped, Serengeti Bushtops is dwarfed by its stunning surroundings. We nestle into rolling hills, which form a sharp contrast to the open acacia wood and grasslands which form one of nature's most spectacular landscapes. The Serengeti plains stretch out across an unimaginably vast 10,000 square mile (15,000 square kilometre) ecosystem, of which almost two thirds forms the national park.
From Serengeti Bushtops we witness life at its most raw, thrilling and captivating, from the awesome grandeur of the big five to the shimmering glory of local birdlife – and from the vast herds of wildebeest, zebras and gazelles to the silent presence of solitary crocodiles. We were hugely fortunate to secure the site of Serengeti Bushtops, one of very few permanent camp locations in the newly-opened Northern Serengeti: until recently only mobile camps were allowed, during the migration.
The famous Mara River is just 15 miles away, so we lie directly in the path of the spectacular annual wildebeest migration, which takes place between June and November. We have a ringside seat for nature's most awesome event, but also enjoy fabulous, abundant wildlife viewing all year round. We could not have wished for a more magical Tanzanian home: out of season, guests can travel all day without seeing another vehicle, whilst even at the busiest times of the migration, the Serengeti (being ten times the size of the neighbouring Mara) is dominated by wildlife, not humans.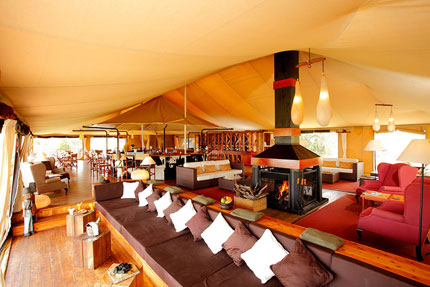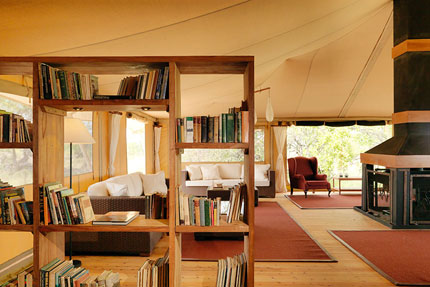 Serengeti Bushtops has been designed to blend into its surroundings. The entire camp is completely under canvas, with private paths from a shared space leading to each luxury tent, resplendent in its own secluded haven of privacy and calm. A safari golf buggy shuttle provides an alternative to walking for guests who prefer to be driven. Each of the twelve spacious, beautifully-designed and fabulously appointed tents provides a world of comfort, in which every element has been selected and carefully integrated by our supremely talented architects and designers.
Designed to blend into the landscape
11 spacious tents – each with a 120 square metre private deck – plus two linked family tents
Beautifully appointed luxury comes as standard
Accommodation
Under Serengeti Bushtops canvas lies the finest in seductive luxury and twelve of the largest, most impressive tented en suites imaginable. None of the tents are overlooked, but all look over the Serengeti. Each faces the sunset and is open on two sides, giving you an extraordinary panoramic view of nature's living masterpiece.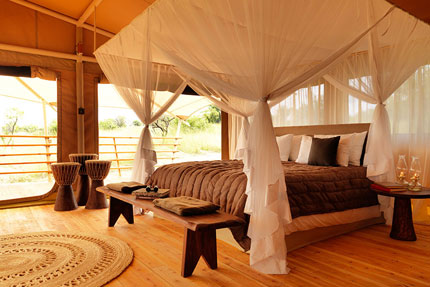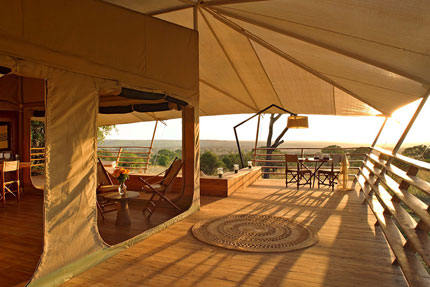 Activities
No matter how long you stay with us at Serengeti Bushtops, we guarantee you will never run out of things to do. When you are not ranging across the Serengeti on one of our 4x4s, there is always something to keep you occupied – even if that something is the delicious prospect of doing nothing at all!
A walking safari and bush breakfast is always fascinating, but you may prefer a break from the wildlife. A tour of a local school provides an education (we're never too old to learn), as does a visit to a traditional Kuria village.
We can also arrange a display of Kuria archery, where you can try out your own bow and arrow skills, or give you an accompanied camp tour, showing how we run our facilities sustainably and efficiently.
You can try your hand at Kuria Bao – a traditional board game, or even learn a little Swahili.
If you want to make the most of your luxurious tent, your butler will always be happy to arrange breakfast in bed, a romantic private dinner, canapés and drinks in your hot tub, or an aromatherapy massage on your deck.
If you give him a day's notice, the camp manager can arrange a romantic dinner at Klipspringer Kopjes, or a Sundowner on Simba's rock (there is an additional charge for these activities).
And of course, when the activity gets too much, there's always the undeniable attraction of relaxing in your tent with a book, taking a swim, or chatting to fellow guests in our shared spaces.