Serengeti Sopa Lodge
Serengeti National Park, Tanzania - Classic 4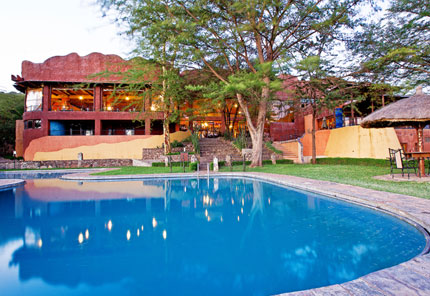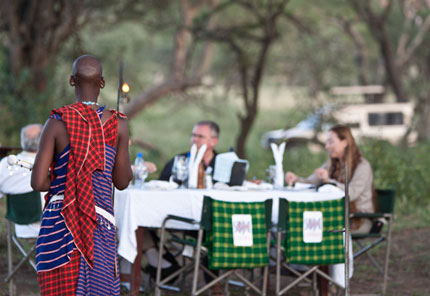 The Serengeti Sopa lodge is located in the Nyarboro Hills in the south west of the Serengeti National Park and is the only tourism development in this section of the Park. Year round water and the acacia woodland in this area create an ideal environment for the wide variety of wildlife seen in the immediate vicinity of the lodge. Looking out over the seemingly endless Serengeti plains, this hill side lodge is a tranquil oasis set in thousands of square kilometers of Serengeti National Park. The Serengeti Plains are host to a dramatic annual migration of hundreds of thousands of wildebeest, zebra and antelope. This is one of the great spectacles of the natural world.
From December to May the migration gathers in the immediate vicinity of the lodge and provides an unforgettable spectacle, as predators hunt close by. The migration can also be viewed in a more spectacular fashion - on optional hot-air balloon ride across the plains of the Serengeti. Take-off is at dawn and the flight lasts for an hour before a sumptuous champagne breakfast wherever you land. This is followed by a game drive back to the lodge, arriving in time for lunch. As the sun sets over the plains, you may enjoy sundowner cocktails by the pool, and in the evening, after a 4-course dinner, traditional dancers entertain the guests.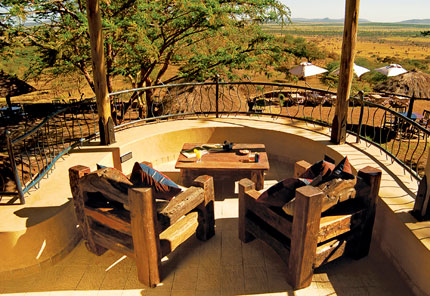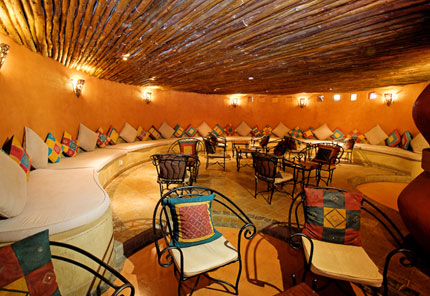 Opened in 1992, the lodge can accommodate 170 guests in 79 suites, each enjoying wall-to-wall carpeting, a private lounge with a mini bar, a bedroom with two queen size beds and ample room for a third guest, an en-suite bathroom with shaver sockets and a hair dryer, and a private verandah which offers stunning views over the plains. The lodge has direct-dial satellite telephone facilities as well as satellite television and wildlife-video-film options.
The sopa pools are renowned for their size and location and this one in the Serengeti is no exception. The double size pool offers a refreshing interlude between game drives as well as wonderful views over the rolling plains of the Serengeti.