East Africa (Kenya-Tanzania Adventure) August 1-13 2023 Trip Report
Reported by Cindi LaRaia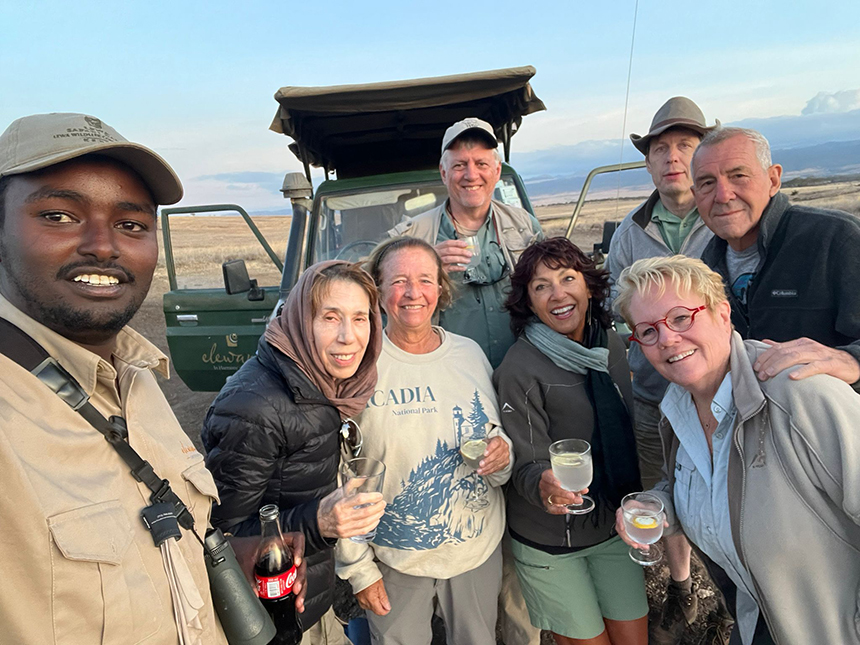 We had a lovely group of 7 for our Kenya-Tanzania Adventure! It had been a long time since I had been in Kenya I was excited to get back! We started with 2nts at the lovely House of Waine in Nairobi to get over some jet lag. We had a fun game drive in the Nairobi National park.
I chose to head to Lewa area in the Laikipia plateau, it was wonderful, a great success story with bringing the Rhino back to life here, both Black and White Rhino, we saw plenty!
Then to the wonderful Masai Mara where the game is quite concentrated here! Absolutely wonderful wildlife.
Then on to Tanzania in the beautiful Tarangire National Park then onto the Central Serengeti.
Aug 1-3: 2nts House of Waine Nairobi, a lovely guest house in an upscale neighborhood in Nairobi. Comfortable rooms, good breakfast.
Aug 2: Safari at Nairobi National Park! Great safari lots of game! You can see the city of Nairobi in the distance. We had really good wildlife, a bit concentrated in the park, I had to advise 2 who have never been to Africa before that normally its not this easy to see so much game! 😊 Lunch after at a really fun place with great food! We also visited the Karen Blixen museum. A little disappointing to see the house and her bedroom that she shared with Denis Finch Hatton, pretty small. Nothing like it is in the movie "Out of Africa" ! However really great to see it in real life!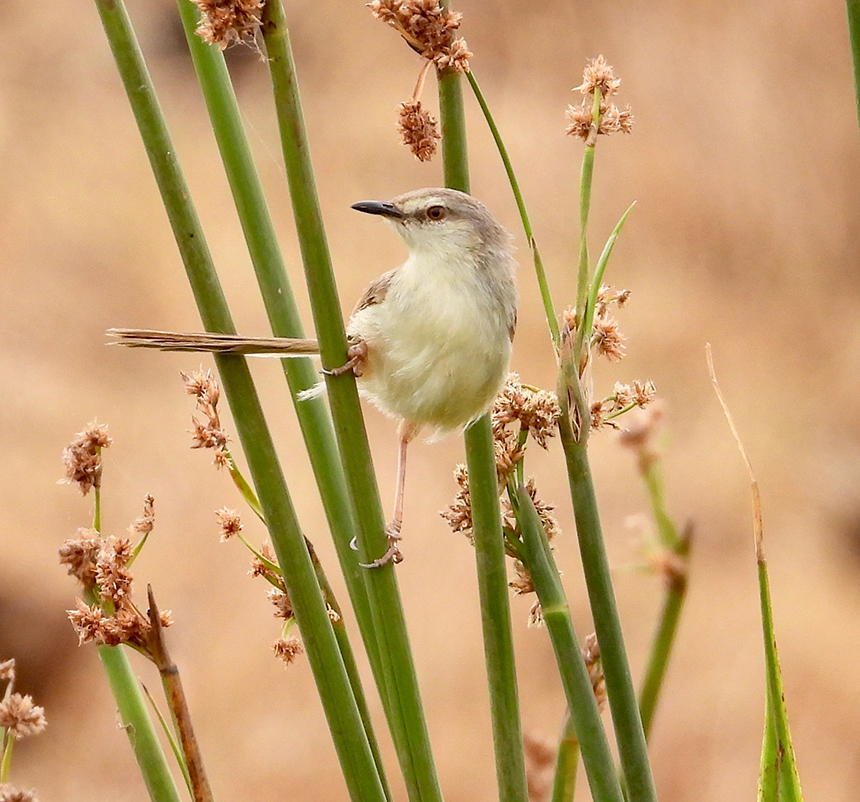 Aug 3-5: 2 nts Elewana Safari Camp - Lewa.
A lovely camp! Lots of beautiful Grevy Zebra, they are only found in the north of Kenya! Very much on the endangered species list. They are stunning, my favorite Zebra in Africa! Beautiful scenery here. We saw lion, silver backed jackel, lots of ostrich, elephant, cape buffalo. A beautiful leopard and saw her climb a tree strait up! Northern species giraffe are gorgeous.
Outstanding rhino numbers in the Lewa Conservancy ! They have successfully protected the black and white rhino! The black are grazers and more aggressive! You will not outrun one of these! On the other hand, the white rhinos are chill and you can track them on foot easier!
Aug 5-8: 3nts Masai Mara/ Lerai Camp in the Olerai Conservancy.
A wonderful 3 nts in the game rich Mara! Our tented camp is lovely in a gorgeous setting! Our Masai guides Johnmak & Jemlick were outstanding!!
We arrived and had a late lunch; then an evening game drive @ 5pm! A lovely time spent with Elephants in the greenery in the river near us. A very old bull Cape buffalo, lots of unique scaring and coloring on his face and massive horns! There are more hyena in this area than I have ever seen! One game drive we counted at least 12, our camp was near the den! Lots of great Hyena sounds through the night as very close to our tents!
The next day we had a full day in the Maasai Mara, left at 6:30am with packed breakfast and lunch.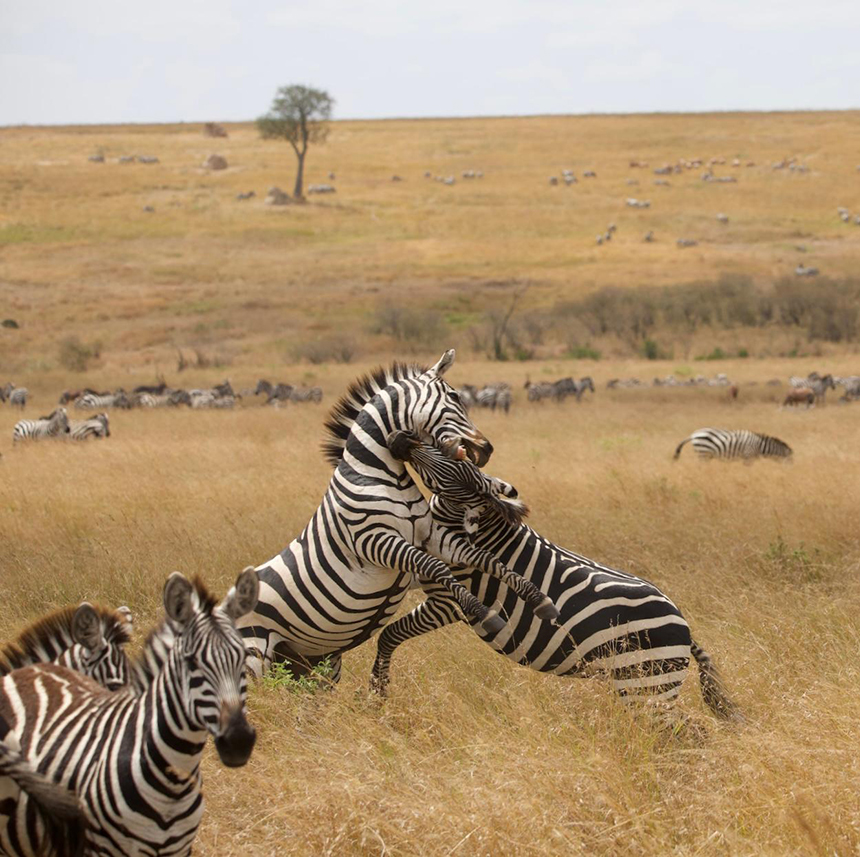 We had the most epic day with outstanding game!
Started with a family of hyena and some of the playful pups. They are so cute!
We spent a lot of time with a pride of lion and very active cubs and a male subadult! The male teenager was hilarious to watch with the small cubs! Just like the gangly teenager showing off to the youngsters! This pride is quite large with about 15 members. We saw one of the 4 big males! A gorgeous specimen to observe! Wow!
We went to see a crossing of the wildebeest in migration, only to learn they have not crossed yet! Nothing! None of them have started! We went to a couple of crossing points, nothing, they were not even gathering! This is early August when the crossings should have been well underway. Nothing! We saw some resident wildebeest but none of the migration at the crossings! I was astonished, I have been many times from August through October and had seen many crossings!
We learned the rains arrived late In Tanzania so the grass they eat was still plentiful, they did not feel the need to cross into the Masai Mara in Kenya yet! Wow!
We saw so much game we did not feel too bad about not seeing a crossing!
We spent a lot of time with the pride of lion, and the handsome male lion! They were all active and playful! As opposed to what I call, a lump of lion just lying in the grass! :) Which is what you often see in the daytime!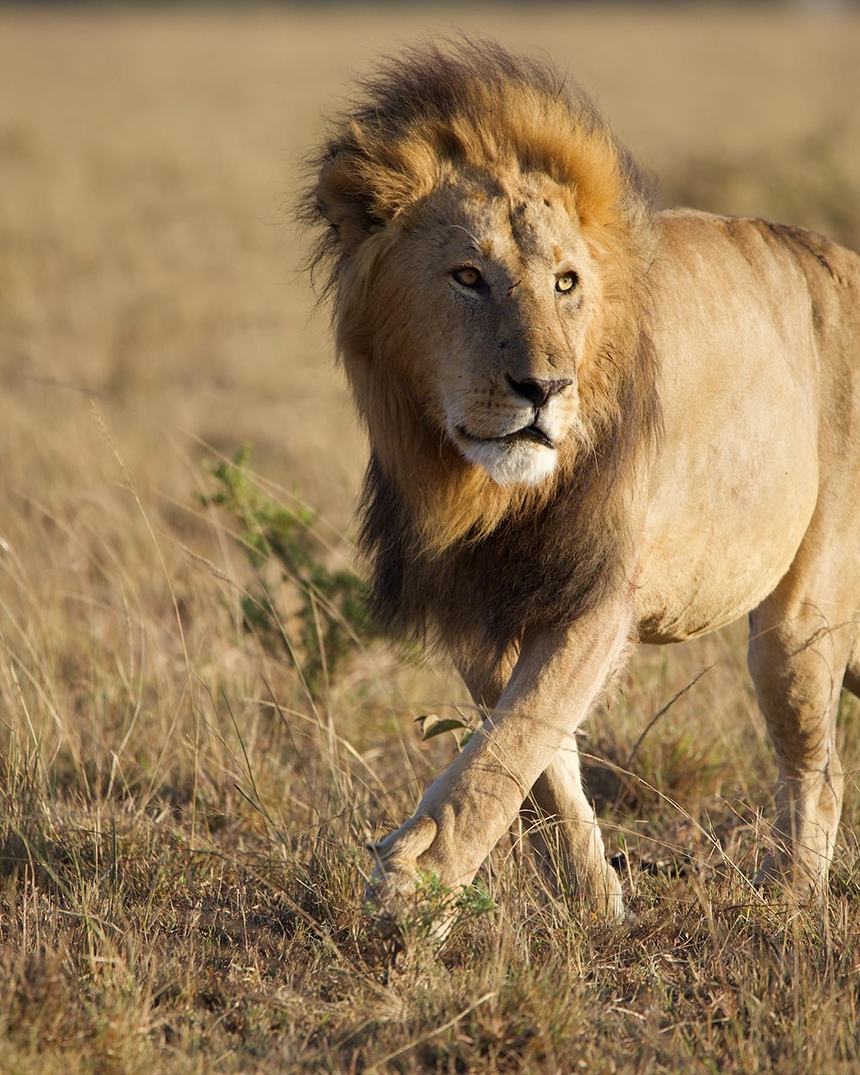 A lot of zebra, Giraffe, eland, Grants & Thompson gazelle, Topi, impala, silverback jackals, cape buffalo, hippos and crocodiles on the Mara river! A plethora of game dot the open plains!
We also were treated to a beautiful cheetah! Lucky us!!
The following morning some our group had a splendid time in the hot air balloon over the Maasai Mara!
My friend JB and I went on a morning game drive as we have done the balloon safari in the past. We were blessed again with a different huge pride of lion and saw the 3 big male lions! So impressive!!
Then the word got out, there was a leopard! Our guides are masters at getting us in position amongst the sea of safari vehicles in the Mara. We finally got to see her in the thicket,,, Then she crossed into the grass where it was taller than her. Our guide masterfully positioned us where he hoped she would emerge! He was right and there she was, heading straight for us! Yay! I got some nice shots of her! Then she was at our vehicle and our long lens useless! Hurry get the iphone hahah! We also saw a cheetah!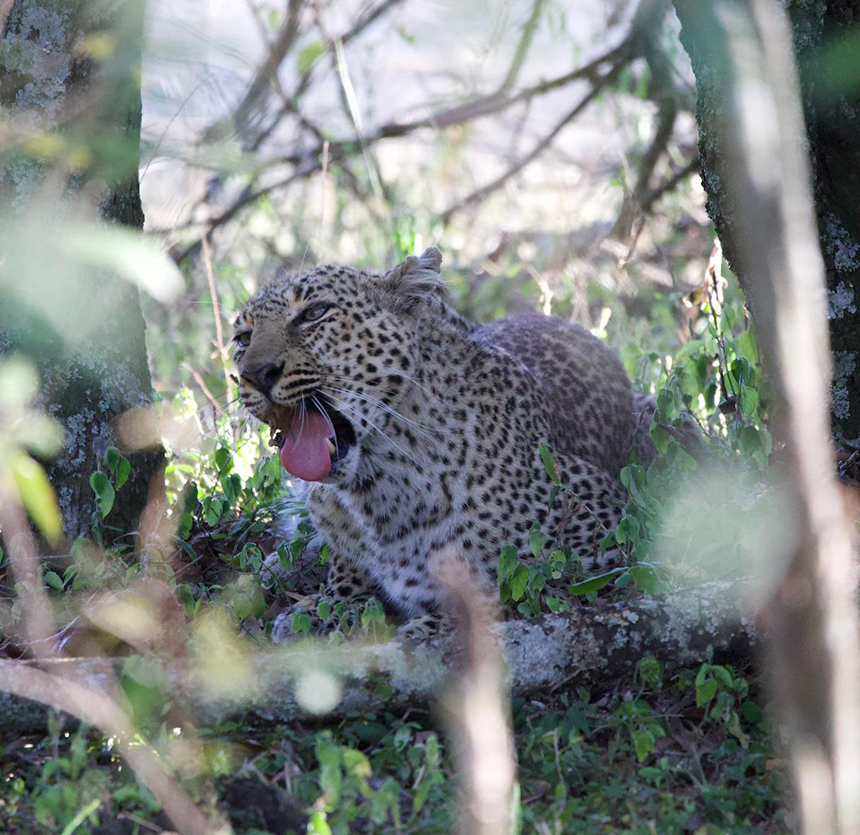 What a wonderful morning all before 8:30 am! 😁 We are in so much trouble now, we must tell our friends what an epic morning we had with the 3 big cats of Africa!!!
Back to the camp in time for my massage and hear all about our friends' balloon ride! They loved it, something like 23 balloons all taking off at the same time, we saw them on our game drive, a beautiful sight!
We had a lovely evening game drive in our Olerai conservancy! Within 10 minutes the other vehicle found the resident male leopard!! Wow!! A beautiful big boy! He came out of the tree as we arrived, very relaxed and gorgeous! What a day!
We had a long travel day with 3 flights to get to Tanzania & Tarangire national park. We arrived late at camp pretty tired!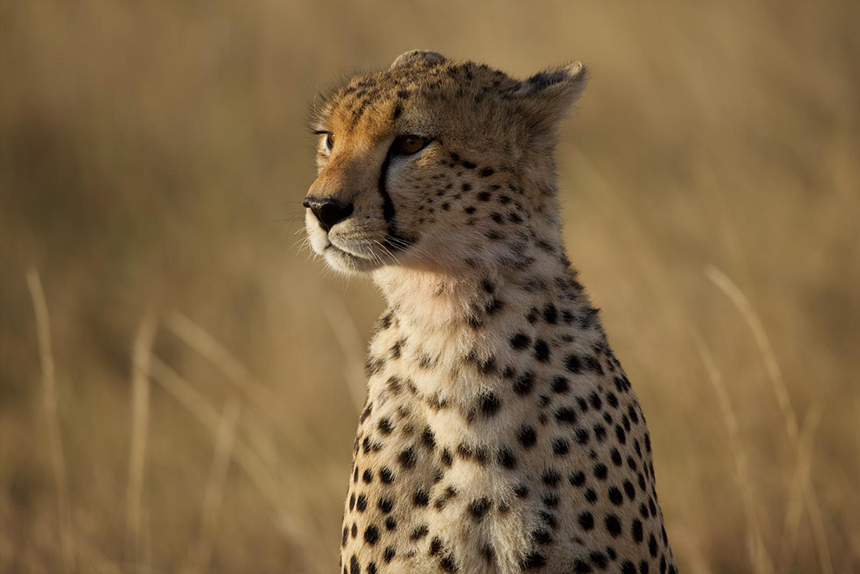 Aug 8-10: 2nts Tarangire National Park staying at the lovely Lolkisali tented camp.
A full morning game drive; stunning baobab trees and a very large number of elephants in this park. It's a beautiful park! Lots of green acacia trees, as well as antelopes and elephant.
Our evening game drive delighted us with many small elephant family groups and babies! As the sun was setting, we found a very big Verreaux giant owl! Challenging to get him light enough in the tree! Exposure compensation works great for this?! Yes, it worked, thanks JB!
Off early in the morning to fly to Central Serengeti!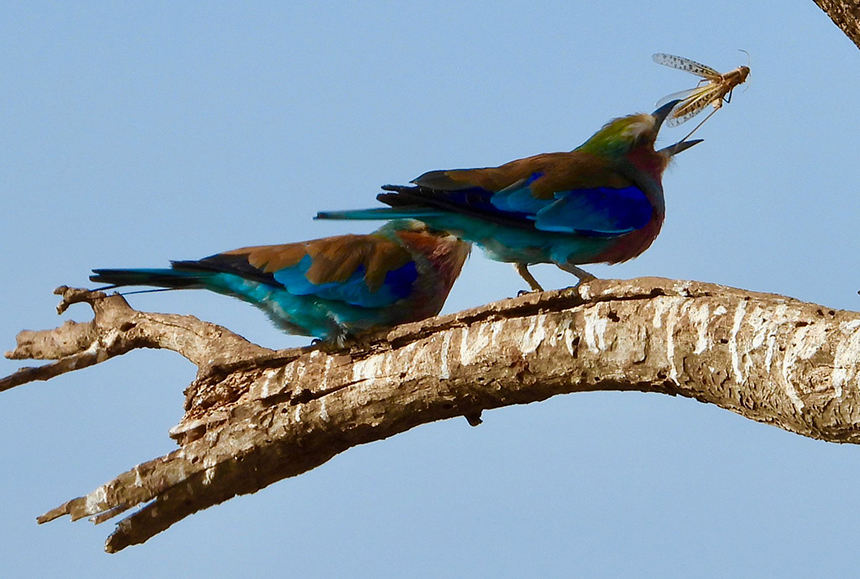 Aug 10-13: 3 nts Serengeti Plains Camp.
Our favorite camp yet! My partner on the ground just completed this special camp only 6 weeks prior! Tents are very luxurious, extremely spacious, on demand hot showers, big picture windows in the tent with flaps covering all for the evening chill! The African hot water bottle awaits your large king bed in the evenings! Yummy!
Tents are well spaced apart, for total privacy with a lovely large veranda for armchair game viewing! For the most part this camp is in the eastern area of Central Serengeti! With very few vehicles, on rare occasion we saw more vehicles when word go out for cheetah sighting!
We had wonderful luck with our well-seasoned guide Steven! He worked hard to find us our wish list!
There is a large pride of lion, 3 big males, we saw 4 of the lionesses, and nearly ran over 6 one month old cubs!!! They were hiding in the grass when backing up, Shari screamed, STOP! Omg!
We were right next to them, they were silent, just looking up at us. 1,2,3,4,5,6 little sets of lion cub faces! Left in the grass while the Mommy's were out hunting! They looked a bit small and weak! Not many places to hide the little ones in the vast open plains of the Central Serengeti!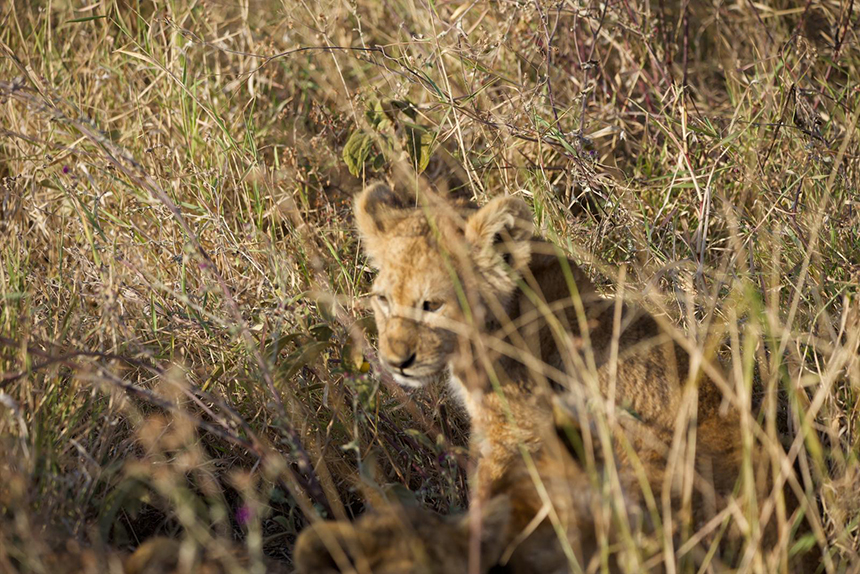 There are a ton of hyena dens close by; to the point in all my safaris over the years, I have never seen so many hyena ever! Including babies and dens!
The guides were talking and feel these little ones would be killed soon! In 3 days, the mommies had not moved them. They were out trying to make a kill. One day the 3 males were keeping watch on the Little's... Good thing! However, unless they were moved soon, the chances of survival slim.
We found another Cheetah, a male! He was in stride and found a nice spot in front of a termite mound!
Passed the huge colony of hyena again! I am marveling at just how many are in this open area! Each family has its own den with pups, they are just so adorable! There must be 20 plus hyenas and pups here! Never in 25 years on safari have I ever seen more than 1 or 2 at a time. Remarkable!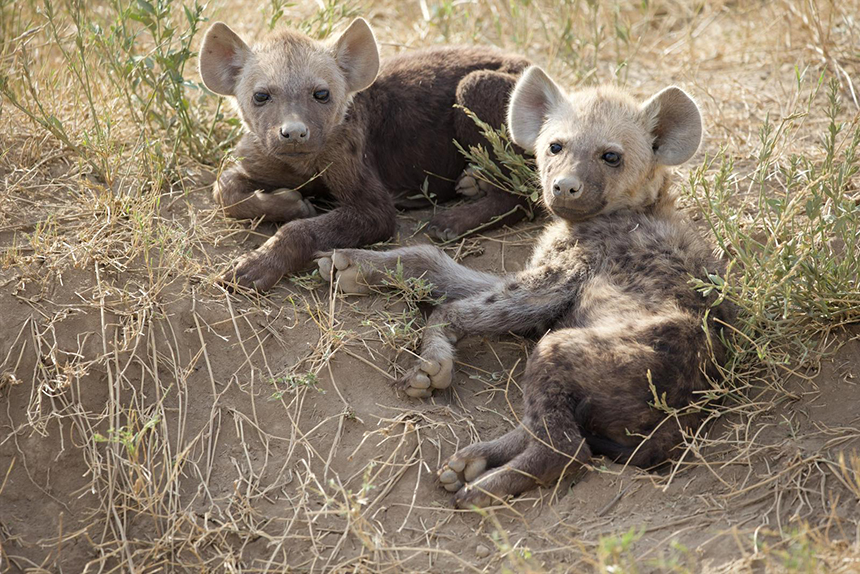 Bid farewell to another lone bull Elephant as he ate a tree!! :)
They are amazing, beautiful sentient beings, but so very destructive as they need to consume up to 400 pounds of vegetation a day for adults! 80% of the day is spent eating!
We sadly bid farewell to our wonderful camp staff and started the long arduous journey back home. It's never near as much fun to leave Africa as it is to arrive!
We had the most magnificent Africa experience in Kenya and Tanzania, with limitless wildlife! Outstanding camps and guides!
Thank you again my beloved Africa!! Until next time...
Asante Sana!
Cindi LaRaia