Best of Botswana, Victoria Falls & Cape Town, Winelands….
May 12-24 2010 Trip Report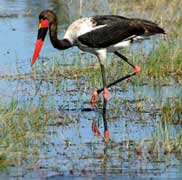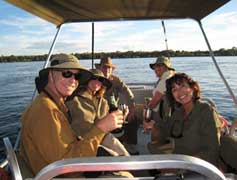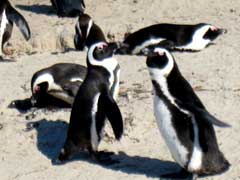 My beloved Africa beckoned me back with a wonderful fun group of 6 plus myself. This time I returned to Botswana for an amazing journey through 3 of my favorite areas.
We began our journey in an enormous private concession at Chitable Lediba Camp bordered on 3 sides of the Moremi Game Reserve. The area is surrounded by waterways and lagoons and a variety of wildlife can be seen. Our small luxury camp consisted of 5 spacious and luxuriously appointed East African style tents with ensuite facilities. This was a lovely setting with a marsh in front of the main area, our own resident hippo & sighting of Kudu crossing.
We arrived in time for our high tea at 3:30pm with Dawson as our guide for the next 3 days, he was awesome Dawson as we all agreed! One of the major highlights that end up staying indelibly in one's mind would be witnessing a breeding herd of Elephant of approx 20 to 30 all ages and sizes; crossing the river during the lovely early evening light as the golden sun is beginning to set. My goodness what a delightful way to begin our first game drive in Botswana!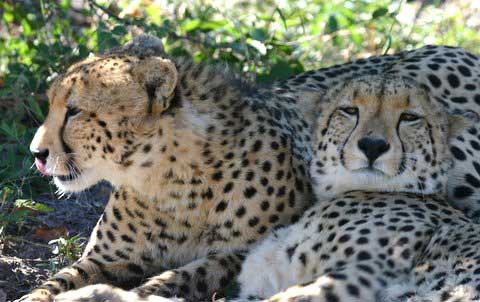 We also came across a very stuffed and immobile Cheetah laying on the ground with a giant tummy filled with her kill, a full grown Impala, all that was left was the head, horns and ribcage. This piggy Cheetah was not taking any chances of other predators stealing her lunch! Nearby was a shrike headed vulture hoping to get a nibble of the leftovers.
In the distance we hear and finally see 2 giant Eagle Owls hooting, my favorite are Owls and they are huge serious gorgeous owls at that, what a sight. Along we go and there are 2 big male lions that could only be brothers as they looked like twins, lazing on the road, gorgeous big boys they were!
Beautiful herds of Impala the females hang out together and look very dainty and pretty, a short distance away are the males herds, now this is rutting season and we saw a lot of fighting males trying to push off the other in order to win his harem. Several were hurt with battle scars and some we knew would be easy prey for lions that evening. (I advised my group my nick-name for Impala are 'rocks' they are everywhere.) There never seems to be a shortage of Impala, good thing since they are the main food source for all the predators of Africa.
One of those amazing trees in Africa are the Baobab (or upside down tree) most of the time it looks upside down as the top look like tree roots that should be planted in the dirt, instead they are at the top and very unmistakable and a beautiful part of the African landscape. Since we were there after the wet season just ended and the start of winter, the trees were budding with leaves! I have never seen Baobab leafed out, such a beautiful and different way to see this gorgeous tree!
Meals at the camp were delish and the staff most friendly and helpful. South African wine served at meal made for happy safari goers as we relived the events and sights of the day!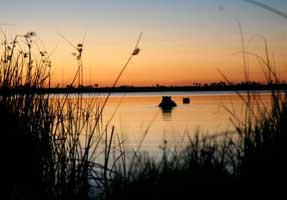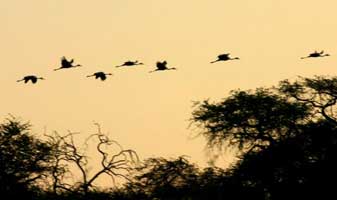 Day 2 for our morning game drive began with wake up at 0530hr, escorted walk to the main area for breakfast and coffee at 0600hr , in the game vehicle at 0630hr was how are days began. Now something else that did not leave our minds vision was our magnificent Leopard sighting, this Leopard had a fresh Impala kill from the night before in the tree! This is rare to see the kill in the tree; however it was not very comfortable with us viewing the kill below it. So after some time, our Leopard took its kill and scaled the tree down to the ground and ran off dragging his Impala with him. Leopards have to take their kill up the tree or the hyena and Lion will take it from them. The leopard will not fight them and will have to give it up and walk away and find another meal.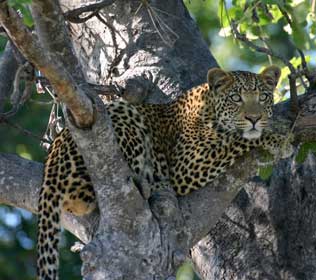 Africa has many magnificent birds of prey, we saw several Bataleur Raptors as they circle the sky looking for various meals to swoop down and nab for lunch. We also saw Wahlberg's Eagle, hooded vulture, white backed vulture, tawny eagle and African Fish Eagles. Many times we saw the lovely Saddle billed stork with the colors of a clown, a bright red, black and yellow bill we also many pairs of ostrich.
We saw the usual assortment of vervet monkeys, warthog families, troops of baboons, a leap of antelope, journey's of giraffe, dazzle of Zebra, rafts of hippos and of course many counsels of starlings! We saw spotted Hyena but I cannot say we saw a clan of hyena.
We had some amazing close encounters with Giraffe and breeding journeys of Giraffe, to me this is the quintessential look of Africa, we would always have a large smile when we turn the corner and there are 2 then 3 then, 4, 5, 6, and 7 giraffe all wandering the only way they can with that gait-ful or ungait-ful walk.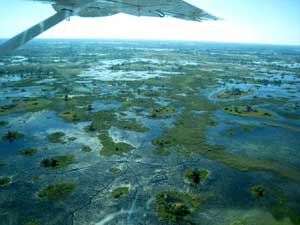 Since the Okavango has been in huge flood with the rains of Angola flooding the delta, we were there while history was in the making. The Selinda Channel finally filled and met up to form the Selinda River, this has not happened in 27 yrs. This is one of the biggest floods of this time and lots of roads became rivers and was always a challenge to get back to camp, we would find the African Pike or as I lovingly referred to them as American Pike, as well as Tilapia on the side of our vehicle.
We saw slender mongoose, dwarf mongoose, Egyptian geese, gorgeous male Kudu with ginormous horns and beautiful female Kudu.
I was awake since 0200hr listening to the beautiful sounds of Africa, calling lions, then roaring lions, snorting hippo next to my tent, cackling hyenas and I think hooting owls, this was a very active night near my tent! Who wants to sleep when all the sounds of my beloved Africa are calling to me!
Our evening game drive offered a stunning female leopard, we had a long visit with her, then we were able to follow her and then she felt very relaxed and lay down near us. Dawson tells me quietly next to his tire there was a very angry spitting cobra, well hell why didn't you show me!!! Not everyone is interested in cool snakes but I AM!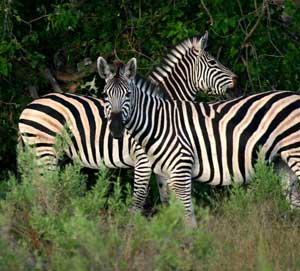 Part of the scenery here were camel thorn trees one of my favorites of Africa with the pods all over the tree, many of the dead tree trunks make for amazing photography. They think at one point many years ago the area was flooded. And oddly enough many palm trees, they think that before land was fenced and human encroachment began, the elephants would migrate as they must to find new trees to eat and would walk from the far ocean near Mozambique through to Botswana and the seed would come across from dung and bird, very cool!
Our last day at Chitable was a lovely we loved our dazzle of Zebra, many of them so lovely to see and photograph. Two big male lions, one must have gotten snared as he had a big gaping slash through his mane, the poaching has subsided a great deal but villagers try to illegally snare antelope and this male somehow walked into it, he will be ok we were advised, but he did not look happy. We also saw another big lone Male who must have been kicked out of his pride. Often brothers will join a coalition to help hunt and feed together, it would be nice if they accepted this lone male as the 3 of them could work as a team, however we left and may never know if that will happen.
A lot of wonderful bird life here, stripped coucou, copper tail coucou, African darter, pied barber hammercop and the many small red billed quelea that all seem to move as one ribbon, a lovely dance they make in the air.
Awesome Dawson serenaded us on our last evening at Chitabe Lediba around the fire, with drinks and his lovely voice and guitar. I hate saying goodbye, this was a wonderful place to spend 3 glorious nights in Botswana, and we will miss you.
Now for our next adventure, we head to the heart of the Okavango Delta. Little Vumbra Camp in a GORGEOUS setting surrounded by water, with 6 lovely tented camps situated to the north of Mombo in a private reserve in the northern reaches of the Okavango Delta, where they offer both water and land activities. Mokoros (dugout canoes) traverse the flood plain under the guidance of experienced poler's. Open 4x4 land rovers allow us to get close to the animals and this is where I finally got to see the most beautiful Sable Antelope. This camp offered the most beautiful settings I have ever seen. Since we were in the 'history making flood in the delta', our airstrip to the camp went underwater 2 days before. We had to be helicoptered to our camp then take a boat to get there, quite the adventure!
One of the founders of Wilderness Safaris my outstanding ground operator and award winners of the many eco-camps they own in southern Africa; my friend Russel Friedman, helped organize his environmental specialist Kai Collins to do a presentation for us. He was such a fun surprise, a very knowledgeable young guy, 6 months from his Ph.D, he is in charge of the African Wild Dog (Lycaon Pictus) project here in Botswana and the Rhino Tracking project. He stayed with us at Little Vumbra and also our next camp Duma Tau where our focus was on the African Wild Dog, more later!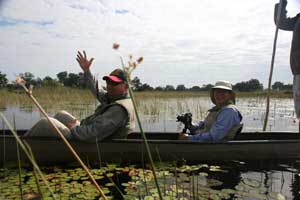 Our evening activity was a boat ride through the delta with the lovely papyrus and the setting sun. My goodness such a delight to see Africa with so much water! We saw hippo here and had our lovely sundowners on the water with the glowing papyrus, ahhhh.
The next morning most of us chose to do the Mokoro activity and sit deep in the canoe as our guide poled us through many different looking areas of reed and marsh. He showed us these adorable long reed frogs that somehow sit on a reed, the males have a lovely yellow stripe. My favorite was the painted reed frog, bigger with big eyes and very colorful, they change color as the temperature changes. A very unusual community spider web would line a big area of the reeds, we saw water spiders and fishing spiders; all very Zen, a lovely way to spend the morning.
We went to one of the islands for our mid morn coffee break and wala, fresh leopard tracks, hmmmm this island is not very big, where might this leopard be?
We had snorting hippos here and there, lovely day lilies and larger blue and white night lilies closing, also very feathery white frilly star looking Lillie called a Water Gention. We also saw many types of Kingfishers throughout this delta on our mokors.
For are evening game drive we saw several Waterbuck, a purple heron, 7 Sable, 2 babies, a mommy and various others; a giant Eagle owl, giraffe, zebra, baboon, Tsesebe Antelope (in the Topi Family), and a dazzle of zebra with adorable babies.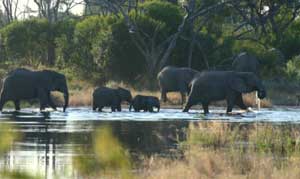 Our morning game drive was a true adventure, our boat motor kept dying out, to get to our land rover, then we got a flat tire. Finally on our way; we see more Tsesebe, reed buck, a journey of Giraffe, a herd of Elephant, then a BEAUTIFUL young male Leopard hiding in the bush stalking a herd of Impala. He made his move across the road hunched down crawling on his belly then ran up the tree, and was watching them from high up. Now we had to hurry back to camp as we had to get helicoptered out again, well since it was so wet everywhere…… we got stuck. And boy did we get stuck, deep in the mud and brush. Our guide gathered branches from all over and had to jack up each tire several times to get branches under, we all got out and I found some big Giraffe bones that helped to get us out from the bog.
We rushed like mad to pack and get to where he heli was to fetch us, only to find out she had to get a spare part and was 2hrs late. TIA (This Is Africa)!
Finally we make it to our next camp in the Linyanti called DumaTau, a 10 roomed tented camp in the private Linyanti Wildlife reserve bordering the Chobe Nat Park in northern Botswana. Camp is built on raised boardwalks, overlooking a large hippo-filled lagoon. The source of the Savuti Channel is close to camp, with game drives along the Savute is one of the highlights. The tented rooms are spacious offering ensuite bathrooms and outside showers.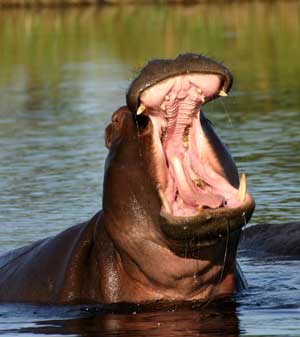 We finally get to our camp with the delays and we had herds and herds of edgy Elephant, trumpeting and mock charge and flapping of ears all the way to camp. Sheesh what is with these Ele's? Come to find out they may have come down from the Caprivi where there are many villages. So they were not as calm as we have been used to. We saw a giant bull Hippo already out of the water feeding as the evenings are getting cool and they can come out of the water sooner, he was a very big boy. We had sundowners at the swamp, and our first sighting of the heaviest bird in Africa, a Kori Bustard.
I danced with the local Botswana staff at the Boma, and had a ball!
Our morning game drive started with an open billed stork, a pod of hippos, lilac breasted rollers (oh so pretty) along the Savuti Channel, amazing as 12 years earlier I drove in the dry river bed called the Savuti Channel. Now for our next wild adventure, we heard from the other land rover there were 2 cheetah brothers and we went like mad off road through 6ft high herringbone grass and Mopane bush mowing them all down. Went clear over them and I was in the front next to the guide I looked like a scare crow with all the stuffing coming out! We found them, or rather our Guide did, they were so cute playing and licking each other, very affectionate and loving. They would then sit up with ears perked up hearing something close by they could eat. Always amazing to watch the predators tune in to a possible stalking hunt.
We stopped for our coffee break and Steve packed us the African Liqueur called Amarula, made from the Marula fruit, it is sooooo good in coffee and he added some Kaluha also, well that was a very fun morning game drive to say the least ;-}}! We saw a lot of hippo out of the water feeding in this area, pretty amazing how big they are and how pink!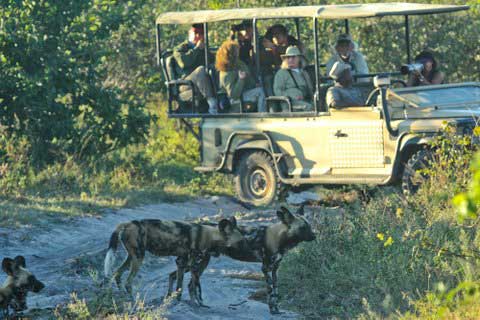 Now for our afternoon game drive we decided to leave very early at 3:00pm, this would be our last chance to find the wild dog in the area. Kai the environmental specialist had been out all day tracking them. He had collared 2 of the 3 packs of dog here. Wouldn't you know the 1 pack he did not collar were the ones that guides from a sister camp 2 hrs away found! They lay in the bush during the day and the only way to spot them is to look for the tops of the large ears they have in the bush. When they wake up at 5:00pm, you only have 15 minutes with them before they are on the hunt through the thick bush. We blasted as fast as possible, as he heard they found them and we had to boogie if we wanted to see them! This meant no stopping for high tea he packed or no potty break, hold it kids we MUST see these African Wild Dog!
On this wild ride we counted 105 elephant on the way. A journey of giraffe, a family of banded mongoose, a dazzle of zebra, ostrich, however no wild dog yet. Now finally he gets the call, hurry they woke up! My goodness we went like hell, and there before our eyes 2 wild hours later, we see them, 11 in this pack. Hanging out in the road, there were 3 vehicles and they did not care. Finally my first wild dog sighting after 15 safaris! I was very emotional about this, they are very difficult to find and see and this was a healthy pack! This pack had 2 alpha males and 2 alpha males, a bit unusual, the rest were the pups. The dominant Alphas will do the mating. They need enough baby sitters to defend the den while the parents go off to hunt, they move around a lot finding new dens so the pups stay safe. We were sooooo lucky to see them! I was beside myself and could not believe they were right here in front of my face, or my lens I should say.
This was a 6 STAR DAY!!! ****** the ride home we could not stop for our sundowners as we had to drive slower and now took 2.5 hrs to get back. We saw Hyena and Sable on the way back, a big male Kudu and females, and soooo many elephant! So we had our sundowners as soon as we got to camp in celebration of our wonderful luck!!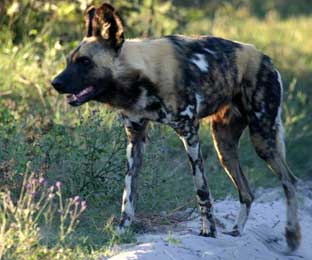 'IT IS IRONIC THAT THE MOST SOCIAL OF ALL MAMMALS ARE ALSO AMONG THE MOST ENDANGERED'
Lycaon pictus (Latin for "painted wolf") is an apt name for the African wild dog. Their body is similar to that of a wolf but the ears are larger and more rounded: they help keep them cool and allow them to hear very well.. Each dog's marking is unique - splotches of black, pale yellow-brown, blonde and white. The muzzle is black and the tip of the tail is always white. The fur is short but shaggy and is a little longer at the end of the tail and around the throat. There is a dark stripe of fur on the forehead. Dogs vary in size from 35 lbs to 70 lbs and stand about 24 inches at the shoulder. They have four digits on each foot and are extremely lean, muscular animals with long slender legs.
Once common in all areas of Africa, except rain forest and deserts, African wild dogs are extinct or nearly extinct in nearly 32 countries of their former range, and the remaining populations are too small to remain viable. Of the six countries where they still exist, only three (Botswana, Tanzania and South Africa) have populations of more than 300 dogs.
-- Taken from the Wild Dog Foundation
Our last morning game drive at DumaTau was fantastic, we saw a giant eagle owl baby that was big, a harrier hawk, 'matela' tracks of 2 lioness, white backed vulture, 19 hippos, Africa fish eagle and a tawny eagle, what an amazing morning!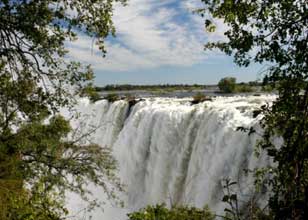 It was time for us to leave and head to Victoria Falls where the Falls where in full splendor and glory! One of the 'natural seven wonders of the world'! Our pilot was fantastic and he flew us over at every possible angle to see the gorge and both sides from Zambia and Zimbabwe. The spray was magnificent and they can be seen from outer space when in full flood. The Victoria Falls are the widest curtain of falls in the world' at 1708 meters wide and drops more than 100 meters into the sheer Zambezi Gorge. The Tonga and Makalolo people lived here for centuries before the falls were 'discovered' by David Livingstone in 1855. The national park that holds the falls is called Mosi-Oa-Tunya 'the smoke that thunders'.
We stayed 2nts at the lovely Toka Leya camp which sets at the edge, literally of the Zambezi River, water levels very high here also with amazing views from the main area of the river swiftly moving by at about 6 knots. Excellent food with a real pizza oven and a friendly loving staff compliment this outstanding camp; accommodation on wooden walkways are tented and very expansive.
Our included activities were a boat ride on the Zambezi to see crocks and hippos and birds. We went for the most outrageous walk on the Zambian side of the falls that somehow had us looking across the falls even though we were staying in Zambia. We doffed plastic covers and a thick waterproof poncho, our guide walked us through what felt like we were walking through a cyclone! The steps and bridge we walked on were in full waterfall themselves and the spray so strong it took your breath away, we were deluged and it was so exhilarating, Steve said "that was orgasmic' It was! When a slight gap in the spray would open, there were the mighty falls at eye level in front of us pouring over the edge with giant leaping fury! What a blast!
We then went for a game drive in the park to see general game and the only 5 rhino in Zambia. Unreal. The poaching has been the main concern and full out efforts are in place to stop it and slow it down. These Rhino are tightly protected by an anti poaching squad that walk with them, and keep a close eye on them. We in turn were able to go on foot to photograph the 'big boy' only because they are used to humans on foot trying to keep them safe.
Last but not least we flew to Cape Town for 3nts my favorite way to end our safaris if in southern Africa, what better way to gradually get back to civilization (yuk). Staying at the Victoria and Alfred hotel on the waterfront with views of Table Mountain also within walking distance of malls and restaurants, is the only way to go. We did a half day tour to Cape Point and walked with the African Penguins they used to be called Jack Ass but have been given a new name. We visited my friend in Stellenbosch at her home she had bubbly and lovely nibblies then had lunch at the wonderful Terrior Restaurant on her golf course.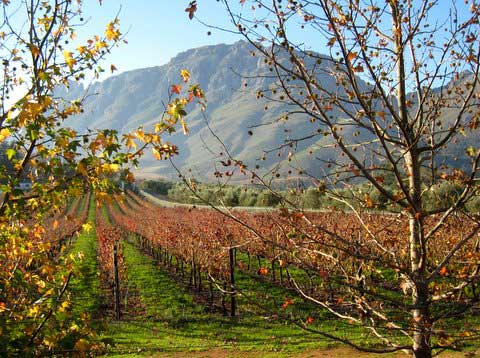 The next day we did a full Winelands tour to Stellenbosch & Franschhoek (my personal fav), the scenery is like no other with the rugged, jagged topped mountain ranges that are made of the same sandstone as Table Mountain. Visited several wineries and had lunch at the amazing Bread & Wine restaurant in Franschhoek in the lovely garden outside. Enjoyed estate Moreson wine with lunch and had a lovely day all together.
Sadly this concludes our story of yet another magical adventure in my beloved Africa. Thank you Harry & Hana, Steve & Gloria, Sharlene and Eric for such enjoyable companionship and days filled with fun, laughter and special moments in the bush!
-- Cindi LaRaia