Kenya Migration and Rwanda Mountain Gorilla Trek,
August 2005 Trip Report
Reported by: Cindi LaRaia
Following in the footprints of Karen Blixen and Dian Fossey.........
A small very fun group of us met in Nairobi to begin our beautiful sojourn through the wilds of Africa. This trip to East Africa was very special as I did not know how I would like it compared to Southern Africa. The scenery is superb with stunning diversity; arid flat plains to mountains and river valley's.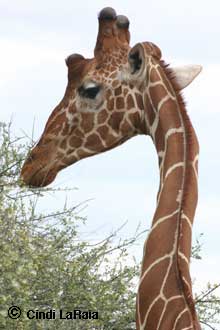 We visited three national parks in Kenya. Finch Hatton luxury tented camp in West Tsavo was the first of our many wonderful camps. A gorgeous setting on the river awarded us with our own large hippo family, several very large crocks whom enjoyed sunning themselves on the river bank very near to us. This setting was very lush and green here. Our luxury tents were very spacious sitting on the edge of the river, with the sound of rushing water. The multitude of kingfishers and various monkeys; with the sound of snorting hippo's while laying on the outside daybed is sinfully pleasant. I love Africa!
Our game drives here were beautiful with lovely wild landscape. The warthogs which our group nicknamed 'African Express' were always a delight. The graceful Giraffe are always a gift to behold. Hippo's out of the water, Water buck, Bushbuck, delicate Dik Dik are some of the antelope we encountered.
Dinners here are lavish, based on the famous legend of Denys Finch-Hatton the great hunter, special friend of Karen Blixen. He enjoyed drinking wine with fine crystal while Mozart played on the gramophone, and so did we. We celebrated a special birthday in our group with champagne and cake, the food and setting were outstanding here.
An early morning game drive treated us with a beautiful family of ochre colored Elephant, they all lined up for us in the soft light. We went for a game walk, and visited Zini spring, a very large natural spring in a stunning setting with freshwater fish, hippo and crock's.
At the end of day in soft light we found a lion family (Simba) two small cubs and two lioness playing and frolicking with mom's cleaning the little ones, a very special sight to behold! Gin and tonics to celebrate back at the camps' lovely deck ,in fine crystal of course!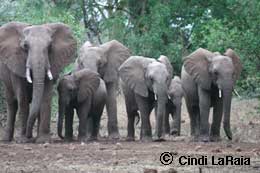 Flight north to Samburu and Buffalo Springs over gorgeous country to Larsens tented Camp on the banks of another river. Lots of elephant here, herds of eight or nine with suckling young. Lovely riverine forest, young male lion sleeping under a tree. Leopard laying in a tree, however could not see him well, reticulated Giraffe here; they are a different species with well outlined spots in white also they have the Greve zebra, they are bigger in stature with different coloring, gray stripes in between the black stripes which do go all around the belly. We also saw the great Oryx antelope with long beautiful horns on a pale gray and cream colored body, very statuesque! We sighted two cheetah brothers in the bush, very exciting for our first sighting.
This is a relatively small game reserve, with a good number of accommodation, it is really noticeable when there is a special sighting of leopard or lion. This is where I notice the big difference between East Africa and Southern Africa where camps are much smaller with very few other game vehicles. We enjoyed this camp with hundreds of black faced vervet monkeys. The highlight for me here on our last game drive, in the late afternoon with beautiful light along a dry red dirt riverbed in amongst green tall trees were a heard of 16 reticulated giraffe of all sizes, babies to large adult males and females. This was a grand sight to behold, after taking copious amounts of images in perfect light, we put down our cameras, sat on top of the land rover and digested the wonder before us. This was my vision of a perfect utopia, peace and serenity, the animal kingdom of a beautiful Africa. I go to sleep now with this scene in my heart.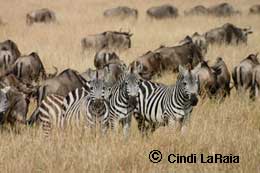 Next we were on our way to the famous Masai Mara for four nights at Governors camp to witness the wonder of the hundreds of thousands Wildebeast and zebra crossing the Mara river during their annual migration. Starting in August and through September is when they arrive in Kenya, from the Serengeti in Tanzania.
Governors camp is a classic tented camp which sits facing the river with resident hippos and crocodile. They offer excellent service all the way around. We loved the staff, which got to know us well, you are assigned the same waiters and tables outside for breakfast and lunch, dinner is in a large covered tent. There is no electricity in the tents, only at reception and the bar. You can bring your batteries to be charged there, it all works well. The tents are large, with private ensuite bathrooms like all the rest of the camps. The cabin boys bring you lighted lanterns in the evenings, and your preference of coffee and tea in the early am before your game drive. This is the life.
Governors main camp where we stayed is the most centrally located in the Mara, it is close to all the best game and not far from where one of the main Wildbeast crossing is. We were blessed with our guide named Stanley. He has been a guide in the Mara for 18 year's and is one with the animals, his instinct was spot on. He knew how to position the vehicle best for us photographers, then again for a different angle. Stanley was our man. We had a great time starting with our first afternoon game drive at 3:30 pm, a hyena greeted us after the resident male and female waterbuck as we leave our camp.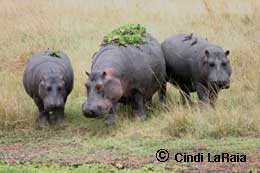 In a lovely water hole, with pretty green water hyacinth near the airstrip was a large family of hippo. This was especially fun as they would pick up their heads and have a pretty green flower hat on! They would yawn and we could get fabulous shots of big open mouths wearing green flower hats. We even witnessed interesting behavior, they were mating. Very close by we came across a pride of eleven Lion! This was the most I have ever seen together, while out walking out in the open plain. There was a big male, six young cubs, the rest were the moms. They were on the move, playing and frolicking and trying to go on a wildbeast hunt. We decided we all were lucky charms and had great karma between us, little did we know just how lucky.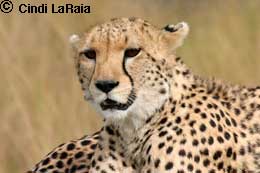 The light again was perfect with a dark moody threatening sky. After a great time with the lion pride we got word there was a female Leopard on Masai land a little ways away, so off we went! We found her perched on a rock cropping over looking the cattle heard of the Masai. She was elegant as she could be, we spent a lot of time with her getting closer and at different angles, allowing us all sorts of opportunity to work all our settings on our new digital cameras! I finally have a photo of a leopard face! What a remarkable first game drive in the Masai Mara! Of course we had to celebrate with G&tT's at the fun bar at Governors. We had requested 'real' African food for dinner instead of Western food, yummmmmm.
We started the next morning very early as we wanted to do a walking safari. We walked 5 miles in the cold brisk morning, we saw Elephant, Eland, Ostrich from a far and close up some wild Spider our guide dug out of a hole. We enjoyed breakfast out in a bush camp. That felt really great to get out and walk in the bush! Our 3:30 pm game drive awarded us with 2 cheetahs, mom and son laying on a rock again in perfect photo op position. Went to the Mara river to see if the Wildebeast were crossing, we found lots of dead carcasses of the ones that did not make it with a plethora of predatory birds, hundreds of giant vultures and red billed storks. We saw a female cheetah with a big belly, she gorged on a gazelle and breathing very heavy. Lots of action to see on the way to the river. Another wild looking sky towards the end of the day we were getting some unusual storms, which made for a wonderful scenery to photograph. On the way back to the camp nearby we found 2 Leopard outside the gate, a mother and cub what a great surprise we had again.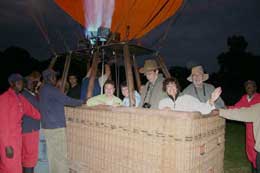 The next morning we were up at 0500hr for our exciting balloon ride over the Masai Mara, we were so excited for this and we were not disappointed. We lucked out with no clouds, no wind an awesome morning for this! The scenery was out of this world as we looked upon thousands of wildebeest all lining up to cross the river, they actually make a long line first. They are the craziest creatures, and to think this has been going on for eternity all by instinct. We saw zebra, giraffe, water buck and vultures along with the stunning sunrise. We had a white wine breakfast set up in the bush to celebrate this glorious morning. For the evening game drive Stanley our man took us to the Mara river to see if the Wildebeest would cross, nope not yet, they were all skitterish running this way and that. Some of them crossed but that was it, about 12. We decided we would pack lunch for the next day, bring our books, pillows and snacks so we could sit there and wait in relative comfort to see if the Wildebeest would finally cross the bloody river like we have seen on the Discovery channel.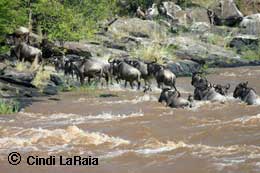 On day four and our last in the Mara we were blessed with the crossing of the Wildebeest (of course), we watched very close as the thousands of them get closer and closer together acting like nervous nellies. It is somewhat painful to watch as they want to cross and the energy is so strong you can feel it. However the river has some rapids where they were all lined up, it only takes one brave one to start then they all go for it. So our first crossing was in this way as they were being swept down river in the current and the rapids, they all made it to the other side and we were relieved, funny to see them with back legs kicking up as they crossed over big rocks from the shore. Then the next big bunch moved further down the bank even closer to us as some smart one decided it may be easier to cross in front of the rapids instead, that worked great and entire army of Wildebeest crossed in this way!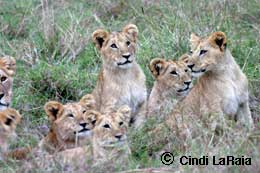 We were very pleased at our success and planning and it was not time for lunch yet! The stench at midday with all the rotting carcasses got to the best of us, the crocks were full and the hundreds of vultures could not keep up with all the free food for them. So off we went in search of the Mara Giraffe, which is very different looking to the Reticulated Giraffe at Samburu. We found him, and we also the other big lion family of 17 lying under trees in the heat of the day. Already another fabulous day in the bush, we had lunch under an acacia tree were the Tope Antelope like to sleep and not far from the lions. Of course celebrated our successful 8.5 hr game drive with G&T's on the veranda at Governors Camp.
We had an extremely successful safari in the Mara and Kenya with all our very close encounters with Leopard (Chui), Cheetah (Duma), crossing Wildebeest, lots of giraffe and bountiful antelope of every kind! We are lucky charms for sure!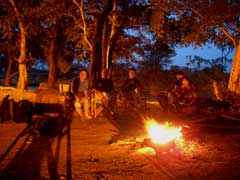 Kenya treated us well, we loved it and her people. We fly back to Nairobi for some shopping at the Collectors Den and lunch at the famous Carnivore restaurant. I also had to see the famous Karen Blixen house, which is now a museum; I had just finished the book Out of Africa, all very apropos! She was very much loved by the people of the area and they have named everything in her honor.
Asante Sana Kenya (thank you very much) and Lala Salama (good night)!
RAWANDA and the Mountain Gorilla's of the Vurunga mountains.
Enjoy Please!
With some wonder of what to expect in the Genocide aftermath country of Rwanda, we were delighted with her resilient people. Eleven years after the genocide the new government and wonderful cooperatives created by outside agencies have helped these sad people to rebuild their lives! They are amazing and strong, the women are now the majority of the work force with strong efforts to rebuild underway. The sadness lies in the faces of the people as everyone lives were touched by this horrendous genocide that was pretty much ignored by the rest of the world. It is shocking. The new memorial of the genocide in Kigali is something everyone needs to see, however with a box of tissue.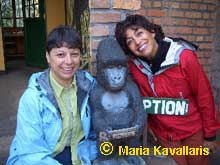 We stayed our first night in Kigali before another early morning rise at 0330am to drive the 90 min to where we meet with the rangers to be assigned our first trek with a gorilla family! I have waited so long to be able to do this, ever since the movie about Dian Fossey and Gorilla's in the Mist. I was so excited I could not stand it, even with only a few hours of sleep! We entered Volcano National park, our guide here is very important as he helps to get us the Gorilla family of choice as he speaks with the head Ranger. There are 8 habituated Gorilla Families, however only 5 are for tourists. The other 3 are mostly for the researchers to study. In the Varunga mountain region there are only about 300 or so Mt Gorilla's with some 600 total left in the world.
Since we were so tired we thought it wise to not try the most difficult family of Susa which has 38 gorillas, and a new born only born the day before. So we all went as one group the 5 of us to trek to Sabinya family group of 11 Gorillas, described as an easy trek. Hmmmmmm. We start these treks at elevation of about 8800 to 9000 ft above sea level.
There is a maximum of 8 trekkers allowed plus the guide, porters to carry our back packs and trackers who start out early am to find the groups, they are on walky talkies with the guides. All very well organized to minimize the strenuous trek to find the beloved Gorilla's. From the start of our trek, it took 2 hours for us to locate the family, we are only allowed 1 hour from that point. No walking sticks or packs allowed here, only your camera. After an interesting climb through bamboo fields and dense jungle, we were told they were close! The guides love these beauties, and try to get us close to them for great photo opportunities. I was amazed how close we got, the rules say not to get closer than 21 feet away unless they approach you.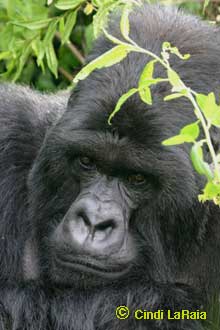 In the open there they were, the Silver back in all his glory!! Wow, I have yet to find the words to describe the sight of 7 gorillas all very close to us eating without a care in the world we were there! I think that was most amazing, they hardly even looked at us. I had night mares of not being able to keep my eyes down as we read in the literature, and the Silver back charging me or carrying me away. NOT. They could care less and you can look in their eyes all you want, ever since Dian Fossey has been with them they do not mind if you look at them in the eye. How wonderful as I had wonderful eye contact with a full grown female and it was lovely. The other giant surprise is how BIG the silver back's head is, it appears to be 1/3 of its body size, just massive! They are so very beautiful in this rugged inhospitable environment. It gets very cold at night in the mountains.
The poaching appears to be stopped, it was the antelope snares that was causing most of the current problems as the Gorillas would get snared and could die from a missing foot. They have worked hard to eliminate most of them. There are military on each trek to safeguard the people on the trek as well. The guides make a low grunt to signal to the silverback we are there and he waits for a grunt back which tells the guide we are accepted. It is all very much like clockwork there.
After the Gorillas rise from sleep at night the Silver back's job is to find plenty of food for them as they consume about 70# of greenery per day. They are on the move constantly except when it is rest time which you can set by your watch. At about 9:00am to 10:00am they rest, they lay around and play or nap. This is when you hope to find them so you have a good amount of time while they are resting as opposed to when they are on the move in the impenetrable jungle!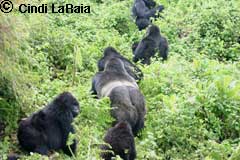 We lucked out and they where there in the open, however not long and they went inside the undergrowth, so there we went. The trackers cut down foliage for us to get to the Gorillas which we did, very odd to be so thick in the middle of this jungle with no path's! It was a bit harder to try to get photos in here where it was darker and lots of branches between the Gorillas and us. It did not matter, we had playful toddlers to entertain us, it was so amazing how close we were to them and they simply did not care, another had been up in a tree and fell out backwards at our feet! Unreal and amazing this is for us!
On the next day were to hike to Dian Fossey's tomb but we could not manage another early morning to be ready at 0600hr, so our guide took us out all day and we immersed ourselves in the people of Rwanda, we had a glorious day, shopping, going through local markets and buying writing pens for the children with school uniforms on. Lots of colorful clothing and women with giant loads on top their heads, they have to get the water of the day from a center source. Life is different in the highlands than the city. All the women walk with hoe's in hand, babies on backs and lots of children around. Where are the men? They have very fertile ground up here and grow lots of crops, everyone seems healthy at least, every piece of land is used in Rwanda. It is a very small mountainous country with a lot of people living here.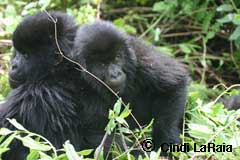 August 27 is our last trek with the Gorillas (we planned 2 for this trip with a day in between to rest) this is where 4 out of 5 of us wanted to do the Susa family of 38. I am so excited to see this very special family with the new baby who was 3 or 4 days old now, plus a set of twins that are 14 months old, very rare to have twins survive. Plus 4 Silverbacks and many other toddlers and sub adults. There is only one prominent Silver back in a group, he does all the mating and decision making for the group. If another Silver back is caught mating with a female of the group, he is punished severely and beaten. Eventually he will make his own group if he can convince some females to leave the comfort of the family group. Amazing is the hierarchy of the Gorilla families.
Ok so were are outside our skin with excitement to get picked for Susa, wondering how difficult this trek will be as it is the most difficult of the families in the Varunga's. Well it was hard as it starts straight up for a long time, and never stops! Difficult breathing at this elevation and constant climbing, we took several breaks as some were slower, we were grateful for those short breaks to catch our breaths. Luck was with us once again, the family was very close as they did not travel to far up with a newborn!! Yippeeee. So what appeared to be hard due to the elevation and machete cut path only, (we were literally in the middle of the thick jungle with no path walking on stinging nettles and no real ground below us, we were walking on vines) was a fairly short trek to the Gorilla's.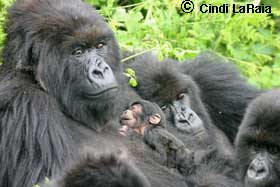 We got there pretty much at the start of their 2nd rest of the day at 12 noon. We were in shock and total amazement. After a shocking trek thru thick jungle, we opened up to a flat sunny area and counted 33 of the 38 Gorillas in Susa group all out for us to see!!! THIS IS AMAZING, one of the most amazing sights I have yet to witness on earth. Everywhere you looked where gorilla's all napping or grooming each other or playing! I had 3 toddlers frolicking at my feet playing peek a boo and tumbling all over near us! The head Silverback was beyond words, then he rolled over on his back and his rib cage was gigantic! He yawned and John in our group got a great image of rather ugly teeth and a black tongue! We saw Poppy with her new born and were able to get good close up photo's with our long lens of the little baby! She is the oldest female at 29, she is the only one that new Dian Fossey. How amazing to see this giant female walking with this tiny bundle, she breast fed and they slept in peace. This sight was too amazing for the right words to describe.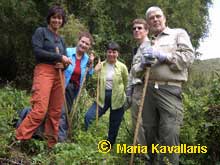 None of us knew what to say, we all looked at each other with no words. I still have no words for this magic time we spent with the Susa family, this is a very special loved family of Mountain Gorillas! I thank God for the opportunity to be one of the few people in the world to have witnessed such beauty and magic in a difficult yet beautiful setting. This is beyond anything we could have ever hoped or dreamed we would experience for this part of our journey to Africa. We were in the heart of Africa, and we were beyond words, this is a time of reverence. I will never forget when the guides would find the Gorilla's for us and get us set up so we all had a good spot for viewing and photography, they would say 'enjoy please'.
*As a side note, Dian Fossey single handedly allowed the Mountain Gorillas species of primates to survive. She fought the poachers and brought awareness of the Gorillas to the people of Rwanda and the world, her death is still a mystery.
-- Cindi LaRaia