Madagascar, October 2-19 2011 Trip Report
This was a 'reccy' (reconnaissance) trip to travel all over this wild country in order to design the most interesting itineraries to see endemic only to Madagascar, The Lemurs! These amazing colorful, elusive tree dwelling primates, live only in Madagascar, as well as some species in the nearby Comoros Islands.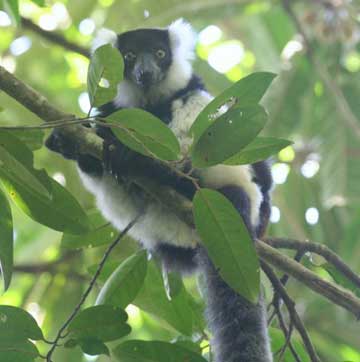 Madagascar is truly a wild, somewhat backward 3rd world country. It is not easy to travel here; one needs to be relatively fit in order to hike up and down uneven paths, your guide somehow sees the lemurs high up in the tree canopy and quickly guides you through the thick forest roots, vines and branches, then pointing up and through bramble, there they are, the most incredible gorgeous primate family! On many occasions I commented 'this is a Tarzan moment'.
Madagascar boasts incredible diversity; the island has many different habitats; from extreme hot and dry in the west and south, to the fertile highlands in the north center, and wet rainforest along the north and eastern part of the country opposite side of the mountains ridge.
My adventurer client friend Shari and I started our 17nt trip flying to Antananarivo (Tana), the capital and largest city. I was here with a small group 13 yrs ago, not much has changed other than they have cell phones now. The one traffic light no longer exists, it is a mess of a City, traffic is horrendous but somehow it works, as only it can in a very 3rd world country. Somehow they say 20 million people live in the country with about 800,000 living in and around Tana. I live north of San Francisco, with a population of 800,000 also, imagine no traffic lights in SF!!??
The main objective of this trip was to get to as many areas in Madagascar to see as many Lemur species as possible. Sadly the habitat is being degraded due to a government that is not looking out for the precious environment that must be maintained and saved from deforestation for these amazing Lemur species.
The most amazing thing we learned is with the astounding number of species of Lemur, only 2 or 3 types can share a forest! They actually fight for territory which makes this incredibly interesting for those who enjoy nature and the amazing way these animals have evolved. There are soooooo many species of Lemur, Sifaka and nocturnal animals. The chameleon species is wild and glorious to find them on the tree branches eye level, you can stare right at them, and not see some as they are so well camouflaged and others so brightly colored green and turquoise like glimmering jewels! Geckos of many species are also endemic, with approximately 285 species of birds which most are endemic to Madagascar.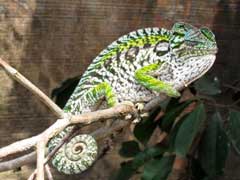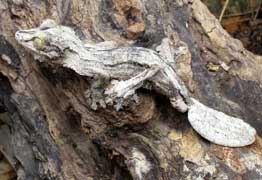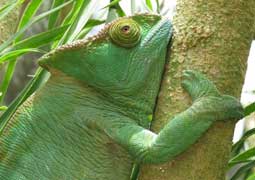 The history of Madagascar is long and rife with European countries and Arab nations raping the country of its natural resources, rich in semi- precious stones, hardwood, cloves and vanilla. The French colonized Madagascar until independence; the country has floundered under local rule as it seems per usual in these situations. The largest percentage of tourist numbers come from the French at about 80%, the remaining 20% a mix of Europeans, Asians and Americans. The local name for tourists is 'FaZa', the tourist season is short due to the rainy season which begins in November through May/June, and they also get regular cyclones during January/February. My goal here is to design a tour for the North American market; it will have a mix of options dependant on length of holiday time allowed for guests.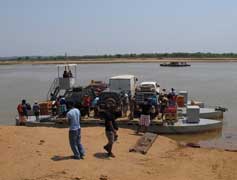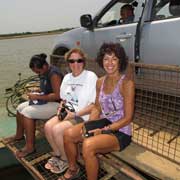 National Geographic magazine has played a big roll in my love and intrigue about visiting Madagascar again, (after I said I would never put myself through this as a travel designer again) 13 yrs later here I am! We started our trip after one night in Tana flying to Morandava in the southwest of the country, the hot dry area. All flights are early in the morning and you must be at the airport 2hrs prior, so we had several 0345hr wake up calls. We were met by our guide Loudow and driver in a 4x4 as we soon learned was a must needed vehicle in this country .What we were not prepared for, was a gut wrenching pot holed 9 hr drive to get to our hotel in Bekopaka, near the Tsingy of Bemaraha. There are 2 rivers that you do cross on a car ferry very interesting to say the least, you do get to meet and visit with the local people of Madagascar. A short drive out of Morondava you get to drive through the Giant Baobab forest a very unique species of Baobab endemic to Madagascar.
We stayed at the best places in all areas visited; we had a variety of good, great and not so good. The type of accommodation will vary in the particular areas you visit. We never really knew what to expect.
The visit to Big Tsin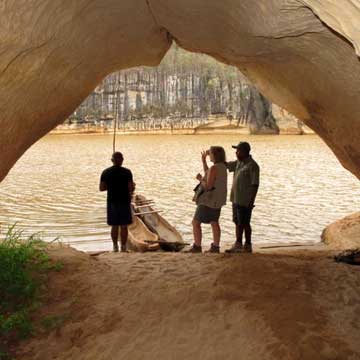 gy was remarkable! It was as I hoped it would and could be as per Nat Geo's article. The best way to do this trip is to take 4 days, 1 long day driving up, and 1 long day driving back to Morondava. The first day would be to hike the small Tsingy and take the canoe ride on the river. These are UNESCO sites based on the culture of Vezo people from a few hundred years ago, you learn about the burial and reburial traditions, and visit the tombs where they are high up in the rock overhangs of the river. There are beautiful caves with stalactite and stalagmites that your local guide will take you to on the river; it is a very sacred lovely area.
There are several types of treks that can be done in the Big Tsingy depending on your level of fitness. It is a stunning area made of jagged limestone peaks created over thousands of years of erosion and movement of tectonic plates. There is an overlook to begin the trek that is beyond incredible to see the vastness and sheer beauty of this extremely spiritual place.
WE chose to do the longest and most 'sportive' trek; they said it would be about a 4 hr trek, so we went for it. What we did not know is that we would be given harnesses, still unsure why. Our local guide was very knowledgeable and passionate about the Tsingly he knew the history very well; it is a great anthropological and archeological UNESCO site and well worth the horrid drive to get there! We trekked through so many different types of breathtaking scenery, hot dry, then beautiful forest down through the base of the Tsingly, into an oasis of tropical pools with palm trees and waterfalls! There is an underground spring and caves, you are encouraged to bring your bathing suit and go for a swim in the lushness of this amazing place. We ate our picnic lunch in a cool cave and got to see our first red ring tail mongoose.
This Tsingy trek was beyond our wildest imagination, a French man took years to help build in cables so we could clamp on with our carbeaners and hike up to the very top of this grand awe inspiring site. Up up and up we went, we got great exercise as well as witness one of the most incredibly gorgeous 'out there' places on earth. We did it, we loved it, we crossed bridges, we sat at the top of these limestone jagged formations peering eye-level at precarious limestone which appeared to be hanging mid air sideways! The pictures of this tell the story. Toward the end we found our very first lemurs, red fronted brown lemur's and a nocturnal sportive lemur in a tree with his big golden eyes looking out at us.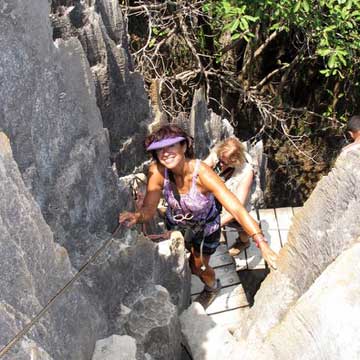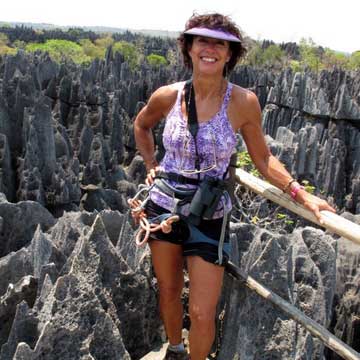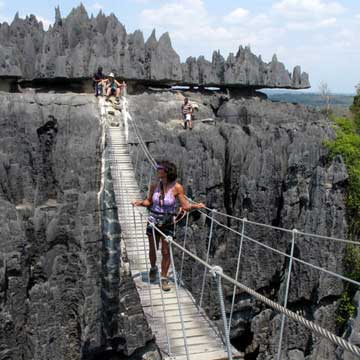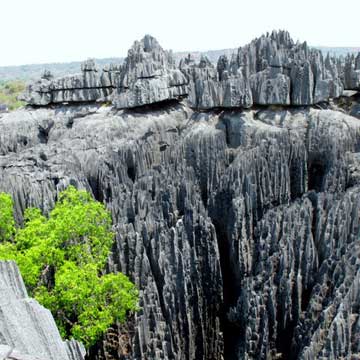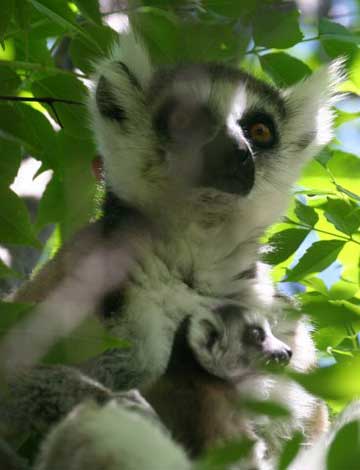 After our long drive back on this trip we made a stop at the Kirindy Forest, a small but very productive reserve where we found our first gorgeous white fluffy sifaka's including one with a baby, they are so amazing how they are able to hold on to mom as she literally flies through the trees. When they are first born they are very small and stay in the front of mom holding fast, as they grow a bit older they are able to hold on to her back. That is one way of telling if they are newborn or a couple of months old. We also saw many brown lemur which live in the west, the females are called red fronted brown lemurs for obvious reasons. We went on our first nocturnal night walk, they have 6 species of nocturnal lemur and we saw all of them, the mouse lemur being the smallest, and several sportive lemurs.
Arriving in Morondava on the coast we stayed at a lovely beach resort, walked the beach of the Mozambique Channel, a lovely respite after the long drive back from the Tsingy, great seafood and lovely accommodations, ahhhhh.
We say goodbye to the south and west and flew to Tulear, where our wonderful driver-guide Fano greeted us; we grew very attached to Fano as he was our driver for the next 7nts. After a drive through Tulear, we got some bananas and local fruit called the heart of the Zebu, luscious. We are now headed to Zombitse National Park for the entire day, another dry deciduous forest. This is a good place for more Lemurs and birders. This was a good park we saw birds and lemurs then headed to our destination Isalo (Ronohira). To our divine surprise we stayed at an amazing gorgeous lodge in the middle of yet another unique visually beautiful landscape, which reminded me of our western states, like Wyoming, or Damaraland in Namibia. The resort was stunning with extremely spacious comfortable tents. The lodge was absolutely gorgeous, beautiful pool, restaurant with great food, and wine! We spent 2 nts here, the next day was another very 'sportive trek as we chose to do the longest one again. There are many different treks that can be done depending on the fitness level of the guests. You can easily do 2 full days in this park or more.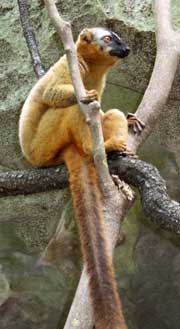 This was a 5 star day! We saw all 3 lemur types that live in the area and trekked for 8.5 hrs. This is the most visited national park in Madagascar, the most VaZa (tourists). We trekked through the most amazing landscapes for 8.5 hrs, lots of ups and downs, there are 3 pools from natural springs and we chose to trek to them all. Very interesting and the local guides are well versed and knowledgeable. Fano was tremendous in finding us the best local guides for each park we visited who spoke English, as most speak French. More Malagasy are learning English now which is different from our experience 13 yrs ago. Where we had lunch is in a forest area and home to the Lenurs; we saw the Red fronted Brown Lemur, the very charismatic ring tailed lemur, and the most incredible loping bipedal Verreaux's Sifaka, we saw them loping on the ground to the next tree, it was the most amazing visual to see them loping right in front of our eyes, of course I was not fast enough to get a video of this. Seeing that loping was the cherry on top of the hot fudge Sunday for this 5 star day!
Sadly we had to leave this amazing Isalo National park and lovely resort for another long drive day. This is the only way to see this country, you can only fly to certain areas of the country, then you are picked up and long road transfers to get to all the different parks. It is the way it is, there is no other way and nothing has changed in 13 yrs other than the vehicles are nicer!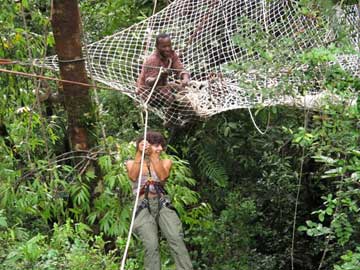 Heading along north east through the ever changing country side, there is more agriculture in the highlands, nicer towns as the local people are able to grow a lot more vegetables and have the Zebu (Madagascar cow) as their trade. The Zebu is the money of the local people, we saw several cattle drives from far south along the same road we drive, where the walk with herds of 50 or more heads of Zebu to sell in Tana markets. It may take up to 2 months to walk the Zebu then another 2 months outside of Tana to feed and fatten up the cattle again for market.
Stopped for a short visit to the paper factory, very interesting how the locals make paper cards and products, nearby is a small forest Anja private reserve, where you can see the Lemur Cattas as they are well represented here and run by the locals.
We are heading to the rainforest now, a completely different landscape yet again, incredible change in weather and temperature. After roasting hot, we are now cold and wet as the wet season arrived a bit early in this area. Again we stayed at the nicest place in the Ranomafana National Park, the accommodation was adequate, a bit basic however the food was good at the restaurant. I quickly learned the rain jacket I brought was really only a wind breaker, we went out for a nocturnal walk in the pouring rain and cold, I was completely soaked to the bone and convulsing from being so cold from the inside out for the rest of the night. We did see all the nocturnal lemurs and some very cool chameleons and 1 very cute small one that are nocturnal also.
The next day was a full day trekking in the rainforest to find the elusive 'golden bamboo lemur' this very rare endemic lemur lives only in this forest, and eats only the young leaves of bamboo. The Golden Bamboo Lemur was only discovered in 1986 from a researcher who spent a lot of time researching lemurs in the area. There are 12 species of lemur that live in this very dense premier mid-altitude rainforest reserve. When we woke in the morning our view was stunning with the mist and cloud rolling over the mountain rainforest, reminded us both of the Virunga Mountains in Rwanda and Uganda where the mountain gorilla live!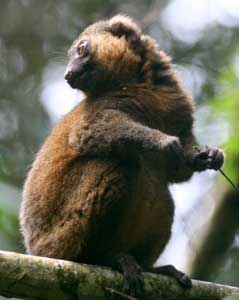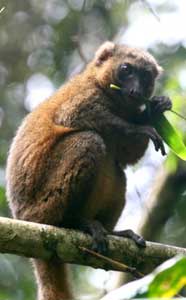 This was a very wet hike with our local guide slipping and sliding off the path having more real Tarzan moments, as now we are in the thick wet forest with vines hanging everywhere slipping down and trying to see through the wet leaves and branches the different Lemur. Our Golden Bamboo Lemur very elusive as of course it is way high up in the canopy since it must eat only the new shoots of bamboo leaves. We have since discovered that Lemurs do not like rain,,,,, well then, now if they do not like rain where are these top dwelling elusive creatures going to go? Our guide took us away from the other VaZa and up up up and away we went, climbing higher and higher through the canopy until we were at the top of an area where low and behold there they were!!! They are ohhhhhhh soooooooo beautiful and glowing golden in the light now as we could see them easily. This was a pure magic moment, to be able to get pictures of them, all alone with our guide, FABULOUS! Makes all the frustrating hours of climbing and slipping and sliding and falling, getting wet and muddy worth it!!! We also saw the lesser golden gray lemur the red bellied lemur. All very endemic to this forest only! We also saw many species of chameleon and mantilla (frogs) Madagascar has gorgeous frogs!
This was a very magical place and I would hate for anyone wanting to visit Madagascar miss this amazing rainforest. There simply is no other way to see these places other than the 8nt road trip from Tulear to Tana or vice versa.

There is a natural hot bath, nearby to the forest, they have made a swimming pool where the natural hot bath empties into the pool where you can go for a lovely swim while viewing the Ranomafana rainforest mountains thru the Traveler Palm trees. A bit rugged but well worth the visit, they even have a rudimentary massage shack nearby up the hill for a mere 10,000 ariary! (5 USD for about 30 min) I happily went for a massage, in the rain!
We loved this place even though we were wet and dirty, our driver Fano says he is used to dirty FaZA in his car, hahahah.
Morning departure for 2 long days on the road to get to Andisibe (Perinet) with a night on the way, in a very cute accommodation that had nice rooms with a fire place so we could wash and dry our filthy wet clothes, that was lovely! We visited a woodcarving workshop which specializes in Marquetry.
We finally arrive to Perinet/Andisibe and check into our hotel. We went on a night walk for nocturnal lemurs we found a leaf tail gecko, a mouse lemur and those small nocturnal chameleons.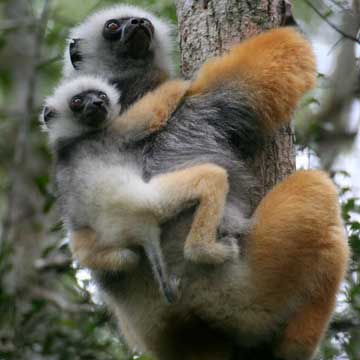 Andisibe National Park- (Perinet)
Mantadia National Park is the primary forest here and home to the Golden Sifaka. The Analamazoatra Reserve is opposite and home to the beloved Indri Indri Lemur, the most striking lemur has black and white coloring and exhibits the bewitching call of the rainforest. The loud call is a siren beckoning you deeper and deeper into the depths of the forest.
Our morning spent in the primary forest in the rain, slipping and sliding off the path as our guide Edwin found us the stunning beautiful Golden Sifaka, golden arms and black face with white body, very thick and wooly fur. We found a family of 5 with mom and baby in the trees, they jumping up to 7ft to the next tree baby in tow. It is such a beautiful sight to see a new species of the gorgeous large fluffy Sifaka species of lemur. We also found the black faced brown lemur hanging upside down.
The secondary forest the Analamazoatra is where we went after lunch to find the elusive, and most appealing furtive lemur of all, the Indri Indiri. Hearing the mystical eerie, surreal call of the Indri deep into the forest, our guide calling to them and they replied in earnest. Deeper and deeper we went, he had us stay while he ran to see if he could find them. In the mean time we found our own golden sifaka, big big bonus with a baby stopping and posing for us!! Still, no Indri Indri. Off we go, we hear them louder and louder and many of them now, he has us tearing thru the forest up higher we go over roots and vines and twisted branches looking and behaving like nooses, me with my big camera & 400mm lens, shoulder bag and 2nd camera in the other hand, slipping and sliding and barley staying upright, grabbing the wrong thorny vine for stability. What a wild ride we are having yet again, and no other VaZa (tourists), only Edwin and Shari and I ahhhhhhhhhhhhh and then we stop.
There they are, all around us, mama and baby, females are blacker, males are whiter, females start the calls then the males join. They are declaring their territory to the other nearby group. Getting louder and louder as they surround us, this is beyond amazing and the calls are oh so loud vibrating thru the forest and in our heads. We had a family of mom and baby, a juvenile and many others. They were fighting with different voice and calls and very close to each other,,,,, one group won and the other moved off. We were in the middle of this with them overheads, I only hope my video picked up all this surreal sound or I will be crushed. It is the sound of the Indri that is off the planet, the most unique sound that beckons like a siren. Not to mention they are the largest and most stunning lemur, black and white with only a stub of a tail, where all the other lemurs and sifakas have very long tails.
Indri Lemurs Calling
This was truly a 5 star day!!!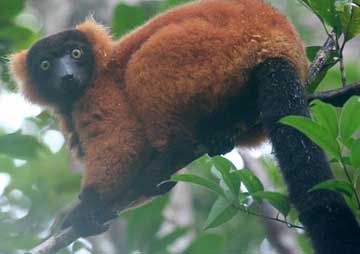 Another night spent in Tana, early am flight to Maroantsetra and Masoala National Park in the Masoala peninsula in the northeast part of Madagascar. This is a very unique place and quite 'out there' as we discovered. Due to the flight schedule we had to stay 3nts, our longest place so far. The place we stayed was pretty rough, Chez Arol. We were waitlisted for the nicer camp The Tree Forest Lodge, but everyone wants to stay there and it books up 1 year in advance!!! So we had cold showers and basic accommodations. The food was very good however for the rustic nature of the place! Here the draw is for birders, here you will see the Helmet Vanga as well as the Red Ruffed Lemur a Gorgeous species and also on one of the islands nearby, we saw the black and white ruffed lemur! This is why you come here, they are very beautiful!
Our lodge also had a wonderful tree climbing net; you walk up to the platform, get into a zip line harness, and slowly make your way through the canopy of the rainforest to the big net. You lay there and listen to the relaxing sound of the river below and also the call of the Red Ruffed Lemur there is a family that lives near the area there! Lovely! This rainforest is at sea level so it is warm when it rains not cold! However it is wet!
We flew back to Tana and stayed at the nicest hotel of the 3 nts we spent there, this is where I will book my guests, and it was divine after 3 rough nights at Chez Arol!
Next trip will be to dive again in Nosy be, I dove there with my small group in 1998, it was great! I will be designing a program to offer the main tour that is fantastic, an option to go to the Tsingy and diving or snorkeling in Gorgeous Nosy be!
I love Madagascar, it is wild and wooly and wonderful!
Madagascar is definitely not for the faint of heart traveler, patience as Fano would say, patience…….
-- Cindi LaRaia