Tanzania: Wild Chimps & Remote Safari,
October 8-15 2013 Trip Report
Nomad Tanzania Travel Agent Educational Trip
Report from the bush.
Cindi LaRaia, Africa Discovery Travel
Eight of us Africa travel agents from all over North America were invited on this amazing one of a kind, unique adventure covering a large part of Tanzania; with our host; Rep for Nomad Tanzania, Johann Van Zyl.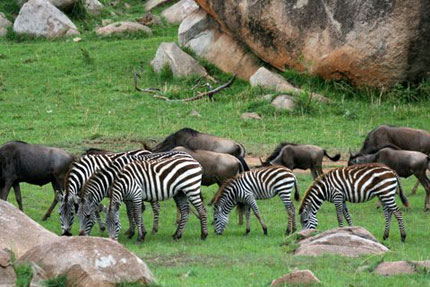 Nomad Tanzania is one of East Africa's original safari companies. Well placed in the finest most remote reaches of greater Tanzania. This company has been operating here for over 20 years and has perfected the art of 'off the beaten path'. With an unrivaled reputation for quality, reliability and experience. The founders who built the camps were the pioneers in isolated parts of the country that few people had heard of at the time and fewer still had visited.
For those travelers who have been to Africa many times, passionate about seeking a one of a kind experience in of the most remote areas of the African bush, you may be interested in reading this!
We arrived into Kilimanjaro Airport the international airport for Tanzania. Getting your visa upon arrival is quite an experience, amusing at best. Patience is required and a good sense of humor! Normally I recommend just getting it upon arrival and be sure to have ready your USD 100.00 at window one, then onto another line for Immigration, window two and last but not least another chance at patience after your 26 hr flight from the west coast of USA, for window number three, finger prints and a very surly man bored to tears with it all. Every finger and thumb before the green light says OK, you may now enter Tanzania! Whew! If you do not mind sending your passport away before hand, it may be worth the effort to have your visa done before arrival!
I meet Vyvienne one of the agents in the loo before our driver whisks us off to our hotel for the night. She is a delight and gives me an instant bear hug! Ahhhhh my first new friend! Our drive in the night takes us through 'lovely' Arusha town into the outskirts and the coffee plantations. Legendary Lodge is a lovely old Colonial Coffee Plantation, each of the 'rooms' are the size of a small house! I was spellbound by the enormity of my room, complete with a full living room; huge fire place, lounge chairs, sofa, side tables, colonial chairs and table long full drapes, a gorgeous tall ceiling with beams. One step up to the enormous bedroom, giant huge King size bed, beautifully draped mosquito netting, writing desk, wifi what more can I ask for. OH a knock at the door, my butler is there to take my full order for dinner even though is it about 9:00pm! Dinner and lovely South African wine is part of the inclusions at this well-appointed gorgeous lodge! As I wait for my dinner to arrive, I peek behind the giant bed and there lies the even more giant bathroom!! Wow, full bath, large shower, large area for all your luggage, huge vanity with 2 sinks, expansive counter with all the amenities one could need! The butler made a fire in the fireplace, served my amazing delicious dinner in my room, wine, fire ahhhh. Off to bed.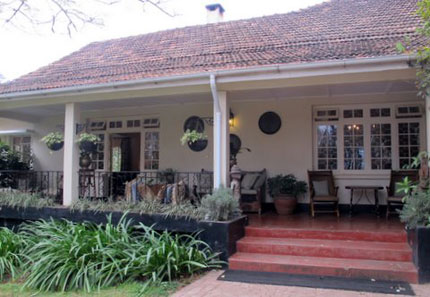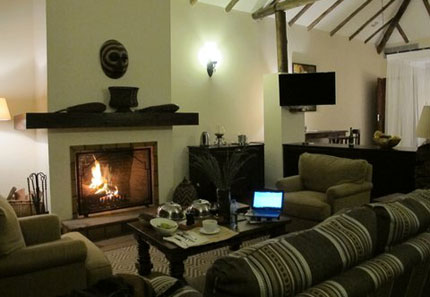 Met some more of our group in the morning for breakfast with the friendly marketing & managing directors of Nomad Tanzania for our briefing and off we went to the local Arusha airport to meet our very own pilot for the next 7 days, Tanganyika Flying Company enlisted their finest pilot, Shuan Rodrigues. We had our own lovely 14 seater Caravan with Sean at the helm. We all loved our adorable Shuan, one of the top young pilots of the company, lucky US!! Off we went for our first Nomad camp in the northern Serengeti called Lamai Serengeti, well placed on the Kogakuria Kopje with commanding views near the Mara River for the migrating Wildebeest from July to October. The area has prolific local game, for excellent viewing year round. Lamai Serengeti is a small lodge, rooms are structures not tented.
We also visited the Nomad Serengeti Safari Camp, a lovely small seasonal tented camp that shadows the migration of the wildebeest for hundreds of miles, a simple delightful authentic safari camp. My kind of camp! Again excellent game all around this area, loaded with all you would expect on the ultimate safari holiday!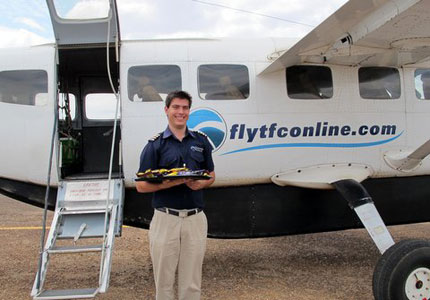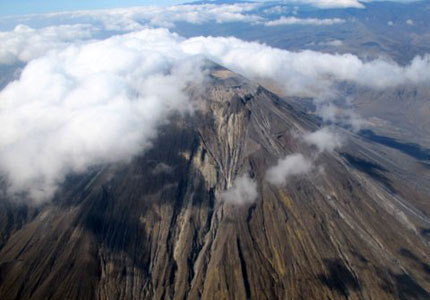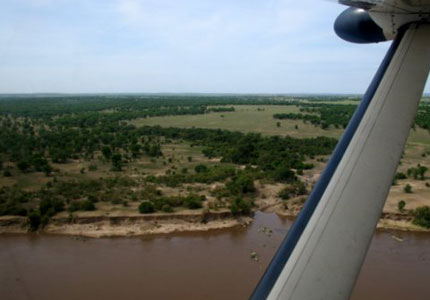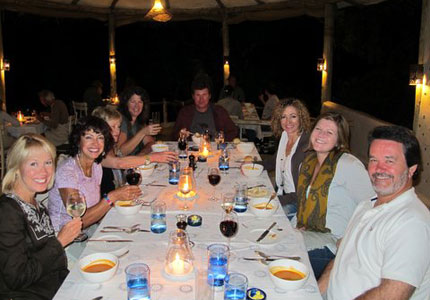 The next morning we say farewell and on to our next destination; packed lunches, water, beer and soft drinks for the approximately 4hr flight, with a fuel stop en-route to the enchanting Greystoke Mahale ,,,,, this is one of those magic places on earth that even as agents, we lust after; near the top if not the top of our Travel Agent Bucket list. My personal dream is going to be realized, to visit and experience this legendary exotic dwelling on the white sandy beach at the foot of the Mahale Mountains, overlooking Lake Tanganyika, this is a place that must be seen to be believed!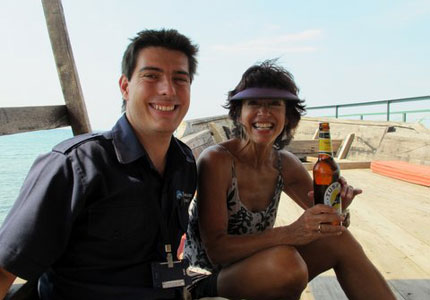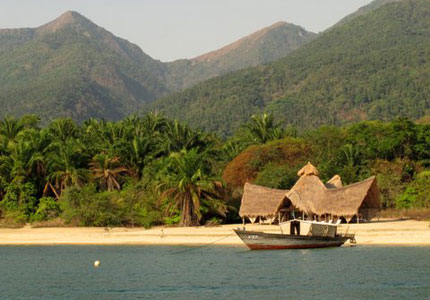 You land beside the rise of the mountains on the shore of the lake. You are greeting by happy large smiles taking you to the Dhow like boat for your amazing refreshing 1.5 hr boat ride well equipped with beverage of your choice and snacks, motoring along the stunning shore of Lake Tanganyika, what a beautiful surprise with the backdrop of the majestic Mahale Mountains steps away from the shore. Lake Tanganyika is the longest and possibly the deepest lake in the world. We have been transported to another planet, another world!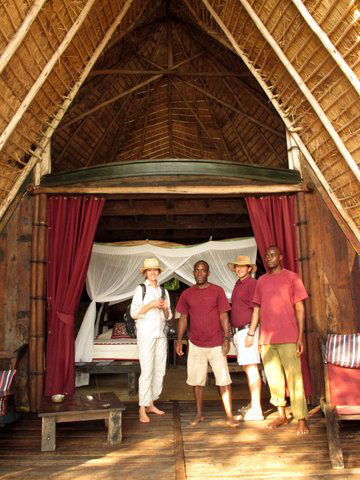 The 8 chalets at Greystoke Mahale I would describe as Robinson Caruso open fronted rooms, with views overlooking the soft sand beach and crystal clear water. The lake is mesmerizing, the sounds of the forest behind lie behind you, the sound of lapping of water only feet away from your front entrance. I am sure there must be other sorts of places that may try to compete with this spellbinding enchanted place, but I have yet to find it!
The reason we are here, the Mahale Mountains are home to one of the largest populations of chimpanzees in Africa. Each day you will be very close them, trekking with the guides that know and love them as their own family. The experience you will have with these incredible families of chimps, will stop you in your tracks. Literally! The trackers go out in the early morning to find the chimps than call back to the rangers and we are off.
Depending on the time of the year, will sometimes depend on how far you must trek to find them. June through August the chimps are higher up the mountains looking for food. The treks are longer and you need to be reasonably fit and like to climb! The good news is the elevation starts lower at approx. 4500 ft above sea level, unlike trekking the mountain gorillas in Rwanda and Uganda where the climbs begin at 9000 ft! Altitude is not normally a problem here, which is very helpful.
September through November the chimps are lower, easier and faster to find as they are very well fed, there is a lot of food around for them! This is also a very good time of year to match up with the wildebeest migration in the northern Serengeti, Chada Katavi & Sand River in the Selous. More on that soon.
However word of warning, the males are very LOUD, crazy and active as they are competing for the female's attention as they are in heat and ready to mate. There is a definite pecking order with the Alpha Male as the KING, the lower alphas are next in line and continue in order on down. They try to gang up on the #1 Alpha to dethrone him, so the next in line can have the glory of mating with the females. When we were on our chimp trek, we heard them before we saw them! Astounding noise, screeching and howling from this 'community of chimps' some 28 in this community. The noise was at times deafening and truly not for the faint of heart! Our guide was truly amazing, we now have to then don our masks so as not to spread any human germs as they are only 3 points away on the gene scale from humans. This was very apparent when we came face to face with them and watched the drama unfold before our eyes! Holy smokes, I am in shock as they just came out of the forest on our path, they did not care we were there. This community has been habituated for many years from the original Japanese researchers. They are NOT tame, only used to humans in their company and do not run from us.
Video: Chimp Walk at Greystoke Mahale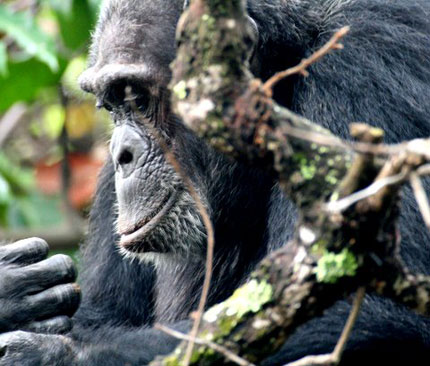 I was enthralled with the business of 2 cameras; my smaller camera taking video, and the DSLR and long lens taking close up images. Getting the sound of the screaming chimps was by far most important for me! These are sounds I have only ever heard on TV or in movies and documentaries. We are allowed 1hr once they come in contact with us. Magically we were allowed a bit more time! All the while our guide talking and explaining who was who and what was happening in the chimpanzee soap opera. He was sad as the gang of lower level Alpha's were beating up on the King Alpha and we eventually at the end of our stay with many of the chimps, he came down the path, dragging his leg and very obviously hurt and in pain. This was sad, but life in the world of chimpanzees and the circle of life. He will recover most likely and keep his reign as he was not too old. Older chimps however do get taken down and the next in line reigns.
We watched the mommy's and babies in the trees above us, adorable young small faces hanging on and playing with other small baby chimps. The visit was truly an eye opener into the wonderment of possibly where humans may have come from. We were very fortunate to experience amazing behavior in the wild, this is what most travelers to Africa come here for, at some point in the many safaris and game drives we do; it is about natural behavior in the wild. It does make you wonder,,,,,
We spend a blessed 2nts here at Greystoke Mahale, also doing the other activities they offer. We took the boat out both nights, swimming and had sundowners on the lake, so gorgeous and refreshing the crystal clear fresh water was! They offer fishing and had competitions between Gabby and Julian and some others, however they are the keen fisher-people! Gabby got Walter! Whooooo, the big pretty Yellow fish! We saw crocks on the shore further down the lake, hippos swam under our boat, fish biting, sundowners going down! I am a very happy girl! Me the water baby, it does not get much better than this, I am in my beloved Africa, at Greystoke Mahale on a boat on Lake Tanganyika, wonderful new friends and amazing chimp walks. It does not get too much better than this!! This doesn't suck!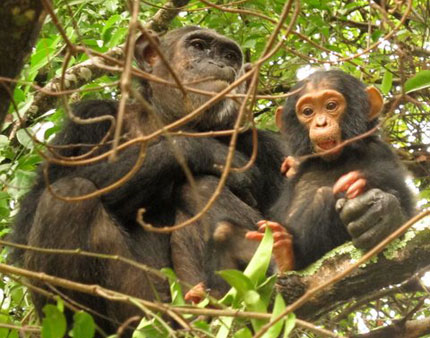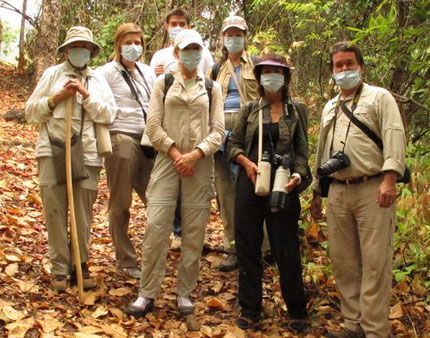 Sadly we must leave our Robinson Crusoe paradise on the shores of Lake Tanganyika and bid farewell to the lovely staff and camp manager. A beautiful boat ride back to our plane and off we head to our next surprise, Chada Katavi! Now this is REAL AFRICA, as you can imagine how it felt when Roland Purcell first landed his plane in Katavi. Not a camp in site, amazing open and wild, the game-rich floodplain of Chada. This is one of the areas of Africa that has beckoned to me since my love for Africa has taken over my soul. We travelers have an insatiable wonderlust that summons our deep seated spirit of adventure to some of the most remote least traveled corners of Africa. Chada Katavi is this place.
A beautiful drive to our charming little 6 tented camp, passing through massive Mahogany trees, Tamarind and stunning Africa White Bark trees. This time of year they lose their leaves and bark, the contrast to the Mahogany trees and bush is a remarkable visual delight! We come upon our enchanting intimate camp which has retained the pioneering spirit from years long past. Elephant are all over as they are feasting happily on the Tamarind trees, what a breathless sight to see.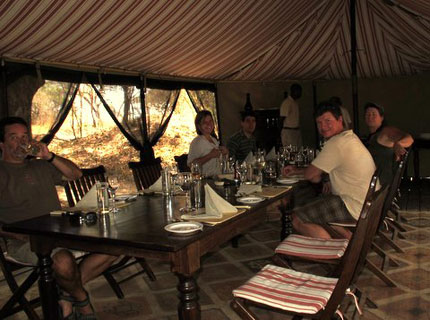 The main lounge is outfitted with old authentic colonial style lounge chairs, settee and chairs trimmed in carved wood, with old suede leather. Trunks, pillows and gorgeous colonial bar! Feeling like I stepped back in time to old Africa, something strange seeping into my veins, I am falling quickly under her spell. An ice cold gin and tonic is the only proper drink one could dream of having on this hot day as we sit in this amazing lounge as we sit tucked into the woodland at the edge of the Chada plain. The well-appointed tented loo with a view overlooks the plain as well!
We are escorted to our lovely tents to freshen up, the tents are 3 sided with netting open for nice air circulation, window flaps behind the beds, 2 single beds, dressing table; separate zip out to the hot bucket shower and loo. They offer amenities of shampoo, conditioner and body wash. My lovely roommate Leora and I preparing to meet in the lounge with the amazing camp manager & guide Mohamed to do some yoga as he is a kick-boxer and we were all ready for a bit of exercise before our afternoon game drive. Well right before my eyes a breeding herd of Elephants of 8 or 10 surround our tent! They were within 10 feet of us and one of the younger Ele's was sort of playing with the tie down, very close,,, oh my! This time of year the tamarind pods are ready to eat and they love them; our tent set nicely under an enormous tamarind tree, how divine! There was a very young newborn baby elephant sucking from her mom, what an amazing sight all within a few feet of us. They were so very relaxed I was speaking softly to them as I am filming them through the netting. Mohamed shows up in his dandy blue kick-boxing outfit wondering what is keeping us. Ha, he says oh well, and unzips our front door flap and has us sit out on the veranda chairs, slowly and quietly. We are as close as a few feet from my beloved ele's,, the tummy rumbling from the matriarch is communicating to her family. They are so very relaxed and happy, moving slowly and eating with simple pleasure in our company. In all my many years of safari travel to Africa, I have never experienced this unique visit with wild elephants so close! Others started to come to our tent as we were not in the lounge for exercise and subsequent game drive. Someone's gps/phone went off and made a noise that was not like the calm of our voices which was fine. The matriarch on high alert, tummy rumbling and the aunties and babies and cousins all rumbling back (communications) they instinctively pushed the new born baby under mommy's belly, they all surrounded her to keep her safe! This behavior is an incredible site to see, especially 10 ft from your open tent! Wow! We enjoyed this pleasure for some time as they continued feeding. Just one of the many surprises Africa loves to offer!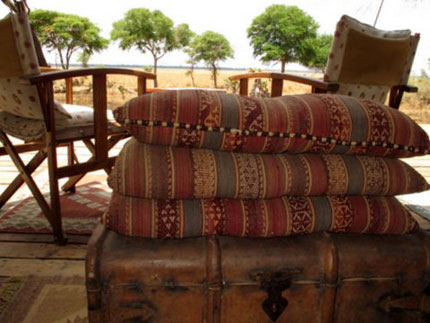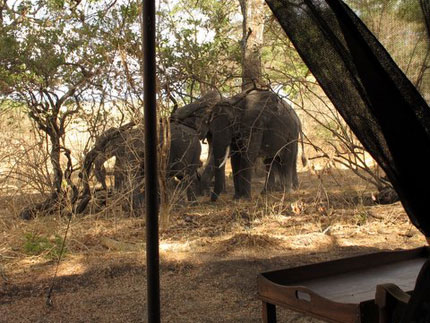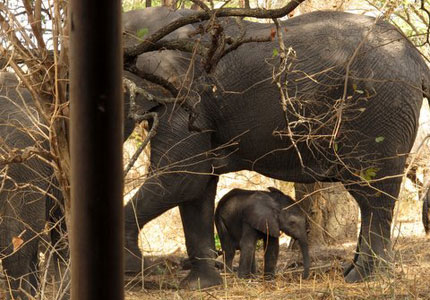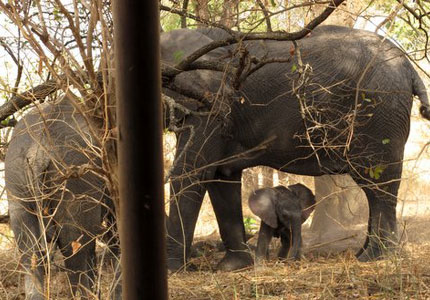 Our Pilot Shaun was one tent down and he had a big male bull laying down in the shade next to his tent, now that is relaxed! What a way to welcome our group to Chada Katavi! We embarked on our evening game drive and it was spell binding. The rivers are now drying up as it is the end of the dry season and hopefully soon the rains will arrive. Not much water left, so the hundreds and I mean hundreds of hippo are all crammed like sardines next to each other without so much as a way to even move around! The remaining water a mess of hippo poo and muck, I have never seen anything like it! Crocodiles all over and laying in holes in the dried up banks of the river. I even caught a pic of a crock eating a fish, which was exciting! A lot of bird life here, marabou stork, herons and the eerie distinct calling of the fish eagle of which there were many. A lovely spot for sundowners indeed.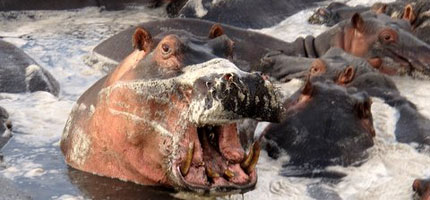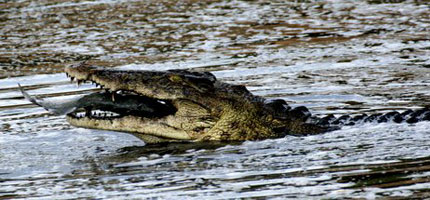 A wonderful serenade all night of hyena's cackling, calling and laughing, they really do laugh! Drifting off to sleep I am thinking, they are very close and there are a lot of them.
They offer many different types of activities here at Chada Katavi, morning or afternoon walks which are divine and game drives. If staying for 3 or 4 nights they offer sleep out in fly camps, my favorite way to experience the bush! They also have a super herd of cape buffalo some 2000 to 4000, it is a full day to drive to them about 40k, so they pack breakfast and lunch and offer a wonderful adventure. To be able to see herd of buffalo that immense is rare. There is also a local Chada pride of lion, you are guaranteed to see hippo, elephant, crocks & buffalo. They have leopard which you would have a good chance of seeing if staying 4nts.
The next morning we went on an amazing 3hr walk, the best walk I have ever done in Africa! We now found out why we heard the hyena so close all night long. There was a giant dead hippo on the open plain. It was so big it looked like a kopje. There was so much wildlife feeding on this heap, I think we counted 8 or 10 hyena, loads of vulture and marabou stork. As we got closer and closer on foot, the hyena started to run away, they really do look funny when they run, especially a lot of them, and being on foot, gives you a wonderful perspective of the cycle of life in Africa.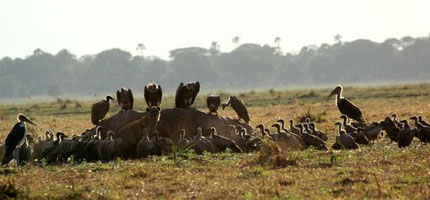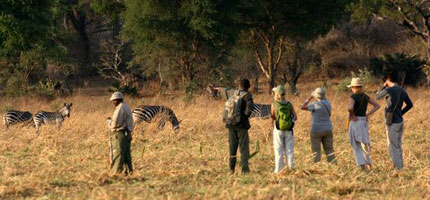 We really enjoyed this camp, the staff are top notch, and Mohamed is outstanding as guide and camp manager; one of the best, this is a very very special place. Sadly we say goodbye to the wonderful camp staff and head to our airstrip, we had an amazing game drive on the way. We found the local Chada Lion pride, 12 lion in all, 3 tiny adorable cubs, 1 big gorgeous male, 2 younger males and lioness, they all had big tummies and obviously very full!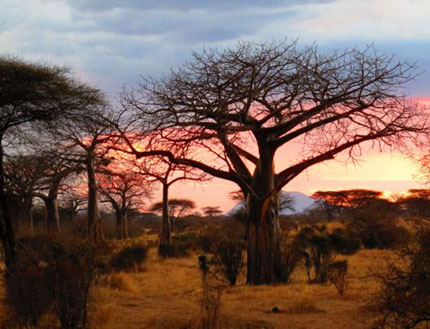 We stopped at the spring where the last of the water is at the very end of the season, the hippos were smashed together in mud, I have never seen anything like it! At the very end of the season which was fast approaching, there are 2000 to 3000 hippo here as this will be the very last bit of water left in Katavi. The camp is closed from November through May for the wet season as there is no access due to the black cotton soil, it becomes very slippery. The vehicles are very nice 4 seater's for small groups, but no way able to do drives with that soil.
Very sad yet again to leave Chada Katavi, these 2 places (Greystoke Mahale & Chada Katavi) were very high on all of our Africa bucket lists, we all cherished our encounters and the very unique experiences we were blessed with.
Off we go to our next National Park Ruaha. It is the largest reserve in Tanzania. So there is no off- roading or night game drives. The park is beautiful with baobabs dotting the scenery they are so lovely and beautiful to photograph in different morning and evening light. The best time for Katavi is August through October. They have 2 types of hyena, the spotted and brown hyena which is very rare and they are very shy. We saw Elephant, lion and leopard! They also have the greater and lesser Kudu, which is very special to see both!
We are off again now to our last safari camp in Selous Reserve; Kiba Point Selous which is a totally private retreat of Sand River. Oh myyyyy gosh,,,, we have now entered heaven I do believe! I can assure you, a few days here and truly it does not get much better! I was at Sand River last October with my fun group and not able to check out Kiba Point as it was full. Kiba point is a magnificent place to stay if you have a group of friends or family or both! They can hold up to 8 possibly 10 people (if kids in a family) in four gorgeous rooms overlooking the Rufji river! Kiba point is a hidden gem, the smallest camp in northern Selous. This place is tucked away in the shade of the riverine forest on the banks of the mile wide river.
Kiba Point rooms offer the most stunning architecturally designed spacious accommodation in a beautiful setting under cool shade trees. The open plan allows for a spatial Zen like atmosphere. Lounging on chases by the dip pool overlooking the Rufji river, with views and sounds of hundreds of hippo's shouting and carrying on; this is Africa!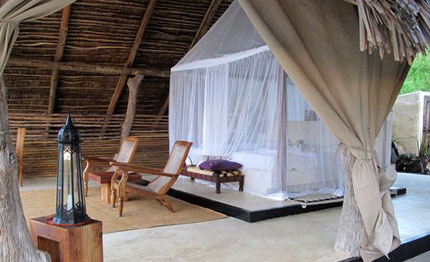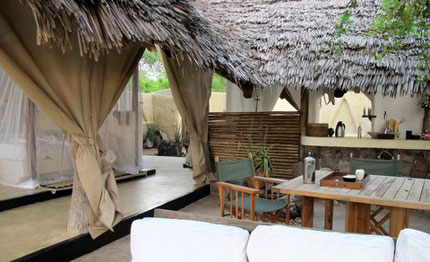 As you enter the chalet, is a large open foyer with plants entering the room that feels like a small house! A large King bed or 2 twins under an expansive mosquito netting, a lounge sitting area with table and chairs, a sofa off to the side, another writing desk compliment the chamber. A large L shaped bathroom area with half walls open to the bush; with 2 sinks and 2 showers; one outside with a waterfall shower and opposite inside rain shower. The entire unit is fully open with a front view of the river and foliage, makes for the ultimate escape!
Share this private camp with family and friends in the extremely spacious main area with different levels for dining; relaxing on the large sectional sofas and chairs and a reading area, beautifully furnished. There is a bar area with stools, in the main lounge, step down to a pool and lounges overlooking the river. Step further down to the ground where the campfire is and follow the path to the lovely outside loo. This place is divinely exquisite!
The dinner we had here was the absolute best food we had on the trip! 5 star gourmet, perfectly grilled tender pork & vegetable, with a crisp potato pancake, it was remarkably delish! Desert was a fluffy no flour chocolate decadent creation! Full bar available to include after dinner liquors which we designed some tasty drinks with Amarillo and Kahlua! Yummmmm we had a very very fun last night! ;-)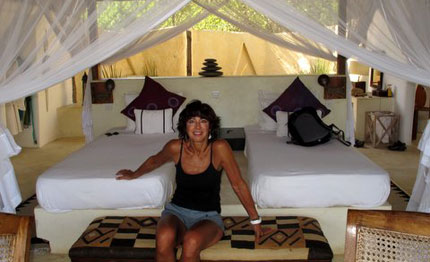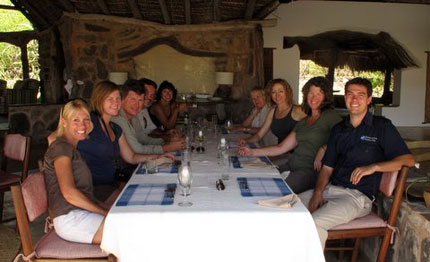 Up early for departure day,,, who decided 6:00am wakeup call? This will be our last fun day before flying to Dar Es Saalam. We had a lovely walk with Hamadi one of the guides, to the gorgeous hot springs. There are 3 levels from the top one being hottest then down to cooler. A wonderful surprise in the bush!
We then did a game drive to this incredible lake, one of my favorites in Africa called Lake Tagalaga, it holds 17,000 crocodiles, and yes that number is correct. WILD! And yet loaded with some of the highest number of bird life I have seen! The rare and hard to see spoonbill stork, pink back pelicans, and really just loads of so many birds and Fish Eagles calling, love their call! They drove us to a spot where you have breakfast in the bush! What a way to try and wake up after a big fun last night!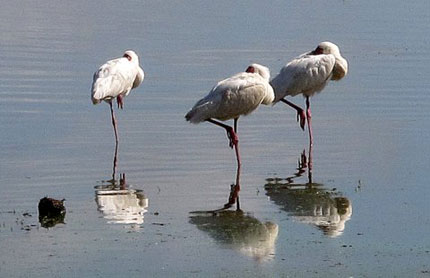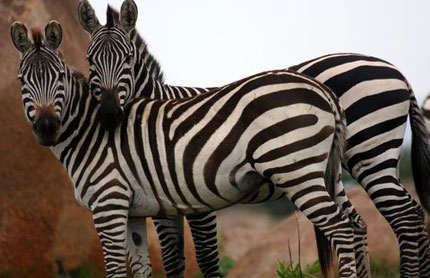 Back to our slice of heaven at Kiba Point, lunch at our main house. We are very sad as we will be saying goodbye to our new fast friends, we are all going different ways. I of course cried many tears in farewell to everyone. Farewell to Shaun our amazing pilot from Tanganyika Flying company, what a doll!
This many have been the greatest week of my life!
-- Cindi LaRaia
Africa Discovery Travel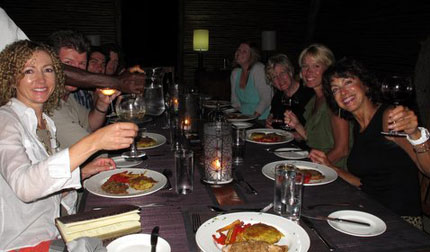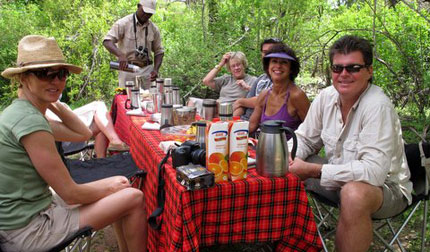 Best time to visit all these areas in Tanzania:
September to October is great for the Northern Serengeti for the Migration coming back down from the Masai Mara into the Serengeti and crossing the Mara River.
Greystoke Mahale is also the best time for very active chimps. They are less crazy June through August. Chada Katavi, September- October is also great before the rains begin, the Elephant are very relaxed in the camp eating the ripe Tamarind pods on the trees in the camp! ***there is a charter flight that works from Arusha for a 7nt Safari to combine these 2 camps. They are open from June through November.
For great overall game: visit all of Tanzania from July-August thru October to beginning of November. Sand River Selous is very hot in October, if you have 4 people book ahead at Kiba Point as it is under trees and much cooler in October/November.
January, February, March is great in the southern Serengeti when the Wildebeest dropt their young, a lot of predation with the big Cats around.
You do not want to go April & May for the long rains, some camps are open but game drives are difficult sliding on the slick roads. November is when the short rains arrive and the bush greens up, a very beautiful time!