Sardine Run South Africa & Cycling Safari Botswana,
June 21 - July 4 2007 Trip Report
CAPE TOWN: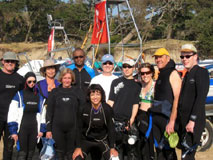 Our beginning was in my beloved Cape Town to see the breaching Great Whites at Seal Rock, they did not want to play on this gorgeous sunny winters day. However on our way back into the harbour we were circled by 4 Brydes Whales, now that was a great surprise and certainly unexpected!
After lunch we visited what they call the New Rest area, this is the shantytown region outside of Cape Town. These people are not unhappy here, they showed us around their informal settlement, the children are happy and they help each other build a more solid structure if they can. They do not want to move far from where they originally have the shanties, as this is their home! A very interesting tour to say the least.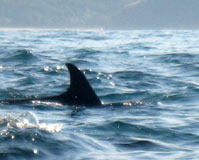 The next day was our Full day Winelands tour with Howard our private wine connoisseur. This was a full day visiting 4 wineries in Stellenbosch wine region north of Cape Town. We started at a famous winery called Maulderbosch known for their Saviongnon Blanc wine the proprietor was a fun and warm South African with a friendly Dog!
Then the gorgeous Waterford winery. To Kevin Arnold, the barrel room is his church. I love his Syrahs on his personal label and the chocolate at the wine tasting table!
Next Kleine Zalze Wines and lunch at Terroir Restaurant featuring French-Mediterranean cuisine blended with a local Cape twist, fabulous.
Last was Hidden Valley, Dave Hidden has always had a 'dirty mind', but over the last few years he's put it to better use - seeking out the perfect "Hidden" parcels of 'dirt' from which to craft his dream wines. On the recommendation of a friend, Dave purchased his first vineyards in 1994 in Devon Valley. He almost immediately tasted success with a 5-star rating in the Wine Magazine for the Hidden Valley Pinotage 1997.
SARDINE RUN: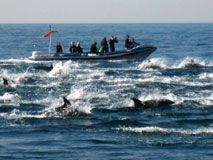 On to Durban, South Africa for the SARDINE RUN where Nic from SEAL met us for the 5 hr drive south to our home for the next 9nts called Mboyti Lodge very rustic, sitting atop the cliffs for stunning views of the sea! A memorable lunch at the K of C on the way down was the finest meal yet!
The Wild Coast or the Transkai Coast is stunning in its majesty; the lodge sits atop the cliff and the views from the hikes we took and our ultra light flights out of this world! We had warm days cool nights, sun and flat seas, however we needed the water temp to drop 1 degree centigrade, we were at 20 and we needed 19 or less for the Sardines to come a running!
We witnessed this amazing event I call a 'Sardine Convention'. Super pods of Common Dolphin & Bottlenose Dolphin congregate from the outer reaches of the seas for the feeding frenzy they hope to embark on. Sharks come in waiting; we saw Dusky Sharks and Copper sharks, which are the most common. Thousands of beautiful Cape Gannets fall from the sky and dive with precision to grab a sardine on its way up! For me this was the most amazing site to behold, hundreds drop within seconds of each other in perfect synchronization, their beaks are like a sword cutting through the sea, the white stream they create is wonderful and to see their bodies unfold with a quick gulp, the fish is down the hatch and up they go to the surface!
We had days where we were with thousands of bottle nose dolphins all sizes, babies and mothers. The boat would get us in the water ahead of them and to hear the sonar rocking off us and see them wiz by was a blast. Back in the zodiac we go and do it again and again! The Common Dolphin are the most spectacular with the figure 8 coloring on the sides of their bodies, these dolphins are responsible for the herding of the sardines to create the ball! An amazing site to behold when they are in action!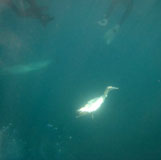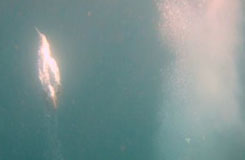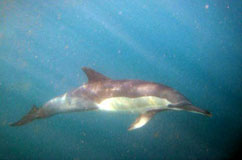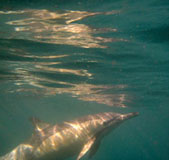 We saw some unusual things every day at the surface as we conducted our water safaris, one day a mola mola, another day a lone hammer head and a small loggerhead turtle.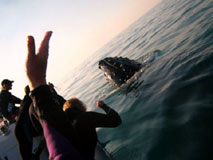 My favorite encounter however were all the HUMPBACK whales migrating to Madagascar to give birth and mate! We had a luck day where we had 2 very curious Humpies circle our boat, closer and closer they came. One stopped right next to us, the pectoral fin directly under the boat turned to look at us! The other turned it's body strait up and like a periscope,. Whooooooop up and up and away, there it was, a full head spy hop! Oh MY GOD, we were in shock and Spiggles are boat skipper got chills also! What a gorgeous experience that was!!! They were all over the water these whales, a very splendid surprise indeed!
We then had a cold front come in that followed us from Cape Town and for 2 days we had giant waves, swell and rain. We did not go out and found other things to do instead. We did some hiking and visited the local medicine witch doctor and danced with him!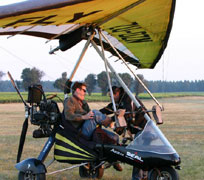 As luck would have it, we had 1 day left to find the Sardines, we got an early start as the day was sunny with flat seas, I felt a peaceful calm……. Then whammmm soon as we get launched (always a wild episode) there they were, thousands of Cape Gannets diving!!! They only dive when they have SARDINES to eat!!!!! Yes yes yes. Deary me, we had several flocks of Gannets to choose from. We learned that once the dolphins herd them into a bait ball, the sharks and dolphins feed, the Gannets come in, and then they disperse…. So we had to be quick. In and out, and in and out of the zodiacs we went!
FINALLY we saw them! S A R D I N E S ……….. I am screaming and hootin and hollering through my snorkel, in amazement to see the bloody things finally! However I was so mesmerized I forgot what our dive master would say to us everyday 'If we get Sardines, STAY OFF THE BAIT BALL' oh rats I hear Meggy yelling, forgot what lurks under the Bait ball??? SHARKS!!!
Wow and yes there they were alright! However I was more amazed at the sardines, they were bigger than I thought they were, they must shrink when they go into cans ;-)
We had several sharks in our pot of soup, between the sardines and the common dolphins herding them and the sharks and the gannets, it was hard to know which way to look!!!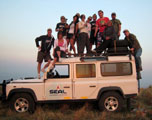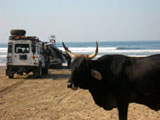 We had an awesome last day and all day long we had Sardine bait balls all over the place! It is truly amazing what a difference it makes on the temperature of the water, as soon as it dropped the Sardines ran!!!! Yahoooooo, thank Goodness we saw them!!! However even if we did not, we still had fantastic encounters with thousands of Dolphins daily, Humpback whales, Brydes whales and various kinds of other marine wildlife! Not to mention the cows that come to the beach for the afternoon sun! The wild ride into the beach as we are riding the high wave in and trying not to land on a herd of cows! They have big horns.
We had success with the Sardine Run, I now know why so many people keep going back, one hopes to see that giant bait ball that the IMAX teams and the BBC teams have filmed over several years of sitting out in boats waiting for that magic moment!!!
I am going back!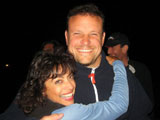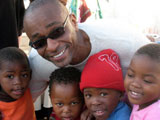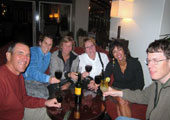 CYCLE SAFARI BOTSWANA: June 30 - July 4 2007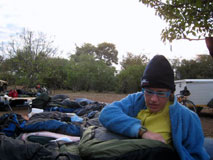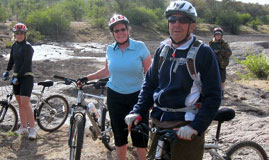 Now this was an adventure of a lifetime…….. I personally have not been on a bicycle for about 8 yrs, let alone a mountain bike!
We had 2 glorious nights sleeping out in the bush with OUT tents, in a circle around the Boma fire! Lovely hardly describes the feeling of sleeping under the million stars in the Africa sky! Bucket showers and loo's with a view, fabulous food and plenty of wine and drink in the evenings made the pain of the day go away.
The last day was in the tented camp at Mashatu in Southern Botswana with land rovers, a civilized way to see the wildlife of Africa.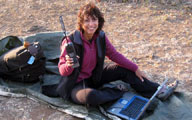 I recommend doing a cycle safari if you know how to mountain bike, otherwise it is an effort in frustration! We did have success in surprising herds of Eland which was amazing, elephant, giraffe, wildebeest and all the usual stars in Africa were there.
I however won the award for the most falls, most scrapes and punctures from thorn bushes and most bruises. Sad.
-- Cindi LaRaia