South Africa & Namibia Expedition,
July 21 – August 5 2008 Trip Report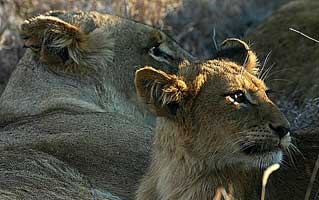 Our group of 8 adventurers; some first timers to Africa had the trip of a life time! I thought it would be a good idea to begin our trip in the game rich Sabi Sands area of the Kruger National Park area in South Africa. This famed area has by far the most prolific game in the Kruger area. I want to show my guests the Big Five before heading off to the splendid scenery of Namibia.
We spent 2 nts at Djuma Bush Lodge, comfortable ensuite thatched chalets with 2 viewing decks surrounded with lovely gardens and a warm cozy feel. Our superb guide Abel and tracker Patrick. Showed is what this famous area is made of, we encountered the Big Five twice!!! This area also boasts more than 300 species of birds. At the end of this report I will list the birds we saw each cay , we had some keen twitchers and they were very happy!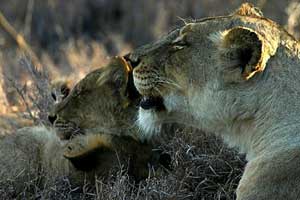 Our competent guides found us a very large pride of lion with approximately 12 lioness and cubs, laying in the grass, what a lovely site to behold. We saw 2 beautiful male lions, a gorgeous young female leopard, and the perfect shot of a cheetah laying on a hill in the early morning sun on his face. What an amazing site to start the early morning game drive with! Since this is winter in South Africa, it is quite nippy in the morning and at night. They provided us with hot water bottles and wool blankets for our early am drives,,, what a delight. The big five consist of Lion, Leopard, Cape Buffalo, Elephant, Rhino. We were lucky charms and were able to view and photograph all these amazing animals and so many bird species.
One afternoon Able took us to his village to show us the children in the school where the Djuma family have invested money in this lovely village and they staff many from this place, a wonderful symbiotic relationship in Africa.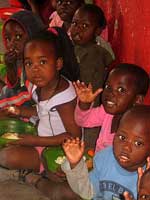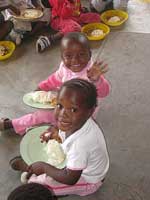 The children were pre schoolers so well behaved all sitting in rows eating their mealie meal & babotie lunch. They were so adorable, a lovely visit. Sadly departing our camp we had a night in Johannesburg before heading to Windhoek Namibia to begin our adventure In this extreme beautiful country. Some claim God must have been angry when he created Namibia.
The stark, vast beauty is beyond description. Our first visit was to the majestic Sossusvlei dunes in the heart of the Namib Desert, the oldest desert in the world. Our home for 2nts was the Kulala Wilderness Camp, this 10 meru styled thatched canvas camp on elevated wooden decks is built at the foot of a rock escarpment. A stunning setting, approx 30 minutes drive to the great Sossusvlei dunes. Several activities were offered here, some of our group went on the spectacular early sunrise balloon ride over the dunes, which I highly recommend. Some of us went into the park and climbed the dunes at the very tip edge with amazing views of dead vlei. Some of the sparse animal sightings here included the majestic beautiful Oryx, Springbok Ostrich and other small creatures, and birds. This area of Namibia has subtle game, it is the extreme scenery that is the reason you come here. The early morning wake up to get to the dunes is well worth it, for photographers looking for the famous Orange sand dunes with incredible contrast and shadows. Utter beauty awaits you. The word Sossus means water, and vlei means pan or lake. The vegetation here is so wild, my favorite tree is the Camel Thron acacia, a lovely old knarly looking tree with incredible patterns on the bark, some of these trees are 600 to 800 yrs old.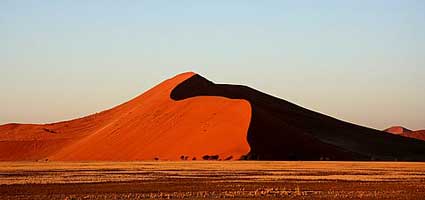 The expanse of dunes is beyond comprehension, until you take the scenic flight over them early am to the nearby coast of the Atlantic Ocean, only then can you begin to appreciate the vastness of this place. Sweeping arches and vistas changing patterns and colors as you get closer to the sea. As we flew north along the coast we were seeing old diamond mines, shipwrecks sitting high and dry on the sand, a very unusual site. The first shipwreck was the Edward Bollard from 1901, The Shawnee from 1976 a fishing boat. Next was the long wall of sand some 500 ft high, yet another change in this wild scenic flight. We then flew over Walvis bay with pink salt sands, made a stop in the very German town of Swakupmund and away we went onto our next camp in Damaraland. The yet again ever changing scenery blows the mind. Namibia is a land of severe contrasts and landscapes that change by the minute right before your eyes.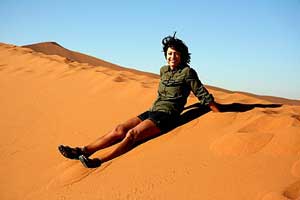 Damaraland camp was our home for the next 2nts and this camp was completely redone in adobe & canvas, stunning beyond words, this was my favorite place, since no lions here, you can sleep outside like we did in Sossusvlei if you so desire. The Africa night is so full of stars like no other on earth. Jupiter is the first star/planet you see as Venus is still in the feint light of the magnificent brilliant African Sunsets,,, they are like no others. The Southern Cross sits on top of your head and Scorpio you can reach out and touch! This is where we were go find our rare desert adapted Elephant. Again the game is scarce, and you get great pleasure when coming upon a majestic herd of Oryx with their very severe strait back giant horns, and the impeccable markings on this great antelope. It is truly like being on a hunt, you become instinctual with nature, and finds such as the great large Secretary bird as it walks its awkward beautiful gait. We were lucky and found 1 of the 3 major breeding herds of this area. Such a beautiful family under the ancient camelhorn tree. Toddlers and infants playing as children do, kept us entertained for what seemed like hours of pure joy. Elephant are such a loving caring family unit, they remind me of my own family back in Michigan. They are so happy in life, playful and contented. A warm and fuzzy feeling is felt by all.
This land was so diverse once again and an unusual phenomenon we noticed were all these circles on the ground, some heading up the sides of the rock mountains. They called them fairy circles, and we were not quite sure why or what they were? But they were everywhere, maybe someday someone will be able to answer our questions on this unique sighting.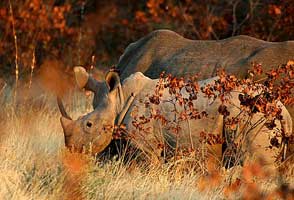 Regan was our guide here and we loved him, a funny lad and most enjoyable. On day 2 was pure magic, we found giraffe, the rare black rhino has proliferated here due to a Black Rhino project to bring them back from near poaching extinction. We found 2 black rhino further afield with a baby. They are difficult to spot at times as they hide in the bush. We were so excited to do some rhino tracking on foot. We got very close to a colossal male with 2 big horns, he was beyond description! Then as we carried on, we found a mommy and baby, and he ended up joining them. This vision is what I went to sleep with that night.
This area is a very special place with a successful Conservancy with Wilderness Safaris our ground operator and camp owners. Here in Damaraland the local people have taken an active roll in creating a workable environment with the camps and locals that work there. In essence they own the camp, this creates an excellent working situation benefitting the locals with regular work. The dinners were most amazing as they would have 3 different locals explain the food in local language. First was English then Damara language which has 4 different clicks, then a local San Bushman girl Sophia who speaks with 7 clicks. They sing and dance and have a really fun time while we watch in amazement and awe.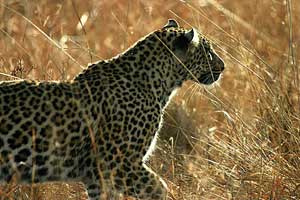 Sadly we say farewell to our friends at Damaraland Camp and fly to the famous Etosha National Park. This area has the most game in Namibia, consisting of Lion, cheetah, oryx, springbok, hartebeest, waterbuck, zebra & elephant. Ongava has resident white rhino and black rhino a very special place! Our camp is Ongava Tented camp and this is also a brand new camp sitting along the southern border of the National Park on a private game reserve. Large comfortable walk in tents, this camp offered the best setting in terms of game viewing at the common area, lounge and restaurant all outside. They have a magnificent water hole, lots of beautiful shade trees, with hundreds of birds in song. Within some 20 to 30 ft from a lounge chair was never a shortage of waterbuck, zebra, kudu, birds of all species even the occasional Baboon would come in to disturb the peace and tranquility. The best show here however was the white rhino that would come to the water hole after the sun would set, just in time for dinner! They have a light shining on the area, we had 2 nights of 2 visiting rhino, drinking and wallowing in the mud. Ah life in Africa, it does not get much better than this!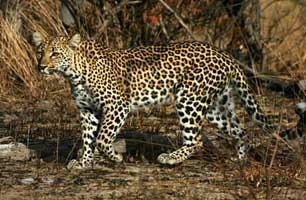 Since we are in lion country here at Ongava tented, we had some very interesting Lion kills in the night very near to our tents! I personally love this and was so hopeful my guests on this trip would experience this wildly incredible sound in the night! Of course the first time is terrifying and awe-inspiring, however not to worry you are very safe in your tent!
The wildest experience was hearing hundred of hoofs thundering away when the lions made the kill. At our amazing waterhole in front of the main dining area are a multitude of zebra, kudu, waterbuck, impala constantly there meandering in and out. For those who wanted to relax at the main camp and not go out on game drives, they were extremely content to sit outside or undercover in the lounges and listen to the cacophony of all the different amazing birds and the continuous motion of the herds of antelope arriving and departing. Our own mini Jurassic park!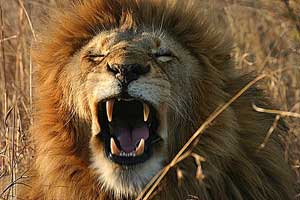 The highlight for me was on our last day we went on a rhino tracking walk! I spotted some fresh rhino tracks and said to our guide this may be a great chance! So with rifle in hand our 2 guides had us follow single file into the bush!!! Ahhhhhhh my fav! We happened upon an oryx skeleton with horns still intact and a lone giraffe in the bush, who became a bit wary of us on foot. The bush became thicker and thicker and we had to keep retracing to find a path to get through. Next thing you know as we are deep into the bush, a small clearing and low and behold we not only spot more fresh rhino tracks, but also VERY fresh tracks of lion, an entire pride had just walked over the rhino tracks, my heart beating and so very excited……. The head guide saw that and my excited look and says, 'I am sorry we must turn around this is very unsafe'. Ho hum.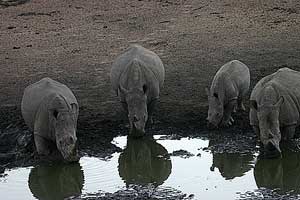 This area is also home to a small herd of Mountain zebra which are very rare and skitterish, however since our magic group was considered lucky charms, we encountered them a couple of times! In the evening we heard from another game vehicle that a large family of white rhino were heading to a further way water hole so off we went! Nearly missing our beloved sundowner. So quietly as to not scare the approaching rhino herd, our guide and I gingerly made all the drinks and passed around our nibblies so we could eat drink and be merry as this amazing family quietly approached the waterhole right in front of us!
As we headed back to camp for dinner we came across a majestic male lion on the dam he roared several times that incredible loud roar that goes right through your body as he was marking his territory for the night to keep away any other male lions in the area.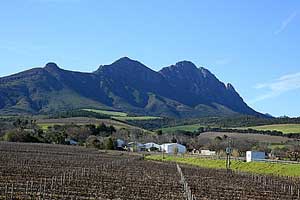 My beloved Africa!
Sadly we make our way from Namibia and fly to Cape Town, South Africa which is how I love to finish off the Southern Africa trips; a lovely way to slowly get accustomed to civilization again. Three nights at the Victoria & Alfred Waterfront hotel, which I consider the best value for money and smack on the waterfront, great location, shopping and restaurants all within walking distance.
The first day our fabulous guide Pam picked us up and off when went exploring the winelands of Stellenbosch and Franshhoek which is my personal favorite, tasting the 'fruit of the vines". Franshhoek is in the Valley of the Huguenots where the French first settled in 1688, it is delightful town with its lovely antique shops and gardens.
Then next day some of our group when to the stunning Kristenbosch Botanical Gardens, then in the afternoon we all carried on to see the Cape Peninsula. A gorgeous rocky coastline the adorable Jackass penguins of Simons Town with lunch overlooking the sparkling sea. We made it down to the Cape of Good Hope, the southwestern most point of African continent.
This was one of those 'special' trips, our group bonded tightly and we thoroughly enjoyed each others company, it was a sad goodbye, we had the most memorable experience in life let alone Africa!
Thank you Charlie, Randy, Jim & Margaret, Bud and Mary and Betsy for making this a special and heartwarming experience for us all!
-- Cindi LaRaia