Private and Remote Tanzania,
October 10-20 2012 Trip Report
Jambo!
The call of the 1.4 million wildebeest migration crossing back over the Mara River from Kenya to the northern Serengeti was the basis for this new adventure; along with a visit to the highly acclaimed Sand River camp in the remote Selous Reserve in central Tanzania.
Two intrepid couples joined me as we met in Arusha, Tanzania at the Coffee Lodge Plantation. From there we flew to Kotegende airport in the northern Serengeti. This was our home for the next 4nts at the new Lemala Mara Seasonal tented camp. This is a luxury seasonal tented camp that moves to the Northern Serengeti when the Crossing of the wildebeest takes place from July/August thru to the end of October. It then moves to the southern Serengeti at Ndutu for the birthing of young wildebeest and zebra in January through March.
The tents are well appointed and large for a seasonal tented camp. Hot water bucket showers upon request and if you need more, your butler stands outside waiting for your request. The king size beds were the most comfortable of our accommodations, with cozy warm duvets to keep us warm at night. Dressing tables, closets, nightstands, lamps and ensuite bathrooms made our tents comfortable and complete. The food preparation & presentation was the most amazing surprise of all. The kitchen tent next to the mess tent was where our chef created miraculous meals, served hot and plated adorned with lovely touches. They were very good to accommodate one of our guests' dietary needs and South African wine served with dinner. Every evening at 6:30pm we were invited to sit around the fire as drinks and appetizers served as we excitedly reminisced about the day's magical events.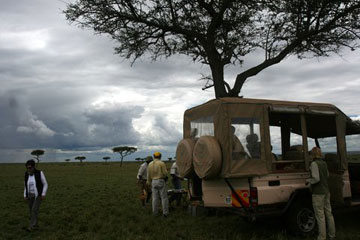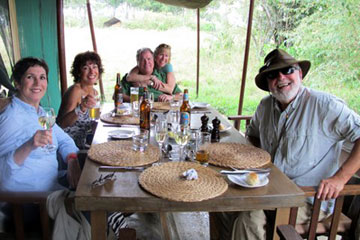 They are strategically situated at the #1 crossing point at the Mara River which you can see from the camp! There are approximately 7 or 8 points down the river of where this 'crossing' takes place. The guides keep the vehicles back from the river as to not scare off the wildebeest as they gather trying to make up their mind if point 1, 2, 7 or 8 will be the better crossing point for the day.
Now as you sit there for hours watching the cavalry of Wildebeest gather and then they decide to run for no really good reason side ways to another point, it gets rather maddening as they cannot seem to make up their minds and just run back and forth for fun. So off we go to see other game in the area; we see giraffe grazing in the tall trees, marabou storks that look to me like secret agents wearing a black cloak, they are not the most attractive of the stork family however they are pretty fun to watch. Hundreds of Rupell vultures in this area as there are many casualties in the river crossing. Huge crocodiles waiting on the banks of the river or in the river lay in wait for the young or fallen wildebeest. Lots of food here for everyone with the thousands and thousands of Wildebeest in the area, from a certain vantage point they are dotted from one end of the vast Serengeti Plain to the other. Serengeti is a Swahili word meaning 'endless plain'. It is mind blowing to see the huge expanse of this gorgeous plain with the umbrella acacia thorn trees, koppes and thousands of Wildebeest as far as the eye can see.
The short rains of November/December started a bit early, we had rain at some point every day, mostly the clouds would build up in afternoon and rain later in the day and evening. The plains were green which made it very lush and beautiful from the normal dry golden brown grass. The dramatic skies offered a magnificent backdrop to the visual beautiful scenery set before us every day. So Hakuna Matata (no worries) in Swahili, it did not bother us at all!
Our days began approximately between 6:00 to 6:30am with a lovely wakeup call from our butlers with hot coffee, tea or hot chocolate with homemade cookies delivered to our tents. At 7:00am we are in the vehicle after a small breakfast in the main area. I had been awake on and off most nights listening to the remarkable sounds of Lions calling in the bush, jackals hooting, hyenas calling, hippos snorting walking from the river to feed in the night then finally the most amazing sunrises on the planet…….
We had the most wonderful guide named Wolfgung who we fell in love with! He was the most delightful young man, spoke great English, had a sense of humor that kept us in stitches and was a remarkable special person! He tirelessly worked his magic and found us the most incredible game. After several attempts at sitting in the vehicle for hours waiting for the silly goofball wildebeest to decide to cross, David loving called them the 'E'fing Wildbeest'. Off we went in search of the lions we heard all night calling! We took a drive west toward the koppes (rock formations that lions and other game love to perch on). I saw a beautiful large colorful Ongama lizard with red & blue colorings. We suddenly find 2 young male lions just starting to grow their beautiful manes lying casually under a tree! We continue on as the scenery opens to the great open Serengeti plains, green carpet and dotted with umbrella acacia trees, the scene before us is stunning! We find a big female lion now then see another 8 lioness's under another tree!! We are very very happy as this is our second day here and our first full day on safari!
Now we come across a breeding herd of 6 gorgeous Elephants. As we drive along we find hyena with her older cubs! Wow what a day so far! Giraffe gracefully moving across the plain, small herds of zebra , darting warthogs (Pumba ?) as they run and stop to turn around and look at you as though they forgot why they ran in the first place. In the not so far distance stands a herd of Eland, the largest antelope in Africa.
Wolfgung gets very excited, he spots a mother cheetah with her three cubs, he drives us near enough to not intrude on them, the scenery is very beautiful as they are walking in a bit of a valley near a small river. It is so beautiful to observe the four of them; the cubs were still very young as they were all a fluffy downy gray. Dotted along the bountiful landscape is a herd of Thompsons gazelle antelope; the next thing we know the mom starts running, the amazing speed of the cheetah, the fastest cat in Africa, babies following, it happens so quick, she focused on a young baby Gazelle, we witnessed her swoop her front paw and grab the antelope! This amazing kill happened in about one minute time from start to end! We inched closer to her; she gave the kill to the three little cubs. They had to learn what to do with it, so cute! Trying to sort out where to begin, they did and every few minutes the three little faces would pop up and look at us all red and full of blood all the while mom standing guard like a sentry to keep the vultures and jackals away or any other predator that wanted a part of this delightful feast.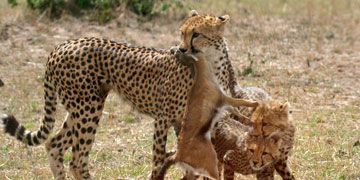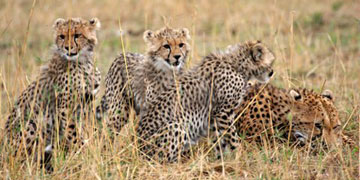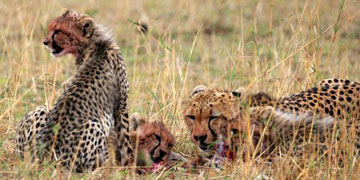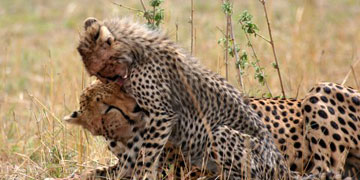 I have to say this is my 17th safari and I have yet to observe the amazing behavior of a successful kill! This was rocking hot; it is very rare to actually be lucky enough to observe a kill in the bush from start to end! Thanks Tom, MaryAnne calls you her lucky Leprechaun! We were riveted with our amazing luck and how the cubs learned how to eat the meat themselves, when they were done, they of course started to play with the carcass. They would throw it up in the air and fight over the body and toss it around. Mom did not get much of this, as it was a small baby so off she must go to find another tasty morsel.
Now one would surely think this would be the end of our lucky charm day but wait……..as we are making our way back to the camp slowly I am always on Leopard alert, they love to sit high up on a nice thick branch of a tree, such as Sausage, or Fig or Baobab tree, depending where you are in Africa. Again we are all looking in the trees and out of nowhere Wolfgung grabs my arm and says LEOPARD!!! Mama mia, there he was this gorgeous big male Leopard lying proud in a Fig tree! Gorgeous and regal, unfortunately the setting sun behind him so we could get more or less silhouette shots but who cares,,,,, there he was, happily sitting there staring at us gorgeous bold and beautiful as only a Leopard can be, slowly swishing his long tail and very relaxed.
Now we are all in shock at this amazing day in the northern Serengeti bush. We are still on the way back to camp, happy and clearly stunned by what the Universe has offered us here in Africa. We are excitedly talking away as happy safari peeps can be when we come across a large herd of Eland with babies! Ok well gee, this is just great!
Ready to take a quick hot bucket shower and meet at the fire pit to delight in our FANTASTIC day, what do we see lastly only a few minutes from camp???? A Carvel cat and her 3 kittens, right in front of us they are normally nocturnal, so she was out a bit early!!
Needless to say, this was a brilliant 10 star day!! Celebrations around the campfire before another amazing gourmet dinner, the staff are ever so friendly and fun, the camp manager Richard working to make everyone happy. What a place!!
Of course now Wolfgung had to be sure we 'see' the crossing of the E'fing Wildebeest, after all this is why this camp is strategically placed here! On the way to sit and wait while the Wildebeest committee decides what they will do, we have incredible birding at the Mara river: pallid harrier, red neck sparfowl, brown breasted snake eagle, lilac breasted roller, the numerous vultures, and a Bateleur Eagle flying with a snake he caught to name but a few. Did you know that the way to tell a real Eagle is if the feathers go right down to its feet?
The Wildebeest committee simply does not work, they cannot make up their minds, they need to appoint a leader, they have 'multiple personality disorder' it must be due to the fact when they were created; they were appointed with all the left over body parts. Horns like a buffalo, a tail like a horse, hind legs short, front legs long like hyena, face elongated like locust and a front stripe like a zebra. So who is more stupid? The Wildebeest or us, waiting for them to cross! ?
Well as luck would have it, they started to cross,,,,, ahhhhhh so all the vehicles racing across this tall embankment, our vehicle was a bit longer than the rest and we simply could not make it up, unreal. We missed the 3000 in this herd crossing…..we shall try again.
Our last day was very special, we decided to pack breakfast and lunch and head far away to the border of Kenya where the plateaus, the escarpment & great rift valley could be seen in the far off distance. A beautiful morning; giraffe, vultures all over, gray headed kingfisher, ogama lizard, long crested eagle, the wonderful sounds of rain frogs, loads of crocodile on the river bank and a reed buck. We have had rain which makes the driving slippery on black cotton soil. Sightings along the way are banded mongoose, and millions of wildebeest dotting the great expanse of the seregeti, as far as the eye can see. It is an awe inspiring vision to behold.
We found a gorgeous herd of 36 elephant, approaching us gracefully, we could stop, sit and watch them come very near to us as they fed and mingled and do as Elephants do. Seeing the large herds in this great open plain coming toward us, is really the most beautiful of sight to behold, from giant matriarchs to tiny babies, I could sit for hours with these majestic beasts. We then witnessed three more breeding herds of elephant that totaled about 65 grazing in fresh green grass, you could feel their happiness with the new grass from the rain! A site to behold as they came very close to us, lots of babies here and to see them running and trumpeting was just so adorable, they also were very relaxed. This was like a BBC moment! Actually, I felt as though we were in Jurasic park, what else can we possibly see?
As we briefly crossed over to the Masai Mara, (there is a marker In the middle of the plains that tell you so) with lovely hilly koppe's we found 4 lion on a wildebeest kill, lots of food for everyone here!
We estimated we saw over 20 thousand wildebeest, mind boggling. We had a lovely lunch in the Serengeti under an umbrella acacia thorn tree and watched the scene unfold; 4 giraffe strolled by, zebra, the Elephants in the distance, lightening and dark clouds adding to the magnificence with the hundreds of Umbrella acacia thorn trees. The countryside changes every 30 minutes, it is truly a spectacular place, and we could see the escarpment and the Great Rift Valley. Sad to leave this vastness, this is real Africa.
My favorite part of being in the bush in Africa is the endless sounds, the cacophony of the night. I prefer staying in tented camps so you can be a part of the bush, every night we had calling lions, snorting hippo's, hooting Hyena, baboons going off, who wants to sleep with the amazing sounds of the African bush beckoning you to listen and be a part of the realm of the bush!
The next day after a fun evening of dancing and singing with the staff around the table, Wolfguang dropped us off for lunch and said to be ready to run into the vehicle as he thinks the Wildebeest will cross soon, within 10 min he is back to get us and could not find me as they moved my tent! They all got to see the crossing!! They came back for me and I got to see them mid-stream but I was so excited I ran in front of the vehicles lined up to get a better shot of them, to my horror, I frightened the lot and the rest of them turned back and ran back across the Mara River to Masai Mara!!! Oh Noooooooooo….. I was mortified and not to mentioned embarrassed and ashamed ?,,,, at least they had a good 15 to 20 minutes of them crossing,,,,, I only got butt shots, for my upcoming 'Butt Book' of Africa. I had to keep apologizing all night long….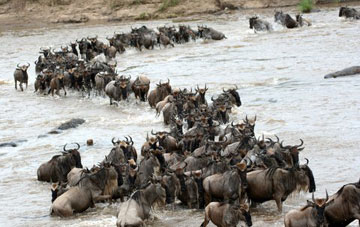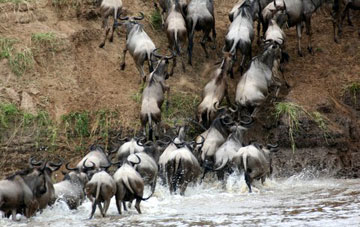 The last day in the bush they surprised us with sundowners in the bush, but to their dismay with full bar set up, it began to rain. We donned our rain gear and they covered us with Masai blankets, we had a blast drinking our sundowners in the pouring rain laughing and celebrating our wonderful luck on our safari adventures!! That evening was a special celebration for Colleen and David's 25th wedding anniversary, cake and great singing and dancing around the table from the dynamic staff! All males so I thought I would join in and help to add some girl fun! What a blast!
Sadly we had to say goodbye to our beloved Lemala Mara camp, the wonderful staff, Richard the manager and our most wonderful guide Wolfuang. We had the most incredible time in the northern Serengeti, thank YOU everyone and the E'fing Wildebeest!!! Xxoo
We had one lovely night at the Hyatt Regency in Dar Es Salaam before we flew to the Sand River Lodge in the Selous! What a completely different look and feel to the Serengeti we left behind.
The camp is set on the Rufiji River with chalet's completely open to the river set up on stilts on a slight bluff. You can sit on the couch or lie in your bed and watch the hippos and crocodiles and all the cranes and birds to your hearts content, you have your own game drive from your room! The scenery here is very brown and bleak, hot and dry; the rain was only trying to start. It was a bit of a shock at first, but slowly it won our hearts as yet again our new guide named Lazarus worked his magic and made the 4nts we spent here, just as amazing as our Serengeti experience! The scenery offers mild rocky rolling hills, many unique looking Baobab trees, acacia trees and scrub, this camp has a wonderful pool overlooking the river with an expansive veranda, it is simply divine!! The camp managers and staff wonderful, the chef here was truly amazing also, Africa has gotten onto the foodie band wagon with a full variety of fresh fruit, salads and vegetables and exquisite menus that dazzles the palate, how can they manage this in the middle of the bush?
We arrived and went on a game drive to get to the camp; here there are newly born impala, the smallest I have ever seen, a different variety of Wildebeest that do not migrate, giraffe a fine array of birds and huge fighting male hippos in front of the main area of the lodge! This camp also has wifi to my delight!
Three of us went on a walk which is a wonderful way to learn the bush in this area, also nice to move the body now and again! We found 3 big bull elephant boys hanging out. They had a lovely sundowner laid out for us overlooking the landscape with the golden setting sun. It was very hot here in the Selous compared to the coolness of the Serengeti with the rain. By 5:00pm it finally cooled down, sometimes we would go out at 4:00pm or 4:30pm when it was still hot then feel the joy of the coolness set in on our drives.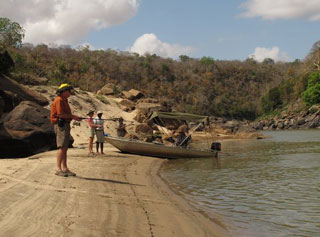 One of the great activities offered at Sand River are the boat trips, what a lovely way to spend the day, in the midst of hundreds of Hippo's and crocs, since the river is low now at the end of the dry season, our guide had to maneuver around sand bars. We went all the way down to Stiglers Gorge so we could fish for Tiger and Golden Catfish, the scenery awesome as it gradually changed to tall rock canyons, green trees and very lush, just stunning! After shooing a couple of crocs off the beach we pulled up the boat and got out, Colleen decided to stay in the boat ?. Amazing Fish Eagles soaring and calling to each other, they were everywhere, such GORGEOUS birds! We started to fish and bang MaryAnne's entire hook line and sinker was eaten! Hmmmmm could that have been a Tiger fish? We all had these little niggly bites and you had to get the hang of when to reel them in, we caught small golden catfish, and used it for bait. David who really wanted to fish was not even getting one bite, we are all getting tugged the second we casted our lines,,, very curious. Nearly time to head back and whappppppppp he hooked a monster, and found Walter!!! A giant Golden Catfish that the chef prepared for our appetizers that evening for cocktail hour! Yummmmm,,,
This is a birders paradise, the Selous offers a wonderful feast for birds of all sorts, bee eaters, storks, pelicans, raptors, herons, you name it, they are here!
We saw a herd of Elephant on the river's edge, Cape Buffalo, loads of birds, a lovely day on the water. However our new motor conked out about 1 mile down river, good thing we had a 5knot current taking us down to the lodge, Tom and I took turns poling in the front and our guide with the paddle in the back. It was hot and we out of water, Tom made his Mr. Limpet call and David a roaring Lion, however not until we were close to the lodge did they even hear us. We felt like we were on the African Queen, they had champagne and cold towels waiting for our arrival! All's well that ends well as the saying goes! Another intrepid African adventure!
This was a big day as we got in late. But our guide heard that they knew where the Wild Dog was earlier that day!!! Yessssssssssssssssssssssss! We cannot pass that up, so off we went at 3:00pm, only a short while after the boat trip and it was worth it. On the way is an incredible lake called Tagalala Lake, it was loaded with huge numbers of birds, giraffe, warthog, storks, pink backed pelicans and cranes. Then on the flat hot dry open area under the shade of a couple trees lie the pack of 10 Wild Dogs!!! This is only the 2nd time in 17 safaris have I seen them! Some were hurt and limping; they get hurt easily when hunting, a few of them were hurt, very sad to me. Hopefully they will recover as they are highly endangered; it is a true honor to see these amazing animals that have very unique markings. What a day!! On the way back were 2 gorgeous male elephants in the oasis as I called it, a very lovely stretch of green lush bushes and trees and a lot of giraffe. A great dinner again that evening served with South African wine.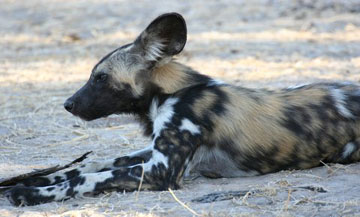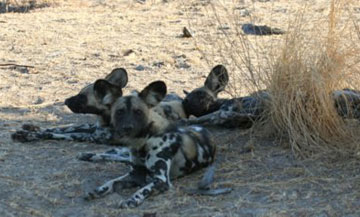 Day three, three of us chose to do a big walk, 8k or about 5 miles, took us 3hrs and 15 min, felt so great! We saw lovely game, giraffe, zebra, wart hogs and a very special sighting of Golden Bats in a tree, we were able to get close. I took a lot of pictures of leaves as I did not actually see them until we were able to get very close,,,, I kept saying 'I cannot see their faces' ,,,, nope, no faces on green leaves ?.
We met David and Colleen for breakfast in the bush under a tree, how divine! Tables set up overlooking a small lake, with hundreds of those beautiful pink backed pelicans flying overhead, Ibis, open billed storks, lesser jacana birds and hippos shared the scenery with us!
Back at the camp, another lovely lunch, pool time and packing lightly for our OVERNIGHT 'fly camping' adventure tonight! We leave at 4:30pm to do a game drive and arrive to our surprise fly camp, what could be in store for us? Sand Rivers is a great camp with many surprises.
We drive up to our amazing fly camp on Lake Tagalala! They have thought of everything, each fly camp is just that, netting to keep the mossies and flies out, yet open to the sky to view the stars, outfitted with thick comfortable sleep mats and bedding! Next to each fly tent is matting and a changing tent where you change for the night in private. Behind our netting tent is a table with wash basin, and all sorts of bug spray and mirror! They really HAVE thought of everything! A dining table set up near the lake, a big fire pit to keep the predators at bay and a full bar,,, ahhhhhhhhhhhhhhhhhhhhhhhhhhhhhhhhhh this is REAL AFRICA ? in the bush!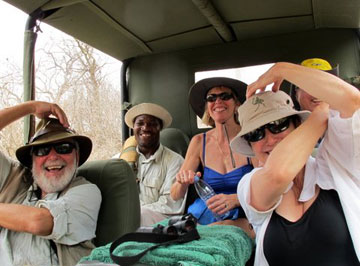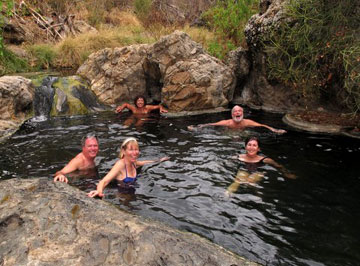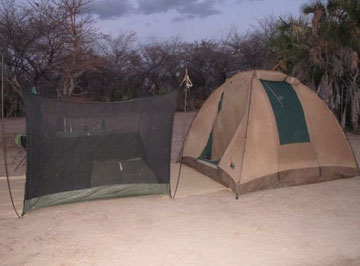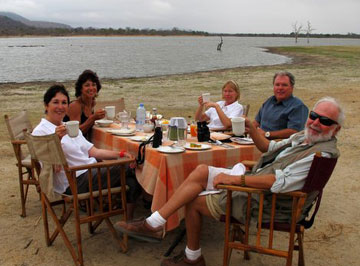 We had a lovely evening at the fire, with all the birds and sounds of the hippo very near to us, fresh elephant dung in front of our fly tents for good measure. Colleen a bit concerned about that of course ?. Dinner was divine outside at the water's edge, crackling fire, wine and drinks. Does it get any better than this?? Not really! OH and they had a loo set up, with bucket shower! Nothing like sleeping out in the bush with only netting around you, it is liberating to say the least. We had our trusty guide with his flashlight and rifle all night, we just signal our light in the night when we need to use the loo. He is there to be sure we are safe.
As morning dawns, we find out we had 2 male lions running through the camp in the night! Wow!!!! I slept right through it, darn! As we say goodbye in the morning after a lovely breakfast, we see our 2 male lions lying on the ground very near to our camp, imagine that! I highly recommend you do a fly camp if it is offered; it is a true African experience that must NOT be missed!
We also find out on our drive out that, the lake we slept next to has the highest density of crocodile in the world, 12 thousand bloody crocs live in that lake!!! WHAT?? mama mia! Not to mention all the hippo's!! We also went to an area where they have several hot springs, we wore our bathing suits, (swimming costumes to the Africans) and had fun walking thru the lush area to ease into the hot pools, ahhh felt great!
For you birders, Tanzania is an amazing bird watching destination. Tanzania boasts at least 1,038 recorded bird species, the 3rd biggest in Africa. Eight of the 10 families endemic to mainland Africa are present. Raptors, plovers, parrots, turacos, bee-eaters, barbets, starlings, weavers, pipits and sunbirds are well represented.
On our way back to camp, what does Lazarus find, as I am always on Leopard alert, a male LEOPARD in a big gorgeous Baobab trip!!! Woweeeeeee, amazing sighting! This male had his kill there with him as we noticed some time later as he decided he was hungry and started to eat it! Unreal! So yes, we are LUCKY CHARMS in Africa! Amazing game and behavior we have seen! What a gift Africa has given us!
We continue back to camp again, and what do we see, 2 male lions laying in the shade. Further on are 2 female lionesses making a kill, a warthog!!! Oh deary me, this was a bit difficult to watch as it took a very long time for the 2 lioness working as a team, one holding the warthog ( a big one at that) and the other working to suffocate it, as they do with muzzle around nose and mouth. However with the 2 bottom teeth of the warthog, it was difficult to get a perfect suction to make it quick, it took at least 30 minutes before it died. It was interesting to see the larger female, and the pecking order, she forced off the younger female so she could feed until she was finished. The other after a long time, came back near, growls pushed her back. Finally she was allowed in to only put her paw on the animal. Only when the dominant female left could the lesser lioness feed. We were able to get very close and observe this from beginning to end, amazing how nature works in harmony. This is Africa, this is truly about survival and only the strong survive.
Our time here at Sand River was just as amazing as our Northern Serengeti experience! So completely different, and yet so productive and beautiful! What a place!
Asante Sana (Swahili for Thank You Very much) Africa!
My beloved Africa………………………………………………
There is no place like Africa!
-- Cindi LaRaia