Uganda, October 20-27 2012 Trip Report
Mountain Gorillas and Queen Elizabeth National Park!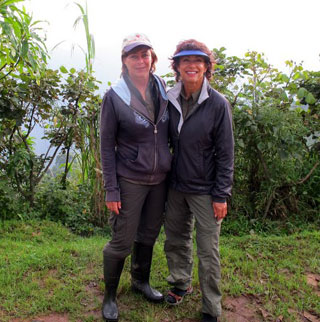 After a sad goodbye to my fun friends in Tanzania, I flew from Dar es Salaam to Entebbe, Uganda to visit my good friend Elizabeth who moved to Jinja, on the shores of Lake Victoria. She is working at her nonprofit Grace's Kids, I spent 2 days walking in communal villages seeing the amazing gardens she has helped the local women grow to feed their families and empower themselves. This has become a most successful project to the local poor villages! She also helps sick children those with epilepsy and other illnesses; she has succeeded with her fund raising when she comes back to the USA to build a nutritional ward at the Jinja Children's Hospital, she is amazing!
We then hired her driver and off we went the long way across the country to visit Queen Elizabeth National Park and our amazing trek with the gorillas of Nkuringo!
After a long day on the road we arrived at QENP and stopped to have lunch at Mweya Lodge with a gorgeous view overlooking Lake Edward with the mountains of the DRC behind it. (Democratic Republic of Congo). A lovey lodge with a great location centrally located within the park. We had a very friendly family of warthogs come up the hill to eat the grass as we were standing on it taking pictures! Hilarious! With many gorgeous weaver birds flying in the bushes next to our table as we ate lunch.
We are back on the road and game driving enroute to our accommodation for the night in the southern part of the park closer to the Gorillas. We saw some interesting game, big herds of forest buffalo, the furriest baboons I have ever seen! I thought they were bears from a distance; they were huge with really thick fur, bizarre! Must be the higher altitude we are at, but no clue what the altitude was. We also saw a giant male hippo out of the water behind a bush, he did not look very happy; he must have lost the battle with a younger male hippo and lost his harem, poor guy. We had a beautiful sighting of my favorite bird, the Gray Crested Crane! They are stunning, when you see these birds; you know you are in Africa!
We are on our way to Ishasha Wilderness Tented Camp and we have a long way to go! We need to get there before nightfall. The rains have started a bit early and dodging rain storms on mud roads in higher elevation can be a bit dicey. This camps claim to fame is the 'tree climbing lions' WOW I hope we can see this! The rain began again and getting harder as we are driving on mud roads, not good it is getting later. All of a sudden there are a few BIG trucks ahead all stopped at odd angles. This is not good, 2 of them blocking our way right before a bridge; they are stuck at odd angles in mud, with very little space to pass them as there is the wall of the hill on the other side. After several attempts and help from friendly drivers also trying to pass the roadblock, our driver braved it and just missed crashing into the sideways truck!!! Yipeee we are finally on our way again. Man oh man, it is getting dark now, and the directions are not great and we are in the middle of the park. Finally we find the camp as the sun has set with only moments of daylight left, we turn onto the entrance road and there staring right at us is a gorgeous male lion! Wonderful! How about that! He was not in the tree, but he was just off the side of the road in all his glory! The friendly staff takes us to our HUGE screen tent! A full screen and wood tent, I have not seen one like this before, it was stunning and right on the rushing river, the sound incredible! We had two giant queen beds and an enormous bathroom. What a lovely, wonderful surprise! We went to dinner, the staff and manager very friendly, the drinks well appreciated and dinner was fantastic! We met the manager of one of the other gorilla lodges and learned a lot from her, she gave us directions to a short cut to get to our next hotel for the next 2 nights where we will be doing our Gorilla trek!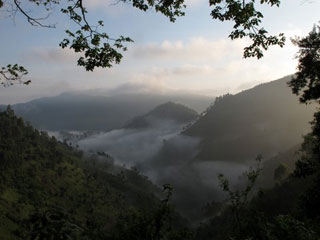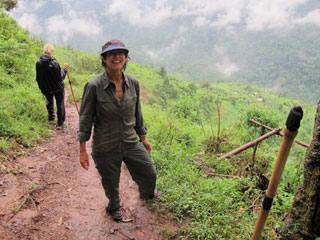 We are now heading further higher into the mountains where the temperatures are cold and the rain very wet this time of year. It was a little dicey as some of this road had very narrow parts with no barriers and extremely slippery. It was a happy moment when we arrived at the most incredible hotel in high altitude in the clouds…. The name of the resort, Clouds Gorilla Lodge, a 5 star beautiful resort! Imagine that, it was the most amazing place, after tricky driving, we land in heaven! We had a gorgeous 2 bedroom villa set in lush gardens, it was huge, with a gorgeous fire place, floor to ceiling windows, vaulted roof in the living room and 2 large king beds in the bedrooms with private large bathrooms. We had our own butler to look after us, he was amazing and we loved him and our housekeeper, they became our family! The main area of this gorgeous lodge offers lots of large cushy sofas and big soft chairs, fire places, a bar, curio and wonderful African Art on the walls, a very warm and inviting atmosphere.
The view from the veranda was stunning beyond belief; we are in the heart of the mountains of the Gorillas. Dinners were delicious, breakfast could be served in your cottage from your butler, this is my idea of living! The next morning we walk 3 minutes across the road to the ranger station to have our briefing with our group of 8 and our ranger! Clouds Gorilla Lodge is the absolute closest Lodge to start your trek with the Nkuringo Gorillas. This particular trek, is a very steep trek down (not up) into the gorge where this family of Gorillas like to hang out. They advise it could take up to 4 hrs one way trekking to find the Gorillas. We had no idea what to expect, with the slippery clay mud, wet season and big rain clouds, I was a bit concerned. We hired porters for a mere 15.00 to carry our pack and help us down and up the mountain. Thank God for my porter, I had a broken toe and I felt it on this rocky slick slope. He saved me many times!
Much to our shock and delight the trackers had radioed the ranger and we found the Gorilla family in 1hr!! Mama mia! There are 14 in this family with 4 huge silverbacks, only one dominant however and he is the king of this group, several very young toddlers, teenagers and females. I was in shock how close we were, one of the silverbacks was laying down 5 ft from us, the rest from 10 to 20 ft away! My 100 – 400 mm lens very long for this close family, light was low with all the trees and cloud cover, using the 100mm lens allowed a lower F stop. I went crazy and took hundreds of images.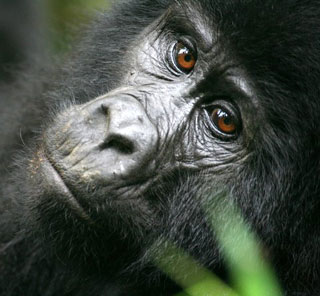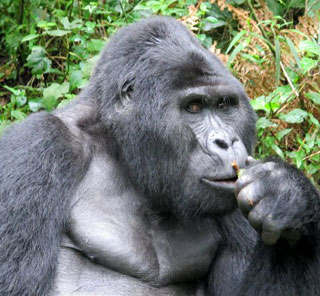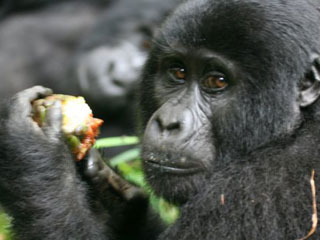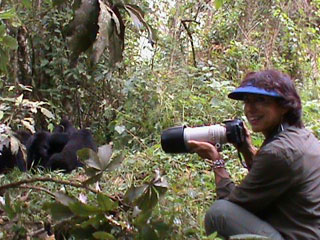 It is difficult to grasp the intensity of the interaction when they are there in front of you. We are allowed only 1hr once we are placed in front of them, it is hard to just put down your camera and enjoy the special moment with the Gorillas, they are so amazing to observe. They have different personalities like us humans; there is only a 3% difference in DNA between us and them. When you look into the eyes of a Gorilla, they are looking deeply at you as well; it can be the most unsettling feeling, especially as close as we were. What do they think of us? This group is very relaxed as they have been with human groups every day for 14 years, amazing isn't it? The trackers say the Gorillas know who they are, they recognize them, and they stay with them thru the night so they know where to guide the rangers and guests in the morning. The permits cost 500.00, a small price to pay for the privilege of seeing these highly endangered species, and there are fewer than 800 of them left in these mountains shared with Rwanda the DRC and Uganda. We need to do all we can to save these amazing primates. Their habitat is being threatened, human encroachment and the danger of being killed for bush meat as the fighting continues in the DRC. This is the only place in the world where they exist.
They are spellbinding, these beautiful Gorillas in the mist……
-- Cindi LaRaia