West Africa: Guinea-Bissau and Senegal Trip Report
Reported by Brooke Berlin
Text and photographs are provided through the courtesy of Johann Van Zyl and Brooke Berlin.
GUINEA-BISSAU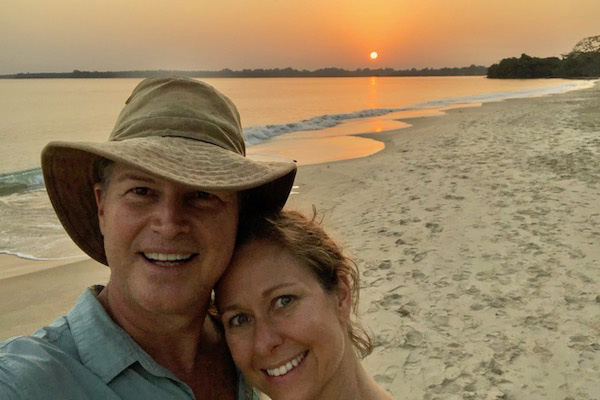 WOW-WOW, GUINEA-BISSAU
As the sun rises on our last day here, I sit down to write this recollection from our time in Guinea-Bissau and Senegal. The warm waves of the Atlantic rhythmically roll up onto the shore, dictating the day. Each day and every activity, whether for a local Bijagos or international guest, is told by the tides: when we need to leave, how long each boat trip will take, what catch is cooked for dinner.

This pristine, wild, and remote Bijagos Archipelago of 88 islands (only 23 of which are inhabited) is a mesmerizing mix of modern and traditional life. The French come to fish, the Germans for history, Kiwis for an adventurous gap year, and we, like many North Americans, for the culture. This is the largest archipelago in Africa and one of the few remaining places on the planet we've encountered that isn't over-touristic … in fact the concept is still so foreign that there isn't really anything to buy if you tried, no one to harass you with trinkets, and a housekeeping staff that chased after me to let me know I "forgot" money on the bedside table. Now that said, like any remote island, you pay for what you get and as one of the few things West African countries can reliably tax are imported goods, expect high prices; a bottle of so-so wine will still set you back $30-$40 and to rent a fishing rod for the morning reels in a price point of around $20 (but worth it when Johann catches several fish in half an hour).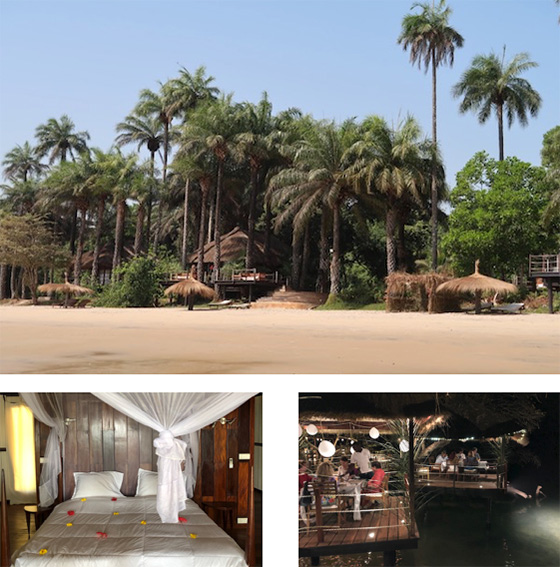 From the capital, Bissau, it is about 2.5 hours by private speed boat to our solid four-star, beach resort on the island of Rubane: Hotel Ponta Anchaca, which is easily the most beautiful, well-run, luxurious of any lodging in the Bijagos Archipelago. The ocean-front bungalows are spacious and en-suite, with air conditioning (though as none of the islands have electricity and instead use generators, it does go out from time to time, but always kicks back in again), and a private deck, dining area, outside shower, and beach chaises under a thatch umbrella. The communal area has a sea water swimming pool, fishing equipment rental office, social bar scene (the French manager overseas every detail, including ensuring each guest has an aperitif and light bites before dinner, music to make our guide get down on his bar stool: Binhan, Justino Delgado, Super Mama Djombo, Tabanka Djaz, etc.), and an intricate deck of wooden walkways built around the trees offering intimate dining spaces. The gem in the crown of this resort is the culinary experience, serving up some of the absolute best seafood we've ever eaten: barracuda carpaccio, mangrove oysters with spices, grilled langoustine, frutti di mare misti, and more (and yes they have beef, chicken, and pork if you prefer).

As a former colony of Portugal, I try my hand at several Portuguese niceties, and quickly learn that people would rather practice French or English, both necessary for any sort of professional opportunity or economic growth. While France pulled out of its colonies in a somewhat respectable manner, taking time to educate citizens and set up systems so that the newly founded countries would be successful (as we learned in Senegal), Portugal hung on until the end, when military coups and uprisings used force to finally win independence, and then they left … leaving many of their former colonies to totally fend for themselves and fall into ruin (I'm quickly reminded of Sao Tome and Principe, which fell to the same fate until international money started to help rebuild the economy and push tourism).
Guinea-Bissau is one of the 15 countries within ECOWAS (Economic Community of West African States), and while not tied to France, still one of the eight West African countries whose monetary system is the French-backed currency, the CFA (it once stood for French Colonies of Africa, then French Community of Africa, and most recently the Financial Community of Africa). With its history, you can see how there is a sordid association to the CFA, and so it was no surprise, though interesting, that while we were in Guinea-Bissau, we heard the news of the CFA being signed away in favor of a new currency to be rolled out in late 2020, the ECO.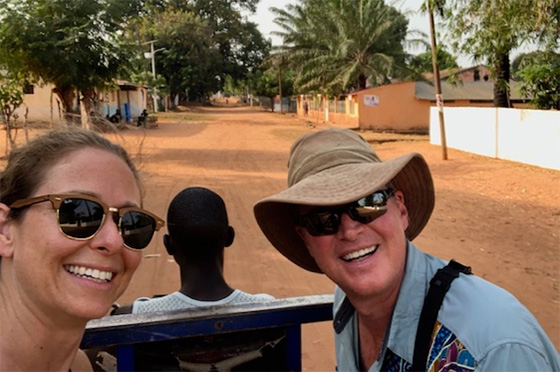 Island Life
We spent several days exploring different islands, specifically Bolama, Rubane, Soga, Bubaque, and Orango (there are others, some of which are where various cruise lines and expedition ships anchor and explore, but this was all we had time for on this trip). There are about 1.86 million people in Guinea-Bissau with about 24,000 living on the various islands. Getting around is all done by boat with one exception; there is a small plane that can get travelers from Bissau to Bubaque, but then you are back on a boat for everything else (and as the archipelago is about 40 miles offshore, you are either on that flight or on one of the sport fishing speed boats for anywhere from an hour to two+ depending upon the tides … you may get wet and it may be choppy).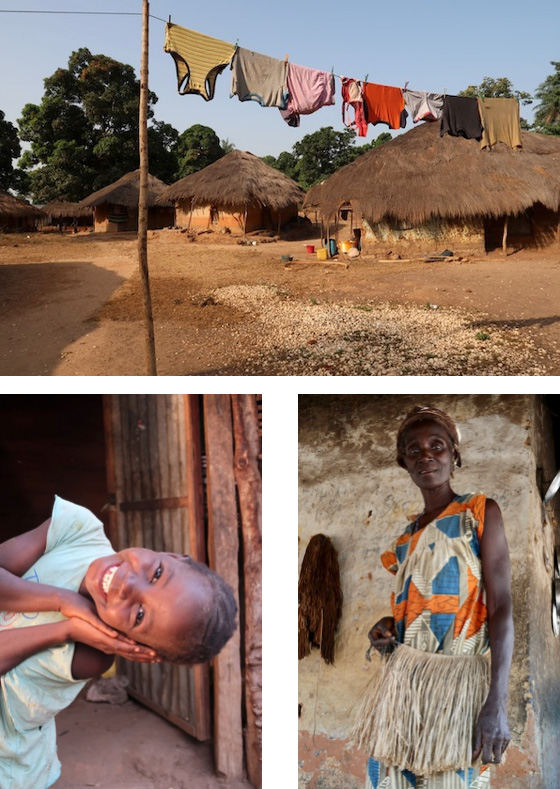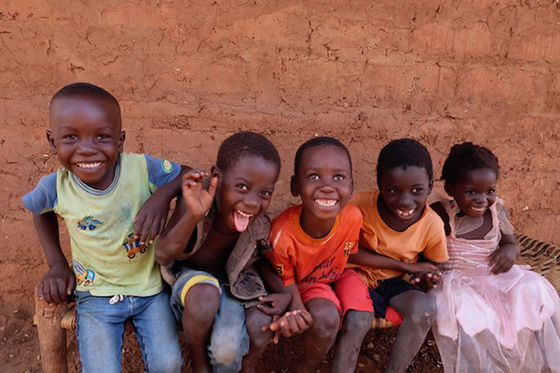 For culture connoisseurs, these remote islands are the place to be! The archipelago is home to various isolated villages in the center of the islands (people didn't settle on the coast for fear of being captured and traded as slaves so made their way as deep into the forests as possible). The people of Bijagos have been little influenced by the modern world and tradition is strong. We see woman making and wearing "saiya" (straw skirts), men tapping trees for palm wine, subsistence farming and roaming livestock, and animist shrines and sacred trees. We are here during the long dry season (though it is hot), when the harvest is over and the main ceremonies take place.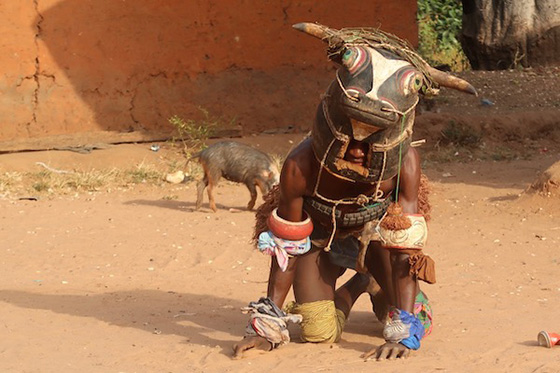 This is one of the areas where TransAfrica truly shines … their exclusive access to remote villages they've created relationships with, which may only see an outsider once a month during the short and again, almost non-existent, "tourism" season. We get to a village doing the Vaca Bruto mask dance, the most spectacular of the Bijagos. The "wild bull" dawns a wooden helmet with eyes of frosted glass, real horns, leather ears, and a rope through the nostril. Two Vaca Bruto dance within a circle created by the villagers, drummers, and us. The Vaca Bruto symbolizes a physically strong man who still acts emotionally immature because he has yet to undergo initiation. Initiation and ceremony are very important to the Bijagos and they take it seriously … an example of one is where young men go together to live on one of the uninhabited sacred islands for a seven-year rite of passage where they have no contact with women.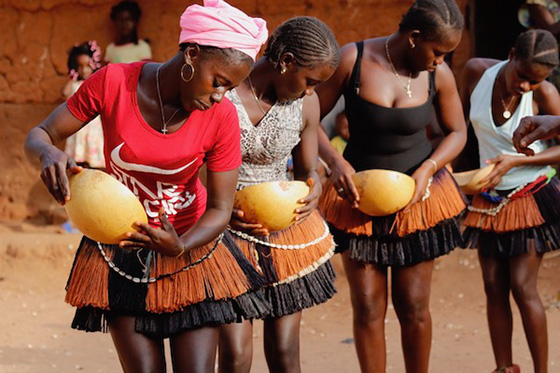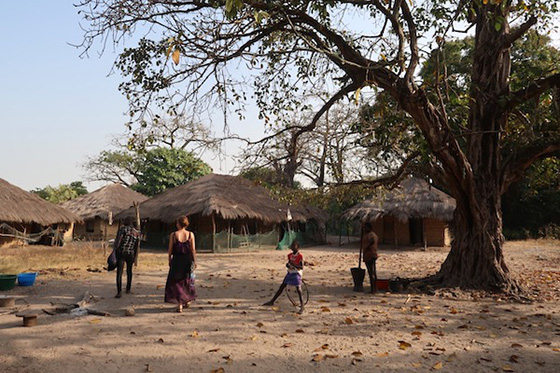 Orango Island is also worth a visit for the cultural experience. One of the villages, Anor, is a sacred spot where all the souls of deceased Bijagos pass through going to paradise (I wasn't told where the souls NOT going to paradise go, though I asked). There are only 13 homes in this village located in the middle of the island, and one of the women ensures that the most sacred home has fresh water inside daily for the souls to drink while journeying onward. There is also an eco-lodge on the island that some people choose to say in so they have more time to explore Orango without boating back and forth, and while basic, it is doing wonderful things for the community (child care, infirmary, wells, crop protection, schooling, and more) on the island with the help of a Spanish NGO.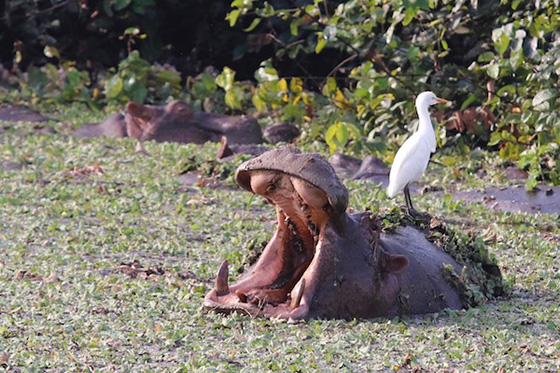 For wildlife enthusiasts in general and aficionados of acute animal sightings specifically, the two National Parks of Orango Island (divided into five islets) and Paque Nacional Marinho Joao Vieira e Poilao will have you ticking off the likes of salt-water adapted hippos (known to also move among some islands at low tide when fresh water resources or food become limited), manatees, bird species, and sea turtles (this is the second most important nesting area for sea turtles throughout West Africa). The Bolama-Bijagos Archipelago was declared a Biosphere Reserve by UNESCO in 1996. On a side note, while we didn't get out to the National Park Cantanhez Forests, which is on the mainland and hard to access, it is home to the West African chimpanzee, a subspecies of the common chimp and listed by the IUCN as critically endangered and on the Red List of Threatened Species. Next time!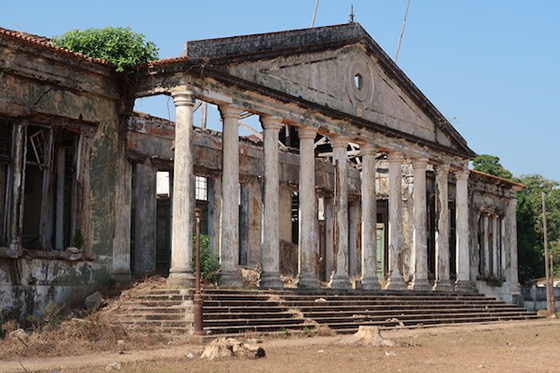 History buffs might enjoy learning about the sordid history of the islands. There are countless colonial buildings falling into ruin (not abandoned as Augusto, our guide, tells us, just left behind by the colonizers; as they were never used by the locals to begin with, they have just gone back to their roots). Bolama was the former capital of Portuguese Guinea from 1871 to 1941, before it was moved to Bissau. Soga was used by the Germans for exporting palm nut oil until the First World War and ruins of rail tracks and processing facilities are still visible. Bubaque is the largest inhabited island and the only one connected to the continent by a weekly Sunday ferry. There is an ethnographic museum that is worth a visit if you don't make it out to Orango, which also has a nice one-room "museum" showcasing Bijagos culture.
And lets also not forget that many of the practices and festivals we seek out in the Caribbean, South America, and Europe originated in West Africa or take place here in unique ways, whether Voodoo from Benin (with the largest voodoo festival in the world taking place in January), or Carnival, which is in full force in Bissau in February. While mainland Guinea-Bissau like many West African nations is primarily Muslim, there is a small Christian presence and regardless, everyone will tell you they are also still animist. And everyone will tell you they like a good reason to party!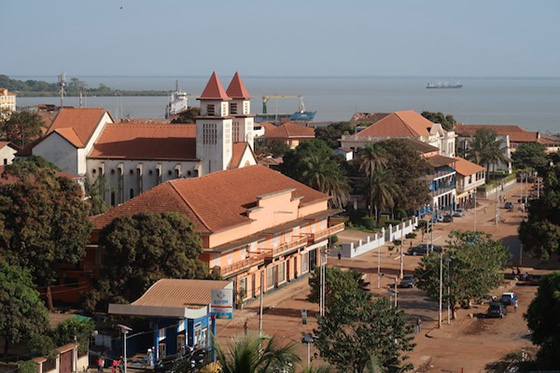 Our day in Bissau is a nice entrée to the country. We flew from Dakar via Banjul in The Gambia (30 minutes), had about 30 minutes on the ground, and then carried on with another 30-minute flight to Bissau. We are the only two people needing a visa (110,000 CFA or around $185 for two single entry visas), and are taken into an administrative office to have it processed, which we paid for in cash. Within ten minutes we're on our way.
Augusto, a full-time employee of TransAfrica, is a brilliant guide! In addition to English he speaks Portuguese, French, Spanish, and the most common local language, Creole. He was intending to become a doctor when he discovered tourism, and after a three-year course can proudly say that he is the only certified professional guide in the country. Going it alone in Guinea-Bissau would be difficult: there are no car rental companies in the country, though numerous old Mercedes taxis operate Uber-pool style (minus the smartphone) in the capital; the public ferry to the islands only runs once a week and I wouldn't want to be on it; not many people speak English … but besides all that, the magic of the country needs a local with connections to come alive. Augusto introduces us to Amadury, who is the main driver for TransAfrica in Guinea-Bissau, and we load up into the 11-seater Ford Transit waiting for us. The road from airport is a year old and in very good condition so it takes us about 15 minutes to get to our hotel, and then we start to sight see.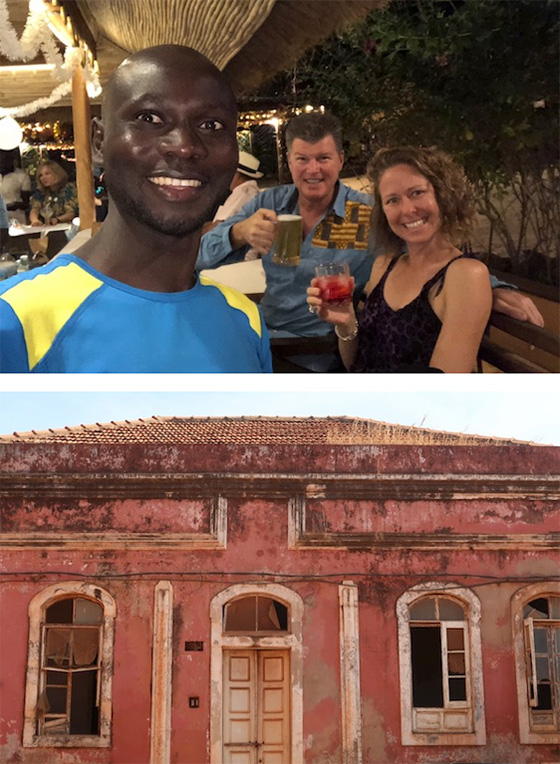 We drive and walk around the sleepy old quarter with its potholed streets and fading colonial architecture. It's us after all, so we find a "gallery" showcasing modern art and also a few traditional Kora (a Malian string instrument used in a lot of West African music). We see various monuments of communist style with quite a story … the Portuguese erected statues during their time and after independence (September 24, 1974 for Guinea-Bissau, which was the first of the five Portuguese colonies in Africa) the people of Guinea-Bissau removed the statues, kept the bases, and erected their own … one for Che Guevara who was here in 1966; the Black Hand monument, also called Maotimba in Creole, for the martyrs who protested against being slaves; and others.
For people who want to stay longer or explore the continental part of the country, one could drive to the Quinhamel region and meet with a traditional healer, visit a colonial-era rum distillery, tour a cashew nut plantation (the main export of the country), and see more animistic traditions play out. There are numerous other regions to explore as well, either on a trip to Guinea-Bissau alone, or in combination with Senegal, The Gambia and beyond. Augusto had just returned from leading a trip that included Senegal and Sierra Leone, so you see, the options are endless.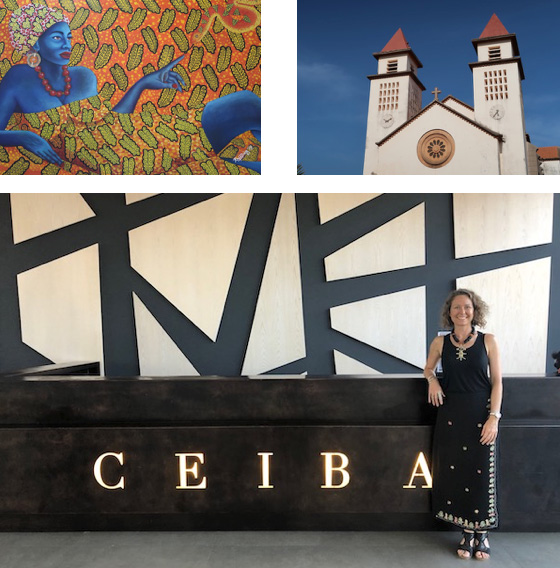 We stayed at Hotel Azalai, which is at best a three-star hotel with history, as it was once the military compound. Azalai is a hotel brand that seems to have more modern, four or five star properties in Africa, but in Bissau we weren't won over. For North American travelers on a "budget" I would suggest the four-star Hotel Royal Bissau, where we spent an evening on the rooftop deck, by the pool, enjoying a view over the city, listening to a local DJ and a musician from Angola entertain the wealthier locals, all dressed to impress. My favorite hotel and number one go to recommendation is the new five-star Ceiba Hotel, across from the new government building (we even saw one of the presidential candidates giving an interview in the lobby as we were there just before the elections). It would hold its own in any western city and is modern, chic, lively, and boasts amenities sure to make any weary traveler happy before or after venturing inland or out to the islands.

SENEGAL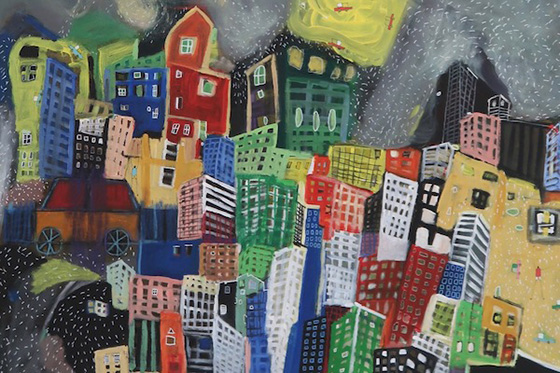 SENEGAL FOR THE SOULFUL AND SAVVY
Upon touchdown, Dakar looks just like many of the dusty Muslim cities I've seen before in North and West Africa (Senegal is 95% Muslim), however slowly begins to unfold its monotone layers to reveal a city of art, design, music, and flare. This is definitely a destination for lovers of the arts … we visit museums and galleries, designers and cultural centers, and as luck would have it, attend the closing of a film festival, headlined by world-music great Baaba Maal himself. The drumming and gyrating goes on until midnight, and the rhythms will linger throughout the rest of the trip.
As we drive around the city, I can't tell if it is falling down or being built up… there are rubble piles and cement brick stacks; some streets as new as yesterday and others offering up a traditional African massage. The airport is only two years old, so modern and easy, and a 30-minute drive from downtown at 6am on a weekend; 45 minutes when lucky during certain days; I'm sure longer with typical traffic. The closest "airport hotel" is a Radisson, which is still a bit of a drive away, but good for late arrivals that are driving out in the morning. There are other "airport hotels" a bit further away in Saly, which are better for an early departure flight, as the way the road works you would have to drive by them anyway to get to the toll road to the airport.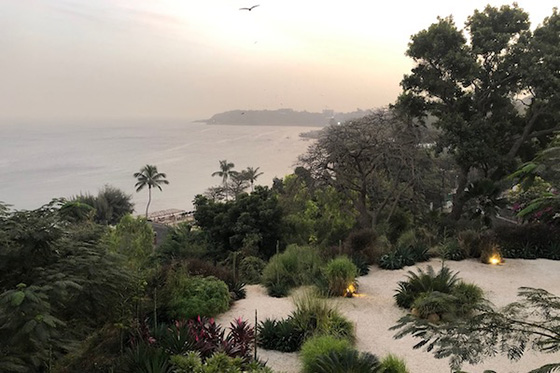 On quick inspection I have found a few hotels I love. The new seven room boutique hotel, Seku Bi, overlooking the water and around the corner from an art gallery, has a chill surf vibe, great art (as most hotels here do), a lush garden with inviting lap pool, and an urban-chic bar and restaurant (but no elevator and various flights of stairs). For larger groups, or those wanting more of the "luxury service" of a larger hotel, the Pullman Dakar Teranga, just next door to Seku Bi, also in the Plateau neighborhood, offers a funky lobby with boutique stocked with a well-known textile and home décor designer Aissa Dione Tissus, a sizeable restaurant with a salivating lunch buffet, and an al fresco seating area overlooking the water. We have a drink at Terrou-Bi Hotel, which is in the same area where we were staying at the more modest Le Djoloff Hotel, and while considered five-star, Terrou-Bi is very much a mega-resort with casino, wedding pavilion, spa, the largest pool I saw in the country, and other amenities; it's not my style but will work for some travelers.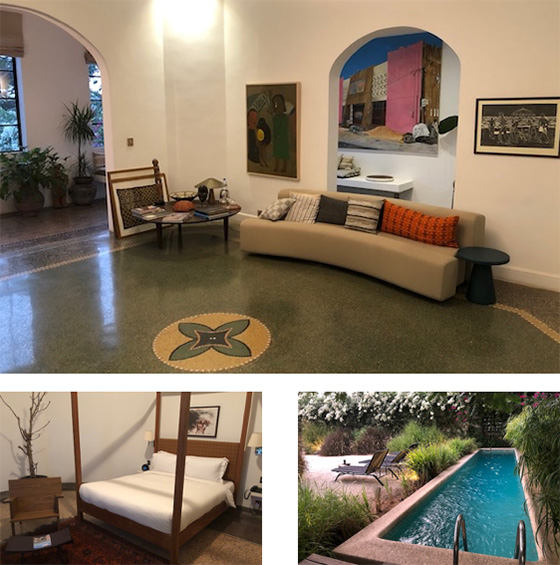 The museum of note is the Musee Cvilisations Noires (Museum of Black Civilizations), and while on this trip we pass up IFAN Museum, it's worth it for the time at Galerie Cecile Fakhoury, (and Johann spent time before I arrived at La Galerie Antenna and others, including an art opening with Francisca, the woman running the TransAfrica office in Dakar). We met with artists we ended up acquiring work from: Ndoye Douts who had a show at the time at the IFAN Museum, and Barkinado Bocoum who had a show at the Loman Art Gallery.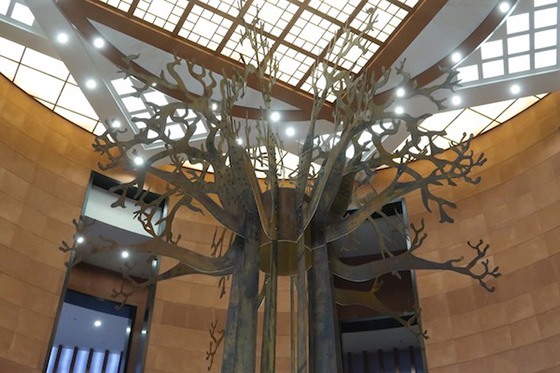 Dakar is definitely French … this is the first time since landing in West Africa that I notice smoking (hookahs, cigars and cigs). French is also the language du jour and I do struggle slightly from time to time with my lack of linguistic skills. We drive past the Colonial-era buildings in the Plateau District, the Luxembourg-sponsored central market of Kermel (they also send NGOs to help with school, hospitals, etc.), monuments en route to the best sundowner spots, and while driving along the shore learn of the surfing culture here.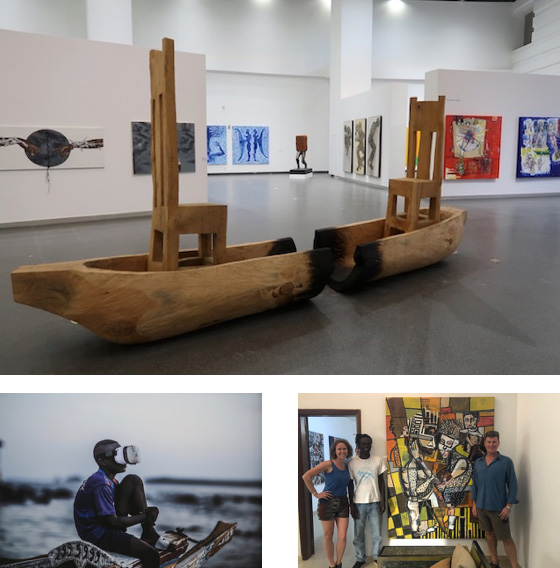 Goree Island
There is a public ferry that runs every hour from Dakar to Goree, taking 20 minutes to "connect Africa to history". TransAfrica can also set up guests with a private speedboat and private tour of the House of Slaves, which is the fort-cum-dungeon where slaves were kept before being shipped across the Atlantic. The slave history of West Africa is a sad, sobering situation, and the landmarks have become a pilgrimage for many to visit and pay homage to their ancestors, and for me, are part of humanity's collective history and deserve for all to visit and bear witness. UNESCO declared Goree Island a heritage site in 1978, and today there are still 1200 people who live on the 300 x 600-meter island. Some travelers chose to stay in one of the 10 small hotels or guesthouses on the island, so that after touring the House of Slaves and walking around, when all the day vendors and tourists leave, you get to enjoy a more peaceful, reflective time. There are conflicting accounts of exactly how many slaves passed through Goree Island, and in the end, do numbers really matter? I believe not; one was still too many. So no matter the accounting, Goree remains one of Senegal's most sought-after experiences, as well it should.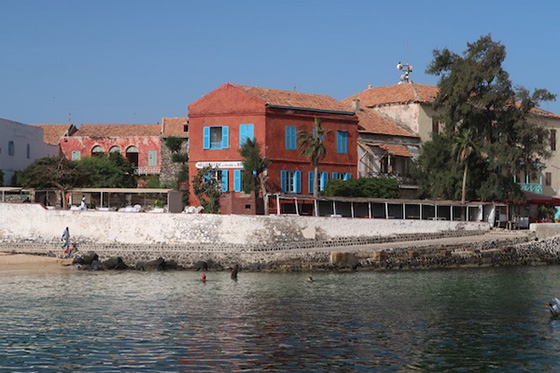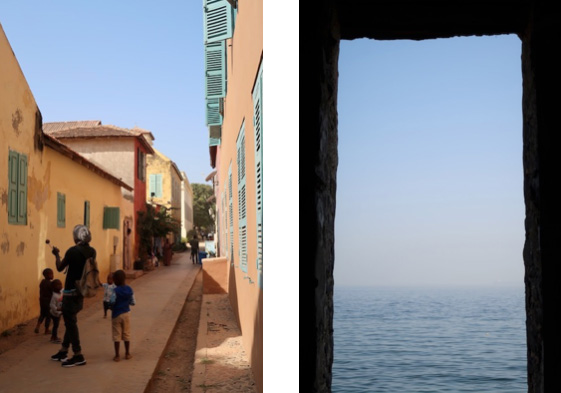 Culture in Casamance
Senegal is home to a variety of traditional cultures, but on this whirlwind trip we only had time to explore one of the regions: Casamance. We took an early morning flight from Dakar to Ziguinchor (there are only two flights daily: one in the morning and one in the afternoon) and checked in early to Hotel Kadiandoumagn. This is a delightful hotel on the Casamance River, owned by a local, with decent service, internet, and air-conditioning. For a sizable group, it's the sure bet and only ten minutes from the airport. For FIT bookings, smaller groups needing only three or four rooms, and guests who don't mind a longer drive, I would highly recommend staying further away in Cap Skirring at La Paillote (we had a late lunch there, which would be the perfect way to end a stay in Senegal, then a 45-minute drive to Ziguinchor, a 45-minute flight to Dakar, and an outbound flight home). For intrepid travelers doing a more extensive cultural trip of the area, driving from Dakar down to the border with The Gambia, crossing through the small country and back into Senegal where the Casamance region borders Guinea-Bissau, would be a spectacular way to see more of the area.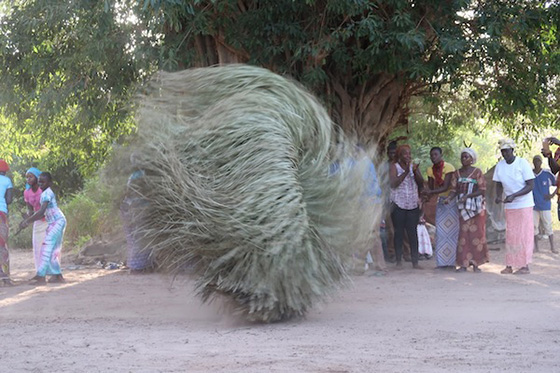 We tour the town, which leaves a lot to be desired: the boatyard where they build ships and smoke fish; some crumbling colonial buildings; etc. There is an interesting craft market that is worth a wander as people are actually making things on the spot and happy to have a conversation about their trade. You can drive out of town and see peanut plantations and cashew production, both of which are vital to the economy. Other than that, relax at the hotel and get ready to venture into the forest for the Kumpo mask dance. (Johann's FAVORITE experience of the whole trip!) The Kumpo is a spirit from the forest called through women, which dances among the villagers with other sacred spirits promoting good acts of community life. The Kumpo is specific to the Diola people in Senegal and Gambia, and the specific village we visit is one that only TransAfrica has access to through a personal connection.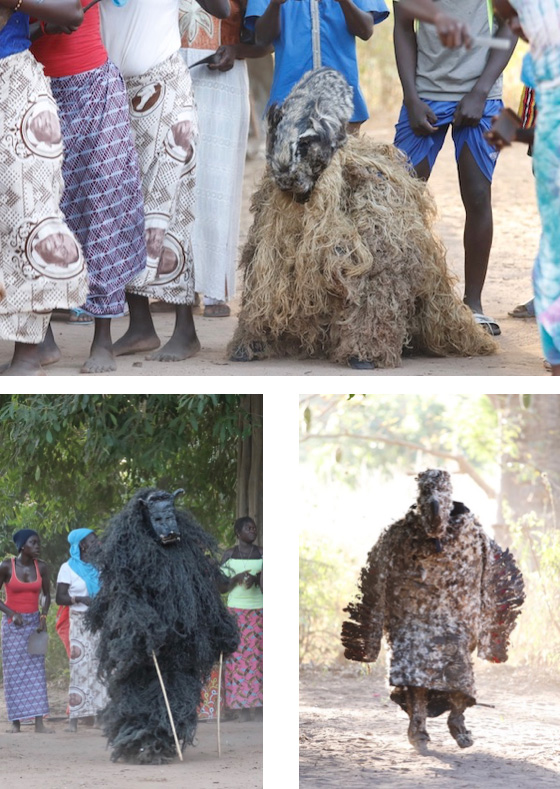 There are two other important interactions to be had in this region: the fortified adobe homes of the Diola people, called "impluvium homes", which showcases sculptural architecture of clay and wooden homes where light comes from a central hole in the roof (we entered one in the village of Nejambalang); and meeting with the King of the Diola Kingdom. We entered into a well-groomed forest with palm frond labyrinth where we were greeted by the King's two advisors and then sat with the King as we asked questions about his life, which sadly feels a bit like royal imprisonment as he isn't allowed to leave his forest sanctuary unless for the day to visit another King. However, he does hold strong mystical and political power and the president of Senegal has visited with him numerous times and relies on him to help keep the peace in the region.

Desert Desires
The ocean of dunes that comprise the Sahara blow mysteriously through our minds, and have so for centuries. As Alberto, the founder of TransAfrica, says: "in the Sahara, the wind speaks to you; it is an internal, or personal, experience." We board the back of a four-wheel drive pick-up truck and drive into the Sahara. It is amazing to be here with Alberto as he explains that Sahel is an Arab word meaning "shore or coast" and is a place where humans can live, but that as we see the sparse vegetation give way to monotone grains of nothingness, we are entering the Sahara, or the ocean of sand with coveted oasis. This is one of the places in West Africa where venturing into the Sahara is stills safe (as it is in parts of Mauritania where Alberto leads an epic expedition every year). While our tented camp is complete with basic necessities, great food, local drummers, and an endless starry sky, it is also larger than what we'd prefer to offer and Alberto says he's off to scout another eco-lodge with fewer tents and a more intimate feel. Alberto is explorer extraordinaire, having first visited Morocco in 1972, then discovering his love of the Sahara, building a company on the back of his dealings in traditional art, and continuing to delve deeper and deeper into the vastness of West Africa.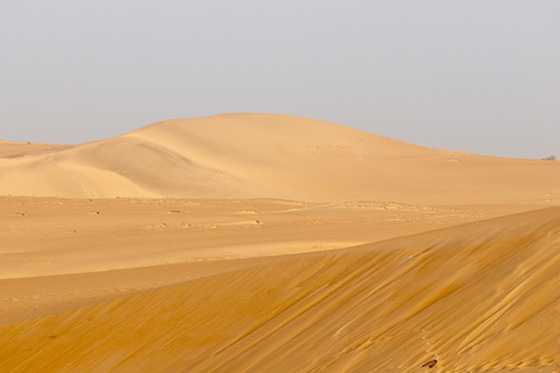 Taking the Waters
We leave Dakar in our van, making our way toward Lake Rose. Lake Rose, while a popular tourist destination, lacks luster for me. I understand the inquisitiveness: the water is ten times saltier than the ocean, and it is here that local families collect salt for export, which yes, is important. However, the vivid pink hue that has made the lake famous in photos isn't a daily guarantee as it depends on how the sun hits the water, the winds blowing across the water, and the water levels themselves, and this isn't a body of water I'd want to float in as I did in the Dead Sea. They don't harvest as much in the rainy season, but we are here at the beginning of the dry season (November through February is the best time to visit Senegal; June through September is the rainy season) and so while we missed the men out in boats in the morning, we see the women carrying 25 kilos of salt on their head from the boats on the shore to the mounds that will be collected and bagged en mass.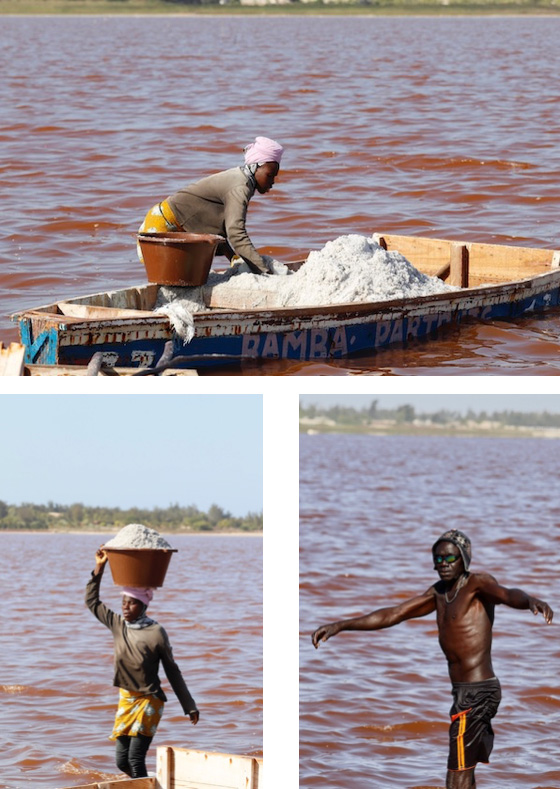 We climb aboard a 4X4 dune buggy and make our way to the coast to drive along the beach to the largest fishing village in the country, where more than 4,500 wooden painted pirogues come ashore shore with the catch of the day (Alberto wants to scout times and routes so guests could drive along the beach all the way from Dakar to this fishing village, up to the desert and beyond to Saint Louis). Just before the main fishing village, we get off the more modern 4x4 and hop onto a local horse-drawn chariot so that we approach in a more traditional way, as one with the community. It is spellbinding (and a bit smelly as they smoke and dry the fish with both salt and shark oil to preserve and keep the flies away).
Here, in the "city" of Kayar, is the center of Senegal's fishing past, present, and future. We're told that there is an offshore ocean trench 3000-meters-deep that is home to populous schools of fish so bountiful that between November and May 560,000 tones are reeled and hauled to shore. People come from all across the country and each boat with its unique flag represents a fishing family. The cheaper fish is referred to as "African fish" and the expensive fish is referred to as "Europa" … with trucks at the ready to take the catch away for export, you clearly see why. In the prime months, this 2km long beach is home to nearly 4,000 boats and 50,000 people (20,000 in the off-season). We visit with artisanal woodworkers, meticulous painters, and Champagne Christeners (well, actually, it is a local priest/saint who gives each boat a blessing with writings from the Koran instead of a hull whack with a bottle of bubbly). Each boat is handmade with two types of wood: a mahogany bottom which lasts about 20 years, and different woods for the sides based upon the size of the boat (the sides last about five years and then they are repurposed). Large boats take two weeks to build; the small boats take three days. When the building is over, the boat is waterproofed and then painted. The painting lasts about six months and each decoration has symbolic meaning for the family.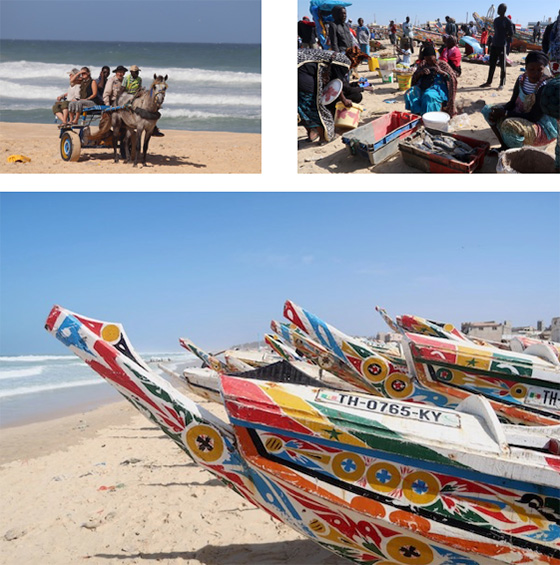 Stylin' Saint Louis
Home of the annual Jazz Festival, my new favorite designer (Rama Diaw), the famous hotel that was the former HQ of the pioneering Aeropostale airmail operation between Arica, Europe, and South America (Hotel de la Poste), this UNESCO-designated city was the first French capital of all West African colonies and maintains a must-experience quaintness. The French have been here since 1659, and the food and wine, art and design, music and melancholy all reflect that. Sadly, warming and rising waters have caused three villages along the coast to wash away with the tide within the past five years, and you see the remains when touring the fisherman's enclave on the peninsula across the bridge.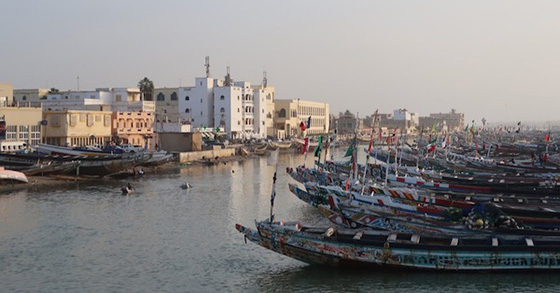 Some people stroll, some drive in their tour-mobiles, and others choose to see the city by Calash, the horse drawn carriages that the locals use as well. We trot to the end of town where in the distance, we see palm trees that are actually in Mauritania. Ah, so close! Next time … We visit the fisherman's district, which is a jaw dropping experience, as in general, families in Senegal have an average of six children, and it seems here that every last one is on the street playing and visiting with neighbors. To go from a silent, serene street on the island of Saint Louis to a frenetic fishing area was a bit jarring. The bridge linking the island of Saint Louis to the mainland is an iconic architectural wonder built in 1897 and worth a selfie stop. We also explored one of the many buildings being preserved under the modern art umbrella "Musée de la Photographie de Saint-Louis", and enjoyed an amazing exhibition of historic and contemporary photographs.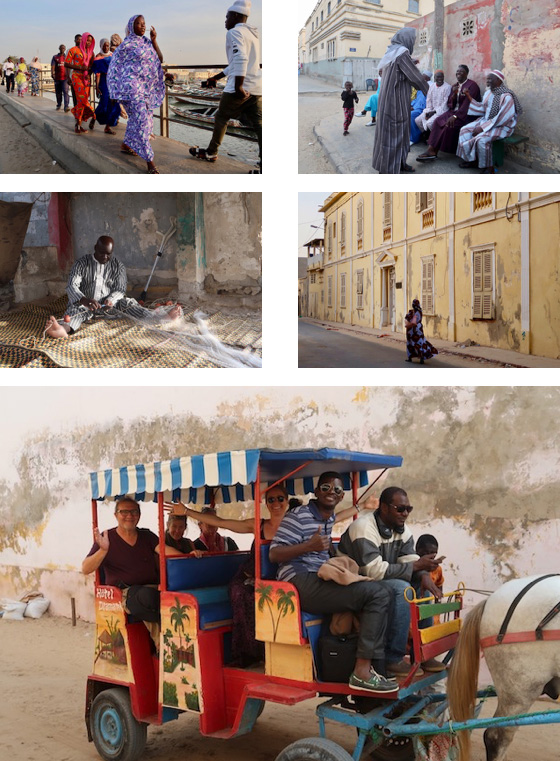 Music Magic
Saint Louis in the north of Senegal is a must for anyone with a lust for listening to West African music. Home to the annual Jazz Festival in May, it comes alive with performers on stage and in the streets. Unfortunately, the "Festival in the Desert" organized by Tuareg musicians in Mali has suffered with the county's instability, and so we satiate ourselves with the sounds of Senegal. Johann had a night in Dakar before I arrived and ended up at an art opening Youssef Ndour's son playing and the next night we went to the Institute Francais (a French cultural exchange compound with a restaurant, cinema, stage, and classrooms) where we attended the closing night of a film festival with special guest Baaba Maal. Um, YES! The restaurant we go to on our first night has live music, and our hotel has an underground grotto where a local jazz band performs. Music will always be on offer in Senegal!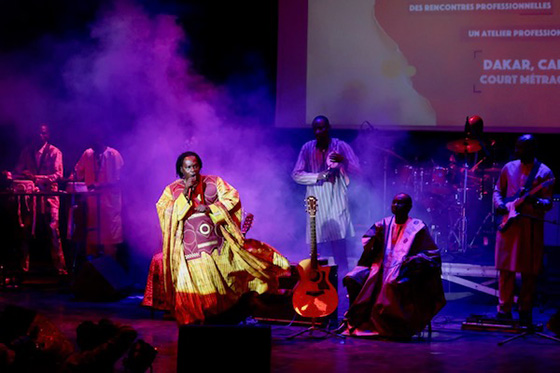 Designing a New Life
Entrepreneurship goes a long way in ECOWAS countries, and Africa in general. There is a conflicted history with fabrics and textiles in Africa, especially as the industry goes by the wayside at the hands of Asian countries copying designs and mass-producing materials that sell for a fraction of what is possible on the continent. That said, there are numerous designers doing remarkable things in Senegal, highlighted by the Dakar Fashion Week in June. I didn't have the time needed to visit with all the designers I wanted to (Sarah Diouf, who has dressed Beyoncé; Tongoro, originally founded by Sarah Diouf; Adama Paris; Bamanee; and Alia Bare), but I did stop in at Selly Raby Kane (to find out the new collection isn't my style), and was introduced to Rama Diaw, a wonderful woman from Saint Louis with a shop at the hotel in Dakar we stayed in, La Djoloff, and an atelier down the street from the hotel we stayed in in Saint Louis, Hotel Residence. The prices were the same in both cities (cash only) but here's my tip for true couture … plan to visit the atelier in Saint Louis as soon as you arrive and then they can take your measurements, have you choose your favorite fabrics, and tailor pieces to perfectly fit your form, as they did with Johann. At La Djoloff, one of the women was wearing a tunic so fabulous we did the same thing and the designer came to the hotel to take measurements and make a piece that was dropped off later in the week at our hotel.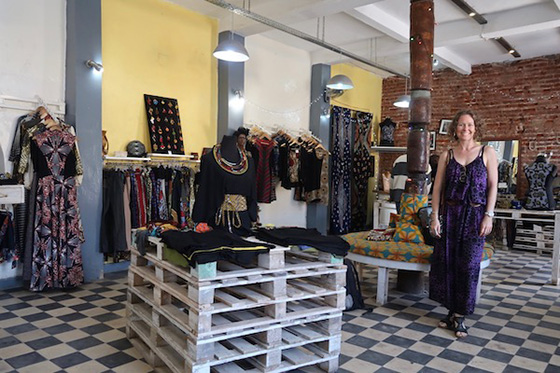 Twitching
While I wouldn't say that Senegal is a must for wildlife enthusiasts, it is certainly for twitchers. Djoudj National Park in the north is one of the three most important ornithological reserves for migratory birds on earth. Each year, billions of European birds head for sub-Saharan Africa's temperate winters and Senegal is a major stopover point on the busy East Atlantic Flyway. (https://theculturetrip.com/africa/senegal/articles/bird-migration-in-senegal-a-twitchers-paradise/). We took a boat ride through a man-made waterway to see various species, the pinnacle of which was a colony of pelicans thousands strong. This tranquil experience was world's away from the craze of the cities and if someone was interested in doing it, I would suggest it as a morning excursion from Saint Louis so you can return to the city center for an afternoon of wandering and a night of live music.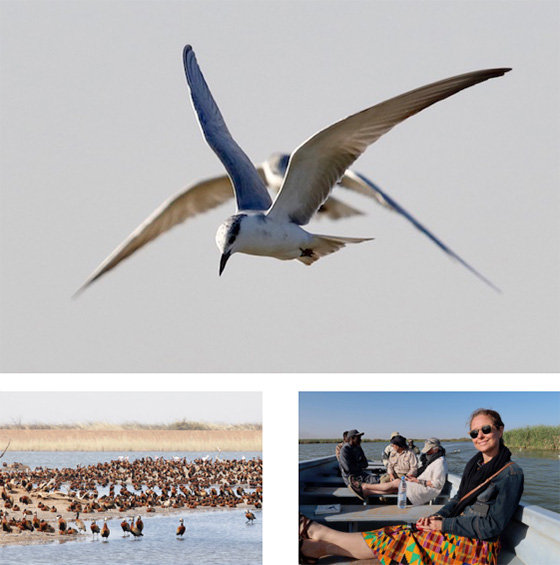 Development: Go Slow and Be Successful
All French colonies were granted autonomy in 1958, however the French didn't just up and go; they offered the ability to stay under their wing while getting wise to the world, and Senegal took them up on that and took two years to ensure their citizens were educated on how to run a successful and stable country. So their official year of independence is 1960.
I was surprised at how new the airport is (two years) and how far from downtown (about 45 minutes with no traffic). There is a building boom at the moment as the government has realized the city of Dakar can't contain its residents anymore. There are 15+ million people in Senegal, 3.5 million in Dakar, and many trying to move to the capital for opportunities. They are building a new city, called Diamniadio, between Dakar and the Blaise Diagne International Airport, which is supposed to create more than 10,000 jobs between the construction and the community that will inhabit it. 58% of Senegalese are younger than 25 years old, so this new city will have housing, a university, the arena, and more.
Exploring the full length of the western portion of the country reveals certain realities. For instance, there is a lot of trash on the outskirts of towns … more than I've seen in other "developing countries" and enough to beg the question of why. The population is still animist at heart, and historically, everything that was used or consumed was of organic matter and so would go back to nature. In addition, while democracy is important to all, the animist mindset is often antithetical to the government's, and so it has been hard to meet in the middle when it comes to conservation. There is a mindset that things will be taken back by Mother Earth, but with the plastic explosion and poor trash collection, education is more necessary than ever.
With everything the county does, it isn't revolution but evolution. Peacekeeping is as vital as ever. Senegalese troops protect and secure the borders with Mali and Niger. NGOs are helping to increase rice production so Senegal can stop importing from overseas; they're doing the same with gas and petrol production, first for their own use and then for export. The economy runs on fishing (they have 330 miles of shoreline), tourism, and agriculture (peanuts, millet/sorghum, fruit), and for instance, while the Fulani were traditionally nomadic herdsman, as temperatures rise and drought plagues the region, they have diversified into agriculture as well. Everyone, it seems, is teachable, and optimistic, even in the face of constant inconsistency.