Shoebill Island Camp
Bangweulu Wetlands, Zambia - Adventure 3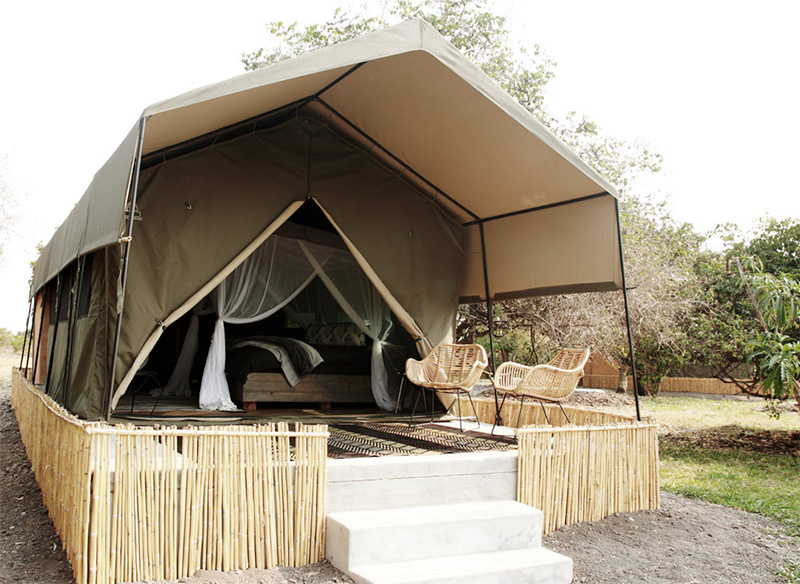 Shoebill Island Camp is perfectly positioned on the edge of the expansive Bangweulu wetlands. The camp has a front row seat to the constant activity of the swamps and surrounding flood plain. It is always alive with bird movement and the sound of thousands of lechwe sloshing through the shallow waters. The peaceful harmony of the local fisherman brings a special experience to this camp, where community conservation is crucial to the welfare of the wetlands and its wildlife, especially the iconic shoebill. Each day ends looking out at the sunset before you, and closes out what is certainly a place never to be forgotten.
Accommodation
Shoebill Island Camp is located on a small piece of high ground in amongst the Bangweulu Wetlands. The four walk-in safari tents are on raised platforms with views across the flood plain, and direct access to excellent birding, black lechwe sightings. It is possible to walk right into the swamps virtually from your front door.
Each of the four tents is simple, but just right. Recently remodeled, the camp's tents are tastefully decorated with fresh linens and local fabrics. There is a wardrobe, sitting chair, bedside tables and mozzie net to ensure convenience and comfort. The en-suite bathroom has a rain shower, hot/cold tapped water and flush toilet. The camp's main area opens entirely onto the flood plain, and is warmed in winter by its huge fireplace and cooled in summer by the open-air layout. Dinners are taken in the large dining room, complemented by three seating areas and a fireplace to end the day. It is here that you are hosted by the local staff, and Shoebill's private guide Brighton.