Chaiwa Camp
Lower Zambezi National Park, Zambia - Classic 4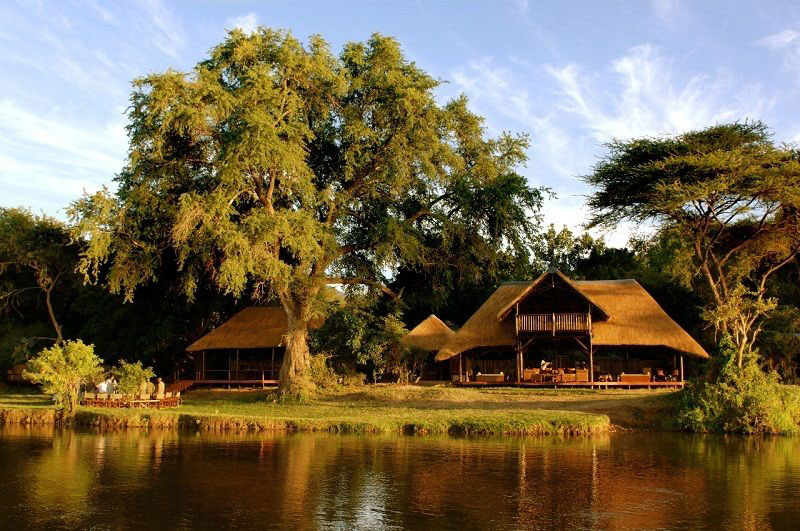 Chiawa Camp blends in effortlessly with its idyllic surroundings and provides a retreat which guests are invited to make their home away from home, where guests receive the friendliest of welcomes, the biggest of smiles and where guests, who leave as friends to return time and again, experience the very best in Africa.
On the banks of the Zambezi River, under a grove of evergreen Mahogany trees, Chiawa Camp holds the prime position in the heart of Zambia's Lower Zambezi National Park.
It is at this very spot where the Cumings Family first explored this area for themselves decades ago, where David Livingstone had ventured through nearly 150 years previously, and where in 1989 they created the very first photo safari operation in the Lower Zambezi National Park - and through their efforts what has since become one of Africa's most desirable, sought after safari destinations.
A stunning thatched lounge/bar area with upstairs viewing deck provides one of the best views of the Zambezi whilst after enjoying Chiawa's renowned cuisine on the al-fresco dining veranda, one can relax by the open camp fire with a cocktail in hand to reminisce of the day's adventures before retiring to the tents, each a sanctuary of luxury and peace to dream about what tomorrow may bring. Also available for guests' enjoyment and relaxation are two perfectly positioned game viewing hides and a plunge pool with timber sun deck overlooking the Zambezi.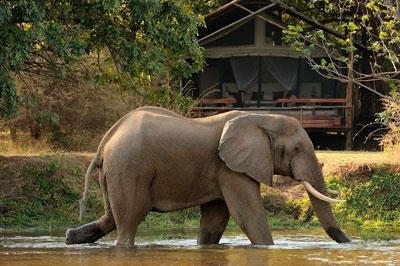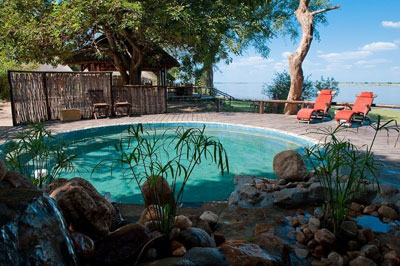 Accommodation
The tents all have timber floors and verandas with excellent views and are accessed by paths running behind them to maximise privacy. All share ample comforts, conveniences and unexpected luxuries such as free WiFi, 24/7 lighting and charging facilities (220v UK plugs), 24/7 hot & cold running water, king size beds, Egyptian cotton linens, his & hers washbasins, indoor and outdoor showers and ball & claw baths complemented by high quality, eco friendly amenities.
We believe these "tents" set a new standard for Zambia in bush-luxury; however they still retain the rustic and unpretentious feel that Chiawa is so well loved for.
Tents VII, VIII & IX all overlook the "dry riverbed" with quartering views of the Zambezi River whereas Tents I - VI face the Zambezi directly.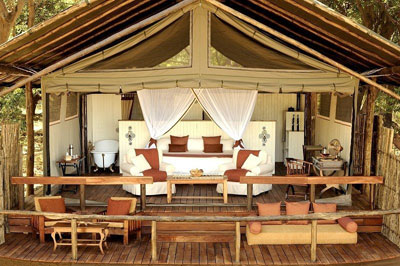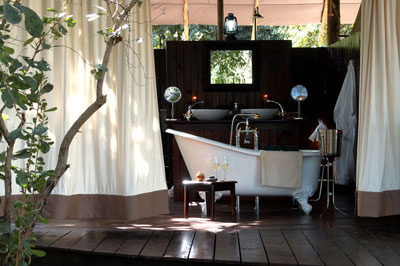 Safari Activities
The Lower Zambezi National Park, by virtue of the Zambezi River and its parallel escarpment, is one of Africa's most scenic wildernesses, home to an impressive quantity and variety of wildlife that can be viewed not only on the more usual land based safari activities but also on a variety of water based activities and in the camps themselves.
Do not expect vast vistas and plains with thousands of prey animals constantly being hunted down by dozens of predators. There are other places for this, other places with more animals and more variety - but these places are usually on the path more traveled, suffering from an overload of tourists and average guiding. Zambia's wildernesses are still wild and not yet overrun with lodges and tourists, where tracking down its precious wildlife requires skilled guides and patient guests who appreciate the adventure and remoteness as much as the sightings.
It is important to note that Zambia does not offer private concessions in its National Parks and so one is likely to encounter others during their safaris, however due to the remoteness of Zambia's National Parks, this is rarely an issue and we do not suffer from multiple vehicles and people at any one sighting as in some places in East Africa.