Kaingo Camp
South Luangwa National Park, Zambia - Classic 4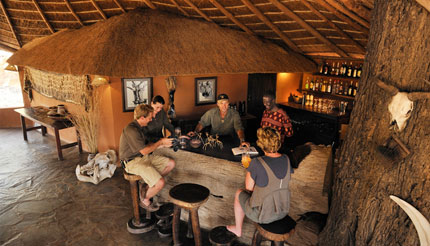 Overlooking the Luangwa River deep within the prime area of the South Luangwa National Park, Kaingo's relaxed, personal and friendly atmosphere offers its guests fantastic game-viewing opportunities within an area of incredible beauty and varied terrain.
Built and run by Derek Shenton, son of Barry Shenton – former ranger in Luangwa and warden of Kafue National Park – Kaingo has many attributes from the Shenton family ranging from the camps stylish design and practical layout to the local farm produce. The large centrally located open-sided sitting room includes a dining area, library and Kaingo's renowned thousand year old lead-wood bar.
Nestled discretely apart on the banks of the river, Kaingo's chalets were designed with the sole purpose of transporting you safely into the world of the Luangwa without a single distraction.
Stunning Views
Large fly-wired windows provide stunning views of the river; and the complete absence of generator noise (we prefer solar power) means nothing but the wheeze-honk of a hippo interferes with the sounds of a lions roar, a leopards call or the early morning 'drumming' of the Ground Hornbill.
In addition to the indoor ensuite bathroom, each chalet has a stunning outdoor bathtub with shady views of a pod of hippos.
A special feature of Kaingo are the unique individual decks built out over the river in front of each chalet. From this relaxing vantage point one can view game coming down to drink, basking hippos, aquatic birds, crocodiles fishing, and daily elephant crossings.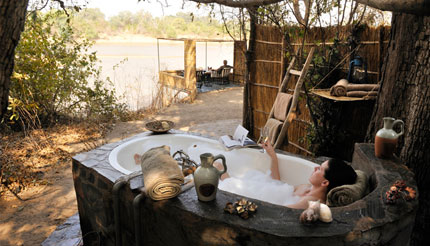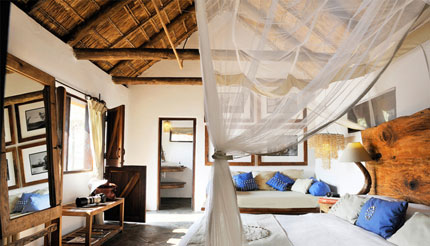 Extraordinary Wildlife
The varied terrain around camp includes the picturesque Fish Eagle lagoon, one of the largest ebony forests in the Park, and the spectacular Lion Plain (the biggest plain in the valley a hugely productive grassland that teems with wildlife) bordered by the meandering Luangwa and Mwmaba Rivers.
The area is ideal walking safari country (under the watchful escort of an armed scout and guide). A network of carefully planned low impact roads provides excellent coverage of this game-rich terrain. Game-drives and walks from Kaingo provide exciting photographic opportunities for our guests. The action often starting just outside camp.
We have two extremely productive lion prides, which we have the pleasure of following and there are more than 10 individual leopards around Kaingo and Mwamba. 95% of our visitors will see leopard.
The elephant hides and hippo hides are close to camp, which afford visitors close-ups of these great extraordinary mammals. Stork fishing parties, Carmine bee-eater colonies, resident Pels Fishing Owl and Red-billed Quelea in their thousands are among the birding highlights of the area.
Photo Safari Features
Our photographic hides are just one of the elements that make our two bush camps so special. These hides are used regularly by National Geographic, BBC and Discovery channel for numerous photographic shoots and the making of wildlife documentaries.
However, these hides are not just for photographers and film makers. They are for anyone who loves wildlife. They provide an up-close-and-personal view into the lives of the animals, enabling you to watch them undisturbed in their natural environment. That said, we are well equipped to take care of our photographers and we provide specialist bean bags, dust covers and charging facilities.