Sindabezi Island
Victoria Falls National Park, Zambia - Classic 4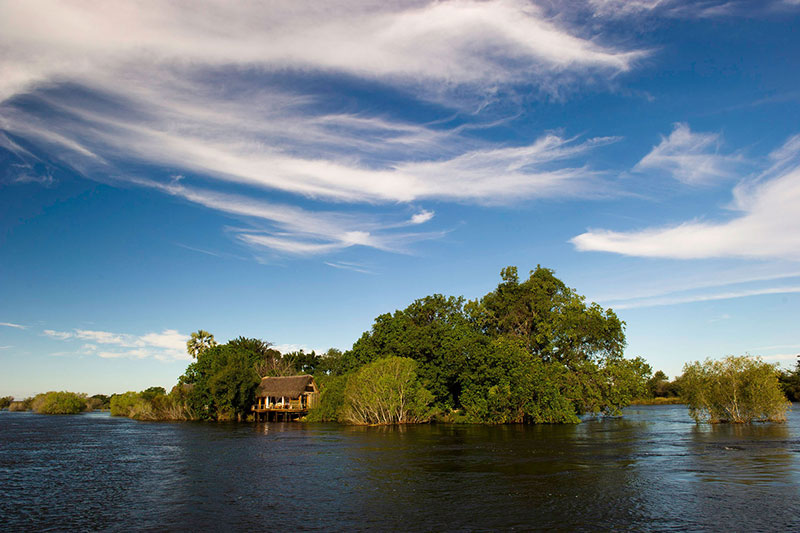 Sindabezi Island is unique – the discerning traveler's best kept secret. An idyllic, exclusive camp on our very own private isle on the Zambezi River it is the only luxury bush camp from where Victoria Falls can comfortably be explored. Experience the large number of activities in the area during the day and return to a tranquil haven, a thousand light years away from the bustle at night. Sindabezi Island is currently one of the top 10 eco lodges in Africa according to Fodor's.
Sindabezi has only five open-sided thatched cottages, allowing guests to soak up the sights and sounds of the African bush in the perfect, pristine setting. Views across the flood plains of the Zambezi and into the nearby National Park complete the experience.
Many guests combine Sindabezi with a stay at our sister property, Tongabezi Lodge, a short boat ride away.
ACCOMMODATION
Chalet One
Chalet One is the sole cottage on the south side of the island. It has a wonderful view across the bubbling channels of the Zambezi River to the Victoria Falls National Park, where game such as elephant, impala and wildebeest come to quench their thirst on the banks of the river. At night guests can opt to enjoy the first round of sundowners in their large private bubble bath – with piping hot water courtesy of our state of the art solar heaters.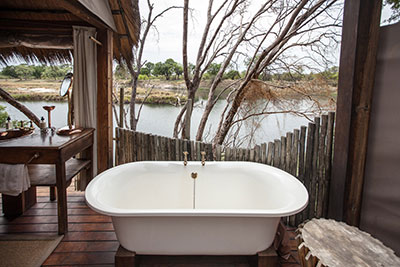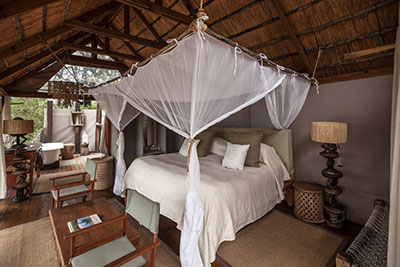 Chalets Two & Three
Chalets Two and Three are tucked away on the northern banks of the island. They have solar heated showers, and distinctive 'loos with a view' set along private wooden walkways. Although the chalets are perfectly secluded, the island is also ideal for families or groups who would like to consider a private booking. Chalet Two and Three can accommodate both double and twin bookings.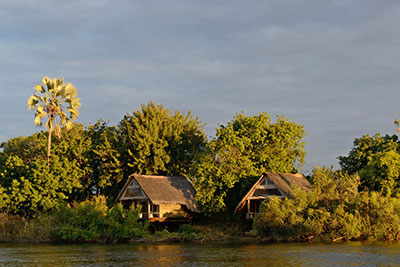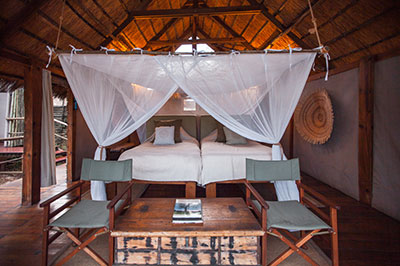 Chalet Four
Chalet Four has a lovely view upstream and is perfect for spotting hippos wallowing in the river. At night time, a trail of hurricane lamps lights your way back to the chalet across the soft sand. A luxuriously inviting, canopied bed ensures a wonderful night's sleep as the Zambezi winds its way downstream to the Falls far below. As with all the chalets on the island the water is solar heated. Chalet four can be booked as a double or as a twin.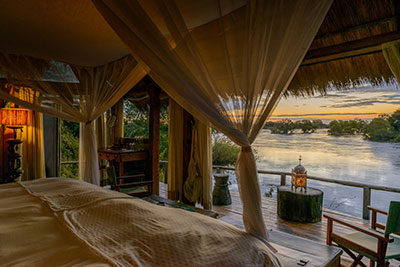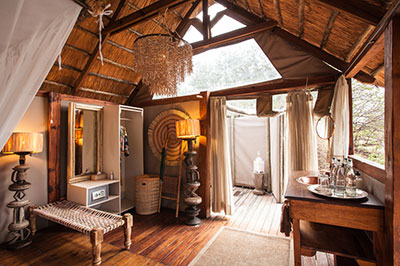 Honeymoon Chalet
Chalet Five is our 'Honeymoon' chalet and is situated on a secluded sandy shore at the end of the island. The brand new, old fashioned clawfoot bath is perfect for two. Thanks to our solar panelling, hot water and ambient bedside lighting is assured, The entire Sindabezi Island is also romantically lit with traditional hurricane lamps and candles.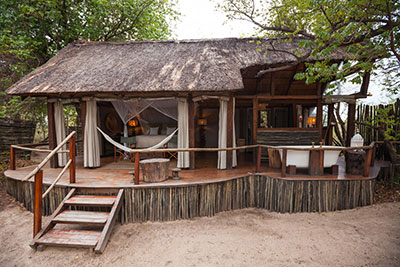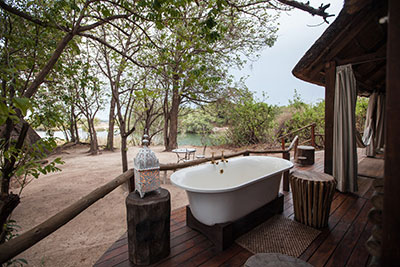 Inclusive Activities
The following activities are all included in the price of your safari holiday in Zambia:
Canoeing on the Zambezi
Island Lunch
Sanpan floating candlelit dinner
Visit to Mukuni Park
Sunrise and sunset boating
Introduction to Simonga Village
Guided bush walks
Museum Tour
Fishing
Game Drives
Maramba Market visit
* All park fees and museum entrance fees are extra