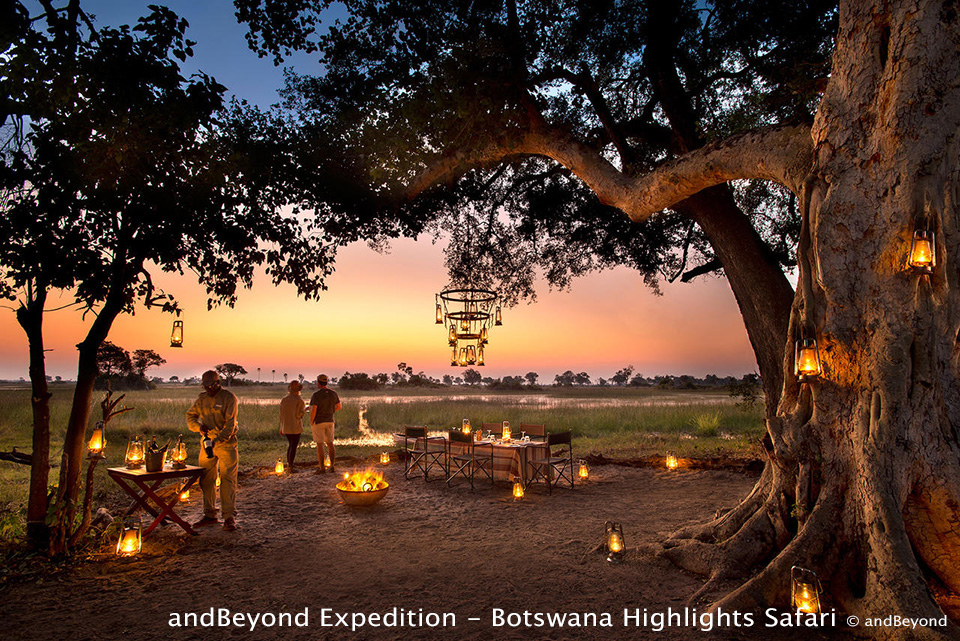 Mobile Safari
One of the most rewarding and natural safari experiences in Africa is a mobile safari. Offering an authentic, unique, off-thebeaten track experience, this style of safari is as much about the journey as it is about the destination.
Out of Africa ... going mobile
Authenticity
The most authentic form of safari, a mobile camping safari provides an off the beaten track and a one-with-nature experience. Offering gracious living under canvas, deluxe mobile camping safaris are aimed at the discerning guest who wants to experience the 'real' Africa without sacrificing everyday comforts.
Flexibility
Self-sufficient and self-contained. Travelling as and when desired, the mobile safari is both flexible and opportunistic. A journey of a life time, a private mobile safari is designed around a client's interests, comfort level and budget. Be it on a scheduled set date or a private departure, clients are hosted by a guide who is assisted by his close knit team of safari chef and camp assistants. In no time at all they become friends and travelling companions.
Superb guiding
Travelling in the company a seasoned, professional guide who loves nothing more than sharing his immense knowledge and passion for the bush and all that is African will enhance the experience of being on safari, to make it truly unique. Your guide will literally hold your hand from the moment you start your safari to the moment you say good-bye. Your safety, comfort and enjoyment is his concern.
All ages
This is a superb multigenerational experience that provides families with the opportunity to spend precious time together thus creating lifelong memories.
Expecting the expected: What your mobile safari entails…
Campsites & Comfort
In Botswana mobile safari operators utilize private campsites in specially designated areas within the National Parks. Camps are self-contained and everything including water is brought in by a support vehicle and back up crew who ensure guests' every need is discretely attended to. Weather permitting, laundry is done daily with the exception of the days the camp moves to its next location.
Staff
A complement of staff take care of all camp chores, from setting up camp to housekeeping, cooking, and washing up. The number of staff depends on the number of guests and safari style (luxury, semi-luxury or adventure camping).
Accommodation
Luxury mobile safaris feature walk-in insect proof tents equipped with comfortable camp beds, bedding, bedside tables and lamps, hanging space and hot water bottles in the cold winter months. En-suite facilities comprise a flushing w.c. (some operators use ash long drop toilets), hot bucket shower and a range of amenities. Specially designed family tents are available.
Food
Bush cuisine is generally of an excellent quality, featuring fresh produce. It is served under canvas or at a candle-lit table, under a canopy of stars. Menus change daily and drinks are served ice cold! Vegetarian and special diets can be catered for if advance warning is given.
Environment
A mobile camping safari leaves no footprint on the environment. There are no permanent structures, plumbing or electricity. Whatever is brought in is taken out.
Vehicles
Depending on the style of safari, vehicles are usually specially adapted 4x4 Land Cruisers with open sides designed to enhance the game viewing experience. They are custom-fitted with built-in inverters, reference books and a small fridge. Seating is generally in bucket seats, the configuration of which varies depending on the number of clients travelling.
Connectivity & Electricity
Forget the outside world as the opportunity to use cell phones is few and far between and there is no internet. There is no electricity in camp however cameras, torch batteries and cell phones can be charged on the safari vehicle (hairdryers and electric toothbrushes are best left at home).
Hide --