The Magic People of Omo Valley Itinerary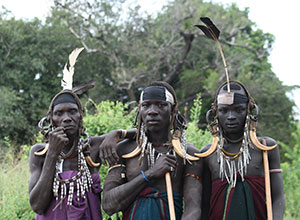 Duration: 13 days
Area: Addis Ababa, Mount Entoto, Omo Valley
Style: cultural tour
Comfort Level:





Highlights:
Visit Addis Ababa, the third highest capital in the world, and Mount Entoto
Omo Valley - no where in the world are there so many ethnic groups inhabiting such a small area
Mursi tribe - nomadic people
Karo Tribe - well known for their amazing body decorating
Hammer tribe - famous for their hairstyles
Dorze people - known for their bamboo, bee-hive shaped houses and their fine quality cotton "shamma"
| | |
| --- | --- |
| Day 1 | Depart Europe/USA/China etc on Ethiopian Airlines |
| Day 2 | Arrive, transfer to Sheraton/Hilton. (If arrival is on a flight from UK or China, we will need to book the night before to ensure immediate check in. ) Rest up till lunch time, then city tour, Mount Entoto, museums etc. |
| Day 3 | Drive to Arba Minch via Butajira, Hossanna and Sodo. |
| Day 4 | Drive via Konso to Jinka. |
| Day 5 | Visit Mago Park and Mursi Villages. |
| Day 6 | Drive to Turmi via Key Afar and Dimeke. |
| Day 7 | Visit the villages of the Karo people. |
| Day 8 | Cross the Omo River and visit Nyangatom villages. |
| Day 9 | Visit Hamer villages around Turmi. |
| Day 10 | Return to Arba Minch via Erbore. |
| Day 11 | Visit Dorze and continue to Lake Awassa. |
| Day 12 | Drive back to Addis Ababa, city visits, shopping day room, transfer to airport at about 2300. |
| Day 13 | Early morning departure, approx 0115. |
Detailed Itinerary
Day 1:
Depart Europe/USA/China etc.
Day 2:
Arrive Addis Ababa and transfer to the Sheraton/Hilton Hotel (or any other hotel of your choice), where we can have a couple of hours rest before lunch.
After lunch, we start our city tour. First we drive north up to Mount Entoto. In 1881 Emperor Menelik II made his permanent camp there, after remains of an old town (believed to have been the capital of 16th century monarch Lebna Dengel) were discovered, which Menelik took was a divine and auspicious sign.
Addis Ababa at between 2300 - 2500 meters is the third highest capital in the world and Entoto is a few hundred meters higher - as we drive up the hill there is an appreciable drop in temperature and the air is filled with the scent of the Eucalyptus trees which line the road.
From the top, there is a panoramic view of the capital and surrounding countryside. Our guide will point out the city's major landmarks. Entoto is an important watershed; to the north, water flows to the Blue Nile and the Mediterranean Sea, to the south, to the Awash River and on to Djibouti.
Entoto was soon abandoned as a site for the capital - it was cold, difficult to provision and there was a shortage of wood. Empress Taytu was said to have led the move down to the plain of Finfine, and to have named the new capital Addis Ababa, or New Flower. However, two important structures remain within the old imperial compound on Entoto, the churches of Mariam and the Archangel Raguel. It was in the church of Mariam that Menelik was crowned Emperor of Ethiopia in 1889, and in the small museum in the compound there are various clothes, court and household implements and weapons dating from the period. The church of Raguel is unusual in that it is octagonal, rather than round. There is a first story balustrade around which Menelik liked to stroll.
Leaving the churches we descend to Addis Ababa, stopping off at the National Archaeological Museum. Here visitors can see exhibits ranging from the 3.5 million-year-old bones of Lucy, from the Axumite and Gondarene periods through to the period of the monarchs Tewodros and Menelik II.
This completes our city tour and we return to our hotel.
Day 3:
An early start around 7.30 and we then head down the western side of the Rift Valley passing through Butajira, Hossana and Sodo.
It's a long day's drive, about 9 hours with lunch and coffee stops, but it is on a good asphalt road. The scenery is very attractive. There are interesting places to be visited en route – the Neolithic site and museum at Melka Kunture, the UNESCO World Heritage Site at Tiya, and the rock hewn church at Adadi Mariam, contemporaneous with the churches of Lalibela – but visiting them would mean an overnight at Hossana or Sodo, neither of them worth an overnight.
After Sodo we skirt the western shores of Lakes Abaya and Chamo, the southernmost of Ethiopia's Rift Valley Lakes, before arriving in Arba Minch, or "40 springs", and check into Paradise Lodge. The Lodge is situated on a hill overlooking the narrow stretch of forested land, known locally as "the bridge of heaven", which separates the two lakes. Philip Briggs in the Bradt Guide described it as one of the best views in Africa. o/n Paradise Lodge.
NB There are two routes to Arba Minch from Addis Ababa, the one described above, and the slightly longer and busier route through Shashamene and past the Rift Valley Lakes of Langano, Shalla, Abiata and Zwai. There are more attractive places to overnight on this route.
Day 4:
We drive south to Konso, whose people are known for their intricately terraced hillsides, fine woven materials and the carved totems with which they decorate their graves, and after our visit turn towards Jinka. Konso is a UNESCO World Heritage Site. (Market days in Konso are Mondays, Wednesdays and Thursdays). We pass the Weyto river where we will see a great variety of pelicans and other aquatic birds. On Thursdays there is a very attractive market at Key Afer, frequented by the Bena and Ari people. In Jinka itself the markets are on Saturdays and Tuesdays. This afternoon or on the following day we could visit the museum in Jinka, which along with various artifacts has a lot of ethnographical information about the people of the Omo. We will spend the night at the Eco Omo Lodge.
Day 5:
We leave Jinka and drive to the Mago National Park. The park has a variety of mammals and birds, but the animals tend to stay away from the roads and sightings cannot be guaranteed. In the park we might see the following animals: elephant, buffalo, Grant's Gazelle, Topi and Burchill's Zebra, but only if we do camping.
The main attraction in Mago are the Mursi people, so we drive to Shembel, the nearest Mursi village and if we want to go further, up the escarpment to the Mursi villages there. The Mursi go in for body scarification and (among the women) the wearing of lip plates. We return to Jinka for another night in the Eco Omo Lodge.
Day 6:
We retrace our steps towards Key Afar (market on Thursdays, the people of Key Afar are mainly Ari and Bena), and then drive south towards Dimeke (market on Tuesdays and Saturdays), and Turmi, where we will stay at the Buska or Turmi Lodge.
We will use Turmi as our base for visiting other ethnic groups.
Day 7:
We drive to Murule, and visit the Dus, Korcho and Dassenech villages of the Karo people. Among the people living along the Omo, the Karo excel in face and body painting. Lodge in Turmi.
Day 8:
We head towards the Omo River, to Omo Rate, passing Kangate and the villages of the Bume people, going on to visit the Galeb villages. We will cross the river in a local boat and visit villages on the other side. Lodge in Turmi.
Day 9:
Today we visit the Hamer villages around Turmi. The Hamer are a fine looking people, both men and women take great pride in their appearance, shaving and colouring their hair, oiling their bodies and decorating themselves with beads and bracelets worn around arms and legs. If this day is a Saturday or a Tuesday, we would visit the market at Dimeke, which is one of the most colourful and interesting in the area. (Market days in Turmi are on Mondays). During the time we spend in Turmi, we will check whether there is a bull jumping ceremony in the vicinity. This is a right of passage ceremony for young men, marking their transition to adulthood. We will also check for Evangadi, or Hamer dancing ceremonies. Lodge in Turmi.
Day 10:
Today we set off on the return journey to Arba Minch, passing the northern end of Chew Bahir, and through Erbore (market day Saturday) and Tsemay. We will arrive at Arba Minch in the late afternoon. o/n Paradise Lodge.
Day 11:
Leaving after breakfast, some 40 km north of Arba Minch we will make a short detour to Chencha, the home of the Dorze people, known for their bamboo, bee-hive shaped houses and their fine quality cotton "shamma". (Market day Thursday afternoon.) We may take lunch in Sodo, and arrive at our destination, Hawassa, at the Haile Resort, situated on the lake. The owner is the famous athlete, Haile Gebre Selassie. Hawassa is a boom town, and for those interested, has a lively night life. (Slightly further on, and additional 2 hours' drive, but very quiet and relaxing, is Bishangari Lodge, on the eastern shores of Lake Langano).
Day 12:
For those interested in bird pictures, we can take an early morning visit to the fish market in Awassa, and get really close to pelicans, storks and other birds very much used to human company. After breakfast we set off back to Addis Ababa, arriving in time for some souvenir shopping. We will have a farewell dinner at the Yod Abyssinia (or another traditional restaurant), where we will have national food and see national dancing from Ethiopia's different regions.
For those leaving after midnight on Day 13, we can arrange day rooms.
Leave for the airport around 2200 for departure after midnight on Day 13.
Days 2:

Hilton/Sheraton Hotel,
Addis Ababa

Days 3:

Paradise Lodge,
Arba Minch

Days 4 - 5:

Eco Omo Resort,
Jinka

Days 6 - 9:

Buska Lodge,
Turmi

Days 10:

Paradise Lodge,
Arba Minch

Days 11:

Haile Resort,
Lake Awassa