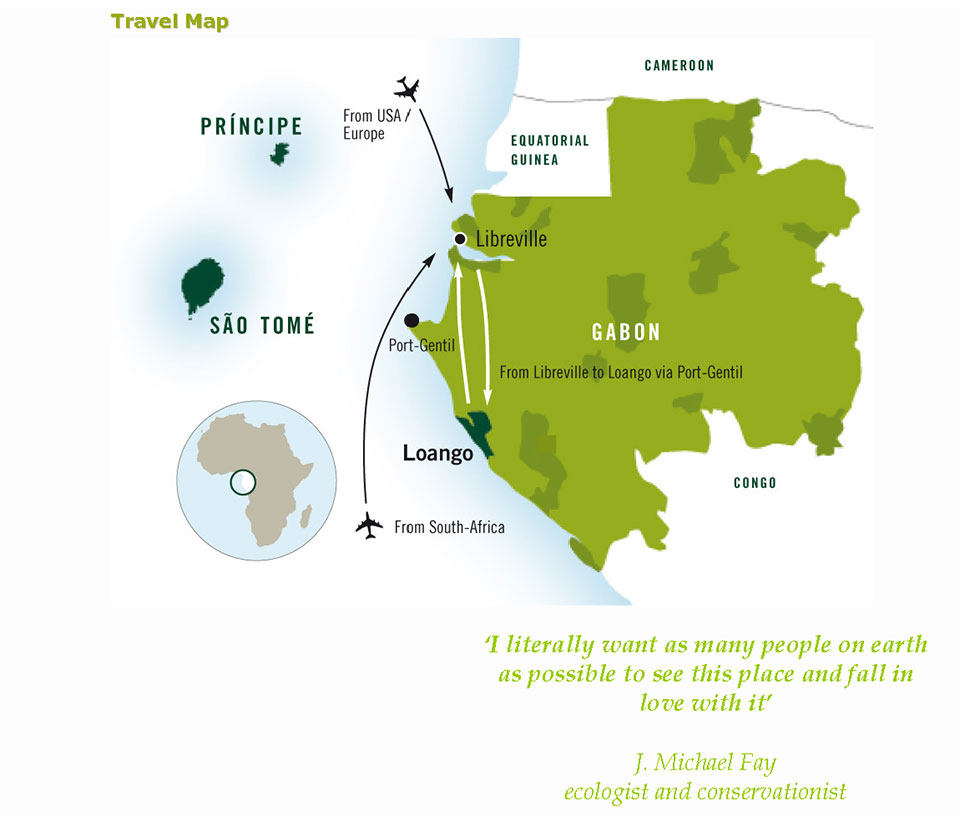 Gabon Attractions
Loango National Park
Do you know a place on earth where chimps and gorillas lope through jungle shadows within earshot of the pounding surf, where without moving your feet on the seashore you can watch whales and elephants, where the trails of nesting sea turtles mingle with those of buffalo, where in a single vista, your gaze may track across primal forest, shimmering mangroves, manicured savannahs, palm-studded salt marsh, endless lagoon and peopless beaches? Do you know a place where you can experience the mood of equatorial Africa in its wild state, frozen in time, where you can come to know how it all once was? You just found it: Loango National Park in Gabon.
This is a very primal unique, area in Africa. For those of you interested in experiencing the still untouched forests of Gabon and all her inhabitants, we have a way for you to see this beauty. A very small number of travelers are interested in this sort of adventure. If you are, now is the time to experience the untouched habitat of forest lowland gorillas, forest elephants and numerous game indigenous to this fantastic area!
Lekedi Park
An astonishing conversion project which has transformed an industrial site into a nature town over 14 000 ha of forest where a colony of wild mandrills is living. A gorillas' island is also accessible by boat. Only site in Gabon where animal watching is 100% guaranteed.
Lope National Park
A wordly heritage listed by UNESCO due to its unusual ecosystem showing ecological and biological evolution processes and its numerous petroglyphs showing human migrations and evolution through ages.