Diverse Namibia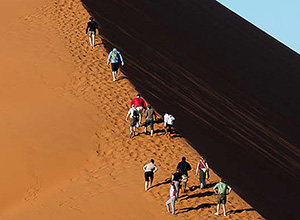 Duration: 10 days
Area: From Sossusvlei to Etosha and in between
Style: Wilderness Safaris camps
Comfort Level:





Diverse Namibia is a true adventure, taking in this vast country from Sossusvlei dunes to the Namib Desert, the Atlantic coast to the ancient Damaraland plains and Etosha's wildlife.
This Exploration takes in the soaring red dunes of Sossusvlei, the life-filled blue Atlantic Ocean, the desert and denizens of Damaraland, and the plains game and predators of Etosha National Park. As we journey between destinations the spectacular landscapes are revealed, completing this fantastic adventure.
Highlights:
Exclusive accommodation in private reserves and concessions and private access to Sossusvlei.
Activities include game drives, scenic walks and visiting ancient rock engravings at Twyfelfontein.
Track the rare desert-adapted elephants, following ancient paths to their freshwater springs.
| | |
| --- | --- |
| Day 1 - 2 | Drive from Windhoek to Kulala Adventurer Camp, Sossusvlei |
| Day 3 - 4 | Transfer by road to Swakopmund, Hansa Hotel |
| Day 5 - 7 | Drive via Cape Cross seal colony to Damaraland Adventurer Camp, Damaraland |
| Day 8 - 9 | Road transfer to Andersson's Camp, Ongava Game Reserve |
| Day 10 | Drive to Windhoek |
Detailed Itinerary
Days 1 - 2:
Drive from Windhoek Airport to the private Kulala Wilderness Reserve, Sossusvlei. Spend time on the iconic red dunes as well as scenic drives taking in the unique wildlife that survives in one of the world's oldest and most arid deserts. We stay at Kulala Adventurer Camp.
Days 3 - 4:
Transfer by road, taking in spectacular scenery to Swakopmund, a picturesque town with an eclectic mix of European and African culture. Nights are spent at the Hansa Hotel, which forms part of city's architectural heritage. We explore the ice-blue Atlantic coast with a "Dolphin and Seal" catamaran cruise from Walvis Bay (weather permitting).
Days 5 - 7:
Travel up past Brandberg Mountain (second-largest monolith on earth) via Ugab Save the Rhino Trust Camp for lunch to Damaraland Adventurer Camp. Game drives and nature walks showcase the stark desert beauty and its fascinating desert-adapted wildlife and incredible geological formations.
Days 8 - 9:
Transfer by road to Andersson's Camp in the private Ongava Game Reserve on the boundary of Etosha National Park, the highest density wildlife area within Namibia. In the former and the latter, we experience the pinnacle of game viewing.
Day 10:
Driving south, we return to Windhoek at 13h00 where the adventure ends.
Days 1 - 2:

Kulala Adventurer Camp,
Sossusvlei

Days 3 - 4:

Hansa Hotel,
Swakopmund

Days 5 - 7:

Damaraland Adventurer Camp,
Damaraland

Days 8 - 9:

Andersson's Camp,
Ongava Game Reserve