Huab Trails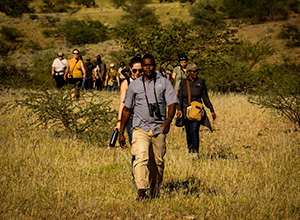 Duration: 4 days
Area: Huab Conservancy in Damaraland
Style: Walking Safari, Sleeping out
Comfort Level:





As we continue to expand our own product offerings in Namibia, all with a strong commitment to help preserve wild places through impact investments, we are delighted to introduce our newest venture Huab Trails.
Based out of the already popular and successful Huab Under Canvas, Huab Trails embraces the ever-growing desire by guests to be physically active when on holiday, and to experience more of the natural world on foot. Huab Trails is a multi-day naturalist guided walking adventure which has been designed to be an optional element of a three night stay at Huab Under Canvas when that is part of an Ultimate Safaris guided or fly-in safari. When this is requested, the first and third nights will be spent at Huab Under Canvas, and the middle night will be at Huab Trails, sleeping out under the stars in the form of our own Stellar Escape.
Walks vary between 8 – 12 km per day with multiple Trail Treats set up along the way, ranging from picnic lunches and hammock siestas to strategic desert lemonade and ice cream stops. Designed to allow guests to really reconnect with the natural world, Huab Trails also aspires to provide unlikely and surprising experiences which will create lasting impressions.
Our tribe of magicians and naturalist guides ensure life enriching experiences, all whilst exposing guests to the true raw beauty that Namibia offers when having the luxury of travelling on foot in an unfenced and visually stunning wilderness area.
| | |
| --- | --- |
| Day 1 | Arrival in Huab Under Canvas |
| Day 2 | Experience rhino tracking and enchanting night under a billion stars |
| Day 3 | Complete the trail and have a final night back in Huab Under Canvas |
| Day 4 | Departure |
Detailed Itinerary
Day 1:
Arrival in Huab Under Canvas on Day 1 would typically be in the late afternoon, in time for a sundowner and campfire briefing.
Day 2:
Day 2 would start with rhino tracking, after which guests set off on their first day of walking to Huab Trails, arriving there in time to freshen up for an enchanting night under a billion stars. Our unique open-air retreats offer crystal clear skies with nothing between you and the brilliant stars of the Namibian night sky, where satellites, galaxies, shooting stars and the occasional significant meteor can all be seen with the naked eye. Your guide will be on hand after a sumptuous campfire dinner for a fascinating astronomy tutorial before you retire for the night.
Day 3:
An early rise on Day 3 will have you back on the trail and you complete the trail when you return to Huab Under Canvas in the late afternoon. You then have a final night back in camp before departure the following morning after breakfast.
Day 4:
Departure.