My 21 day run through South African and Mozambique
April 27 - May 18 2016 Trip Report
Part Three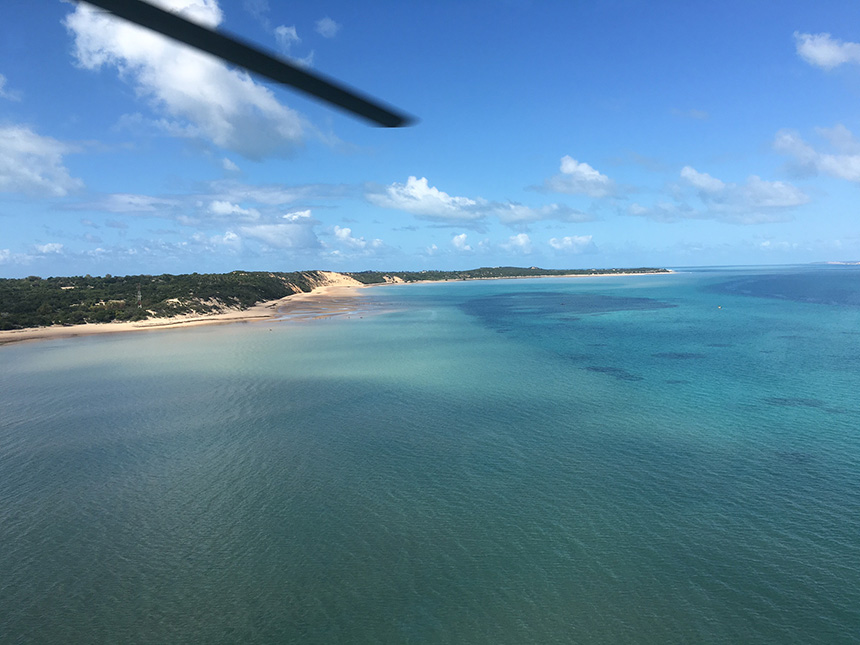 Next Stop Mozambique!
I stayed in 3 different 5 star accommodation out of Vilanculous. I dove in the area that Anantara Bazaruto, &Beyond and Azura resort on Benguerra Island share called 2 mile reef.
Anantara offers a free boat transfer with their packages. &Beyond and Azura require a 10 min helicopter flight to/from Vilanculous at an additional charge.
Anantara has a great dive team and took me out to find the best diving on a windy day with big swell and high seas. 2 mile reef is the closest reef from both islands. They have a great dive shop with good scuba pro rental gear.
Even with surge due to the big seas, we had a great dive on the outside of the reef next to it. We were out of the current in a protected area. Some hard corals, a HUGE adult green sea turtle very relaxed, they see many green sea turtles in this area! A lot of surgeon fish, fusiliers and other big schools of fish! Some coral bleaching prevalent here with El Nino, however now starts winter with cooler water temps, all will be fine!
Another dive was at the famous 'Aquarium' on the inside of 2 mile reef. This was a most amazing dive abundant with large schools of BIG fish! They bring snorkelers here as it is very protected with a lot to see!
Vis can vary here due to wind and sea conditions, in the winter is when they have the best vis (May thru September) often seeing up to 90 ft. A variety of marine life, Giant Trevally, surgeon fish, fusiliers, many colorful angels, butterfly fish, flathead crocodile fish, a school of bait fish. Some nudibranch and slugs.
The highlight here were the striking golden mobula manta rays. I have never seen this color before, golden body with dark outer edging. They are quite small compared to most devil rays I have seen around the world, they call them devil rays. They were so very graceful and slow moving, just beautiful! You could get quite close, they made big circles in the Aquarium and continued to bank and return. I was doing my normal 'Cindi chatting' underwater like I do with the Mantas and Whalesharks! They love it and kept coming back! My 2 dive masters have never seen them do that before!
I said all you have to do is talk to them! They get so curious and they keep coming back! Which they did about 4 times for us!
Some other marine life they see here are dugongs (wow), dolphins, reef & zambezi sharks, whalesharks and humpback whales from July thru October.
If conditions are favorable, they also have 5 mile, 9 mile and 12 mile reefs. There are many dive sites at each reef structure.
All of the resorts on the islands can dive these reefs if conditions are good!
I loved staying at &Beyond Benguerra, it is really all about chilling and enjoying your amazing villa! They are spacious, you have your own butler to look after your every need! The staff wonderful and extremely helpful. Food is outstanding, you can eat your meals at your own villa or on the sand in the main area, whatever your heart desires.
They have great activities; I went bare back horse riding on the beach early morning before I flew back to Vilanculous. It was so beautiful, these 7 horses on the island are part of the famous real life story and book: One Hundred and Four Horses: A Memoir of Farm and Family, Africa and Exile. By Mandy Retzlaff.
They love to swim, especially my horse! We had a wonderful hour on the beach and in the sea. Charlotte looks after these 7, she took me down the beach so I could visit and site inspect Azura Resort!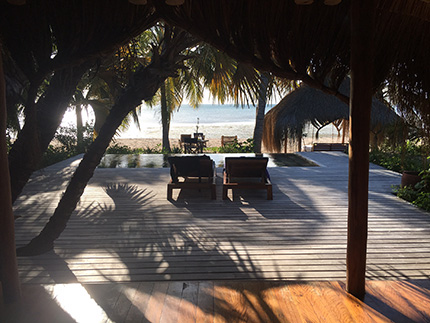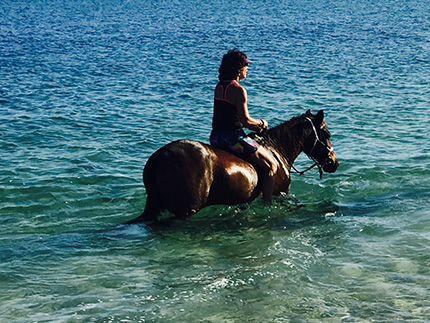 The resort also offers SUP, fishing, scuba diving and snorkeling and local dhow boat rides! All amazing to experience then head back to your dreamy villa!!!
Azura is also stunning and very 'elegant beachy' style! Gorgeous villas, offering different levels of accommodation! Also an amazing activity center, kayaking as well as all that &Beyond offers.
Next I was off to Villa Santorini on the mainland north of Vilanculous for 1nt again. A real life Greek Villa transported to a beach in Mozambique! This may be one of the most beautiful villas I have ever had the pleasure of visiting and joy of staying in!
No cost has been spared by the owners in all aspects of this villa. It offers 5 different bedrooms as part of the main house with a separate building called The Chapel, splendid for honeymooners or that very special occasion! The art and décor will take your breath away! The views are out of this world as it sits up the hill with an easy walk to the beach. The dining element of this villa is premier, the chef outshines himself! I was amazed at the freshness of the ingredients and learned they grow their own vegetables! I had an incredible dinner with the manager who himself is a chef! I marveled at the calamari salad with crispy onion, the ultra-tender Fillet of Beef served with a very unique flavor!
The Villa offers many activities for families also! SUP, Kayaks, water skiing, fishing, also a full day visit to a private beach on Bazaruto Island! This is an amazing place to just kick back and enjoy the stunning villa and all her incredible art and majesty!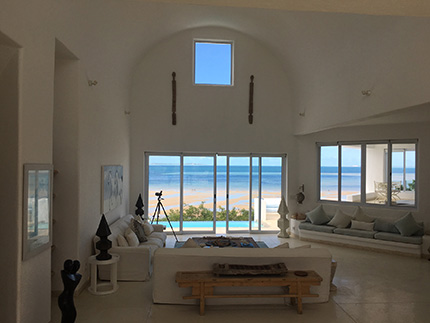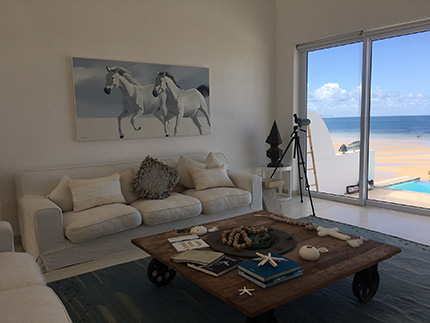 Next stop North Mozambique to Nuarro Beach Resort, finally I will be somewhere for 3 wonderful nights!!! Hooooray! I fly from Maputo to Nacala, approx. drive time about 3hrs! WE are definitely in the middle of nowhere on a lovely bay! From all the 5 star places I have stayed, here was a welcome change to a full on, full stop ECO- resort! The entire resort is run on solar energy including the dive compressors! Toilets are compost with ash. This is stellar engineering, perfect with NO sewage issues and NO smell!
The resort is so clean, neat and tidy. The cabins are spacious comfortable with excellent hot water showers, filtered water in the room. Front and back door open with screens and a fan offer great breeze. The dive shop is well laid out, good dive equipment and even a rebreather tech master for those inclined!
I was able to do 3 dives a day here! The water clarity in North Mozambique is excellent. There is a completely different 'line in the sand' when it comes to south and north Mozambique in terms of the diving, coral structure , water temp & visibility.
At Nuarro, they have a small bay they are in, they own the land from one side of the resort where the main area for breakfast, lunches and activity center is. Then 12 beach chalets line the beach and at the end is the dinner restaurant/bar a total of 1 kilometer long! You better enjoy walking as that is what you must do to get to and from your chalet to one side or the other. I loved it, however some folks with knee issues may not enjoy it so much.
The food here is also outstanding, I am so impressed by all the great chefs in these remote places!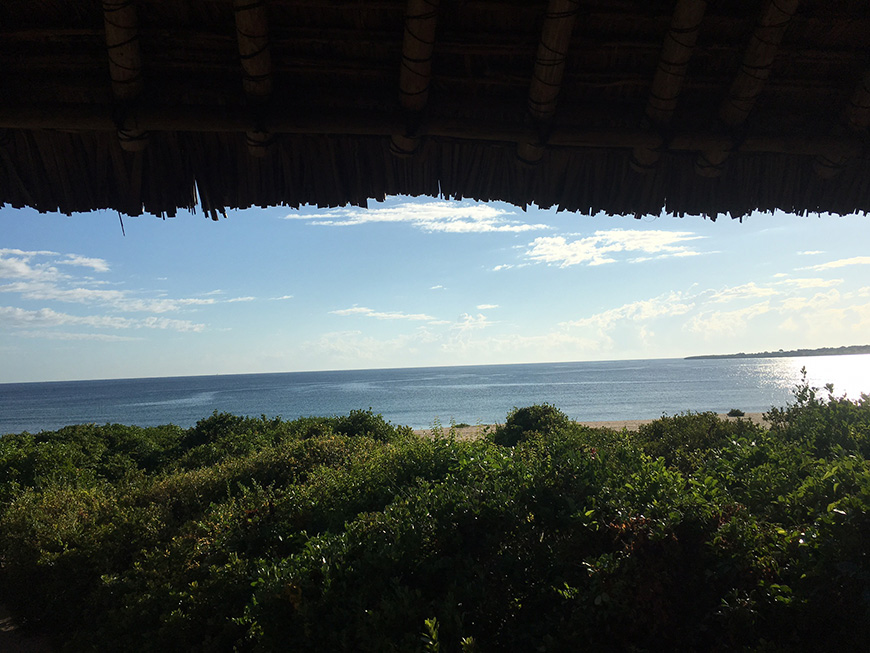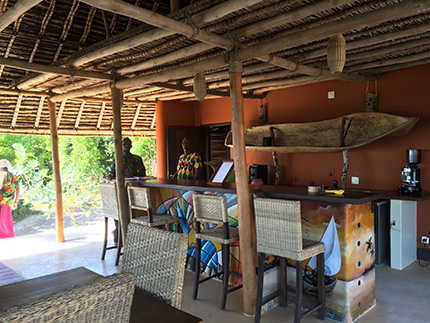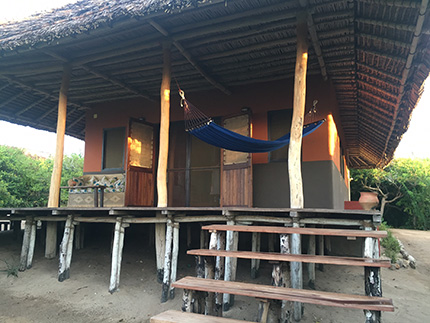 The resorts small bay is a reserve with a drop off, only a short swim off shore. Sea grass in the shallows offers great sand muck diving! We found lots of wonderful creatures in this haven! I wish I had more time to explore here!!
Our dives for my first day were long and warm in clear 82F water! Gorgeous hard coral gardens, I did not expect this at all! Gorgeous u/w pinnacles, loads of pristine cabbage coral layered down the slopes. A lot of different bubble coral I had not seen before, nudi's and flatworms. Shallower near the surface a lot of bait fish, glassy sweeper, shrimps, jacks, fusiliers and in mid water, a long necklace of pelagic tunicates!
Gorgonian Forest was a spectacular dive with a forest of giant Gorgonians layered in a rainbow sea of colors!! It went on forever, there must have been hundreds, I wanted to continue down that wall forever, stunning!
Some sites did not have a lot of fish as the locals set nets out every day near to shore. The fish don't get very big, shame. However then on other sites, there would be a lovely parade of fusiliers and surgeon fish, I did not understand how that happened! Happy it did!
A great site called Lobster Cove outside of the bay in deeper water had lots of schools of fish, file fish, a Saron shrimp family in fire coral in the day!! Yipeee I never get to see them, normally they only come out in the night, what a treat!
Other site offered a red leaf fish, different shrimp, copepods on barrel sponges, sea slugs and nudi's. Yarra is working as dive master/guide with her partner John. She is working on her PhD in the Nudibranchs of Mozambique! She was great fun and we bonded as we hummed along diving and her finding new specimens to put in her secret yellow nudi holder

.
Sure enough, she is squealing u/w when she found this dot of a nudi on a piece of sea lettuce. Later than day, she showed him to me under the microscope moving in the water! How the heck she saw that is beyond me!
The house reef is fun and just a wonderful way to while away some hours of the day, not too deep and just poking around and finding all sorts of shrimp, Yarra found a big seahorse who just had babies!!! She had taken some pics of him and we could easily see where his belly just deflated and the hole was still prominently showing! She found a smaller seahorse near by! What fun!!!
They have a mangrove area north of the resort they took me to, very lovely area down a river. WE did some diving around there also. Yarra had made a Manta Board that they use to look for new dive sites, you only need mask and snorkel and fins arms on the manta board and you can push it down to go under water more to see the reef, very clever and fun! So I did a lot of this and we stopped to dive. Right away she finds the Mozambique Pipe horse, gorgeous!! A great mix of a dive site; sand, sea grass and coral heads!!
When we came up she realized we missed the actual dive site. So she named a new site after me "Cindi's Pipe", pretty cool!!
Thank you my friend Yarra, I will miss our play time in the sea looking for nudi's, seahorses and surprises!!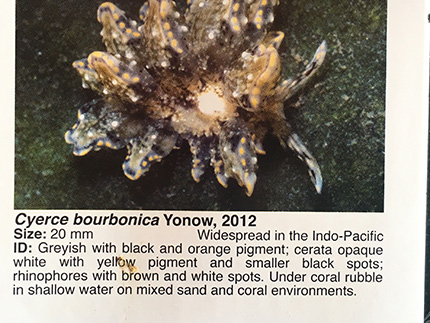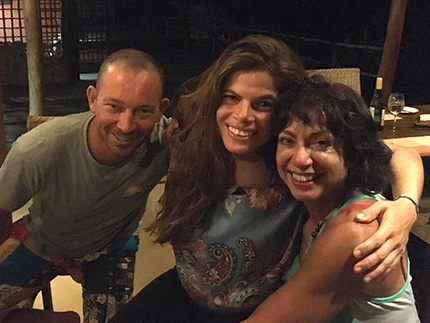 Sadly I had to leave my new friends at Nuarro for another long drive to get to my last stop in 21 nights, Coral Lodge!
I was only able to enjoy about 12 hrs at this GORGEOUS lodge across from Ilha de Mozambique (Mozambique Island) is an island in the Nampula Province in Northern Mozambique with a historical heritage that's unmatched in the rest of Mozambique, and indeed the rest of Africa.
The lodge offers diving also in the channel were supposedly there are a lot of big fish since the water is deep. They dive the sloping sides with coral and marine life! I will have to come back when I have more time!! I would love to spend some time in this area with the history, the lodge and the diving!
My 21 day run through Africa has come to an end… now for the 40 hr slog back to San Francisco!
My heart lies in Africa……..
Cindi LaRaia