My 21 day run through South African and Mozambique
April 27 - May 18 2016 Trip Report
Part Two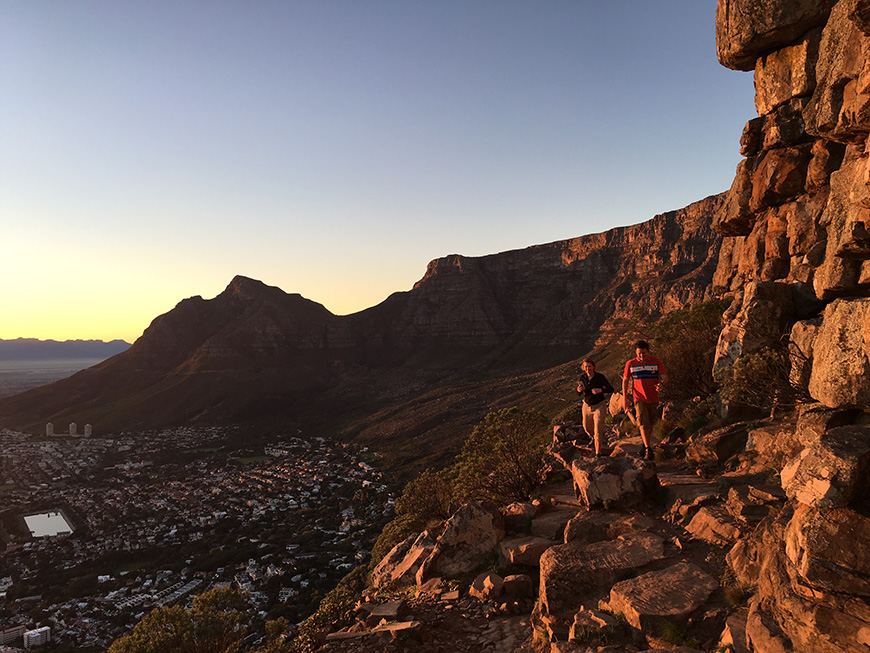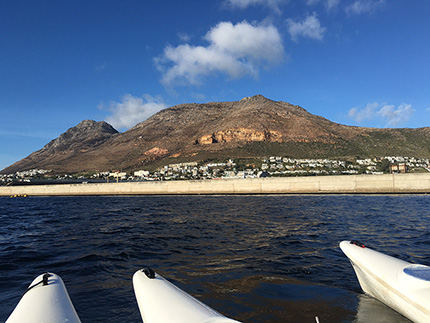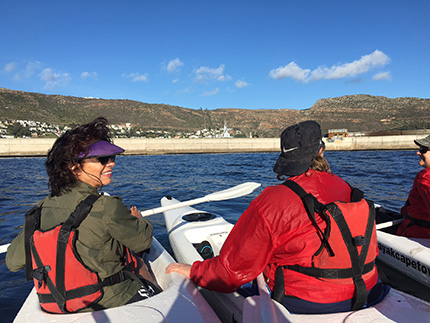 Next Stop Cape Town!
Next stop Cape Town! 1 nt in a new accommodation in all the different areas of this favorite City of mine for 5nts! Plus all the early morning activities our operator was offering prior to the big trade show! Normal guests would not have to get up quite this early to do them, thank goodness!
I also had to be packed and bags ready each morning so my guide could get me to my next hotel to get ready for a full day of 'sight inspections'.
I have been to Simons Town many times with my groups as part of the Cape Peninsula tour, and for our Great White Shark tours!
This time I did the amazing sea kayak with a guide to see the African Penguins! So fun to be on the water and get a totally different perspective! Awesome! This is easy and a wonderful way to get out of the vehicle and enjoy some exercise and be this gorgeous environment!
After moving to the next lovely hotel, meetings with suppliers and dinner on the trendy Kloof street, I had to be up O dark early for a wonderful SUP (stand up paddleboard) activity! What a blast to arrive at the Cape Town waterfront in the dark, and watch the sun come up as we paddled in the quiet glassy canals, dreamy!
Six more site inspections today to see amazing hotels & guest houses, astounding how many new unique places keep popping up all over Capt Town!
Next O dark early morning was to hike Lion's Head Mountain, which is right next to Table Mountain! What took me 20 yrs to do this??? Forget Table Mountain, this is a wonderful any- time hike!!! It winds its way in a 360 degrees circle up the mountain. The views are breathtaking to see Cape Town wake up! Another true highlight, you can really get a feel for the lay of the land now when you do this hike! It can be a bit confusing on the directions of certain parts of the area ie. Cape Point, the waterfront, 12 Apostles, Bantry bay, Camps bay, signal hill, downtown, even Stellenbosch etc. It is all perfectly laid out on this hike!!! A brilliant way to get your bearings!
After my hike, I met with an amazing guide for a very special downtown City History walk. I learned so much from him in 2.5 hrs which again, tied in all that I had read and learned over the last 20 years of coming here. I will be using him for our Cape Town guests as part of their activities, a must do!
One of my favorite hotels I visited was in Hout Bay, is Tintswalo Atlantic! Only 20 to 30 min to the waterfront and yet you are in a different world! The most stunning view in all the Cape, it gets my vote!! I inspected loads of amazing accommodation to suit all budgets and interests!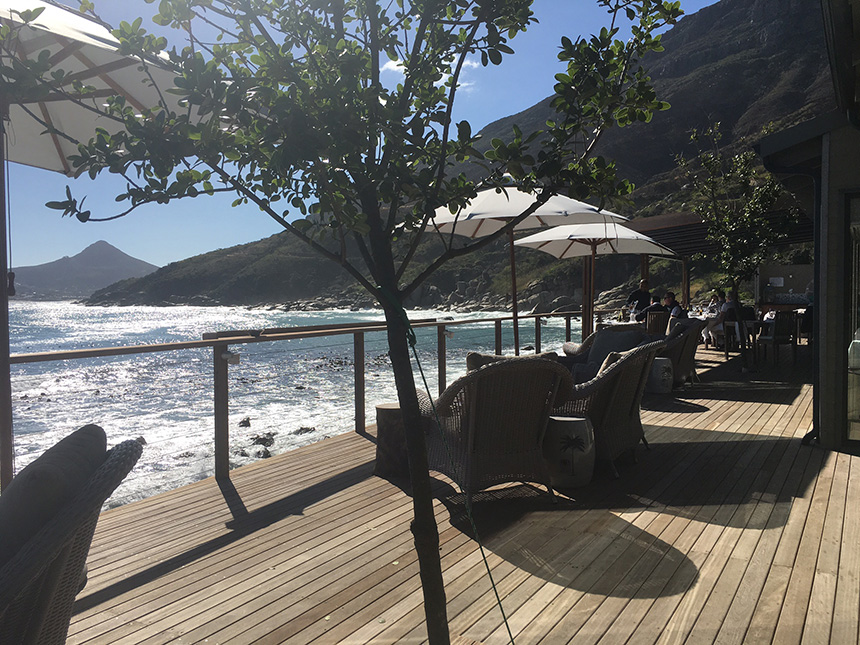 I now headed to another favorite area, winelands.

I stayed one night and visited many more guest houses and small hotels I had not seen before. Another highlight for me was a historical 4hr walking tour in this amazing small town. I had been here countless times but this lovely women, made all the difference! We learned about how the town came to be in the early 1700's on a lovely historic walk. We became foodies on foot, visited an artisanal bread/pastry shop and gathered some amazing breadsticks, we went to a historic butchery and purchased some biltong and droewars learning how they were made, then went to an excellent little wine studio sat outside as they did a wine pairing and pouring with our breadsticks and biltong! FANTASTIC!!! We then carried on to Oude Werf hotel which is where I stayed and they served up a trio of traditional Cape dishes. Bobotie, chicken pie and snoek fishcake, delish.
After that we went across the street to try indigenous teas of South Africa. Rooibos, Honeybush Buchu served with traditional rusks. They offered a desert platter with a variety of lovely classic cape deserts! What a lovely day!
Next day off I went to stay in Franschoek after 3 more site inspections at the most posh wine estates in the area, Delaire Graff and Mont Rochelle and a lovely small guest house! There is something for everyone in this amazing country! All well run with only guest satisfaction in mind!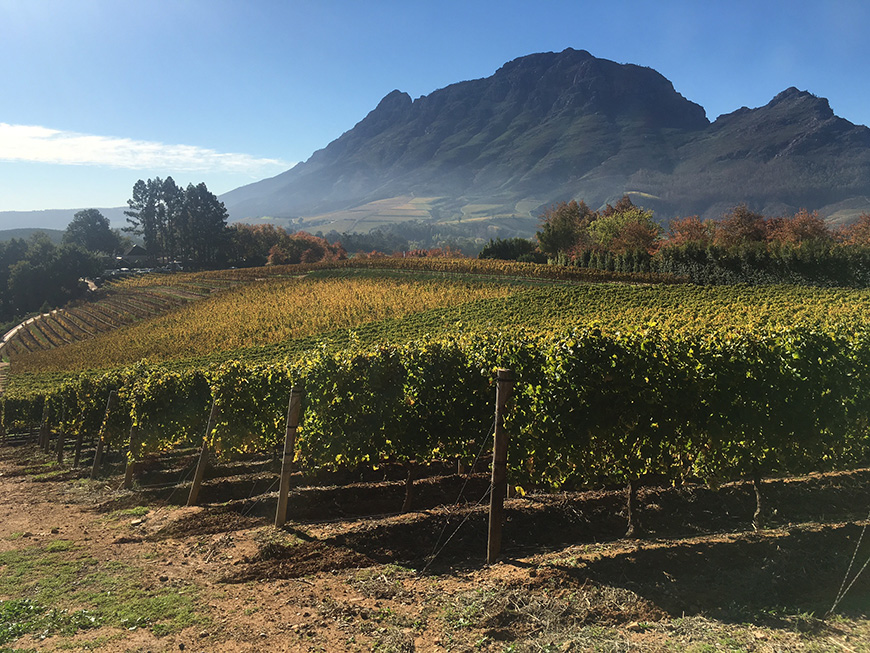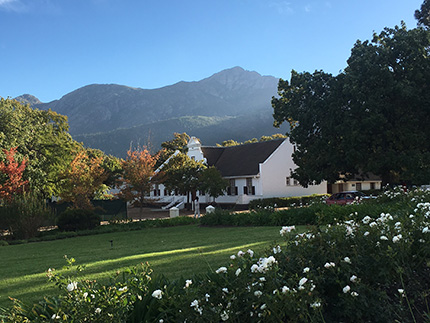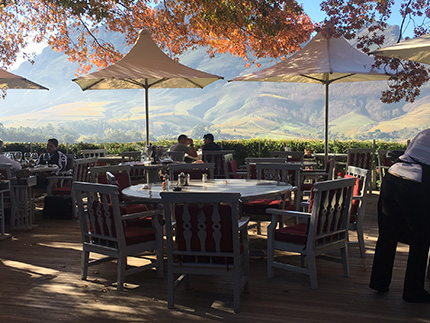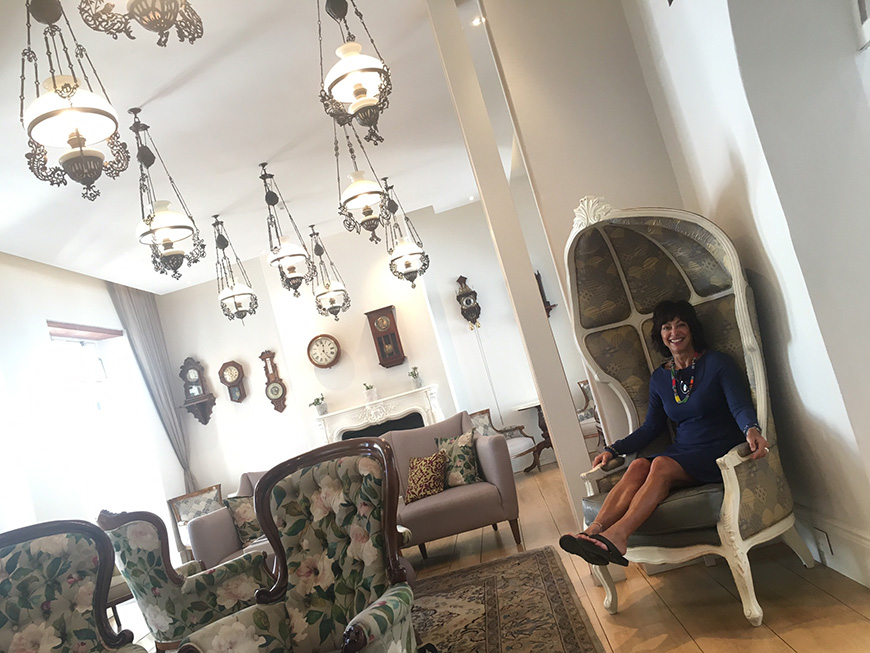 I stayed this last night at the all new Leeu House, it is next door to Le Quartier Francois. I loved Leeu House!!! A stunning small 5 star gorgeous boutique hotel right in the middle of town! The chef here is one of the top in the winelands area, I had a 6 star dinner in the Conservatory, bubbles, wine, a full dinner resplendent with desert! I was in piggy heaven. The back drop are the rugged peaked granite mountains that turn red with the setting sun. A lovely al fresco patio to have wine near the pool and gardens and watch the colorful show begin. My room was perfect and received high marks on my inspection sheet! Not so mention it is in my favorite town in winelands!!!
** Not to mention the pricing is outstanding with the low value Rand vs USD about 14 to 15 to 1 USD!!! It does not get much cheaper than this, you can eat and drink like a king & queen for a modest price!
Off to Durban to attend my annual Indaba Industry trade show for the next 3 days, meeting with our varied Africa suppliers.