Ultimate Namibia Under Canvas, April 4-13 2019 Trip Report
Escorted by Cindi LaRaia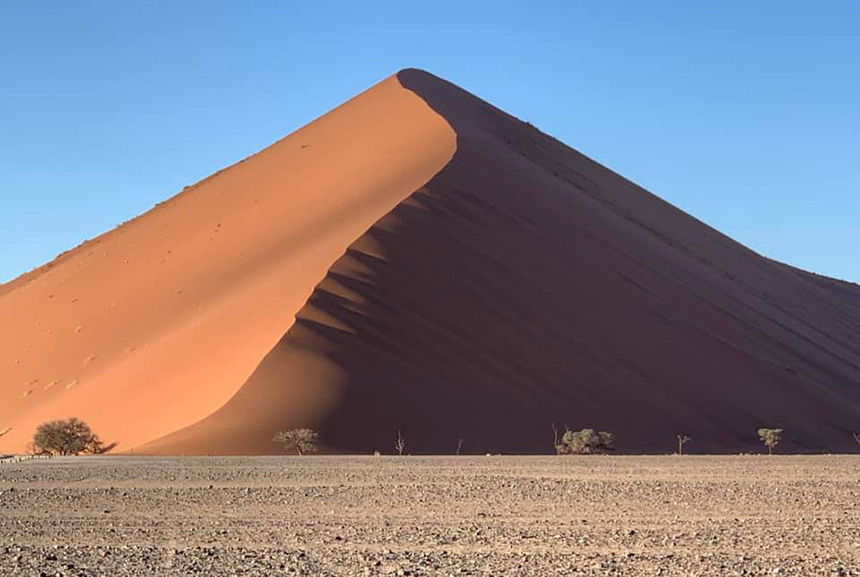 Ultimate Under Canvas April 4-13 2019
Tree Tops Onguma reserve, Etosha - 3nts
We started our long drive from Windhoek with a total of 6 of us guests and our guide Johann to Okongima / AFriCat for rehabilitated Cheetah and Leopard. They have a large 20,000 hectre area to rehab and allow the cats to live safely. Some can go back in the wild but most do not. They get killed by farmers or leopards, they are safe in this area. Habitat for wild cheetah is diminishing at an alarming rate, again the Human ~ Animal conflict.
Arrived at our first camp Tree Tops, Onguma in East Etosha National Park for 3nts. A wonderful small 4 chalet camp, rooms open to the close by water hole, great viewing, we had a leopard at night, elephant, giraffe and antelope, Sand grouse and tarapin!
Full day game drive in Etosha park; loads of giraffe we call them a Journey of Giraffe, a dazzle of Zebra; many of them, several large bull elephant painted white from the saltpans & sand they dust in! Abundant Impala and Springbok. Another fabulous dinner by candlelight overlooking the waterhole!
Next morning drive in Etosha, we followed 7 or 8 lovely giraffe on the road; 3 lion, mom and 3 cubs! We did see the kill of a kudu from a leopard but she moved it out of site. We never saw the leopard. several Kudu at waterhold, and 3 damara dik dik.
I have never witnessed this; early morning, the zebra love to play and make a dust bath! They were playing and active and having fun!
Afternoon game drive in Onguma offered us 3 Cheetah, mom and 2 cubs! Then we ran into a mother lioness and her son!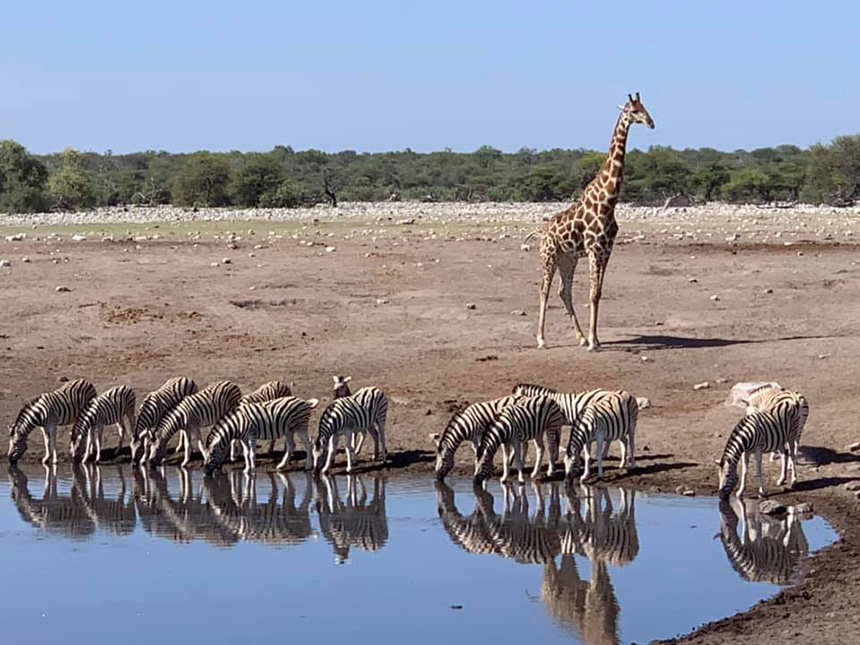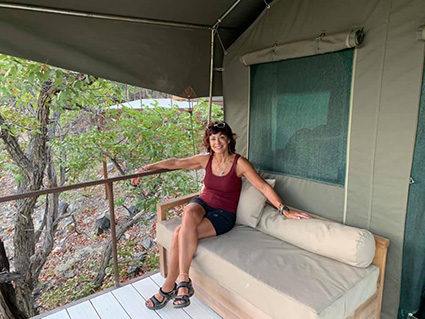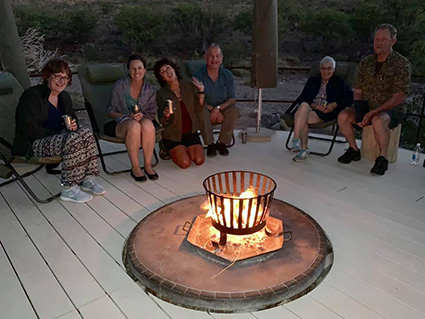 Huab Under Canvas ~ 3nts
Another beautiful epic drive among the granite and mica rock formations, arriving at this STUNNING camp in a partnership conservancy with the local people; a wonderful success story as they are now able to help support 2 rhino ranger stations to daily monitor and keep safe the valuable black rhinos in this area! They (Ultimate Under Canvas) were able to give money the first year to the local people as the camps are easy enough to build with no loans or inventors! What a concept! These are simple- chic rustic in my opinion, comfortable, bucket showers, all solar powered with all the comforts you would ever need, not to mention beautiful! Dining is a delight, amazing dishes cooked over fire stoves including the bread!!! Ala natural and Avant guard!
This is MY kind of glamping!! I adore this camp! Set high up on stilts overlooking the Huab River, the setting is peace and tranquility, a slice of heaven! Everything is solar powered again!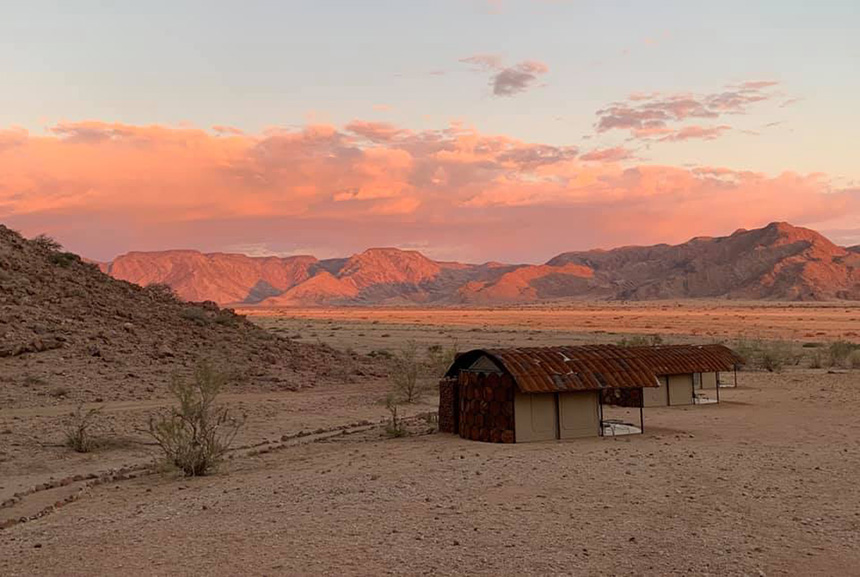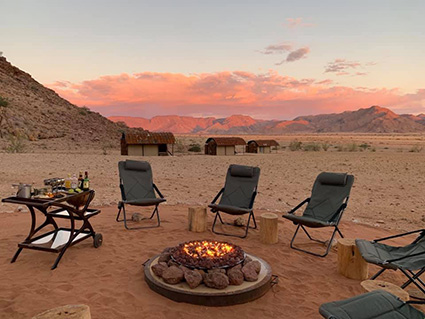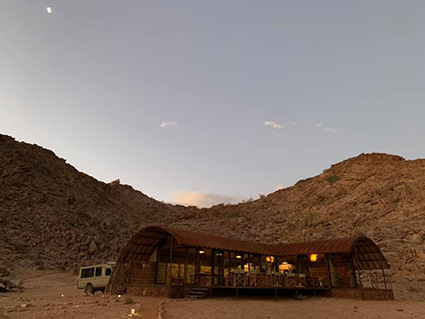 We set out in the morning on a Rhino track expedition with the near by Rhino Ranger camp, they check the water holes early am for tracks and were able to find a mom and her calf, what luck! We had to keep our distance due to the new calf so they would not get stressed. It was wonderful to see happy healthy rhinos in the wild! They do, dehorn some, but they grow back in 5 yrs time.
As I mentioned before, if you need to get away from it all, in a simpler rustic chic atmosphere, this is the place to go! Really this is to the ends of the earth and beyond!! Walking in the dry river bed offers fun animal tracks, geology heaven with amazing views of mountains surrounding you!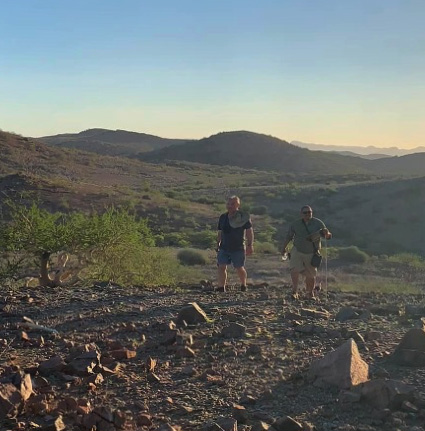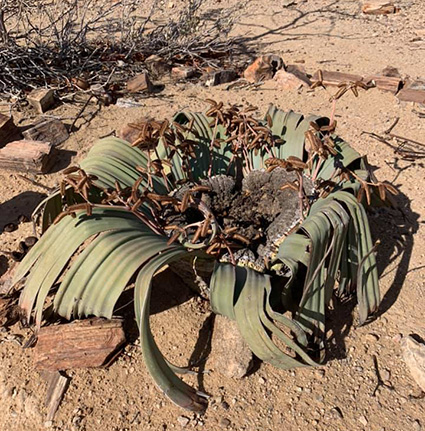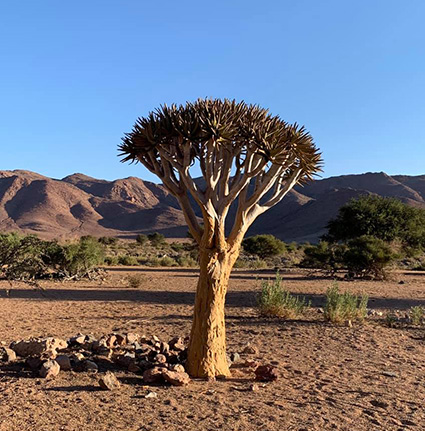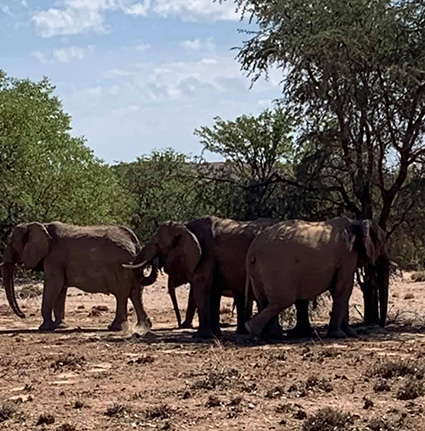 Drives offered, kudu, my beautiful Heartmans Mountain Zebra, ostrich, oryx and springbok! They had a short brief rain the week before which we were blessed with fresh bits of grass for the game and flowers blooming on the wild trees of varying species! Lucky us!
Full game drive next day to track desert adapted Elephants, we headed south and found a beautiful herd of 11 plus a young bull trying to find a girl.
We were very close to Twyfelfontein where they have lovely petroglyphs, we had a nice walk through the beautiful rocks to see the etchings dated 2000 to some 6000 yrs ago! I love this stuff!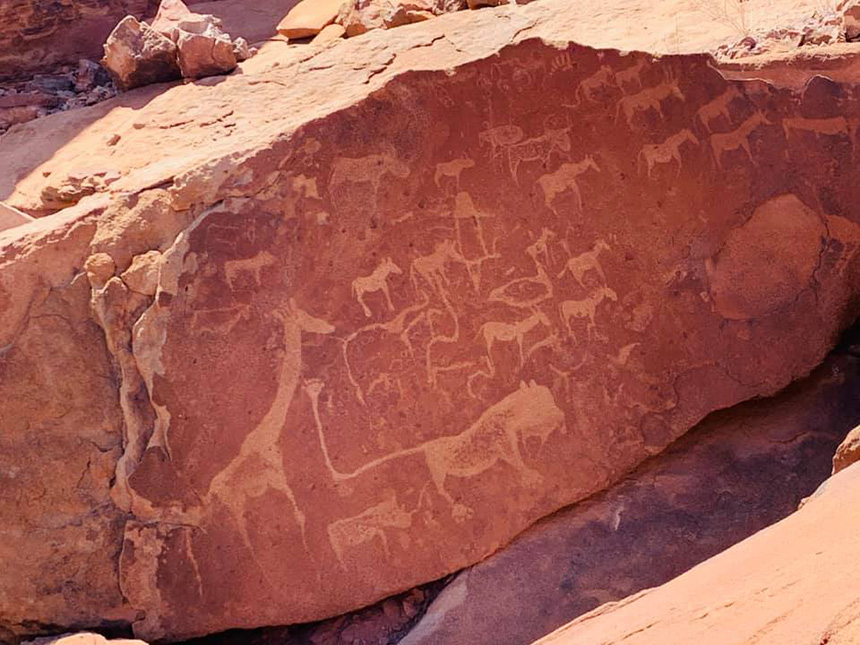 Early as we left camp, Johann spotted to black rhino! WOW, then a dazzle of mountain zebra, giraffe and kudu! What a great start to our day! After the rock art we stopped by the petrified forest to see these amazing trees that came down in a flood after the last ice age from central africa, some 260 to 280 million years old, amazing history!
Sadly our last night at Huab Valley camp, on the road to Swakopmund to stay at the beautiful Desert Breeze Lodge!
Wow, this lodge is placed on the edge of town, our own colorful casitas overlooking the dunes! Stunning again! Dinner at the famous Tug Restaurant at the pier, was superb!!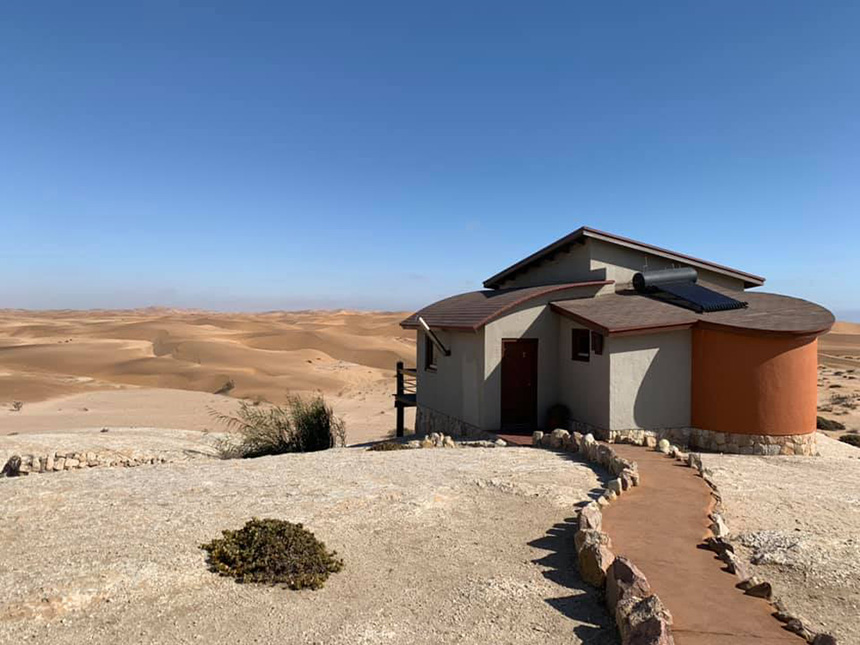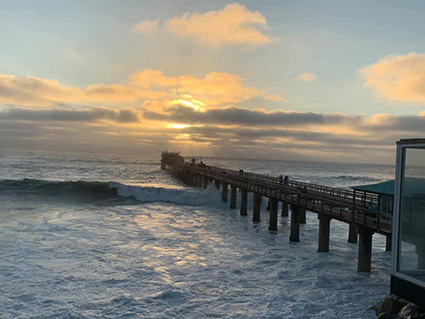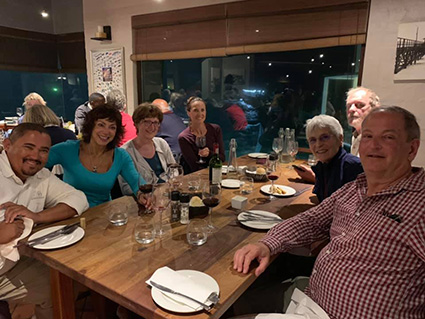 Sosuss Under Canvas ~ Sossosvlei
Another gorgeous scenic landscape changing drive throuth granite and quartzite, to yet another stunner camp!! So clever the designs they have come up with to blend and work with the locations they are in! Whoever dreamed steel oil drums could be so chic?
Stopped in Solitaire for the famous Apple Crumble from McGreggors bakery! Yum!
8 wonderful canvas chalets, with a stairway up to your very own starbed! They also offer an outdoor day bed under cover, how clever! This is a windy area, hold on to your hat! They offer cycling with the new wider tire for mountain and gravel terrain! Our fun guide Victor took us around.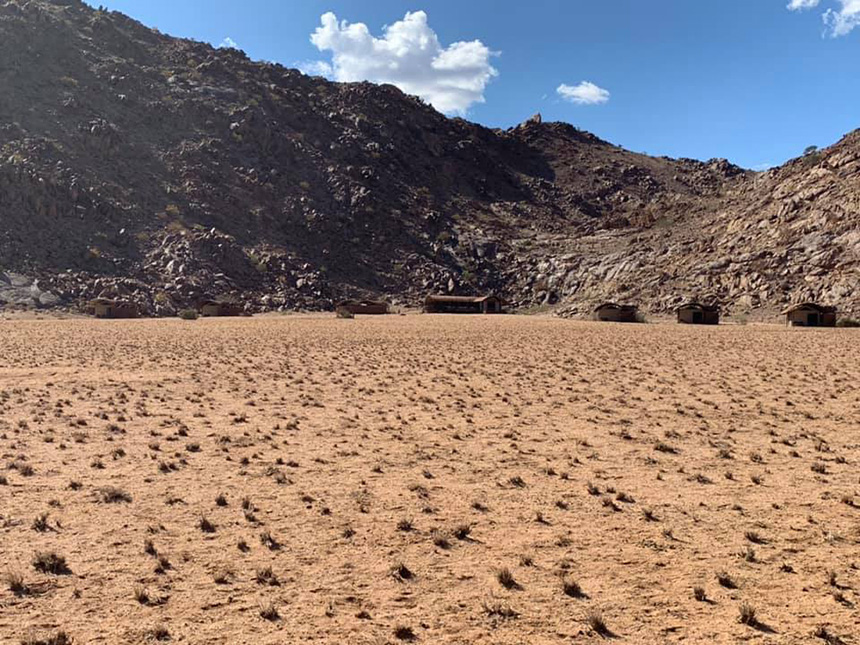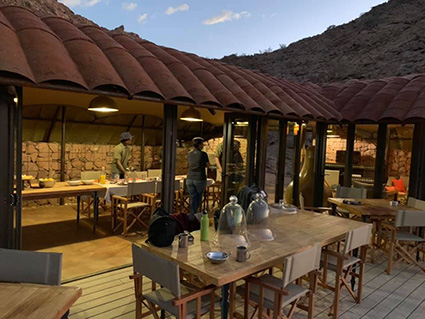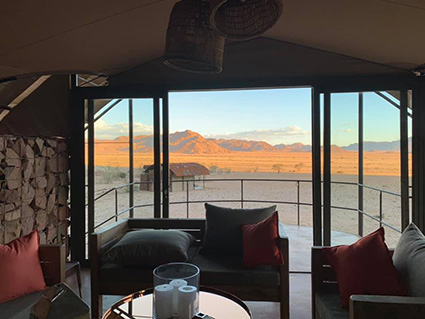 Next morning full day to Sossusvlei and the hike on Big Daddy, this was my 3rd time and loved it so much! It is a challenging hike and I recommend to go first thing as the gates open, less people and still cool. The fun is running down the tall steep dune as your reward; the feeling is like you are on the moon, the sand so fine and soft you sink in without hurting any body parts, a fun way to float down this tall steep dune! You then arrive to the stark white dead vlei with all the centuries old dead trees and work on your creative photo skills with the tree shadows! Such a starkly gorgeous place!
The history of how these dunes were formed many years ago is a bit remarkable, they started from the Drakensburg mountains in Zululand in South Africa; wind and erosion took them to the atlantic ocean, the Benguela current took them up to Namibia and the wind deposited them at the shore, over millions of years you have this amazing dune desert that goes on for miles!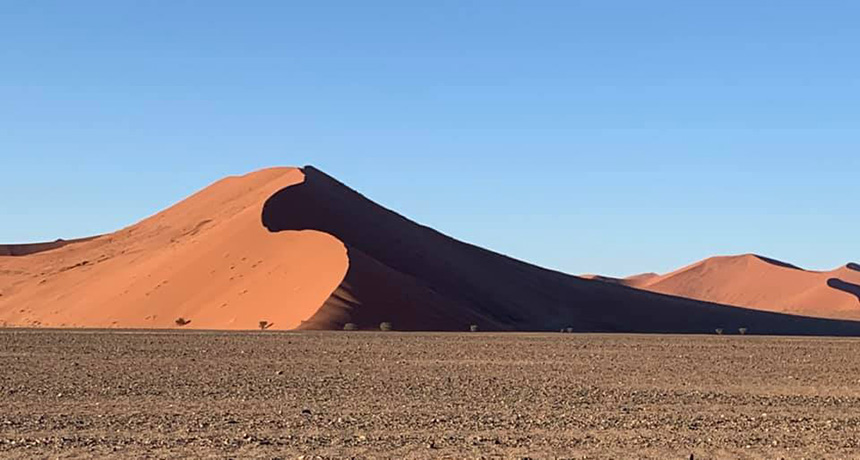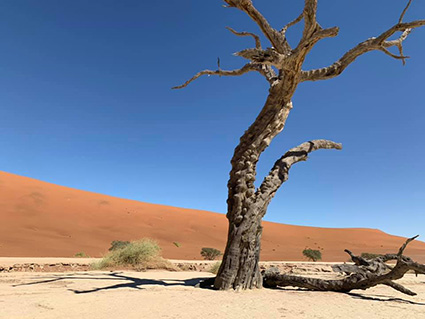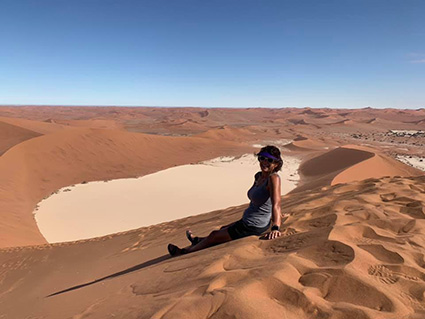 We hiked another unique gorge with lovely geology before heading back to our lovely camp; surprised to stop buy an above ground pool made of rock, ice cold water somehow, towels and umbrellas waiting for us. 3 of us hot and grimy jumped in clothes on, the best cold water dip ever!! Took all that hot grimy pain away!
We were surprised yet again with some very delicious ice-cream bars at the poolside!!! Love this safari!
Back at camp, showers and a rest, a planned last sundowner away from camp at a perfect tree! There awaiting us, a spectacular table set up with the new LIBATION rage happening; 2 types of Desolate Gin from Namibia, excellent Rose and cucumber tonic water, a variety of botanicals to add to your gin concoction! Cloves, black pepper corns, cinnamon sticks, strawberries you name it!
I had the best G & T I have ever had, along with lovely chili biltong, cheeses and crackers, fruit and nuts!
A wonderful last Sundowner at our Sossus Under Canvas camp!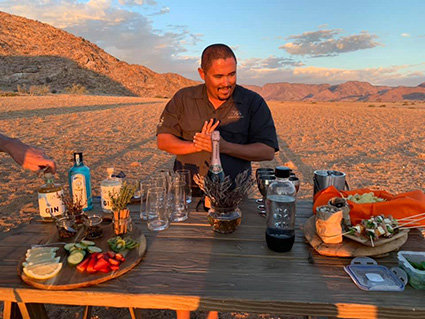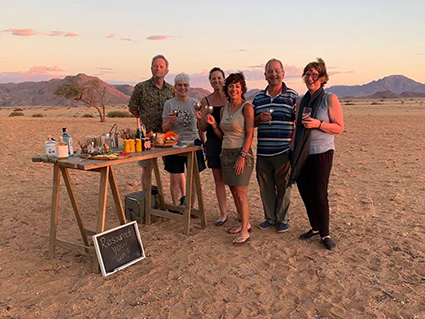 Not to mention our fantastic dinner yet again! Then smores and Amarula at the campfire to end!!
This was a PERFECT TRIP! A+ and more!
We all enjoyed every moment of the clever magicians at these extremely remote camps! I am impressed and grateful for the privilege!
Thank you Namibia, Ultimate safaris and the team!
Love and gratitude!
Cindi