Botswana & Namibia Camp Visits, March 2019 Trip Report
Reported by Cindi LaRaia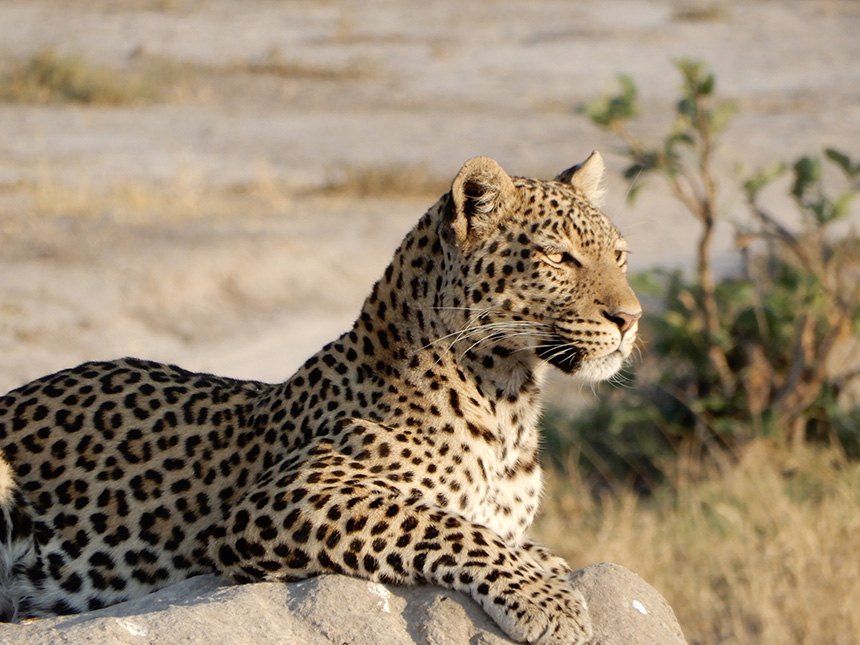 Botswana
Jacks Camp ~ Makadikadi Pan Kalahari
March 2019
My dream to see the annual Zebra migration this time of year did not actually happen. There were plenty of Zebra and Wildebeeste but not the thousands that can happen if the rains show up from November through March. Africa is in another severe drought. The salt pans white and dry, instead of full of water to draw the throngs of zebra and other game across this part of Botswana.
Since this is still end of summer season, it was unbearably hot and dry! 38c in the shade and pushing 50c in the sun. Shocking hot, me still jet lagged and coming from the cold wet Bay Area, it took me a few days to acclimatize.
The camp is delightful as I had known it to be. Ralph the owner was there after seeing him for many years at trade shows, it was lovely to see him in his element. The camp is named after his father Jack who is a legend in the area. I love family history in Africa, men and women working so hard in harsh conditions to make a homestead; learning the customs of the local people and trying to earn a living.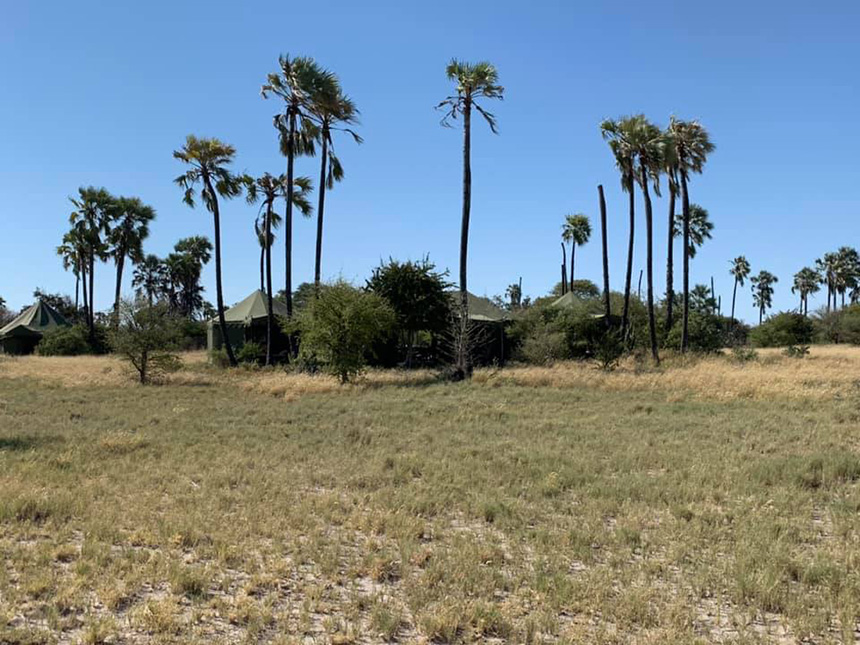 These are strong willed, single minded, tough as nails people who understand hard work and the absolute will to survive. I love how sheer will, in the deepest parts of the Kalahari, a dreamer would arrive and make it happen! The museum Jack collected on the animals, artifacts, images of the locals show how years of perseverance made this magic place for others to appreciate.
The camp is unique in appearance as though you stepped back in time, the 1800's. Tents lit only by candle and lanterns, with some added solar lighting in the evening. Wooden thrones for toilets, gorgeous wood cabinetry, wood poster beds high with foot stools and canopy.
A stunning full length swimming pool that is freezing COLD is covered from the hot sun. A strong masseuse set up at the pool with cooling towels and fan releases all the demons from long flights and hours in game vehicles.
Food is absolutely delicious accompanied by wonderful South African wine.
We got lucky with a lioness and her cubs, a fun day with one of the cubs carrying around what appeared to be a rock but on closer inspection was a tarapin from the water hole he was playing with! Adorable. We also had a group of male bull elephants at the water holes! A lovely sight as these Ele's are very large as they have to travel long distances to find water! They are my fav, I can hang with Ele's all day long!
Only my guide and I on a night game drive to look for Ardvarks, holy cow we found 2!! Lucky me, this is a first, they only see about 3 a month and we saw 2 in one night! Yeah for me!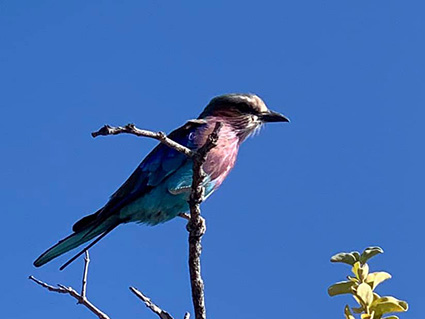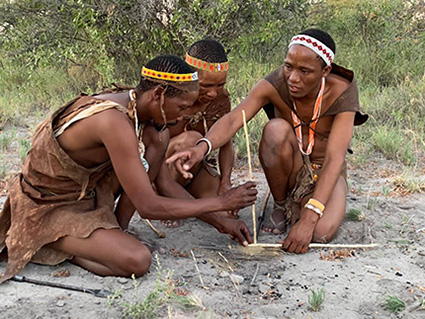 Ralph owns several camps in the area, Camp Kalahari is where David Foot has some horses here for a fantastic 1.5hr horse back safari! They are based in Maun for the longer 4 to 5 day horse back safaris. I was over the moon to go out for a fantastic experience amongst the Zebra and Wildebeest, absolutely the highlight of this visit!! The horses are well looked after, happy and very attentive. Dupre, my horse I am told is the one Taylor Swift rode a couple years ago.
With no water at this time of year in the pans due to the drought, we were able to take the quad bikes out on the Makahdikadi Pan, what a blast!!! Our guide showed us how to tie our Koiku (sorong) around our heads to keep out sun and sand! And off we went, too much fun!!!
The next morning treated us to a Meerkat visit, the busy little guys wake up and do nothing all day but scratch for bugs to eat, they are adorable. Normally you can sit on the ground and they will crawl up on your head to watch for predators, sadly the day was too windy so they did not want to get blown off my head.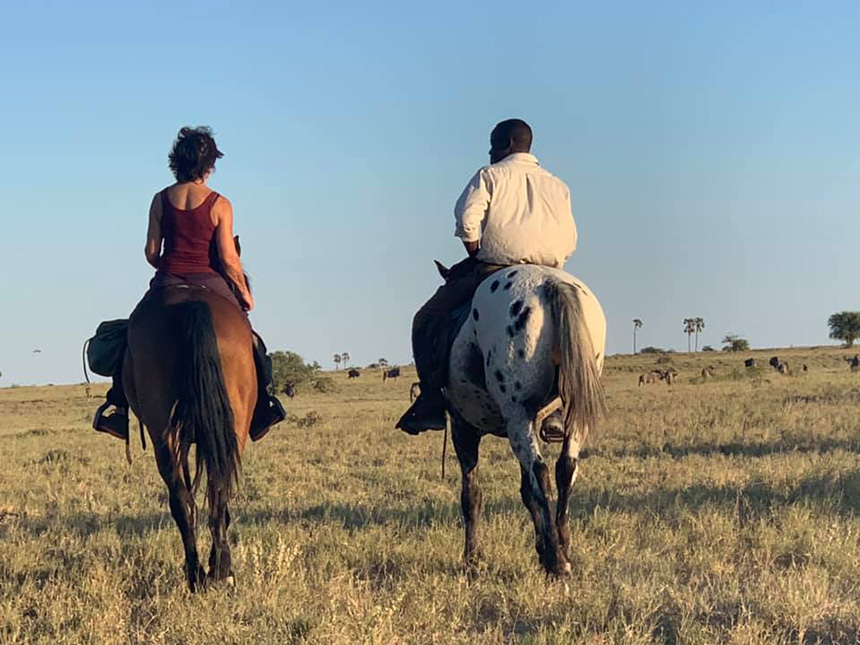 Namibia ~ Natural Selection Camps
Next on my agent itinerary was to site inspect the new Namibia camps marketed by Natural Selection, a group of people well known in the industry with decades of knowledge working with the best of the best!
SafariHoek Lodge
After a night at the lovely Galton House in Windhoek, our driver took us all over Namibia starting in Etosha Heights at the lovely SafariHoek Lodge. A very spacious modern lodge with chalets overlooking the waterhole, excellent food, wine cellar and amenities including air conditioning. This is a new area for game, farms bought up, fences dropped, hunting stopped 3.5 yrs ago and the game feeling relaxed again. The Rhino conservation is a success here with anti-poaching teams seriously in place! We were lucky enough to see 4 white and 4 black rhinos. Along with many of my favorite Hartmans mountain zebra, they are gorgeous!!
We saw the largest herd of Eland I have ever seen in 24 yrs traveling to Africa!! They are shy, the largest antelope in Africa, we saw at least 80 in this herd, a big dust mass in front of us with Eland running, OMG what a sight to behold behind the trees and in the open! STUNNING!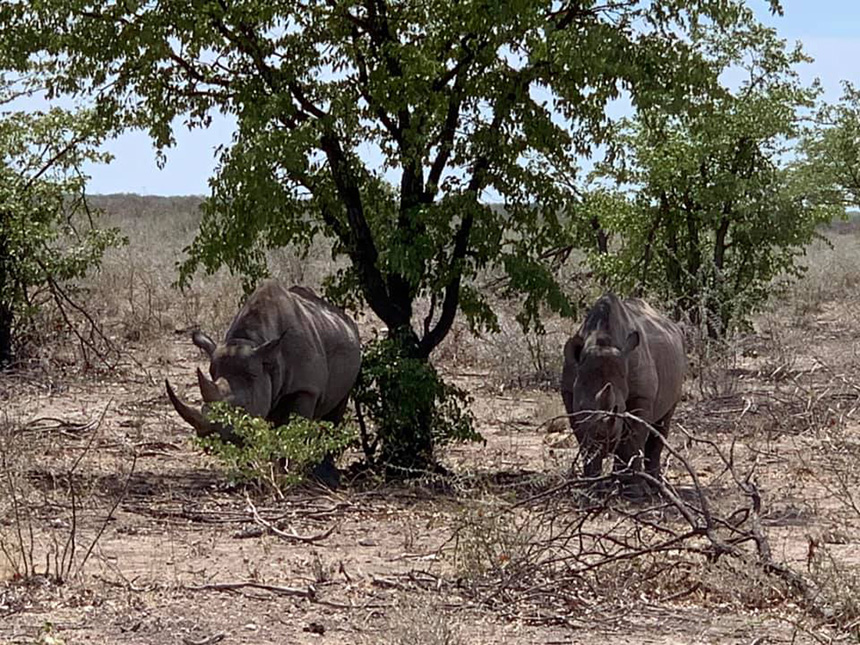 We also saw the most giraffe together I have seen in many years! A total of 18, I could not get them in one frame! What a beautiful sight to see! A very productive area for game and will only get better with time!
Some Bull Elephant interspersed as this area had received some very late bouts of rain which dispersed the animals away from the waterholes. Happy they are getting some rain at least, not what they need but better than none!!
Safarihoek has a wonderful hide at the waterhole which is visible from the camp but a bit far, this is perfect at ground level and above, a large solid structure complete with toilet, I could live here! Mike and the manager took us here for our sundowner, lovely bull Ele's and more!
Our guide Mike is one of the best in the area, thank YOU Mike!
Hoanib Valley Camp ~ Damaraland
Off through the gorgeous Damaraland mountains. Driving to the camps are full day adventures on gravel roads, in the past I have flown to each camp. I now can say I have driven Namibia like the locals, and self drives are popular! The days are long, hot and dusty unless you travel in winter; June thru August. The drives are mind blowing scenic that take your breath away and change every 30 minutes! It is the most stunning, wild-crazy landscapes that exist in one country! Driving all day and then way off the NOT very beaten path, holding your breath around every corner of some new rock formation,,, feeling like you have been transported to another planet, traveled to the ends of the earth and beyond,,,,, you arrive at Hoanib Valley camp, nestled against a backdrop of rugged granite rock, overlooking the Hoanib dry river bed. We have arrived!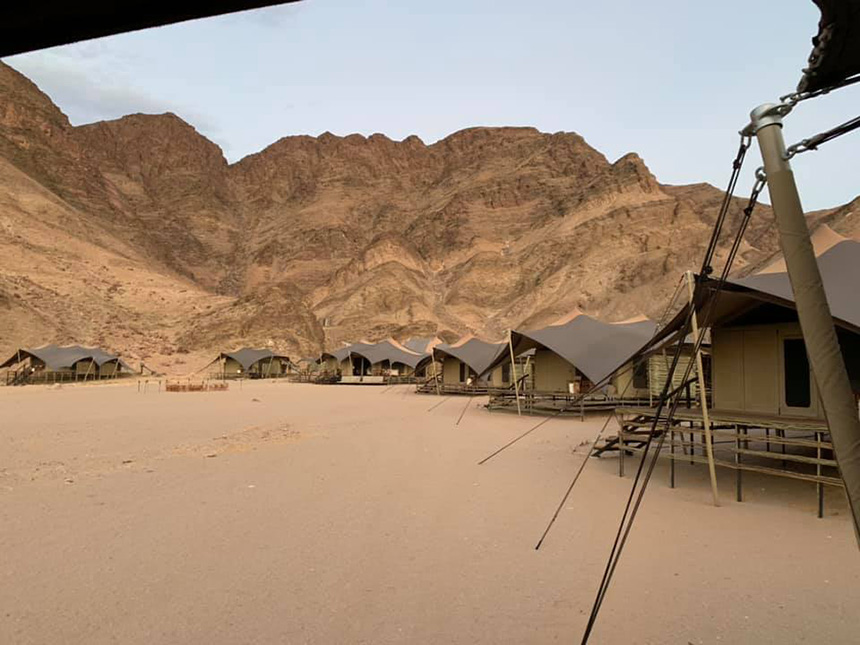 ***NOTE: If you are in need of an escape for reasons called 'life', and you really need to get away from it all, you may want to consider Hoanib Valley Camp!
The food utterly delicious, South African wine, and choices of wild game meat as they farm it in Namibia! It has been years since I tasted; Eland, Oryx, Springbok & Kudu, it is way more sustainable and natural than all the cows and cattle they have in the bush brought in years ago! And beyond decadent with chefs trained by the best in Africa!
They offer rhino tracking here, my friends went and had a very successful morning until mid day tracking rhino. I on the other hand went to site inspect, Wilderness Safaris Hoanib Skeleton Coast camp, a stunning Premier camp with a very productive water hole in viewing distance.
The pool at our Hoanib Valley Camp, was just completed the week we arrived, we were able to christen it, yeah!!! Very much needed and enjoyed.
Game drives offered large schools of the stately Oryx, we never tired of seeing them, beautiful plunking Springbok as they jump high in the air in an arced form. This area is loaded with giraffe! Everywhere you look are Giraffe! They are also monitoring them, and keeping photo ID records as the population worldwide in Africa is diminishing rapidly due to habitat loss.
The biggest issue in Africa looming today is the 'Human ~ Wildlife Conflict'. The lion population in Namibia is vanishing at an alarming rate. The communal areas are the ONLY areas that don't have fences. This means the lion have easy picking for goats, cattle and sheep. The farmers kill the lion as this is their livelihood. It is an ongoing dilemma on how to save the lion. Several NGO's for Lion Rangers are in place but there is not enough man power or funding to have rangers get to the farms where lion are spotted; tranquilize them and move them. It is a big operation and costs money. The spaces are huge with very little man power. This is my greatest sadness of the area. I lay away at night pondering how we can try to help the animals and help the farmers live in some sort of happy place. The area is inhospitable, vast stretches of desert, Elephants and lion have to travel long distances for water and food.
A wonderful small camp, stunning setting, amazing staff and excellent food. I did NOT want to leave here!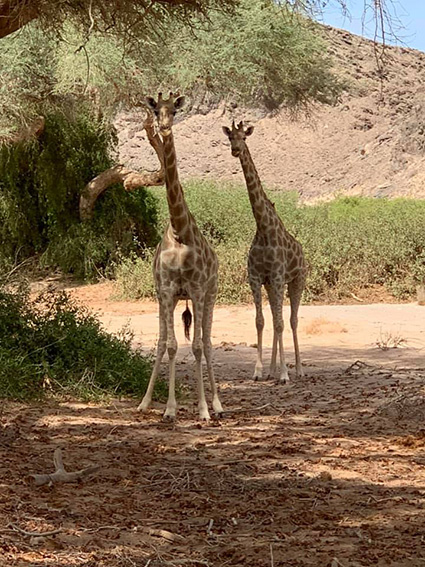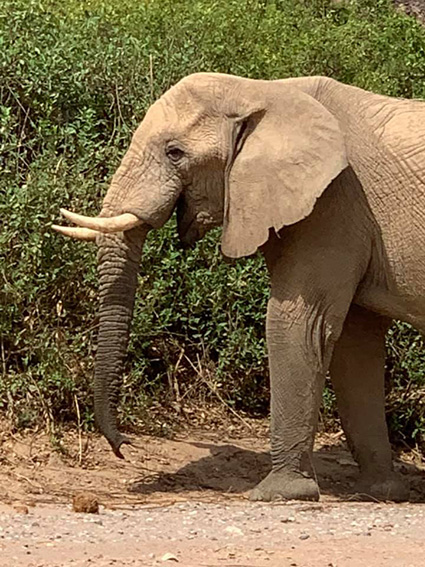 Shipwreck Lodge ~ Skeleton coast
The pictures are so intriguing! When you see what this lodge in person, in the sand, on the skeleton coast of Namibia you ask yourself; is this for real? Words cannot describe this place; I will try but never will I, nor can I do this justice! IT is OFF THE CHARTS, wild, eclectic, enchanting and beyond belief! The architect has the greatest vision of the sea, resembling a shipwrecked boat like the hundreds scattered along the long Namibian Atlantic coast,with style and crazy symmetry! This is a place you MUST see in person to fully comprehend the utter uniqueness and panache!
I LOVE IT!! You can hear the crashing surf even though set back from the tender dunes and flora.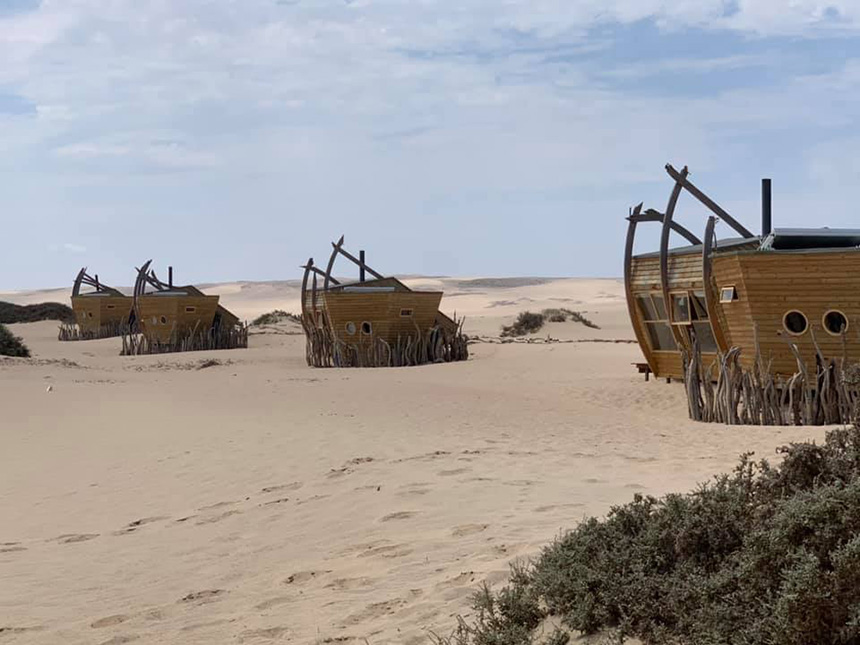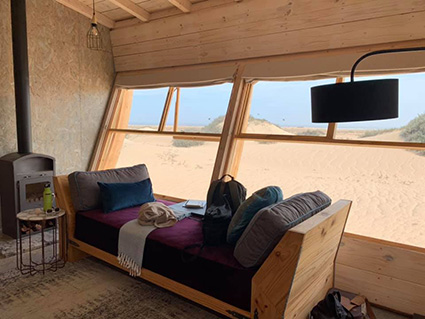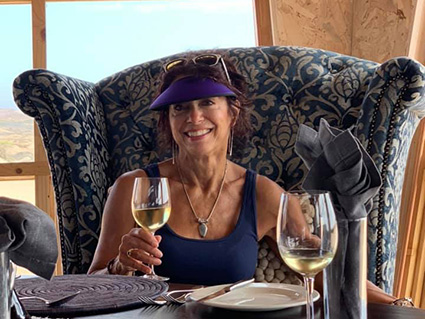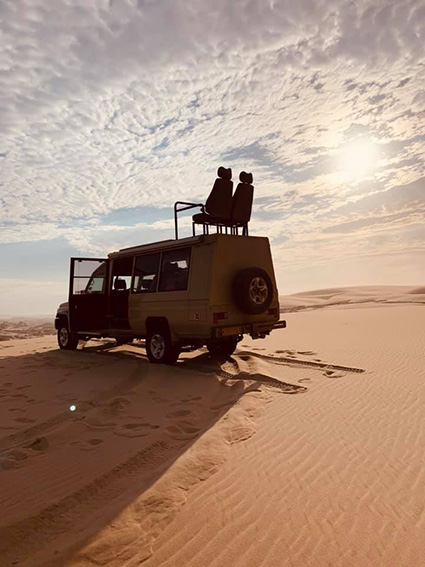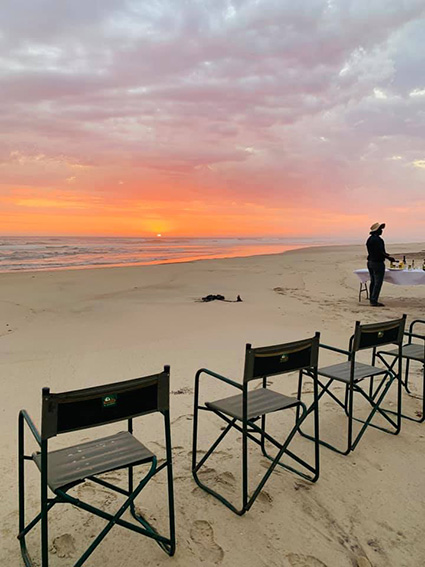 Activities are game drives in the Hoarasib river, with only Oryx and springbok, a very pretty area. Our vehicles are clever land cruisers with 2 seats up on the top for sand game viewing! What a blast! Lunch was a surprise set up at the beach! Full wine and lovely food, ahhhhhh I love Africa!
Afternoon Quad biking on the dunes! Yahooooo I am loving the quad biking, this is much different than on the flat hard pans, this is not easy to get up and down the soft sand. A lot of fun as we learned to use the gears to get way up and slowly come down a steep run, the landscapes out of this world. A lot of getting stuck until they offered a bit better instruction! The language barrier is sometimes challenging!
LOVE this place!!!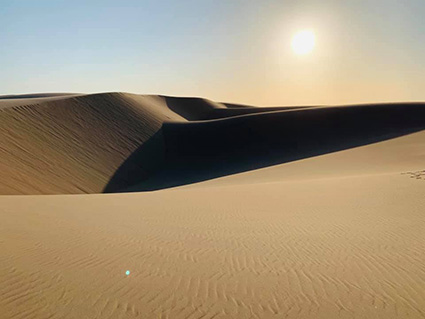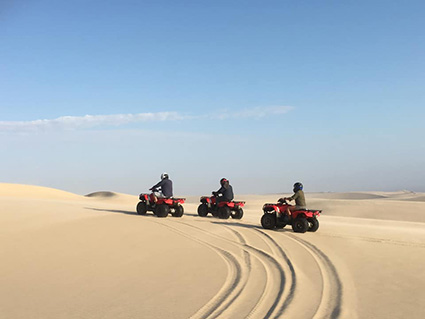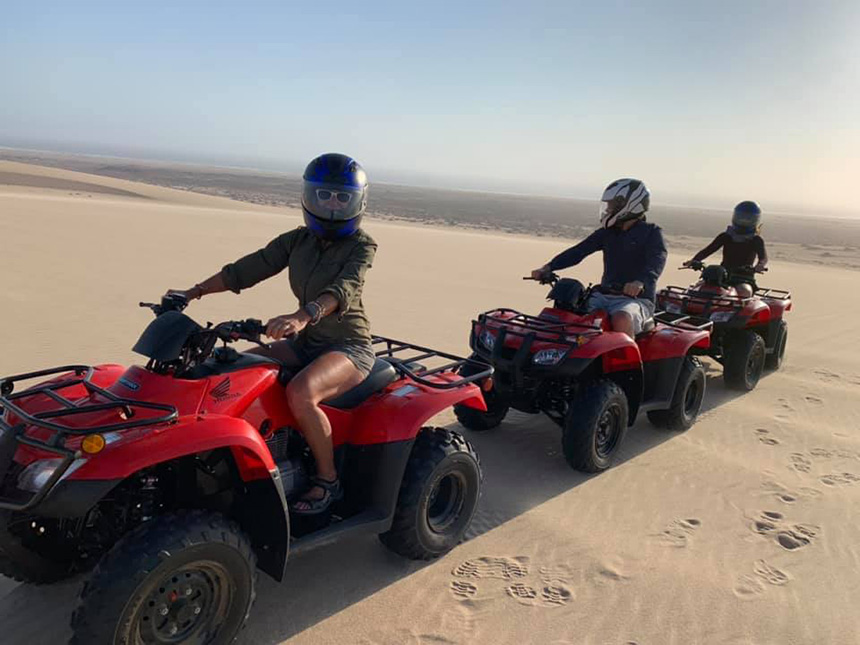 Sad to leave Natural Selection camps, off to Swakopmund for 1nt at The Delight! And delightful it was! Our German friends Crissy and Daniel told us of a great pizza place to have dinner, ''Gabriella's Restaurant; a couple from Italy found Swakupmund, go figure, it was delish!
This ends my 'Agent Recce' for Natural Selection camps. Now to start the first ever departure of Ultimate Under Canvas, meeting guests who will join in Windhoek, back at the Galton House!
Johann will be our guide who proved to outdo himself, very blessed to have such a knowledgeable wonderful person to drive and guide us the next 10 days.