Best of Zimbabwe and Botswana,
May 12 – 25 2014 Trip Report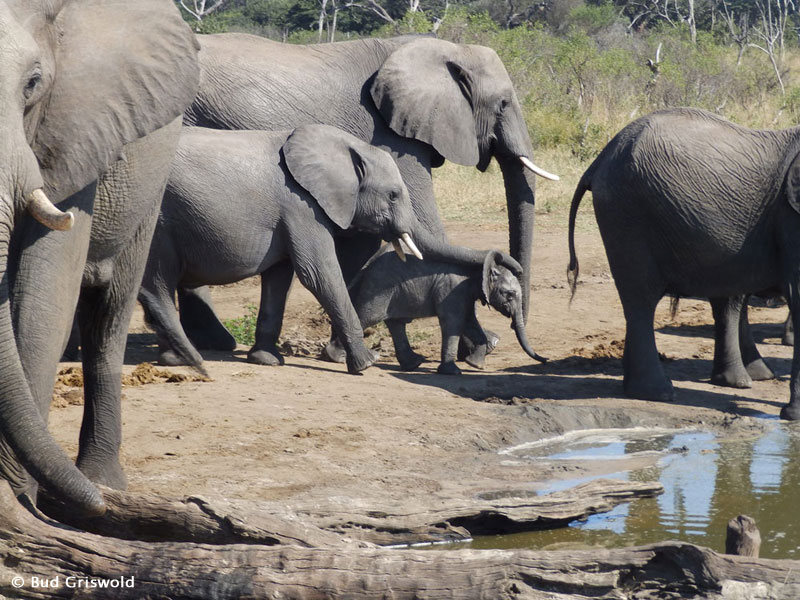 We began our Africa adventure in Johannesburg then flew to Bulawayo in Zimbabwe.
Our group of 6 plus me, friends for many years embarked on a new adventure in Africa. This trip was the first for 2 couples.
Zimbabwe has made a comeback for the last 4 years since president Robert Mugabe has been made to settle down from the United Nations and the world at large. They have switched currency to the USD and have slowing been welcoming safari goers and investors in new property development and refurbishment.
Zimbabwe is a great value for money, now is the time to visit to get the best bang for your buck! The people are wonderful, the guides some of the best in Africa and excellent game.
We started at Camp Amalinda in the Motobo region south of Bulawayo, Zimbabwe. A stunning area geographically with enormous giant granite boulders. The camp is stunningly built into the majestic enormous boulders. Each accommodation is different as it takes on its own personality from the granite as part of your living space. Each room offers incredible beauty and is very spacious, upper rooms have views as you climb up the boulders, lower rooms easier for walking with 2 family rooms. Some offering outside bathtubs and showers with extreme privacy.
We settled in and our guide/manager Billy took us for an evening walk with sundowners up the granite path as the full moon rose! Spectacular vistas of open gorgeous granite boulders for 12 miles all around.
Fun silhouette pictures taken as though we are the only people in this part of the world! I think we were! As the sun sets, the colors change on the granite boulders glowing brilliant gold and red, and amazing place!
The next day we agreed on a full day out from 9:00am to 6:00pm in the Motobo National Park a world heritage UNESCO site. This is due to the incredible 3000 caves with ancient San Bushman paintings, in which some date from 110,000 to 6000 years ago! Older than the pyramids in Egypt! This is a truly amazing area! We visited 2 caves one named Nswatugi Cave, this was 6000 years old, amazing to see the paintings still intact and learn about how they made them and the stories they told.
Some of the game we saw in the park offered klipspringers, giraffe, black eagle, kudu, leopard tortoise, Vervet monkeys, baboons adorable rock tassies (hyrax) and an array of birds! There are white rhinos in the park, they offer a rhino tracking bush walk. Also 3 zebra live at the camp, you can get very close to them, incredible photo opportunity here!
We visited another cave called Ponmongwe cave which is believed to be at least 110,000 to 200,000 yrs old. It blows the mind to try to understand this area was home to many Bushman; how they lived, hunted and lived life. There are many caves to visit, some of the best caves are further into the park, they offer a 14 k walk in a day to visit these remote incredible caves, I will do this next time!
We ventured on to visit Cecil Rhodes grave, hiking to 'The Top of the World'. He was buried there in 1902, the history about him and the other entombed in this incredible place on earth truly feels like you are on top of the world! The vistas are again mind blowing, the geology spectacular.
Our last day of our 3 night stay will be the chance to find the rhino, the fence was broken down and they were last seen outside the park fence. As luck would have it our trackers located them, we also had 3 rangers walk with us to find this family of 3! WE did and were able to get very close to them, mom is pregnant, her baby who is now 6 yrs old and a male bull.
We had a wonderful time here, the food is excellent, the accommodation beyond unique and the scenery stunning! A very different way to see Africa!
We drove north to Hwange National Park which took about 4 hours plus our game drive through to Somalisa Camp. This is the place to see Elephant, and hundreds of them!! Enormous herds flow to the different water holes created in the area. Somalisa is a lovely small tented camp that sits quietly in the bush. This is a true bush experience, with bucket showers and limited generator time. The staff are friendly and the guiding is great. We had Mike as our guide for 3 days, he was simply amazing how he sensed where game could be lurking! He had an easy friendly manner which made us all very comfortable and happy.
As soon as we arrived we were greeted by a dazzle of giraffe, steenbok, kudu, a family of elephant, zebra's and a variety of birds. We visited a water hole where 3 lioness lay on the sand across from us, unfazed by the jackal roaming the beach. A large breeding herd of Elephant approached the water hole, the matriarch smelled them and stopped the herd by her tummy rumbles, they gathered tightly together and put the little babies in the center to protect them. The lioness barely moved from their seemingly comatose position on the beach. The matriarch felt safe after a while and let the herd drink from the edge of the water. A magnificent sight to behold is animal behavior in the wild!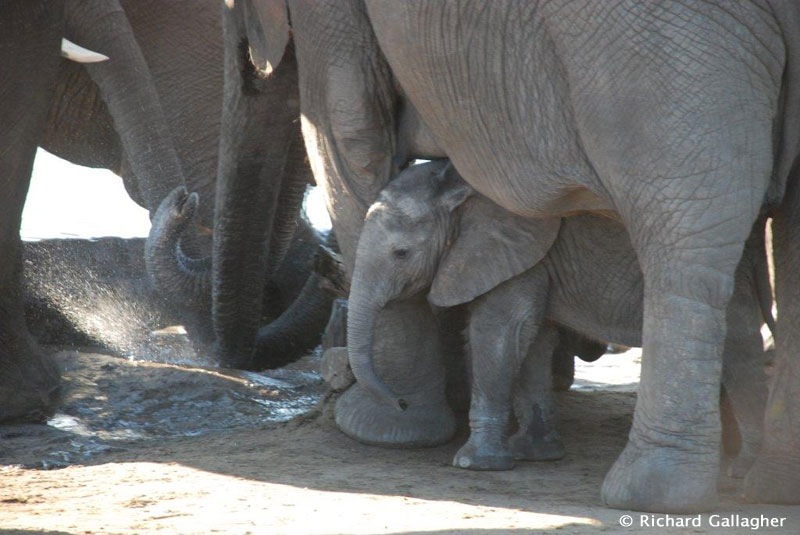 We made our game drive a partial afternoon drive as so much was happening. We then were assigned to our tents and learned how the program works with the bucket showers and charging stations for batteries, best to have an extra set of batteries so you can charge them when out on game drives when the generator is on.
The food is fantastic at Somalisa, amazing what they can do in a small kitchen! They have a swimming pool and an elephant water hole off tent #4 next to the outside bar gathering deck! The Elephants have taken over the pool, they seem to prefer it over the waterhole! There is a constant parade of Elephant that seem to have a path next to the tents as they make their journey to the water, this is amazing when you are in your tent at siesta time,,, they just start parading by, one family herd after another!
There is also a resident Elephant named Max who loves soap and thinks he owns the place! Some of the tents have outside bathrooms, with no roofs, he loves to stick his trunk over the canvas wall and abscond with the soap! However Sandy and Tom witnessed him being very rude to other Elephants when he was drinking at the pool at siesta time (between am and pm game drives). He stood side ways to block the other male bulls from using the pool! Incredible to see this behavior! He was obviously an important bull in the Ele community as none of them tried to go past him. Amazing!
On a game drive we went to Christophers pan, this is a solar energy pump for the Ele's,,,, we sat there for a very long time in amazement as the progression of breeding herds came and went, at least 20 to 25 in a family group. We would see other families coming down the paths and wait until the former group was done. Some would go direct to where the pipe was coming out to fill the hole, they have done a good job of destroying the pipe. They love to stick their trunk right over the end to suck out the fresh water, they can fill their trunks with approx. 9 liters of water and put it in their mouths! We sat in the vehicle a mere 10 ft away watching and listening to them. I could sit here and observe this all day long! When the bulls would go to the pipe others had to wait until he was finished which could take forever, some would try to sneak their trunks next to the pipe, at one point we had 4 ele's with 4 trunks filling their trunks all next to each other, a very hilarious amazing sight to behold!
Elephant behavior is amazing to behold, they are very much human; moody, friendly, protective, loving, greedy, scared and some are bully's, just like humans! We counted well over 100 Elephant coming to this particular water hole just in the time we were there!
Some of us kept track of the birds we saw, this is a long list, a few are; giant eagle owl (he was magnificent), tawny eagle, ground horn bills, ostrich, yellow billed egret, the always beautiful lilac breasted roller, tons of francolin, black smith plover, burchell starlings,,,, so many more.
Near the camp is this amazing place called Ngweshla, this is the place! It all happens here! We had a hilarious show of 2 male ostrich performing for a female, they tried so hard to outdo each other with all the flitting and flaunting of their tail feathers and dance, truly amazing! During this parade a male lion starts calling!! Ahhhhhh my beloved Africa! This is a lovely spot for sundowners, like a mini Jurassic park! On our drive back to camp in the dark, Mike had a red filter on his light we had a wonderful sighting near us of an African Wild Cat, he was standing proud on a low lying tree limb so we could see his entire body, he stood there looking at us for a good long time. That was a first for me to be able to see one that perfect in the night!!!
The star gazing on the deck with drinks before dinner is spectacular and Mike pointing out all the constellations with his laser. The camp managers very friendly, the chef outstanding! We sit inside on long tables with amazing giant candelabras and melting candles, a very old fashion Out of Africa feel to it!
The tents offer 2 very comfortable beds, it was pretty cold at night for autumn and in the mornings. They supplied us with hot water bottles in the beds with wonderful warm duvet's. A very Hemingway real bush experience! However better food I am sure ;-)
The next morning treated us with 2 gorgeous male lions, the long black mane lion named Cecil and the blond mane lion named Jerico. The stories of how the territories work and change in the wild is so fascinating. 4 baby black backed jackals just lying in Elephant dung blending so well with the earth, laying out in the open! Also two harrier hawks, a herd of water buck, 3 dwarf mongoose.
We came upon my very favorite bird in Africa, the Gray Crested Crane! 2 of them together, they are so stunning with their beautiful crown of feathers like a delicate Mohawk. They are very regal, I feel so honored to be able to see them, and it is not often! Giraffe and many more birds, a good birding experience we had!
On the afternoon drive we nearly missed running over a snake, not sure what kind it was. We found the funny looking secretary bird, 4 Eland in the dim light, they are amazing and so big! They also have sable but we missed them and the roan but we did see the tracks.
Cecil and Jerico the male lions laying on the grass, favorite pass time of lions, laying in the grass ;-) We also came upon the largest herd of Elephant we have seen at one time, about 100 at one water hole, wow!!! Sadly we say goodbye to Somalisa and drive to Victoria Falls, to stay at Elephant Camp! A wonderful luxurious camp overlooking the gorge! Quite a different experience from living in the bush, literally. This is a wonderful place, the accommodations are HUGE with separate room for bathroom, and indoor shower. A full sitting area sofa and chairs and desks tables. Huge king bed and writing desk an outside private deck with outdoor shower and plunge pool!
The main area is lovely overlooking an elephant water hole and land they own in the Victoria Falls National Park. They offer an elephant interaction and for an extra cost you can do a morning or afternoon Elephant back safari! This was a wonderful experience, you were able to meet your elephant and mahout (handler) and go on a 45 min safari in a lovely setting as the sun was setting. We saw Cape buffalo, crocodile, waterbuck all on the winding river banks all the while our mahout telling us about the Elephant and their story. They each have a story of why they are there, rescued babies from poachers plus older elephants to create a small family. Some are able to go back in the wild, however the babies raised from humans are not able to be put back in the wild. Most would not be accepted in a herd.
Sundowner cruise to view hippos and crocks and birds. A walk to the falls in full splendor is sight to behold! It is simply amazing to imagine how much rain has to fall in Angola to fill the Okavango delta and the Zambezi river to create the FULL splendor of the Victoria Falls in May!
Food is outstanding at this lodge! We also had an interaction with Sylvester the Cheetah. He was found 1 day old abandoned by his mother and raised by Wild Horizons that own the lodge. We could visit with him on the deck and get a photograph. He was a bit agitated in the early morning when the birds were squawking, he proceeded to swat Sandy! She was ok only a bit surprised! He is still a wild animal! You are able to go for a walk with the guide for an extra fee to the gorge with Sylvester, but we ran out of time.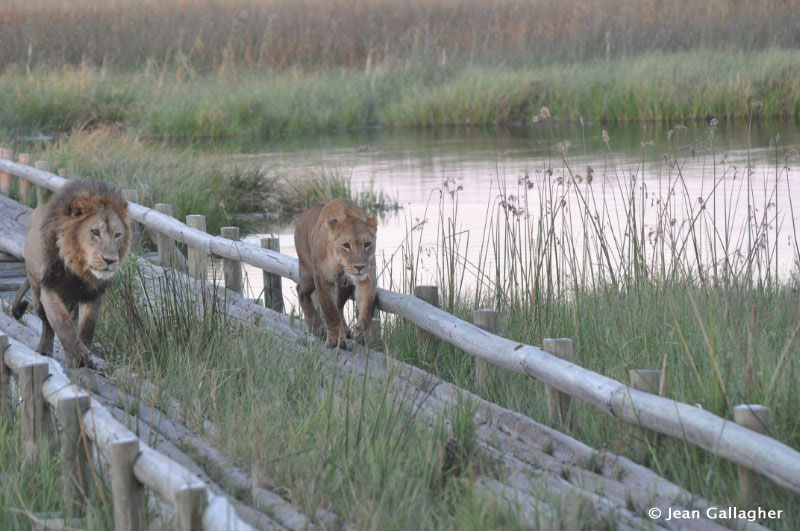 We now flew into Botswana to Duba Plains Camp, now owned by my Documentary hero's; Dereck and Beverly Joubert, a lovely bush camp set on its own large island. This area is famous for its Lion vs Cape Buffalo interactions. The lion here will swim to get to the other side, even though they do not like to swim, these lions will!! The prides have changed a bit but they only eat and kill buffalo! This is rather unusual for lion to ONLY kill Buffalo!
As we arrived our game drive to the camp we saw new antelope; reedbuck & red lechwe, lots of great birds; wattled starlings, open billed stork, fish eagle, little bee eater & rufus bellied heron to name a few. Our guide drove us up to a herd of 1000 cape buffalo, OMG!!! I have never seen that many altogether.
The scenery very different from Hwange tall grass. Here we had acres of gorgeous smelling wild sage bushes, the smell so fragrant. We drove in rivers of water, with our amazing vehicles that had a snorkel! I thought we were in a boat-rover. It was great fun to drive in water so deep it came up almost to the hood of our game vehicle, as we made waves like a boat! Pretty cool!
Duba Plains is situated facing a river, we heard the hippo snorting at night, ahhhhh the joys of staying in a tented camp, there is nothing like it! A lovely area under huge trees with resident baboon.
Our first early wake up at 05:45 am brought us the wonderful sound of LION calling, they were walking toward our camp! A male and female, she has a sister who is in heat, the three of them share this area of the Island. This was something to observe, a great behavior sighting to watch this male following the female in heat, on her heels and not giving up. Wherever she went, he went. It became pretty humorous as our guide was laughing and advising us as the male became more and more amorous, he was BEGGING the female, please please!!! We followed them all over, this area was gorgeous and oh so fragrant with the giant bushes of bright green wild sage, intoxicating!
We watched the lioness looking for her sister, she could not find her. She found a good tree to climb with a thick horizontal branch so she could look around for her.
All the while the lovely sound of the fish eagles calling, their call, is a very unmistakable sound. Finally the lioness found her sister, the male lion had to settle down as she made it clear, the time was not right. So the three of them laid down and rested as lion do best.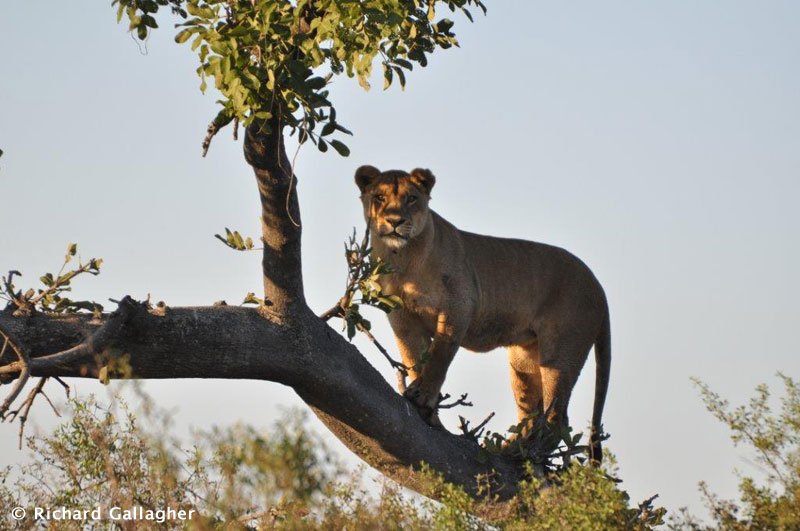 Off we went to find more amazing goodies, 8 giraffe In this beautiful setting, many bird varieties such as pied king fisher, swamp bulbul which is a lovely bird with a consistent whistle, bataleur eagle, copper tail coucal. Gorgeous wattled crane with 3 glossy Ibis, amazing birds. Along with the sounds of red painted frogs that you will only hear in the Okavango Delta, such a delight!
We arrive back for lunch in huge anticipation as the amazing chef Pier has whipped up yet another glorious decadent feast to please our sensory palates! He is an amazing chef!
The completeness of sheer contentment at this camp is all encompassing. The setting is incredible, sitting on the water with all the sounds of the huge variety of birds, hippos splashing and snorting, monkeys jumping from tree to tree above us and being in the middle of nowhere with all the sensory overload, mind blowing!
Later on the afternoon game drive we also spotted a lovely civet cat!
The next morning we saw a slatey egret, reedbok; the herds of red lechwe are splendid to see with their rusty red coat of fur shimmering in the light, a sight to behold especially when they start to run thru the water high jumping rear ends springing high!
We are now heading to the far side of the large island to look for the other pride of lion. On the way we see Tsebe antelope, not the cutest of African antelope in my opinion ;-). We nearly run over a rock python that has caught a starling it has it strangled, this was something very different to see. The other vehicle of our group found it after we did and watched the python swallow the entire bird! Wow.
We found the pride of 6 lion, Tsaro is the big male with 3 lioness and 2 cute cubs laying in the grass. A beautiful pride, I wish they would get up and move!!
We loved Duba Plains, a very special place in the Okavango delta.
Now we fly south to the Moremi Reserve to a camps name we cannot pronounce well, it begins with an X, Camp Xakanaxa! Here is where we had our stunning Leopard sighting! A handsome 2 year old young male, in a lovely setting under a tree. The fun part is when he heard something, on high alert, watching his facial movements and body language as he then ran up the tree, wow! We got some wonderful images of that, come to find out, it was only a squirrel he found.
We carried on and found a tree full of large marabou storks, they remind me of secret agents dressed in black cloaks a bit hunched over and very serious. We also found white and black vultures and hooded vultures, we found the remains of an impala kill from the night before. Then we found why, 2 gorgeous big male lions laying in the sun. Lots of birds here as well; many little bee eaters, african darter, cormorants, lesser striped swallows, yellow billed stork feeding (great movement in the shallow water). A gray heron, spur wing, goose, great white egret and red billed horn bills. Coming back to camp is a resident bushbuck feeding, she very relaxed with lovely white dots and markings.
The next morning our guide took us to a huge termite mound, most in the delta are very tall and look like giant witches hats. We got a great lesson on the ingenuity of nature and how this complex society works. The termite mounds in the Delta are much larger than neighboring Chobe or Zimbabwe where they build most of it underground, 2/3 is underground and we see only 1/3. Except for Botswana where most of the mound is above ground due to the waterline.
Every December they fly out and become food for the animals and the local people. Only the Queen, King, soldiers and workers live inside, they never come out! At this time the Queen breeds and makes thousands of new termites!
In the hot season they make a chimney to cool, they live below, in the cold season it stays warmer. They create a fungus garden inside that creates marsh gas which creates heat. They build the shape to face the west as the wind comes from the east, they will ALWAYS lean to the west. This is like a compass for local people. Pretty cool!
This was our last day on safari, boo hoo. Some of us flying out the next morning for the long haul back to USA. Others that would stay on decided to go on the morning game drive while the rest of us packed and took it easy. Well of course that was the WRONG thing to do! Jean, Rich and Sandy had the game drive we only dream of! They went in a different area and found a mother Lioness and her older son hunting, they were stalking zebra then giraffe. Watching lion on the hunt is something to behold as normally they are laying in the grass after a night on the prowl.
They carried on and found 2 different big male lions, unreal! I had to fly 36 hrs to begin that morning to get to SFO, never again will I miss a possible last game drive!!
There is no place like Africa…….. My beloved Africa.
Thank you for sharing this with me,
-- Cindi LaRaia
One of Hemingway's most inspiring quotes: "I never knew of a morning in Africa when I woke up that I was not happy."