Best of Zimbabwe & Chobe River in Botswana,
May 9-21 2015 Trip Report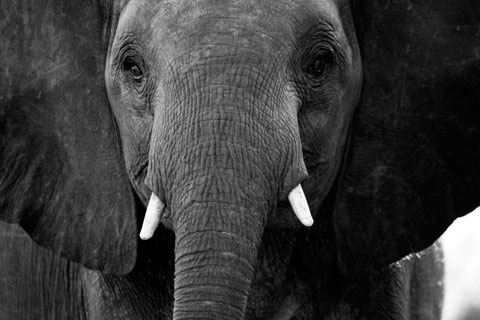 Our journey begins with my special friends in Chobe Botswana at a very special camp called Ngoma Lodge, in the very western part of the Chobe. Away from the busy area nearest to Kasane town which offers many lodges.
This is a very special place for many reason; remoteness, 5 star luxury and quality service, great staff and a wonderful history that lies beneath the camp. They are very dedicated to the community and how they work together in a symbiotic way.
The next day we had a full day which entails a 2 hr drive in game vehicle back to Kasane town to board our boat and enter the Chobe National Park. We had a wonderful day on the river viewing our very first Elephants and game of our safari in Africa! The river offers many different islands and floating islands made of plant life that does not create roots. Gorgeous scenery, with the Caprivi Strip in Namibia directly across the river from us.
By days end, we must have seen about 200 Elephants, some bulls out on the islands and breeding herds, crossing and swimming across the river to get to the islands. Amazing how they line up at the water's edge and the Matriarch gives the tummy rumble sign to cross. They use their trunks as snorkels, it is just adorable and amazing to watch the parade of Elephant crossing the river!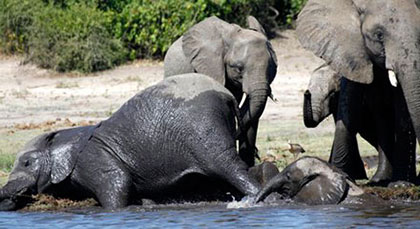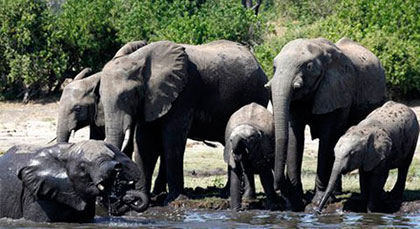 We saw about 40 Giraffe and loads of Cape buffalo; and Crocodile on the shoreline. We took the beautiful scenic road back to the lodge, next to the river. As the sun was beginning to set we saw 4 Lion laying waiting for it to get dark to hunt. A very pretty riverine scenic with Baobab trees thrown in for good measure.
The food at this lodge is excellent! The accommodation stunning with lovely art.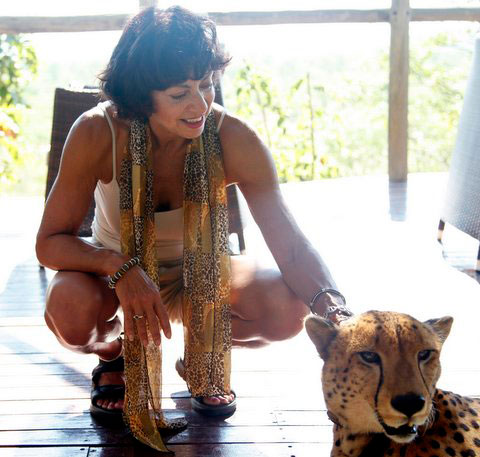 We carry on to the Elephant Camp at Victoria Falls via road transfer. Here is one of my favorite places in Vic Falls, the tent like rooms are expansive and luxurious with views overlooking the gorge and views of the spray of Vic Falls in the distance, stunning. After a briefing from the management on how we want to schedule activities. Lunch is served on the deck, delicious and delectable, wine and happiness!
Another lovely 5 star camp that has resident orphaned Elephant that live on the property and well looked after by the doting Mahouts. These guys care deeply for these wonderful Elephants, each has a story why they are there. Most will not be able to go back to the wild. Some of us opted to do the Sunset Elephant back safari that day. Always a very special experience as your Mahout explains how each of the Elephants ended up there, babies abandoned due to mommy's being poached, different stories from older matriarchs and bulls to create a small family herd.
We get to touch them, make friends and feed them a bucket of healthy treats as we say farewell to our special Elephants.
They also have an adopted Cheetah named Sylvester who was found when he was only 4 or 5 days old. They look after him and bring him to the deck to meet guests. You can also book a walk with Sylvester on the property where they have a nice array of Africa plains game and animals. It is interesting to learn about the Cheetah and their plight as the human conflict and their natural habitat gets smaller. He is now 5 yrs old and made his first kill on his own! They were very happy as they thought he was too used to being fed, yeah Sylvester!
We met our friends at the gorge later that afternoon for sundowners, what a gorgeous place to see the layers of color with the setting sun in the gorge as our guide explains the geology of the mighty Zambezi and how it came to be.
Scrumptious dinners served on the deck with the cacophony of the bull frogs below, stars, great food and wine.
The next day we went early to see the falls, a good idea before the crowds get there! They were perfect in their splendor in May, very scenic! We went to Victoria Falls town for some shopping, then onto The Victoria Falls Hotel for tea! Since Zimbabwe has come back to life the last 5 yrs, they have done some refurbishment to the rooms. It is such a beautiful place and worth a visit to sit outside and have lunch, tea or drinks to see the expansive gardens and the Falls at your footstep!
Ended our day with a Sundowner Cruise on the Zambezi Queen, a lovely boat with a knowledgeable Captain who pointed out beautiful birds, hippos and crocodiles! They offered us lovely snacks and drinks, very peaceful with stunning beauty!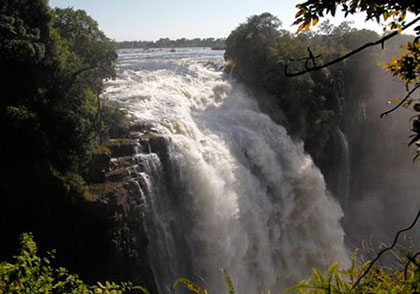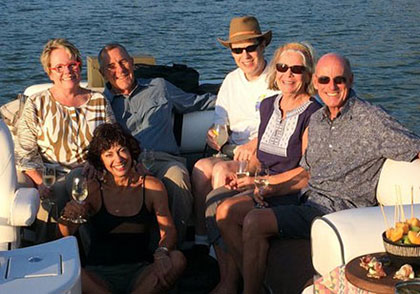 Wake up to the orange sunrise and calling Fish Eagles, waking up to the Africa dawn is like nowhere on earth. Africa comes alive with all the singing birds, snorting hippos and calling animals in the distance, ahhhh.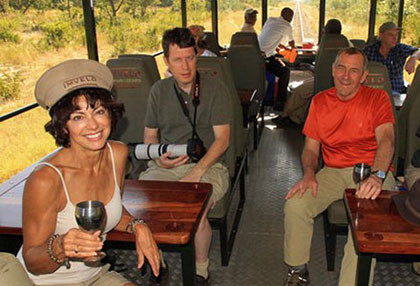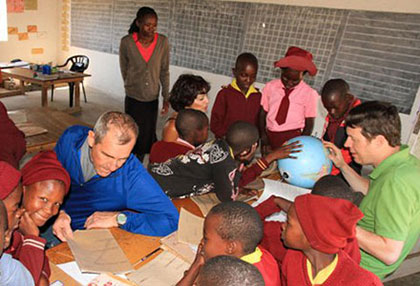 Today we head off to Hwange National Park via road, we are then met by Butch who owns Camelthorn Lodge where we will stay for the next 3 nts, and his new toy, the Elephant Express! A really fun small train he created with an engineer friend. This is the main train line that links Africa, it is so fun! We had lunch and cocktails under a tree waiting for the train! Cocktails and game viewing along the way until we got near camp into our game vehicles! We had our first game viewing on the train, the largest herd of SABLE ran across the tracks, a good 30+ or so, big gorgeous male, babies and the rest! Simply amazing to see as they are very rare and shy!! We saw Giraffe and other antelope along the way and the odd elephant!
We get into our game vehicle about 5pm, and head strait to see a pride of Lion very nearby! Fourteen total with babies, mommies and a male, all feeding on a kill. What a way to start our safari in Hwange!
We were taken to our very large villas in the woodlands under Camelthorn trees, a very beautiful lodge situated at the very south east part of the park. Bordering a communal area they have helped with schools and working together with the ever present human-animal conflict. Teaching how we can all live together, they are doing great work with these villages!
The next morning Butch took us to visit the village headman Johnathan and his wife Dorothy in their very fine village. This was a very lovely village and he sat with us, and answered questions and told us about then and rural Africa life. We then went to a nearby school, met the teacher and grade 6 kids, this was the greatest local visit I have ever visited in Africa! The kids were so happy to see us and ask us questions and we them. They danced for us and made It up themselves, they were excellent! These kids walk up to 5 kg a day to get to school. They love school and the teachers are very devoted to them. This will be a difficult year as they had a drought with late rain, which means they did not get their normal crops. The staple is Mealie Meal, made from corn, they had a very low crop. Which means the kids will starve and not be able to walk the long distances without proper nutrition. The story is sad, and very real for Africa.
Imvelo Safaris has created a wonderful program where they allocate funds from safaris and donors to help feed these kids at school during drought times. They have also brought in books for the kids library. A wonderful success story, clearly the kids love school and love to learn! This is very rural Africa, with subsistence living. They also have 40 dentists come in once a year to offer free treatment to all the local communities, a really wonderful sentiment to hear about all that humans do to help others!
After our visit we went to one of the Elephant water holes they have made throughout the area. Hwange has many bore hole/water holes with pumps to keep the thousands of Elephants happy. It is the only area in Africa that has done this and created a very unique behavior with the wild Ele's.
They set up chairs in front of the new Hide he made with a big container underground with a proper flush LOO. They served us yummy cheeseburgers in the bush, how fun! (with our wine of course)!
We then went into the hide/box/container that is buried under the ground.
This is pretty clever, the actual pump is right in front of the Hide where we sat on benches and stools waiting with cameras at ground level. An Ele family came in to the big pool further down where the overflow runs into. One young female came close to us and was spooked by either a sound or movement, they ran off. Our first visit was a tad disappointing as they did not come close a few feet away as planned ;-)
Went back to the camp for a 1hr rest and back out at 415pm after viewing a nice large herd of Zebra.
Sibs our wonderful guide had us look again at the hide; as we were approaching a load of Ele's were there and more on the way. He got us close by vehicle to the hide and we quickly and quietly went back into the hide! This time it was pure magic, we had a HUGE herd of ele's; gorgeous big matriarch, big aunties, 3 tiny babies and many more, we were so enthralled we forgot to count how many!
They drank at the big hole then all of a sudden they all came to us at the hide to the very fresh pumped water just a few feet from our hide opening. We had so many Ele's surrounding us within breathing distance. Tummy rumbles, slurping sounds and just being a part of this amazing herd was mind blowing!
The 3 little babies had us holding our mouths as we were giggling they were SO adorable! They were so young (only a few months old or less) they did not know what to do with their trunks!!!! They flop it around like a new toy, they try to drink water like the rest of the herd and all the water falls out of their mouths, hilarious! To see the very lactating female mommies in front of us, wow! Breasts full and human like!
The Sun setting bright behind the Ele's made a challenge for pics but at the same time to see the fresh new golden hair of the babies glowing orange in the light, I hope my pics show this!!! I wish I could somehow be able to explain the 'sounds of Africa' and the sounds of these amazing Ele's surrounding us! They could tell something was in this hide/box, they would hold up their trunks trying to smell us. We have to stay very quiet and no big movement and they are ok.
This was magic!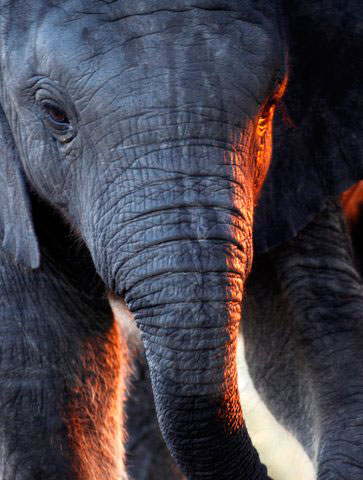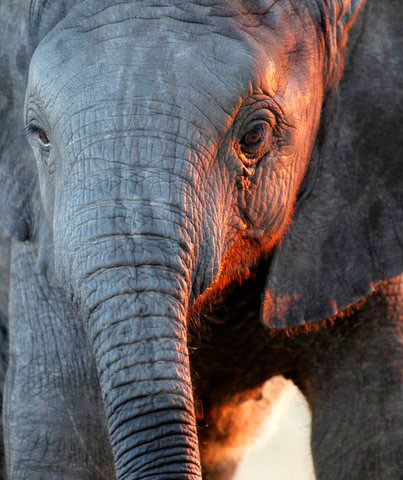 The next morning we went for a walk with our guide Sibs for about 1.5 hrs. We came upon a large male Giraffe, then around in the pan was a large herd of Zebra and Wildebeest, pretty cool to be on foot and get some nice pics. It is a very different feeling to see game on foot as opposed to via game vehicle all of the time. I love it!
Singita Pamushana, Zimbabwe,,,,, we left camp at 830am to get to the airstrip to fly across country to a very remote area called the Malalangwe Trust, a private HUGE area owned by Pamushana Singita and its donors. WE will spend our last amazing 4nts here. For us agents that know about 'Singita' properties and what they represent, I was beyond ecstatic to have the opportunity to experience this with my guests. We are all wine lovers (wino's) and just the thought of drinking our way through the wine cellar was going to be a fun challenge!
Words really cannot describe what our last 4nts at this sumptuous Lodge revealed to us. The other Singita properties may be more posh. However the accommodation were extravagant in size and splendor with views over the dam.
The constant calling of the majestic Fish Eagle, the adorable rock hyrax jumping all over the rocks. The Lodge is built up on the sandstone cliffs with amazing views all around overlooking a dam. This place as far as I am concerned is Heaven On Earth!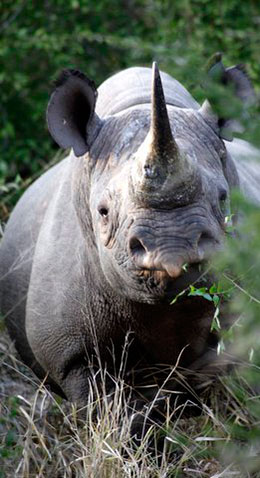 We arrived and Mark our guide greeted us, we were taken to our villas and had an extraordinary lunch created by Cheyene, he became our best friend these 4 days and would come out to ask us after dinner and or lunch, how we like our food!!!! I am here to tell you I gained 4 #!!! Still working in getting it off!
The personal waiter we had remembered all our names in nano seconds as did the rest of the staff, how do they do that? Every meal was a work of art even the menu's and descriptions of the food was something to behold! April is a vegetarian, she received her own menu that said "April's Menu". Wow!
We ate our way to heaven and the wine cellar Jerry and Sally visited was pretty remarkable considering where we were!!! In the middle of nowhere and anywhere!!
Emily was the head manager and became our other best friend ;-) she learned what kind of wine we loved and then would surprise us with flights of RED at dinner to match our food and our personal tastes!
We made sure we had our fill of the lovely Sauvignon Blanc & dry Rose at lunch! All fine wine makers from South Africa, what fun this is going to be!!!
Now for our first activity, since it was a bit of a travel day, we chose to have Mark take us for a boat ride on the damn, sundowners, snacks, fish eagles calling, hippos and loads of different birds, 2 beautiful Nyala rounded out our lovely first evening at Pamushana!
Now we chose to get up very early for our proper game drives in this private concession, we are able to have early morning and night game drives and not be back by sundown like in the National Parks. Wow 0500hr was our selected time for wake up and in the vehicle before 6am to find our adventures of the day.
We had a Wild Dog near the Lodge, so off in hot pursuit to catch them in action we went! Saw many tracks, did not find them, our tracker did spot a Leopard in the thick bush next to us, however none of us saw it! Then we see loads of Lion tracks and went all over looking for them! We found at least 4 different sets of tracks and did not see them!
Then whoaooooooooo we are driving by and David our tracker and we look right and BAM there is a lovely Black Rhino, they are very shy and the most difficult to spot!!! This guy was so gorgeous in the bush next to us in plain view,,,,, he came closer, wow great photo ops! It could not have been more perfect the early morning light shining gently on his face ahhhhhh Perfecto! A most perfect and wonderful encounter! They have a lot of Rhino here and they are highly protected with on the ground squads of men making sure they are safe! Amazing work they are doing!
We then saw a large herd of Eland thru the bush and now a Male Calling Lion as we are having our mid-morning coffee break at the water hole! OMG- off we go to find Simba!!! We looked all over across the way in a gorgeous setting of the Rocky cliffs made of sandstone, this scenery is just stunning here!!! We saw lots of giraffe, crocks, Nyala but missed our calling lion! This was a wild 6hr game drive!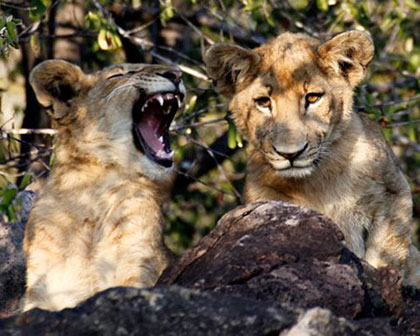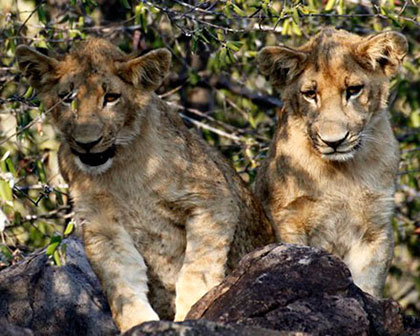 Happy Birthday to John my friend on safari!!! GREAT BIRTHDAY!!!
Lunch and wine and off on our 4pm game drive, we found 2 cheetah brothers a bit thin looking and some injury on the sides, mom was missing. Mark thinks something happened to mom and now the boys have to fend for themselves they are only about 14 months old, yikes. **I had heard alarm calls nearby from our lodge from Baboons, so Mark took that as a sign and followed the edgy birds and occasional alarm calls from Kudu and Impala to find our cheetah! Pretty cool!
We found 4 male Tusky Ele's at sunset, just gorgeous, a hyena came to visit us at our sundowner! Then it got very dark as we are outside the open vehicle and as quiet as you can imagine more big Ele's joined us, amazing how quiet they can be for their size, I was shocked! We all stood there in quiet dark happiness! We also found a very large herd of waterbuck, about 10 the largest I have ever seen, a Genet, and another spotted hyena. A wonderful full day in the bush!
Dinner to die for yet again, they would seat us in different locations around the gorgeous pool and expansive deck.
5am wake up and off to our next early game drive,,,, back to looking for those WILD DOG!!! We did see a large gorgeous Male Nyala which look nothing like the females. Beautiful and stately. We come across 2 lion cubs sitting up top on one of the pretty sandstone cliffs. They were soooo cute, and well behaved, mom must have been off hunting!
All of a sudden we get a call, the WILD DOG are now sighted and on the run,,,, OMG Marks say, they are clear back a long way,,, we have to go like hell on an FARRARI SAFARI if we are to catch them before they head back to the den, they have a kill!!! Batten down the hatches and awayyyyyy weeeeeee goooooooo! Holy moly it was a fun fun fun wild ride for sure! He did it, guessed right after they get a kill they need to head to water to drink before heading back to the den!!!!! We raced and rallied and pulled up to the waterhole they normally use, we scared off a HUGE herd of giant Eland and Zebra! Soon as we stopped, there they came racing down the path right in front of us!!! That was incredible timing, not to mention front row seats to see this GORGOUS pack of Wild Painted Dog running down the path with the Impala head! Hilarious!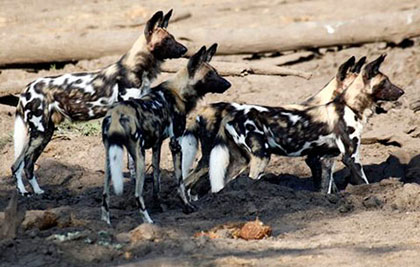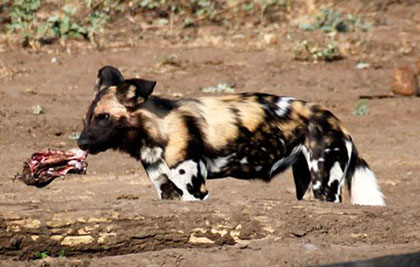 I have been lucky enough to see wild dog 2 times in Africa, not a lot considering all the safaris I have been on. These where the most beautiful Wild Dog I have ever seen with beautiful white fluffy tails!!!! They were very healthy looking, just magic,,,, we had a great time photographing them and videoing them with their fun antics! Also there was a very amorous couple of Hippo in the waterhole and when the dogs spotted them,,, they went crazy, growling at them and all standing at the edge of the waterhole as though they have never seen Hippo before! Then come these 2 funny Hyena, they were young ones and clearly thought they were part of the Dog Pack! This scene was out of Walt Disney!
This was such a special time to see these dogs in perfect light, open area, communing as though we were not there, simply marvelous!!! On the way back to camp for another glorious lunch we had to herds of Sable a gorgeous Ele, giraffe and Wildebeest!!! Not bad for another glorious morning at Pamushana!!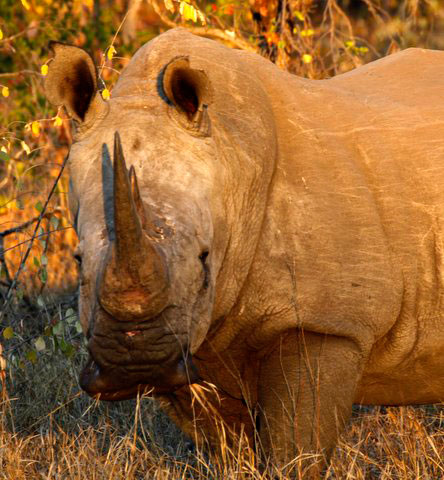 On our 4pm game drive. Mark took us to a different part of the park and low and behold we find 1 big male white rhino!!! Wow after watching him in awe, since the Rhino poaching is now at a level of war none of us can believe, we are now in awe of these magnificent beasts and here being so solidly protected! Wow a bit down the track we find our Family of White Rhino!!! Daddy, mommy and baby, sooooo cute and adorable! Awesome!! Our Mark guide is like having our very own Steve Erwin! He gets out the vehicle with the cheetah and the lion and now with the Rhino. He talks to them (like I talk to my babies underwater- mantas, whalesharks, whales) when they are small or babies, they get used to his voice, his smell and his approach. He is rewarded with a wonderful experience and so are we! He can make all the exact calls these animals and birds make. He is amazing!!!
On our way back we come across a coalition of 4 male bull Elephants, doing something beautiful and remarkable, I have seen this one other time. The younger males are intertwining their tusks with the head bull and they all hug with their trunks while their tusks are all together, the most touching heartwarming thing to see in the wild! The younger bulls are showing respect to their older mentor, like tipping their hat! Awesome to see and experience!!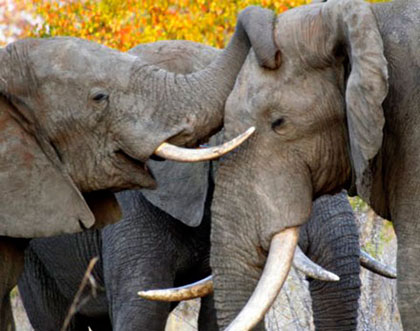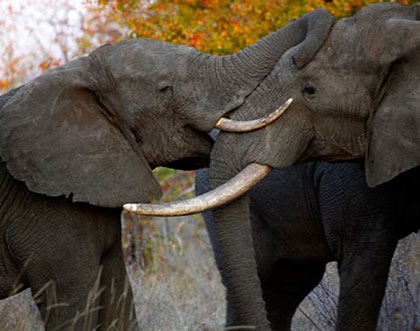 Yet another magical dinner at Pamushana with extra ordinary food from Cheyene and wine choices by Emily, ahhhhhhh.
Sadly our last full day at Pamushana, up at 5am wake up and off we go on a walk to see the Bushman paintings and game on foot! Yeahhhh we get to walk with the animals, my fav!! Soon as we get to our place Mark gives us a briefing on how to walk single file like the animals, rifle in hand, we begin. LIONS CALLING!!! OMG and very close! WOW !!! I am so hoping we can walk with lion!! Sally's face was hilarious as she cringed from the deepest part of her body and shrank back to the vehicle….. OK so we will NOW get back in the vehicle and drive a bit closer to the caves and see if we can parallel with the lions. Dern,,, we never heard them again and we were ohhhh soooooo close! We kept trying to find them, instead we scared up a lone male Cape Buffalo, good thing a bird got spooked from us and alerted the Buff as he went bounding off in the opposite direction!
Our walk was so beautiful, like a little oasis in the bush, the most dramatic rocky cliff formations, stunning trees and scenery! No wonder the Bushmen chose this area as one to hang out, we had fun with some of the paintings and just enjoying a stunning walk!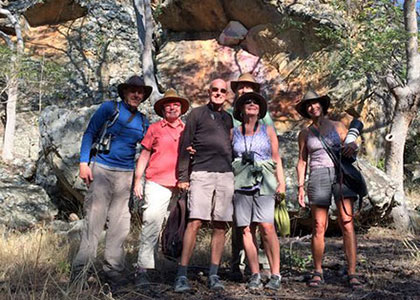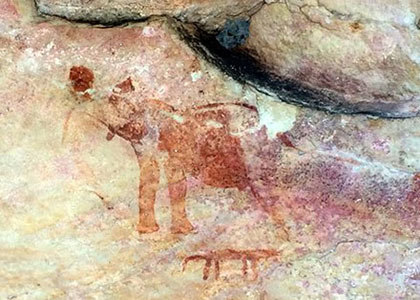 That last evening we chose to do a last boat cruise on the beautiful dam in front of the Lodge. They prepared a wonderful feast of canapés, bubbly and any and all our wine, gin and dry lemon (my fav) and Johns Apple and Grapetiser. Fabulous last evening game activity looking for Rhino and Leopard at the shore. The only animal in the park we did not see was the Fictitious Leopard ;-)!
The staff surprised us greatly with dinner in the bush for our last night! They set up on the helipad, as there were lion around in the bush where they normally set up! A beautiful, stunning array of lanterns twinkling all over, it was breathtaking and special! They offered us a beautiful array of Brai (BBQ) meat, lamb sausages, Impala Loin (yummmmm) many other varieties of meat, salad,, veg and 3 new bottles of very great wine picked by Emily to complement our divine dinner in the bush under the stars!
What a night!!!!
We had one last chance this morning before we had to leave for the airport to do another early 5am wake up and game drive. We found strait away, a very handsome male lion sitting majestically under the tree, perfect light and great photo ops for this King!
We carried on and found 3 more of the Wild Dog we missed the rest of the pack, Mark tried and tried! WE really understood how lucky and blessed we were the other day to have the great experience we did with our Wild Dog encounter!!! So we stopped for coffee break with our Amarula at the dam, (why not) we will all have to go in detox when we get home anyhow!!!
We had our last wonderful lunch after we packed, Sifundo our wonderful private waiter took such good care of us all!!!
The Staff all read your mind before your mind even thinks it! Nothing is too much of a problem! Everyone including Emily the manager is always there to greet you back from game drives and so happy to see you as you arrive for dinner and more drinks ;-). The guides here are some of the best I have seen, all well trained Zim Guides with the highest credentials. The game drive vehicles are Toyota land cruises kitted out to perfection! I am so happy to have the open top, NO roof, you are part of the big African bush this way, the big open sky allows you to see the gorgeous baobab and Umbrella acacia thorn trees with their beautiful mosaic pattern. You can see easily all the soaring raptures. You simply cannot get this visual with a top covered vehicle!
I have never been so well looked after! Thank you Emily, Valerie, Sifundo, Mark and all the happy smiling staff!
Pamushana is Africa's best kept secret! I can guarantee to anyone, if you visit this very remote lodge, a piece of your heart will be left behind.
With Love for my beloved Africa,
-- Cindi LaRaia