Remote Zambia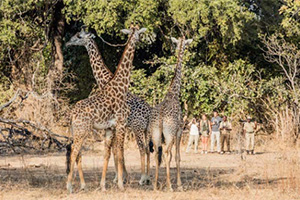 Duration: 12 days
Area: South Luangwa, North Luangwa, Bangweulu Swamps
Style: Adventure
Comfort Level:





Remote Zambia
11 Nights
Secluded camps in the South & North Luangwa
and exploration of the Bangweulu Swamps in search of the iconic shoebill.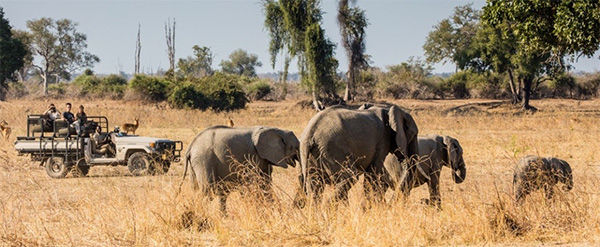 Remote Africa Safaris
South Luangwa National Park, North Luangwa National Park & Bangweulu Swamps
Located in the vast and game-abundant Luangwa Valley of Eastern Zambia, Remote Africa Safaris offers guests access to secluded camps and excellent game viewing opportunities. Located on the east bank of the Luangwa River, north of the Nsefu Sector of the South Park, Tafika Camp is ideal for those who enjoy the serenity of the bush. Here, exceptional game viewing is combined with exciting activities including daily day and night drives, mountain bike safaris, walking safaris, visits to the local Mkasanga Village and microlighting in May. A few kilometres upstream, the Chikoko Trails comprises of two small and exclusive bush camps, Chikoko Tree Camp and Crocodile River Camp, from which unparalleled walking safaris are offered. Takwela Camp, in the remote North Luangwa, is Remote Africa's latest addition, offering guests an intimate wilderness experience and the opportunity to visit a beautiful and unexplored area of the North Luangwa.
More recently, Remote Africa Safaris offers the opportunity to extend their itinerary to experience the Bangweulu Swamps. Shoebill Island Camp is nestled alongside the Bangweulu Wetlands and is one of Africa's most spectacular wildlife secrets with diverse flora and fauna, exceptional birdlife and many endangered species on offer.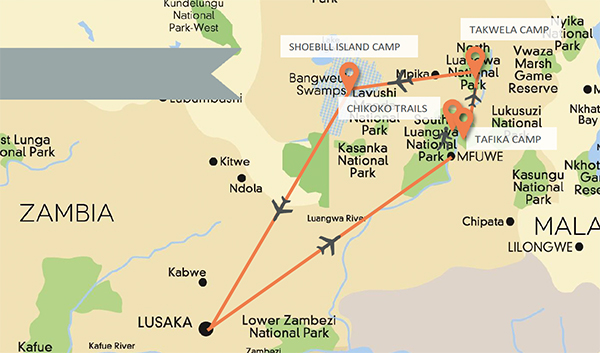 | | |
| --- | --- |
| Day 1 - 3 | 3 nights Tafika Camp |
| Day 4 - 5 | 2 nights Chikoko Trails |
| Day 6 - 8 | 3 nights Takwela Camp |
| Day 9 - 11 | 3 nights Shoebill Island Camp |
Detailed Itinerary
Day 1 - 3:
Arrive at Lusaka Airport. Fly to Mfuwe Airport. 4x4 to Tafika or a short flight* (optional extra).
3 x nights Tafika Camp

Day 4 - 5:
The Chikoko Trails are only accessed by foot!
3 x nights Chikoko Trails

Day 6 - 8:
4x4 from Chikoko Trails crossing points to Lukuzi airstrip. Fly to Mwaleshi airstrip. 4x4 to Takwela.
3 x nights Takwela Camp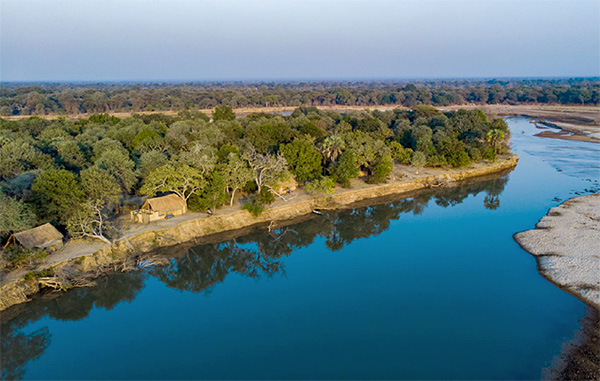 Day 9 - 11:
3 x nights Shoebill Island Camp
Fly to Mfuwe Airport. Fly from Mfuwe to Lusaka. Depart