Odzala 8 Day Itinerary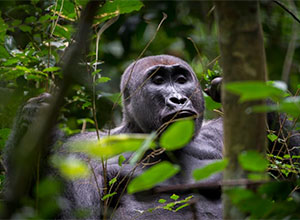 Duration: 8 days
Area: Odzala-Koukoua National Park
Style: eco lodge
Comfort Level:





Highlights:
8 Days exploring Odzala-Koukoua National Park.
Daily excursions from our camps are designed to offer our guests to experience the widest possible range of habitats, species and activities during stay. While the main focus at Ngaga Camp is the tracking of gorillas and forest walks, Lango and Mboko Camps offer a completely different range of experiences.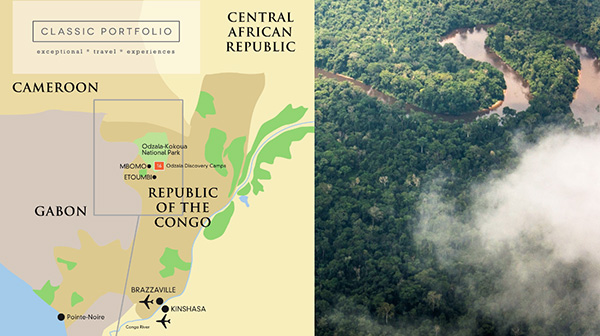 | | |
| --- | --- |
| Day 1 | Brazzaville/Odzala-Koukoua National Park |
| Day 2 - 7 | Odzala-Koukoua National Park |
| Day 8 | Depart |
Detailed Itinerary
Day 1 : Brazzaville/Odzala National Park, Ngaga Camp
Airport assistance at Maya Maya
Odzala Charter Flight: departs Brazzaville at 1pm, arrives Odzala at 3pm
Schedule charter (Let L-410) flight to Odzala (2 hours), landing strip Mboko airstrip
Road transfer from airstrip to Ngaga Camp
(about 2½ hour drive through the Odzala-Kokoua National Park)
Meet the gorilla research team followed by dinner
Overnight Ngaga Camp in a luxury en-suite forest room
Day 2: Odzala-Kokoua National Park, Ngaga Camp
Gorilla trek in the morning
Lunch at Ngaga camp
Afternoon relax followed by a forest walk for bird watching and discovery of forest life and river sundowners
Overnight Ngaga Camp in a luxury en-suite forest room
Day 3: Odzala National Park, Ngaga Camp
Gorilla trek in the morning
Lunch at Ngaga camp
Afternoon time with the gorilla research team, forest walk and a night walk to view nocturnal forest life
Overnight Ngaga Camp in a luxury en-suite forest room
Day 4: Odzala National Park, Mboko Camp
Relaxed morning in camp (optional 3rd gorilla trek at additional cost)
Road transfer through Mbomo village (Sunday village life) and the Odzala-Kokoua National Park
Arrive at Mboko Camp for lunch followed by late afternoon river cruise and sundowners
Overnight Mboko Camp in an en-suite river room
Day 5: Odzala National Park, Lango Camp
Guided morning kayak on the Lekoli River followed by walk upstream to the Lango bai
Lunch at Lango Camp
Afternoon relax followed by forest walk or time to take a dip in the Lango bai
Overnight Lango Camp in a luxury en-suite forest room
Day 6: Odzala National Park, Lango Camp
Guided morning adventure walk
Lunch at Lango Camp
Afternoon relax followed by forest and bai walk or bird watching from the camp deck
Evening camera trap presentation – what has been around camouflaged in the forest?
Overnight Lango Camp in a luxury en-suite forest room
Day 7: Odzala National Park, Mboko Camp
Guided morning walk to bird hide to watch the African grey parrots in the bai
Game drive transfer followed by raised wooden path walk through swamp
Lunch at Mboko Camp
Afternoon river cruise on the Lekoli River or adventure walk in the Likeni River
Overnight Mboko Camp in an en-suite river room
Day 8: Brazzaville
Breakfast at Mboko Camp
Odzala Charter Flight: departs Odzala at 9am, arrives Brazzaville at 11am
Connect with onward flight or stay in Brazzaville