South Africa's Kruger National Park and the Kwazulu Natal,
May 2008 Trip Report
May brings me to Durban South Africa each year where I attend the Indaba Industry trade show. A showcase of all the thousands of camps, lodges, ground operators and activities one could possibly do in this beloved continent called Africa.
After the show I choose a new country in Africa to visit as an agent to do site inspections; (as we call them) to visit all the new camps and upgrades to all, which are done about every 4 years. A dear friend of mine Susan Rutherfoord whom I met many years ago is a native of South Africa and owns Ghost Mountain Inn of Zululand, she offered to drive us all thru the north east of the country so I could revisit many areas of Kruger National Park and many of the private game reserves we sell. We also visited Maputa land to the east to visit the new beach camp, Rocktail Beach Camp to see the scuba dive operation, wow.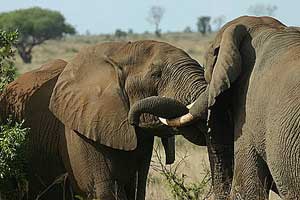 We started our journey driving from Durban on lovely easy highways until we arrived at Phinda Reserve which is south of the Kruger. These 4 properties are managed and owned by CC AFRICA, they have 4 different camps there in a large concession with 7 biomes (the land offers many different types of landscape and foliage) a beautiful area with lots of game especially great for cheetah viewing! The lodges are varied and lie in different areas of the reserve.
Forest Lodge is being redone with a lighter brighter look in the glass houses.
Vlei Lodge is going thru a soft refurb and will be fabulous.
Rock Lodge is my favorite, very small, quaint and oh so romantic, the setting is very private and exquisite Mountain Lodge is the largest of the lodges and sets up the hill with glorious views, beautiful rooms and very large bathrooms, we loved this place in spite of its size.(I normally prefer smaller intimate camps). This is great for families with a great price point. They also have 2 very small private lodges for groups of 8, family or friends. The Getty House is owned by the Getty family, very lovely with 4 rooms and your own house with beautiful amentias. My favorite is Zuka House, beautiful setting, decor and layout, I would love to share this place with my family or friends. Perfection here.
Next on our journey we drove through Swaziland for a faster route to the Kruger from Phinda. Reserve. We entered the south gate of Kruger National Park called Crocodile bridge, and we had marvelous self drive game viewing all the way to Mala Mala in the famous Sabi Sands area of the park. Upon entering the various gates of the very large Kruger National Park in your own vehicle you feel transported in time to Jurassic Park.
We saw beautiful game, a gorgeous male Lion and lioness sitting up on the side of the road just staring at us! Loads of elephant, giraffe, antelope, wart hogs, birds of prey you name it.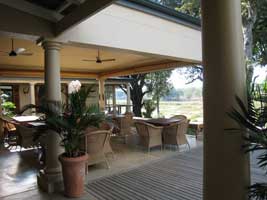 We finally arrive at MalaMala Main Camp in time for the afternoon game drive. We checked into our spacious room with 2 separate bathrooms, this was foresight on Michael Rattrays' part many years ago when he built Mala Mala. Nothing changed much from the last visit 13 yrs ago, they do light refurbs, however the lounge is the same and, rooms the same. All extremely tidy and it works. Mala Mala has the largest tract privately owned Big 5 game land in all of the Kruger and Sabi Sand area 44 thousand hectares, this means a lot when you look at what the other camps in the area have for traverse rights. This allows the game vehicles and guides to travel great distances while chatting silently to other vehicles where action is. No loud radios, they only use headsets and you never hear the loud chatting from the other vehicles advising what they have found.
It is all smoke and mirrors and wha la over hill and dale they go, driving over trees and fording swamps and rivers to get you to a magical site of our beloved animals. They can actually guarantee you seeing the Big Five (elephant, rhino, lion, leopard, cape buffalo) in 2 days, and we see why. They have prime land loaded with the best concentration of game coupled with the huge traverse areas and the fact that the Sand River flows through the property assuring a plentiful water supply at all times. The guide training is impeccable; they are extremely knowledgeable and share this valuable information with you. Loads of Leopard live in this area of the greater Kruger area and seeing Leopard is always the top cat on the list, nothing like seeing and watching a leopard in motion. The most beautiful cat on earth!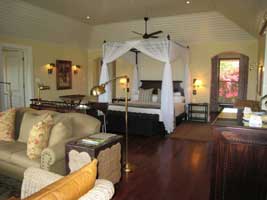 MalaMala also has 2 smaller properties for a group that wants to be on their own. Sable is down the way and takes about 12 people with its own lounge area and dining.
My favorite here is called Rattray's on MalaMala, a short drive away and you are in a very special private home, spacious, luxurious and complete with your own large sitting area full of old memorabilia pictures of Michael and important people of a long ago era. A beautiful bar and grounds, all for a small party of 8 or 12. This would be my vote for a group of friends or family, just exquisite with gorgeous setting and decor, again with 2 bathrooms in each room!
Next we headed to have a look at Singita Boulders, Beautiful modern & magnificent decor. The Singita properties are top notch in everyway, Boulders is sent in rock and stone hence its name. They have a top notch spa facility to match no other. They have the most magnificent giant wine cellar I have ever seen, with proper wine tasting and fabulous wines. Sadly I only visited here, this is the place for foodies and wine lovers along with excellent game drives! The place is simply out of this world!
They also have Singita Ebony in this area for Sabi Sands. Another property of high quality and standard in the eastern part of Kruger is called Lembombo. This is another very beautiful smallish lodge of incredible charm also Tswani is an off shoot deep in the bush, charm elegance and privacy is key here. The food at Singitas is beyond magnificent, they are expensive, but well worth it. You cannot go wrong with Singita properties for the discerning traveler.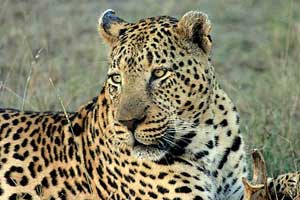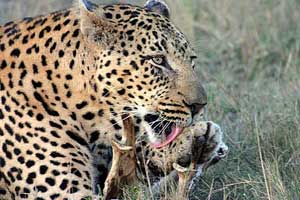 They have a Trading Post in between Boulders and Ebony lodges, the most incredible shop with the top quality African Boutique and artifacts, they have complete shipping facilities as well as the Wine Store for shipping all over the world for your happiness!
Next we visited some more CC AFRICA properties in this area; Dulini is lovely small and personal with large rooms, separate sitting areas and plunge pools, very intimate and special.
Leopard Hills is our next destination for an overnight; this is part of the Seasons In Africa group, and the top of the line. This is an absolutely gorgeous property, excellent restaurant, with views over the bushveld, stunning to say the least. They also have a fabulous wine cellar. The rooms here are dazzling, elegant, large and spacious, very special here, I loved it. The game in this area is also fantastic and we tracked a BIG male Leopard who posed and stayed with us, what a gorgeous big boy.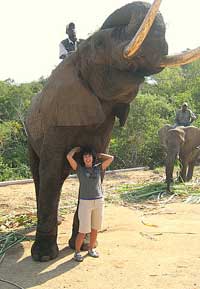 Ulusaba Rock owned by Sir Richard Branson, I was very impressed with this property, however it is more suitable for the younger more fit guests as it is built right up on the top of the hill with the most incredible 360 views that go on for miles and miles. There are lots of steps to get to all the different decks and rooms, a very different and unique set up and very children friendly. They have an excellent kids program and I can see why. You need to have good knees to get around here. But worth if you do and hence why I recommend a younger or fit clientele.
Ulusaba Safari Camp is below Rock and very lovely also, with swinging bridges and a very long board walk to get to the dam and farther away rooms, great for walking and getting some exercise! Lovely wine cellar here also. Kids are not allowed at this camp.
We visited CC AFRICA Exeter Leadwood in Sabi Sands also, very lovely setting, gorgeous modern rooms, plunge pool, separate sitting area and very private. A common area leads to a boardwalk to a sitting area under a tree overlooking the river area. Only 4 rooms at this lodge.
Exeter River Lodge is the sister of Leadwood all CC AFRICA. A very nice common area that is up high with a lovely view, 8 chalets. Also a very lovely property, and very private.
Now we drove outside the park through Hazyview to visit a wonderful place called Elephant Whispers. This was such a magic experience, I will advise my guests to be sure NOT to miss this grand opportunity. If staying at the Seasons In Africa properties, they will transfer you from Leopard Hills or Djuma to Kings Camp and plan a visit for a couple of hours with the gentle giants. They were saved from being culled by this loving family. You spend about an hour with each of the 5 elephants feeding, touching, giving and getting love from them. Then you can ride them for about 30 minutes, what a delight and the highlight of your trip, not to be missed!!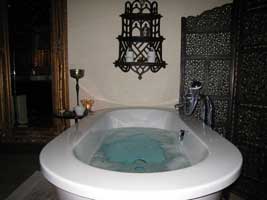 Next we arrived at Kings Camp in the Timbavati area of the Kruger National park area, north of Sabi Sands. A lovely South African Colonial design here for this small and quaint camp! A very warm and inviting atmosphere, with large expansive rooms, private bath tubs with aromatherapy bath salts, candles and scents to ease you into blissful peace before heading into the dining area or outside boma for your evening dinner in the bush! Also a great value in the bush.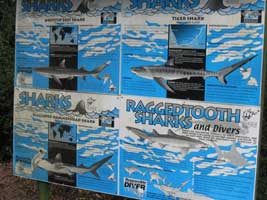 Lastly we visited another CC Africa camp in the Timbavati called Ngala Tented Camp! Another lovely small quaint tented camp I highly recommend! Beautiful tents, only 6 for a real personal feel, lovely setting and also they offer a great walking safari!! Fantastic value, another must to stay here!!!
For those of you interested in the beach area for some R&R and scuba diving or snorkeling, we visited the new Rocktail Beach Camp a fantastic location in Maputaland, south of Kruger in the St. Lucia area North of Richards Bay. Fantastic place with NO people on the beach, wild and beautiful beach cliffs! Excellent diving and snorkeling with lots of marine life coming in at different times of the year, loggerhead & leatherback turtles, ragged tooth sharks, humpback whales to name a few.
South Africa is a world in one, as they say. I would recommend South Africa as a first visit to Africa. There is so much to see and do, scuba diving or snorkeling at RockTail Beach Camp, Kruger National Park area with all the private camps for fantastic game viewing and Cape Town for the European flare. A holiday you will treasure and never forgot!
Happy Travels,
-- Cindi LaRaia